The sun's out, the sap's rising and it's time to take to the open road in one of the best 10 classic convertibles for under £3k!
1. MGF/TF
If this British-built soft-top was made 50 years ago, it would be worth a fortune now. Thankfully it wasn't and it isn't, so the good news is that you can pick up one of these swift and fun to drive two-seaters for as little as £700 these days. Now, how's that for a summertime bargain?
The first MGF broke cover in 1995 and boasted Rover's talented K-Series 1.8 as well as clever Hydragas suspension so it was brisk and comfortable to boot. Meanwhile, the TF with its projector style headlamps and traditional coil spring suspension came along in 2002 and lasted until 2005.
That mid-engine format provides excellent grip and good road holding, but its cramped position means it's even more likely suffer head gasket failure and access isn't brilliant. Electrical issues, such as non-starting or misfires, can also blight ownership – although usually a new set of HT leads and ignition coils will be all that's needed. The hood itself shouldn't be a problem, although you can expect a few leaks on the earlier ones (the TF hood was better in this respect). Nonetheless, all the parts are cheap and readily available and it will cost buttons to run and prove pretty reliable if you keep on top of maintenance.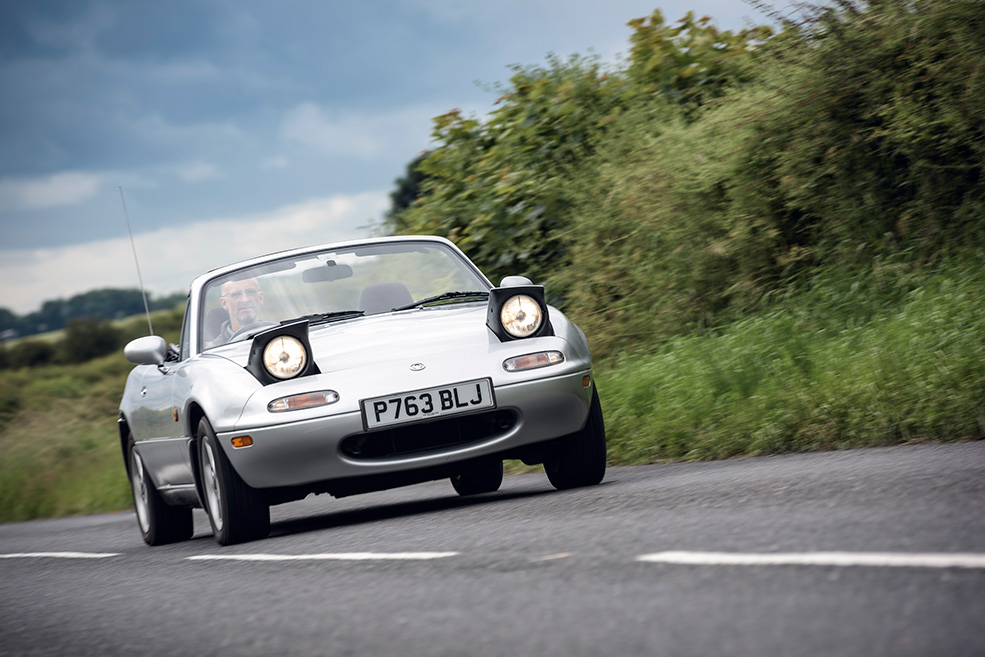 2. Mazda MX-5
The MX-5 was the first car to prove beyond all doubt that open top motoring didn't need to be an exclusive affair, or one ruined by a rubbish ride or iffy reliability. Indeed, since its launch in 1990 it's set the benchmark by which most modern topless things of joy have been judged.
Being big fans of nostalgia, the early model with the charismatic pop-up headlamps and the 130bhp 1.8-litre unit (which arrived in 1994) certainly tempt. However, we'd be more likely to opt for the post-'98 model with conventional fixed lamps which is more rigid and had a glass (instead of plastic) rear screen or one of the 2005-on cars with the pokier 158bhp 2.0-litre. From this point on, the suspension was better and the cabin far more comfortable.
As you would expect, buying an MX-5 is relatively straightforward – although listen for rattly hydraulic tappets on pre-'98 cars, overheating, stuck pop-up lights and seized rear calipers. Bare in mind early cars can feel heavy without power assisted steering (a conversion is available) and beware, too, of buying the flaccid 1.6 from 1995 with just 88bhp, as well as the undesirable auto.
Prices start at a measly £600 but you'll need to spend close to our £3,000 budget to get a more civilised 2.0-litre model.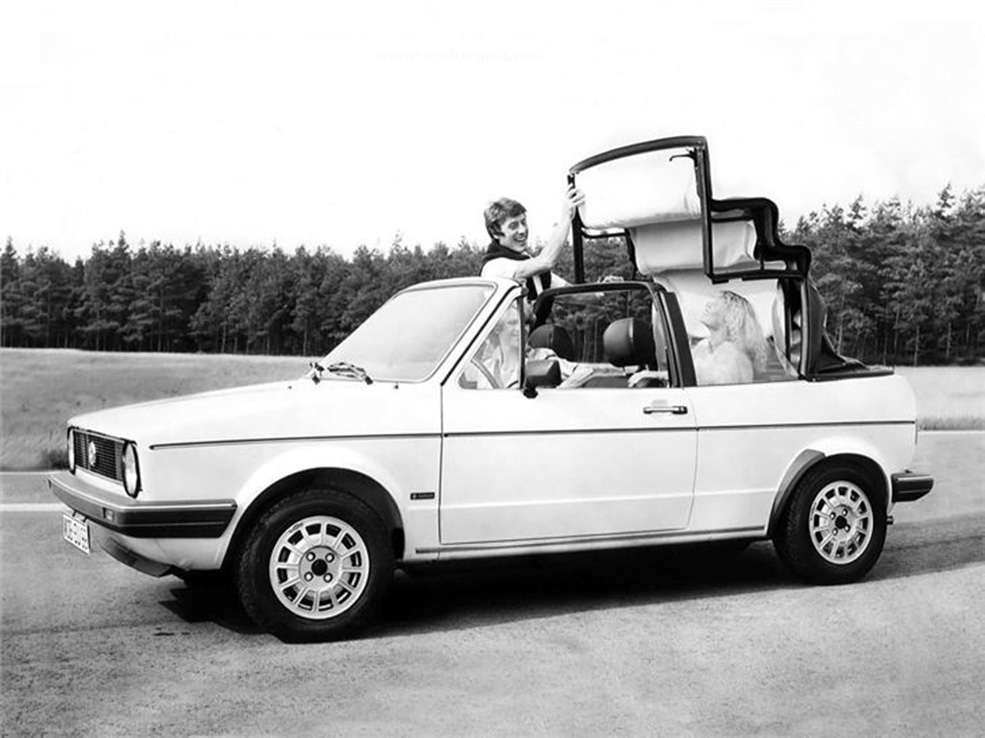 3. VW Golf Mk1/2
Volkswagen's long-time association with coachbuilder Karmann had one huge benefit; it resulted in the production of some of the most refined mass-produced open top cars ever made. And the topless Golf is a prime example with its top quality multi-layered, tightly fitting hood. Buyers attracted to the scalpel sharp lines of the Mk1 will be pleased to discover that the roofless model sells for significantly less than the hatch, making it the perfect entry point for someone wanting an original Golf.
Moreover, production lasted into the 1990s – so you can buy a comparatively new one. The model to have, of course, is the GLi/GTi 1.8 from 1982, although the bog standard 1.6 is still good. For more refinement, choose one with the Mk3 bodyshell from 1993 which isn't as attractive but offers a wider choice of engines, better safety and more comfort.
Whichever you choose, reliability should be good but watch for blue smoke on early cars which points to worn valve guide seals, erratic running due to worn Pierberg carbs and problems with the optional hydraulically-operated power hood on later models. Oh, and early Golfs rot – especially in the sills and the front suspension turrets.
The good news is that all the parts are readily available and there's nothing that can't be relatively cheaply fixed. As for price, the Mk1 starts at around £2,500, while the later cars are a little cheaper. In fact, we saw a 96 on a P-late for £795 in the classifieds.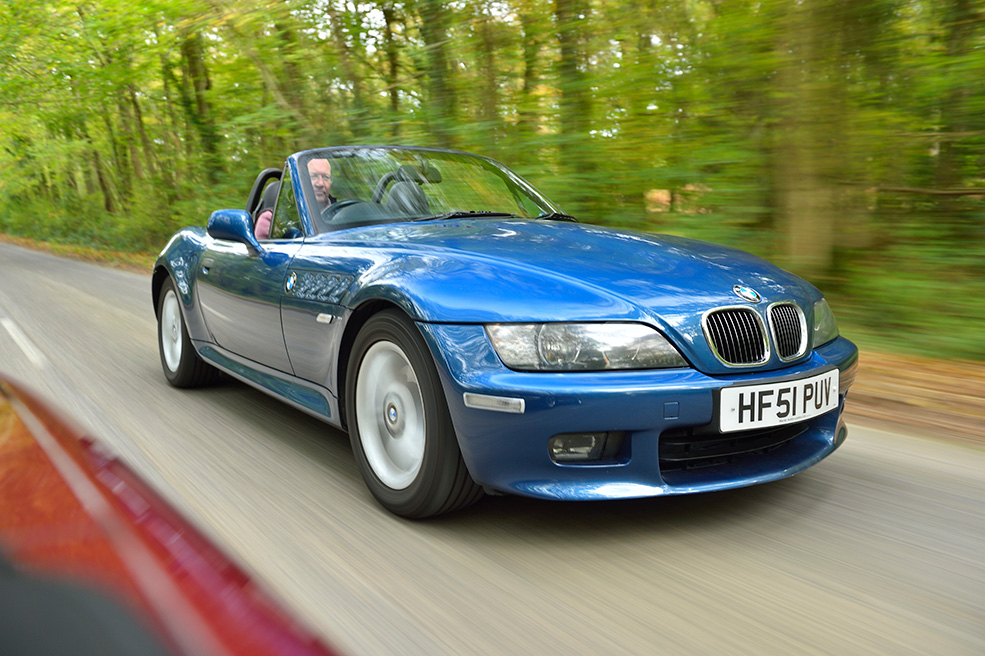 4. BMW Z3
A sporty soft-top BMW for under £3,000? You'd better believe it, because that's all you'll need for one of these smart-looking American-built roadsters. At its UK debut in 1996 the engine line up included a 115bhp 1796cc four-cylinder and a 16v 1.9 with 140bhp, a unit shared with the 318ti and the 318iS E36 Compact on which the Z3 was based. Five-speed transmission was standard, with the option of a four-speed ZF auto. Bang for your bucks, though, the engine to have is the 193bhp 2.8 six-cylinder. Other engines were offered, like the six-cylinder 2.0-litre from April 1999, the 118bhp 1.8 (badged 1.9i) from 2000, which was followed by the 170bhp 2.2-litre and the brutish 231bhp 3.0-litre six, before production ceased in July 2002.
Suffice to say, all will feel quick, and near perfect weight distribution makes it a rewarding car to drive. The good news continues when talking about reliability, because bar the odd electrical niggle, water leaks from the timing cover gasket and bust plastic water pump impellers which will lead to overheating, the Z3 should prove robust.
Price-wise, it's the early 1.9s that will appeal to the budget conscious as these start at a mere £1200. For the power hungry, 2.8s begin at an equally modest £2,500.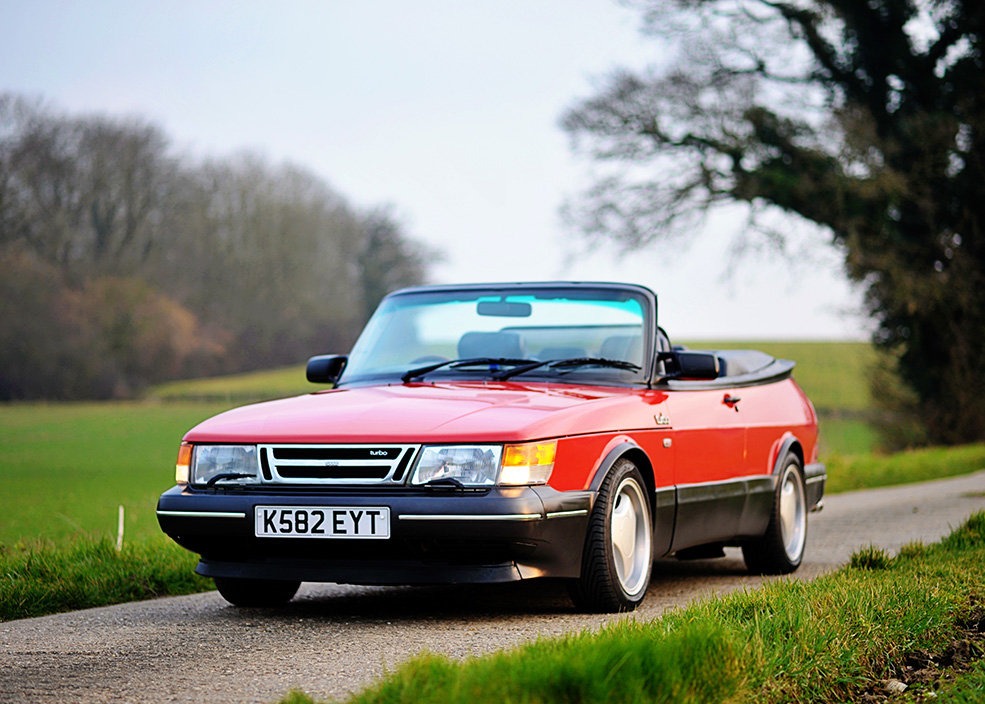 5. Saab 900
Based on the two-door saloon, the 'classic' 900 convertible is strong, comfortable – and still just within grasp of those looking for a totally idiosyncratic budget soft top this summer.
It made its debut in 1986 and was available with a turbo or in normally-aspirated 2.0-litre guise, the former being the model of choice for obvious reasons – although it has to be said, one of these is likely to be beyond our £3,000 budget. The 'Classic' still feels refreshingly different with its stylish curved dash, sculptured seats and curiously upright screen. It's solidity is another plus point; the 'clunk' as you shut the doors is justification enough for buying one, as is the generous sized boot.
However, they do rust – especially in the bottom inside of the doors and at the back edge of the bonnet. You also need to watch for head gasket issues as well as lack of syncro when changing cogs – the gearbox is a major 900 weak spot and reconditioned units are £1,000. That hood is an electric affair, too, so make sure it folds smoothly.
As we've said, you'll be at the top end of our budget here – so expect to get more of a rolling project.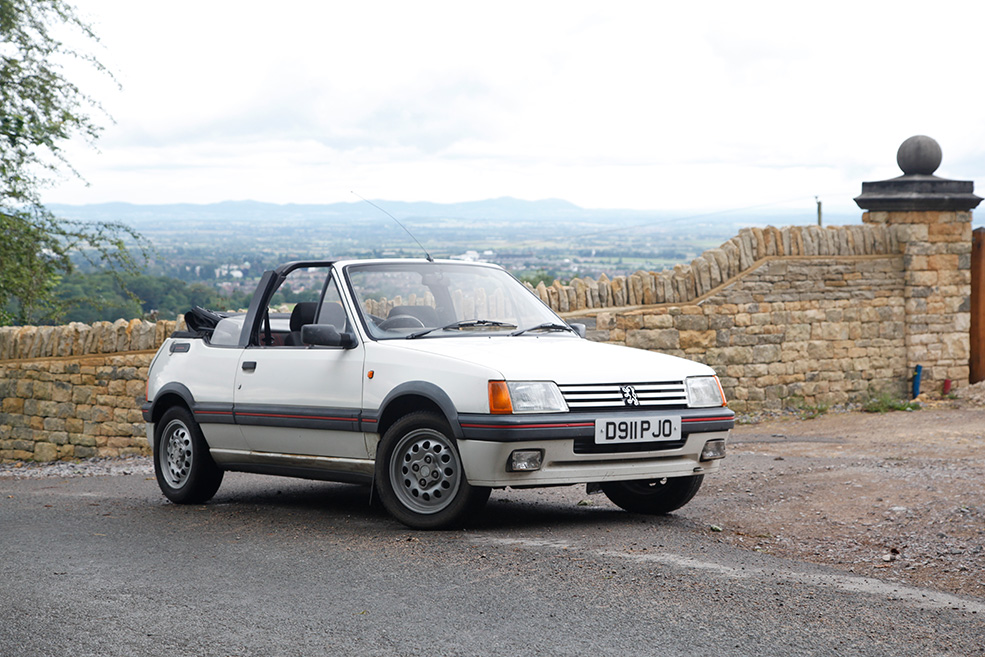 6. Peugeot 205
For cheap, no nonsense open top fun this summer – look no further than Peugeot's '80s best-seller. It's classic in a chic, two-fingers up kind of way, actually pretty good fun to drive and has zero snob factor, so you won't get jealous bystanders shouting abuse while out cruising around town on a warm, sunny evening.
The first topless 205s arrived in 1986 and was designed and part built by Pininfarina who cut off the roof and added strengthening to the 'shell before returning them to Peugeot for trim and assembly. Initially it was available in the same spec as the hot-hatch GTi, namely 115bhp 1.6 and 130bhp 1.9, but from 1988 there was also the tamed down 1360cc/65bhp 'CJ' which is the model you'll consider buying here for peanuts.
And guess what, being so light and flimsy, it will still be a hoot to drive! Moreover, running costs will be minimal, so it's the kind of thing you can own without noticing an impact on your wallet. Not wishing to be sexist, the only problem you'll have is prising it off the original, probably blue-rinsed, elderly female owner.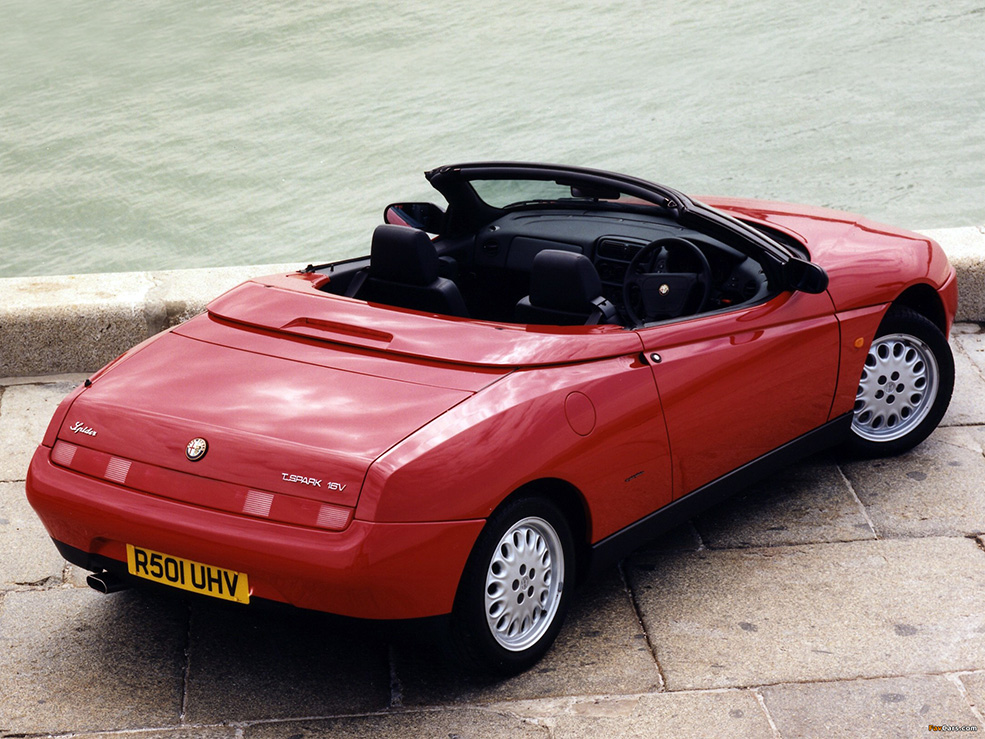 7. Alfa Spider
The Alfa Spider shares the same scalpel sharp lines and choice of pokey 150bhp 16v 2.0-litre Twinspark or lusty 226bhp 3.0-litre V6 engine as the rakish GTV. As well as the standard Spider, there was a Lusso model with opulent leather trim – and these are worth searching out when sifting through the classifieds.
Both engines are pretty good, but watch for excessive oil consumption on the Twinspark as well as oil leaks from stripped sump plugs. Another common malady is worn rear suspension control arms which can end up being pricey if you have to replace all four. Oh, and only buy one if it comes with the red master key.
Alfa interiors have never been the most robust, so check that it's in good nick and that everything works – including the air-conditioning. Scuttle shake and wind noise are all par for the course, and hoods can be either manual or electric; the manual's simple and bulletproof, but the electronically controlled roof can sometimes throw up faults, highlighted by a flashing warning light next to the operating switch on the rear of the centre console.
Price-wise, you'll pay £3,000-£4,000 for the 2.0 but you may need a grand more for the V6.
8. Toyota MR2
The third generation W30 MR2 broke cover in 2000 and it is lithe, quick and hugely entertaining to drive with a fiery 138bhp 1.8 with variable valve timing tucked cosily in its midriff. Think of it, in fact, as a more feasible Lotus Elise, minus the iconic nametag of course.
Weighing in at 975kg it doesn't use much fuel and reliability should never be an issue. That said, it's worth aiming at the post facelift 2002 model with its six-speed gearbox and modified piston ring design which meant there was no longer the risk of oil passing into the ceramic pre-cat system and causing them to disintegrate.
Oh, and some owners find it a bit tail happy in the wet so tyre choice is important – most fit Toyo's T1-R or Falken 914. Other things to watch out for include failed electro-hydraulic steering pumps and fragile electrics on the optional sequential manual transmission models. If you end up buying a new Bosch ECU, it could be as much as £1,000. Otherwise, the only other niggle is the lack of a boot, so you'll need to travel light!
As far as values go, unbelievably prices kick off at under £1,000!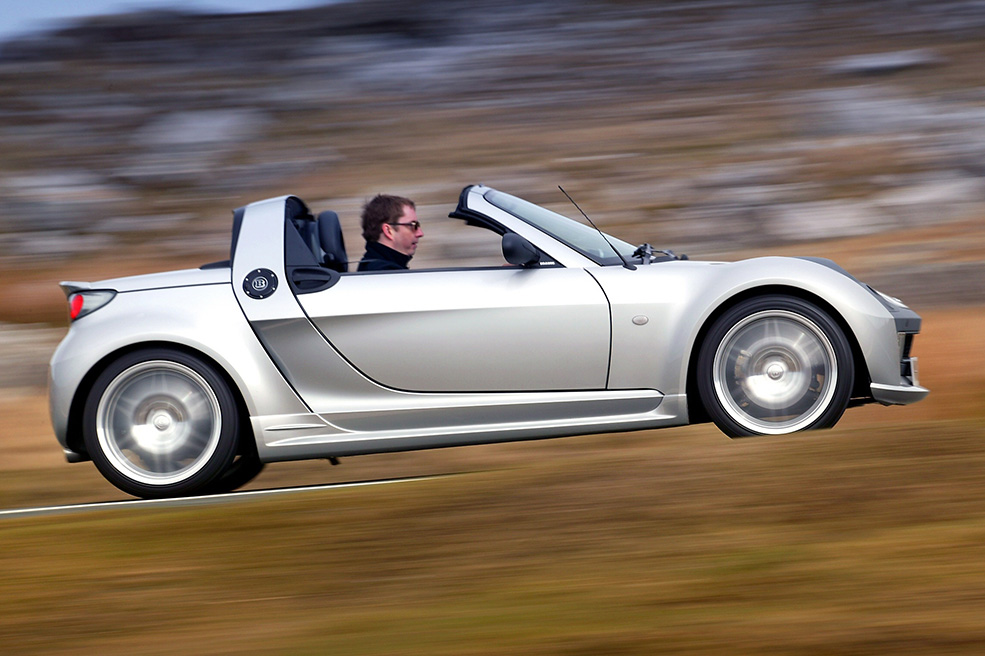 9. Smart Roadster
Since parent company DaimlerChrysler decided to axe the Smart Roadster in 2008, it's gained cult status amongst enthusiasts. And it's easy to see why with its funky modern looks, buzzy mid-mounted 80bhp 698cc engine and rock solid mechanicals. Add to that 55mpg economy and the option of paddle-shift gearchange (as part of a Sport package, which included wider tyres) and you have the perfect excuse to get out and make the most of the summer sunshine.
Downsides are the tiny boot, the clumsy semi-auto gearbox, slow steering and the mute point about the fact that it's more targa top than true convertible. But we're splitting hairs here.
Standard kit was decent, but the Light version from early 2004 was a stripped out poverty spec version with steel wheels, no paddle shift option and low-rent seats, so bargain harder on these ones.
As you might expect, build is good – although buyers should look for cracked exhaust manifolds, signs of overheating and lack of regular oil changes (using a fully synthetic). Low oil levels or infrequent changes can lead to big problems, and at worst the need for a replacement engine. Hoods didn't fit particularly well either, so look for water in the footwells.
To end on a high, the best bit is you won't pay much. In fact, £2,000 will get you a good one.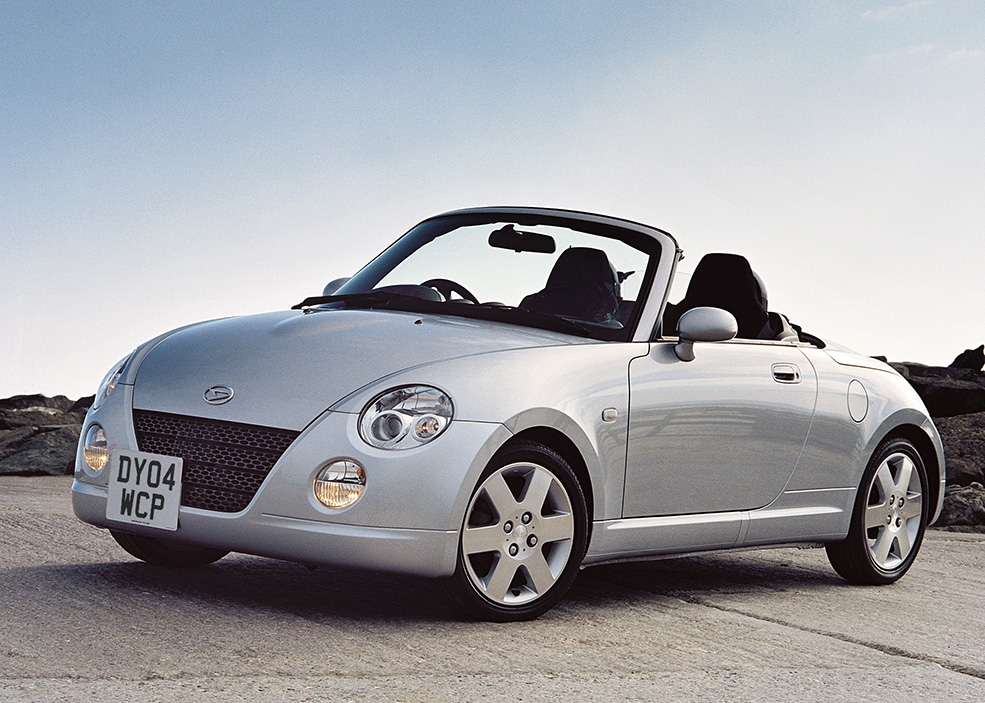 10. Daihatsu Copen
The Copen's a rare sight on our roads which is a shame because it's a real eye catcher with a revvy 16v engine, decent handling and niceties such as alloys, air conditioning and heated glass screen as standard. Looking halfway between an Audi TT and a '50s Porsche, its size provides the only clue as to its Kei car roots – at 3.4m long, it's tiny!
Power initially was from a turbocharged 659cc unit which was replaced in 2006 to a 86bhp 1.3-litre lump. Both feel reasonably energetic, but the latter, being able to propel the miniature marvel from rest to 60mph in under 10 seconds while still returning 47.1mpg, is the bet for everyday use. As you'd expect there's some scuttle shake with the roof down and things are only marginally better with it up – but that shouldn't detract from the sheer grin factor of this diminutive topless modern classic. And it has to be said, the way the roof opens and folds into the boot is all very clever.
Problems are rare, although rust was an issue on early examples due to lack of underseal and the turbo on the small engine can fail if oil changes haven't been carried out every 3000 miles. Roofs that refuse to work can sometimes be remedied by cleaning the contacts for the handbrake sensor to make sure the roof knows the handbrake's on before it opens.
You can pick up one of these retro-cuties for as little as £1,500-£2,000.