The Mk1 Mazda MX-5 is now well on the way to fully fledged classic status. We revisit the model you want to snap up while you still can
The history of the MX-5 is well documented but curiously varies depending on who you believe: one version is that Japanese-speaking US car journalist Bob Hall, then editor of Autoweek had suggested to Mazda R&D chief Kenichi Yamamoto that a simple, fun two-seater sports car should be produced to fill the gap in the market left by the departure of the traditional British cars, at the time filled only by the X1/9 and ageing Alfa Spider. By 1981 Hall had taken a job in the product planning department of Mazda's Californian R&D operation which allowed him to pursue the idea further. To his apparent surprise the response was positive and the project was adopted for development.
Mazda's corporate history, however, tells it a different way: the company had identified a need to produce an innovative model to make the brand stand out from other marques and a team of engineers noticed that the traditional roadster was all but extinct, leaving an opportunity to create a modern equivalent. Senior management apparently wasn't so keen but the enthusiasm of one particular staff member persuaded them to approve the project.
The real truth is most likely a combination of both tales, with that super-keen staffer probably being Hall, but the result was the Mazda eXperimental number 5, or MX-5.
The car itself was a very international affair for a Japanese maker in those days, with the stylist Wu-Huang Chin being an ex-GM American, and the first running prototypes built up by IAD here in the UK before being tested at MIRA near Nuneaton. The first on-road drives took place in California before development was completed back in Mazda's Hiroshima facility.
The original brief had assumed a significant degree of component sharing with other models, but the development team under Toshihiko Hirai took the car's handling so seriously that it ended up being almost a clean-sheet design: suspension was fully independent by wishbones, with an aluminium bonnet and advanced body engineering to trim weight down to a point where a powerful engine wasn't needed. The engine, gearbox and rear axle were linked by a skeletal structure linking front and rear ends inside the transmission tunnel in an echo of Lotus's backbone chassis and the result was a very rigid structure.
Launched in the US in 1989, the Mk1 'NA' MX-5 was launched in Europe in 1990 and the UK was one of the biggest markets, snapping up 2246 examples in that first year. It would go on to define an entirely new market and see the European makers desperately playing catch-up. Indeed, if not for the Mazda, it's possible we'd never have seen many iconic modern classics including the BMW Z3, MGF, Honda S2000, Porsche Boxster and Mercedes-Benz SLK.
Power came from the B6ZE 1598cc, 90bhp engine derived from that in the 323 but with lightened internal parts and a finned sump. An alloy-head twin-cam 16-valve unit, it ran a Mazda-licensed version of Bosch L-Jetronic fuel injection and drove the rear wheels through a five-speed manual box taken from the 929 but with a lot of effort going into producing a lighter, short-throw gearshift mechanism.
In May 1994 the range was broadened with the addition of a 1.8i model, using an 1840cc version of the same engine, producing 131bhp with torque up from the 97 lb ft of the 1.6i to 114 lb ft. Just as significant as the extra grunt was the bracing added to 1.8-litre models which included a lower strut brace and what Mazda termed 'performance rods' which were longitudinal braces to better locate the rear axle. The 1.8i models also gained larger brakes and generally higher spec.
At the same time a new 1.8iS model was also offered, mechanically identical to the 1.8i but offering better equipment including electric mirrors, colour-coded mudflap spats, remote boot release, wider 6×14 wheels, driver's airbag, leather steering wheel, power steering, electric windows, radio, stainless trims and ABS.
And that was pretty much that apart from the explosion of special editions, until the model was replaced by the second generation 'NB' car in the UK in April 1998. This was really little more than a facelift, based on the original design but with a revised front end treatment which lost the pop-up lamps and with a redesigned roof incorporating a glass window. One big improvement was the enlarged boot which made a big difference to the practicality of the car.
Bodywork
The Mazda MX-5 Mk1 is an old car now and the biggest issue will be body rot. It's confined to one specific area though, namely the rear of the sill area. It's crucial to keep the drain tubes from the roof storage area clear, since if they block up then water will effectively overflow and then rot out the inner structure at the rear of the sill.
A quick and dirty repair can be achieved by simply plating up the outside of the sill, but a proper job involves removing the outer section and welding in a repair section to the inner structure before repairing the outer skin and tidying it up again for paint. Do it properly and the car's good for another 20 years, but it can be costly compared to the car's value. We've watched them doing the job in the workshop at MX5 City and can vouch that's an involved task but with rising values for these cars it's now worth doing it properly.
Other areas can include the bottom of the front wings and in extreme cases, the scuttle at the base of the screen pillars. It's also worth checking the floors for rust caused by leaks.
Engine and transmission
The engines really are tough and unless they've been run without oil or water then you can expect few problems. Some components are pricey, such as coil packs, which can apparently fail if you leave the ignition on for long periods without the engine running. Other than that, make the usual checks for rattles, noises and smoke but generally if they have oil and water then they will last well. Many cars have been modified, so compare the under-bonnet appearance to a photo of a standard car and look for badly fitted induction kits and exhausts.
Oil leaks don't tend to be major but can occur from items like the camshaft sensor at the rear of the unit. Don't forget that the engine uses a cambelt, so check for evidence of it being changed.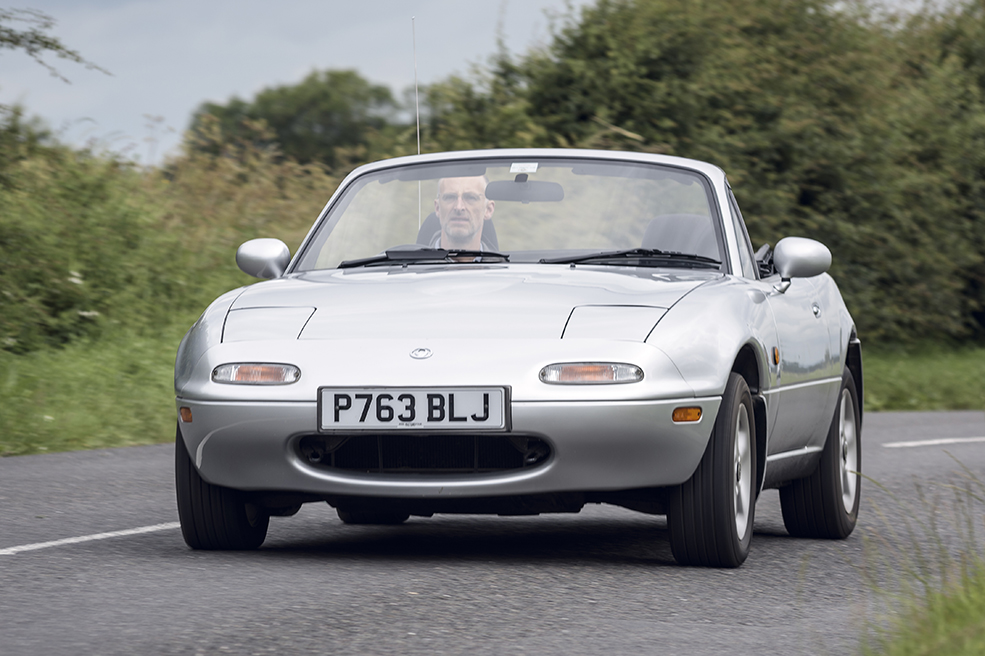 Suspension, steering and brakes
When properly set up, the Mazda MX-5 Mk1 offers a great combination of ride and handling but it's all adjustable and incorrect geometry can make them feel twitchy and give them a restless ride too. Suspension components are generally readily available, but some can be costly. If the outer ball joint for the front upper wishbone fails, the ball joint can be replaced without the entire arm.
Low-speed noises are often down to ageing anti-roll bar drop links, while bushes can all be replaced or upgraded. Check for broken coil springs, too and while you're under there check that the steel suspension arms aren't excessively corroded.
As is common on cars with rear discs which also use the caliper for the handbrake, the assembly can suffer from either sticking sliding pins or handbrake linkage. The simple cure is a reconditioned caliper from around £70 each, or a new seal kit at around £30.
ABS sensors can be expensive at around £90-170, and if they fail, there's no getting around the warning light on the dashboard that will in turn fail the MoT test – it needs to come on with the ignition and go out with the engine running. The sensors can seize into the hub but if they can't be removed without drilling, then a cheaper solution can be a used hub.
The steering can feel surprisingly heavy on cars without power assistance, so it's well worth having and was standard on the 1.8iS. It's not without its issues though as the pipework can corrode and leak due to its location along the front lower area of the engine bay where road dirt can pepper it. If a full set of new pipes is required, budget for around £300 for genuine items, although specialists can supply them for less.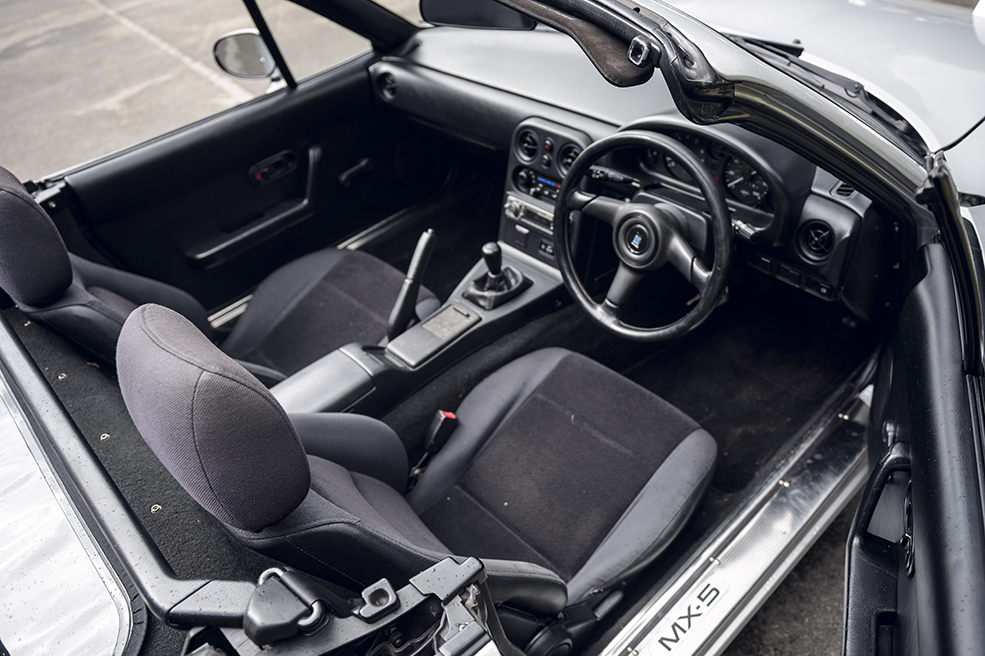 Interior and trim
There's not a lot of roof in the Mazda MX-5 Mk1 and what there is tends to be pretty durable. Tatty seats can be retrimmed using a cover set by a keen DIYer to great effect, while proper moulded carpet sets are also available. Take a few minutes to check for wiring bodges by people fitting aftermarket sound systems and alarms as they're so often done very badly. Items like instrument cowls, console faces and armrests can all be bought separately to refurbish a hacked-about cabin.
The convertible top is a world away from the tent-on-sticks fitted to an MGB for example but it's still a relatively basic single-skinned affair with lined rear quarters and therefore not too costly to replace if you need to.
The glass rear window didn't arrive until the Mk2 cars, so all Mk1s came with a plastic window which needs to be carefully folded as you lower the roof. Many owners didn't bother and the plastic became permanently creased and even split. Specialists can offer a replacement rear roof section with a zipped-in plastic window, or a whole new roof is under £500. It's also possible to replace the roof with an upgrade including a glass window for around £600.
Fitting a used roof is another option and an easy DIY task as the entire roof and frame can be transferred as a single unit.
Mazda MX-5 Mk1: our verdict
Today the Mazda MX-5 Mk1  has made the full journey from must-have latest toy to down-at-heel cheap fun car, grudgingly accepted modern classic – and now a fully fledged classic.
All of this means that the demand for clean, original examples of the MX-5 Mk1 in standard form has seen values rising, with even projects now commanding more than they would have done just a couple of years ago.
Despite this, they're still great value – although it is possible to go faster for less with some more powerful rivals. Still, as a great do-it-all modern classic with plenty of scope for DIY tinkering, it's hard to do much better.