The most attainable Porsche is almost as quick as the 911 – and far cheaper. Here's the lowdown on the first-generation Porsche Boxster
Words: Andrew Everett
Back in 1992, Porsche was in serious trouble. The financial crash had seriously harmed the company's balance sheet and although the revised 964-model 911 was selling quite well, the Porsche 928 was near enough finished, and the revised Porsche 944 – the 968 – was never to sell in big enough numbers. As good as it was, the 968 was only a facelift of what even then was a fairly tired design – the 17-year-old Porsche 924.
The competition was modernising rapidly – not least the BMW E36 M3 – and Porsche needed some fresh new models sharing nothing with previous cars, yet also giving the nod to its most popular model.
The Porsche 911 was a problem child: it sold well at a high price but was very expensive to make. What Porsche needed urgently in order to stay alive and independent was a new sports car: a two-seater that could also share many parts with the next-generation 911.
Of various styling proposals offered to the Porsche board, the one chosen by Harm Lagaay, Porsche's director of vehicle styling and designer of the original 924, was one styled by Pinky Lai and Grant Larson. Taking cues from the 911 and Porsche 550 Spyder, the 1993 Detroit concept was a show-stopper.
The production Porsche Boxster was launched in Europe in 1996, then in 1997 in the UK. It was a revelation, and the car that even Porsche would quietly credit as the one that saved it from being swallowed up by Volkswagen.
Mechanically, the Boxster used all-independent coil spring suspension with MacPherson struts, but the talking point was the new engine: not a four-cylinder as many predicted, but an all-new water-cooled 2.5-litre flat-six giving 204bhp.
This was the same power output as the last 3.0-litre 911SC from 1983 and also equaled that of the Ford Sierra Cosworth. The new engine was mounted back to front amidships, giving a near perfect 50/50 weight distribution.
Despite being longer than the 993-generation 911 by 70 mm, the Porsche Boxster was considered better to drive by many, with virtually perfect handling balance and just enough power to keep things entertaining.
Even at a list price on launch of £33,950 for a base car with no options, a speculators' market for the Boxster appeared as Porsche was overwhelmed by demand. Popular options included leather trim, air conditioning and a hardtop.
While the 0.31 drag coefficient of the Boxster's body (built from panels stamped out by BMW) was good, the car had many other technical firsts: the alloy four-piston monoblock brake calipers, the spoiler which raised from the rear deck at 50mph, and an electric roof that could be lowered in a record-breaking 12 seconds.
On the road, the car could hit 60mph in 6.5 seconds, and 100mph in 18 seconds from a standing start. Even better was a claimed 32mpg touring fuel consumption figure, meaning the Boxster was a practical everyday car. For those who wanted it, a new five-speed Tiptronic semi-automatic gearbox was soon phased in and became very popular.
Better was to come in 1999, when the 2.5-litre Boxster was replaced by a new 217bhp 2.7-litre model, and the new Boxster S 3.2 with 250 bhp was added to the range with bigger wheels, brakes and uprated suspension to cope. This is the year that Porsche moved assembly to the all new factory in Finland, not that build quality was affected. The S models also gained a double-skinned roof, with 2.7 cars getting this the following year along with POSIP side-impact protection.
The only facelift to the 986 came in 2002 with a change from plastic to a glass rear screen, clear indicators, a glovebox and a revised steering wheel. The hood was given an updated mechanism, new wheel styles were introduced and the bumpers mildly reshaped. The 2.7's power was increased to 228bhp, with the Porsche Boxster S going from 250 to 260 bhp. In 2005, the 986 came to an end and was replaced by a heavily revised and updated 987 model from which the Cayman was derived.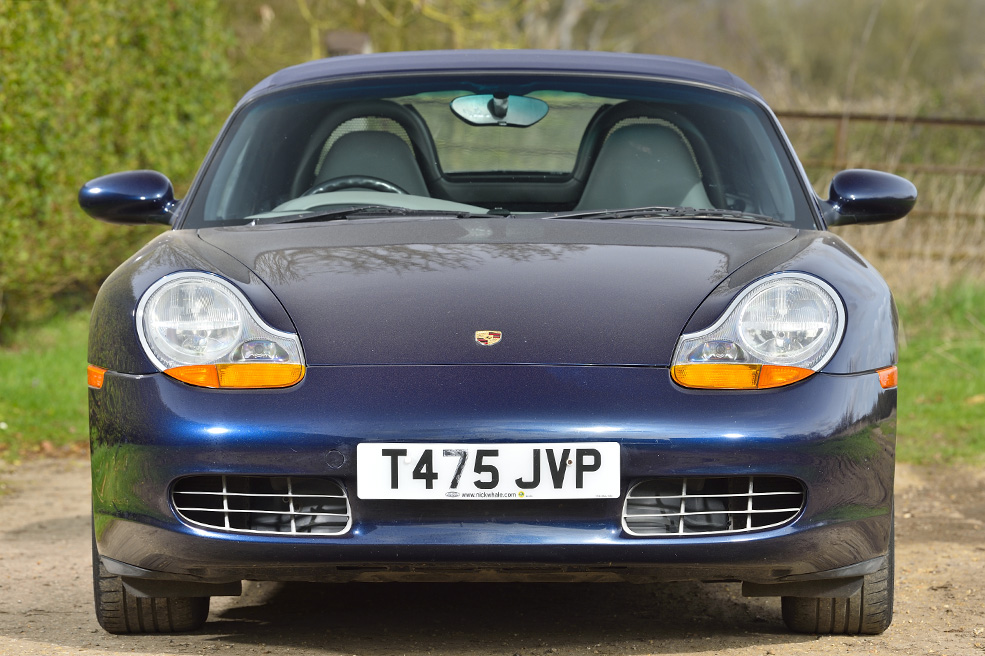 Bodywork
Boxsters don't rust, and any example that has should either be very cheap or avoided altogether. Look around the rear arches, check panel gaps, make sure it's all one colour (silver can be tricky to match) and see that the doors, bonnet and boot all open and close as they should.
Power the hood up and down and check the condition of the rear screen on plastic window cars, as well as the hood stitching. The motor and linkages are pretty tough but we've heard of these being 'converted to a manual hood' – in other words, the motor failed and rather than fixing it properly, it was fixed cheaply.
Engine and transmission
So, if the car looks right and drives as it should, it's probably going to be okay. But what are the horror stories? No doubt you'll have heard a few about the water cooled flat six and it's perfectly fair to say that they are not as robust as the old air-cooled units.
The rear crankshaft oil seal is known to leak oil, and this, whilst not catastrophic, is annoying and eventually oil will get onto the clutch. To fix it involves removing the gearbox and whilst you're there you may as well replace the clutch as well as addressing a more serious concern: the intermediate shaft bearing (IMS). On air-cooled engines, this was an open bearing lubricated by engine oil and never gave a moment's trouble. That of course was a green light for it to be 'improved' and it was replaced by a sealed bearing with grease inside.
In time, the grease dries up and while some engine oil can seep inside, it's a poor idea. When this bearing fails the intermediate shaft that drives the cam chains will float, causing cam timing to jump and potentially write off the engine. With the gearbox and flywheel off, it's a simple task to replace the bearing with a proper one – problem solved.
Casting the cylinder block in an open wet-liner style had been achieved with success by Porsche with the 944 and 928 engines, so what went wrong here is a mystery. Bores can crack at the top where they meet the head gasket and in extreme cases, a D-shaped chunk of the cylinder can break off. That's instant engine failure in a cloud of steam and smoke. It happens to any water-cooled flat six of this era including the 911 but it's not that common. Early warning signs are few and there is no preventative maintenance – but if it hasn't happened by now then it's probably not going to.
The Boxster's cooling system needs care. Water pumps can fail and they're not too tricky to replace, but new ones are pricey. By this age, the radiators (one each side) could be getting tired and it pays to closely inspect the hoses as well – particularly during radiator replacement.
The good news is that Porsche Boxster gearboxes are generally fine. The manual 'boxes are very tough, and the Tiptronic units surprisingly so. However, more complication means more to go wrong and you may rightly feel that a manual is the best option. Clutches are cheap to buy but the labour involved can bring costs up.
Interior and trim
Virtually all cars have leather – very often a grey leather that was popular in 1998 but which today looks less so. Worn-out driver's seat bolsters are common but a repair shouldn't be overly expensive.
The rest of the interior is typical of a 90s German car, with tough carpets, decent plastics and the odd cheap and nasty bits such as the air vents where Porsche saved a few pennies. If the car has air conditioning, check it works – if not, it could need regassing or a new condenser.
Suspension, steering and brakes
There's no mystery to the suspension – it's McPherson struts, wishbones and balljoints. Listen for clonks and rattles that suggest a knackered balljoint and check the car's MOT history – any mention of 'misting' on dampers (shock absorbers) means it needs new ones if it's not had them.
Boxster parts are also cheap. If you stick to companies such as GSF or Euro Car Parts, you'll find that regular service parts cost far less than from official sources.
A good indicator as to how well the owner looked after it is to check the tyres. Four N-rated Michelins? That's good. Two Dunlops and two Goodyears? Not bad. Four budgets-brand items? Oh dear. The Porsche Boxster drove exceptionally well when new, and a really good example of a 2.5 on quality tyres will still provide phenomenal roadholding and a standard of handling, steering and ride that border on magical.
Porsche Boxster: our verdict
Once derided by those who didn't know better (or hadn't driven one), the Porsche Boxster has grown into a real modern classic and thoroughly shaken off its 'poor man's 911' image. Its dynamic ability and depth of engineering are key to its appeal, as is its still-attainable price point: it's hard to have this much fun for less. Rivals on the used market include the frenetic Honda S2000 and muscular Nissan 350Z, but its the Porsche that's the most polished and sweet all-rounder.
As with all cheap Porsches, we don't expect the Boxster to stay attainable forever. If its older 924 and 944 siblings are anything to go by, you should buy now while values are low and focus on having a great time behind the wheel as the market comes round to the Boxster's talents.