Based on the 924 – the car that saved Porsche in the 70s – the Porsche 944 was a fantastic evolution of the original. Here's how to buy one
The 924 was attractive, but the Porsche 944 took things to a whole new level – and a whole new demographic. There was a larger rear spoiler, new front spoiler, and trademark aesthetic: the wonderfully sculpted and aggressively flared arches.  This was a car with serious presence.
The interior was lifted straight from the Porsche 924; proven and functional, it was nevertheless something of a letdown. Fortunately, from February 1985 the 944 was updated with a more modern design, dubbed the 'oval dash' in enthusiast circles.
So, the 944 was a looker, and its interior would soon match what was expected from a Porsche.
It was also meticulously engineered: to break the dependence on outsourced power units, improve profitability, and quell criticism, the 944 featured an all-new, all aluminium, all-Porsche 2.5-litre, overhead-cam four-cylinder engine.
Essentially half a Porsche 928 V8, the four-cylinder configuration was chosen primarily due to production line requirements, as the engine had to be fitted from beneath the car. It was exceptionally smooth due to twin contra-rotating balance shafts and it breezed through the all-important emissions tests.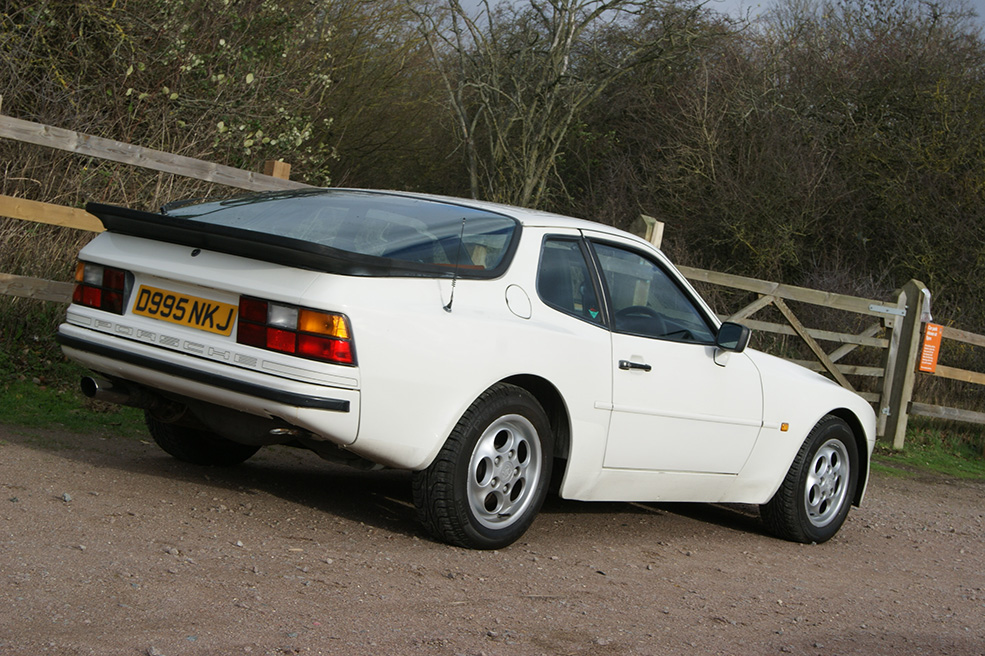 The aluminium head, developed via the Thermally Optimised Porsche programme, used hydraulic tappets. Porsche had also moved to L-Jetronic fuel injection, and to Bosch Digital Engine Electronics, a system first seen on the 1981 Porsche 924 Turbo and the 924 Carrera GT. Remarkably, the new 2.5-litre weighed the same as the 924's 2.0-litre. Power output for European-spec cars was 163bhp at 5800rpm, with 151 ft/lbs of torque at 3000rpm. Top speed was in excess of 130mph and 0-60mph took just 8.3 seconds.
In February 1985 the range-topping, 220bhp Porsche 944 Turbo was announced, with UK deliveries commencing in November that year. In keeping with its performance capabilities it sported a gearbox oil cooler, engine oil cooler, stronger clutch, bigger brakes and uprated suspension among its upgrades.
From July 1986 the Porsche 944S '16 ventiler' was offered with its dual-overhead-cam, 16-valve engine, 190bhp was on tap at 6000rpm, with 170 ft/lbs of torque at 4300rpm. The suspension and brakes were suitably improved.
All cars from 1986 on were designated Series 2. ABS became available across the range in 1987 (standard on the Turbo) and the suspension was heavily revised, necessitating new wheels with very different offsets.
In 1988 Porsche added the 250bhp Turbo S (SE in the UK), a limited edition run of 1,635 cars (77 for the UK) with uprated Koni suspension and brakes. The first of these were painted in Silver Rose and had a unique interior; later cars could be normally specced. All had a larger turbo, a limited-slip differential and Fuchs Forged wheels with larger tyres, along with a 163mph top speed and a 5.7-second 0-60mph time.
From 1989, the 220bhp Turbo was dropped leaving only the 250bhp version, which lost its "S" suffix. Also for 1989, displacement of the standard 944 8-valve grew to 2.7-litres. This, plus other changes, resulted in 165bhp at 5800rpm and 166 lb ft of torque at 4200rpm. The 944S was discontinued.
Another 1989 introduction was the 944 S2, which entered production in February. Its new 2990cc 16-valve engine – the largest displacement four-cylinder of its time – produced 211bhp at 5800rpm and 201ft/lbs of torque at 4100rpm. To cope with the increased power, Porsche strengthened the transmission, fitted Turbo-spec brakes and suspension, plus wider wheels and tyres. Top speed was 149mph, the 0-60mph dash taking only 6.4 seconds. Front and rear bodywork was as per the 944 Turbo.
The 944 Cabriolet S2 was available from 1989 to 1991 and converted from fully-built S2s by ASC (American Sunroof Company) in Weinsberg, Germany. The 944 Turbo Cabriolet debuted in February 1991, the final year of production for the 944, with focus shifting to the car that had been planned as the 944 S3, but which became the Porsche 968.
Bodywork
All Porsche 944 models were fully galvanized, although they are not particularly resilient to the effects of corrosion as the factory-fitted body kit traps water and dirt. Do not buy a 944 unless there is evidence of new sills being fitted, or of the sills' good internal condition.
Porsche still supplies OEM sills. Aftermarket sills and panel repair sections are very affordable but usually require fettling. Genuine front wings are available and new rear wings are unobtainable, although there are usually salvage options available.
Be sure to check the floorpan and suspension mounts for corrosion. Additionally, look for evidence of crash repair. Panel gaps are large, typically 7mm; any discrepancy usually indicates repair work.
Hatch leaks point to a worn seal, blocked up spoiler drains, or both. Blocked drain hoses can cause sunroof leaks. The removable electric roof generally works fine, but the micro switch can fail; the nylon gear can strip too, but replacements are cheap. The plastic hinges break but are inexpensive.
Engine and gearbox
Well-maintained engines can cover 250,000 miles before requiring major attention. Oil pressure should be over 4 bar at speed and 2-3 at hot idle. Look for evidence of regular maintenance using premium oil, Porsche oil filter, quality belts and water pump. There shouldn't be excessive oil leaks either, and be sure to check for coolant/oil mixing as oil cooler seals and headgaskets can fail due to age. Heat shields should be in place.
All Porsche 944 units are interference engines. Cam and balance belts must be changed every four years. Some specialists recommend a new water pump every belt change, along with rollers and tensioners. The rollers, tensioners and water pump definitely need changing every eight years, as do the front oil seals. Tappet rattle is not unknown when cold but shouldn't be noticeable when hot. If it is, expect camshaft and valve train wear. Engine vibration points to worn engine mounts.
On 16-valve cars, a chain between the exhaust and intake cam allows the exhaust camshaft to drive the intake camshaft. Tension is maintained by an oil-fed tensioner. Over time, the tensioner pads will eventually wear out or break. Replace them at 45,000-mile intervals.
The 944 sits low to the ground. Consequently, stones can perforate the radiator. Check for coolant leaks, oil in the coolant, and the condition of the hoses. The coolant overflow tank can fail. Second-hand units are plentiful.
Inspect fuel lines, particularly flexible hoses, and if in doubt replace. New fuel tanks can only be obtained from Porsche; from 1985 on, all 944s were fitted with plastic tanks. The fuel pump can fail, but it's an easy and not-too-expensive fix. The in-tank filter is also easy to replace.
Given regular oil changes, all manual transaxles (and limited-slip diffs) are long-lived, although worn synchros are not unknown.  A sloppy gear lever is likely to be a worn rear linkage – a straightforward if fiddly fix.
Torque tube bearings can fail causing vibration but this isn't commonplace; an exchange torque tube is the cure. Clutch replacement is complex and expensive, involving removing the transaxle and torque tube. Automatics should take up smoothly and the fluid should look clean. Black fluid and a smell of burning indicates trouble.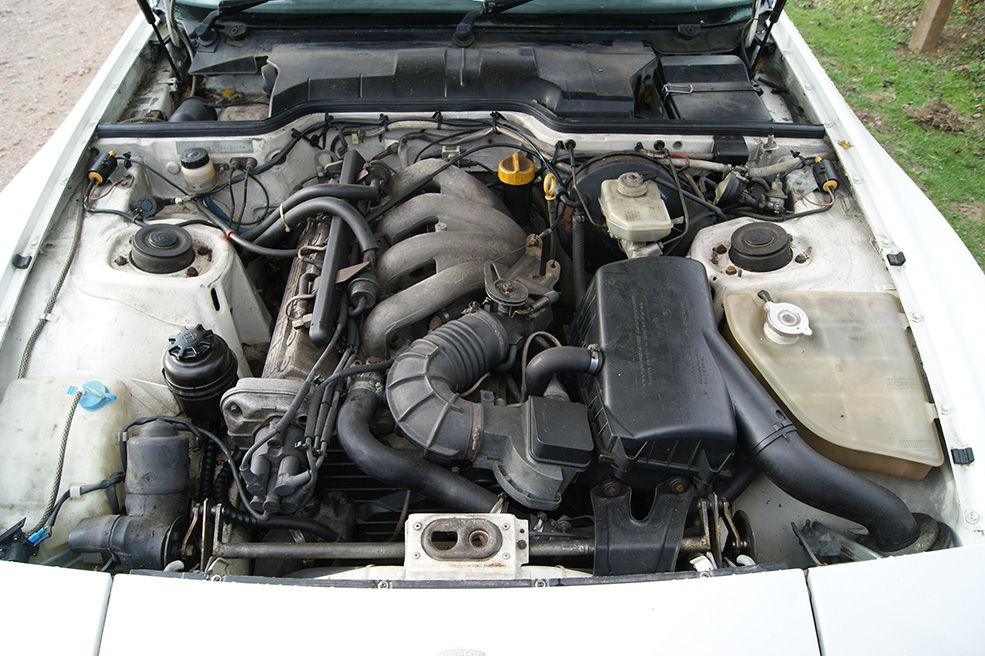 Suspension, steering and brakes
Struts and dampers on the Porsche 944 are long-lived but be sure do the usual checks for leaks and play. Cars fitted with the M030 Koni suspension can have the struts/dampers overhauled by a Koni specialist. New items are available but at a huge cost (the fronts in particular).
The steering rack (manual and PAS) is robust but can leak, and the power steering hose is well known for seeping. Check the fluid level and only ever use Dextron II/II ATF to replenish. Inspect hose fittings and pulley for leaks.
Front suspension wear on later cars means the entire lower arm needs replacing. Drop links are robust but bushes for these, and the anti-roll bars, are available. And even on cars fitted with wide wheels and tyres, wheel bearing problems are not typical.
The rear torsion bar set-up can weaken and sag but is usually trouble free. Look in boot for a full-sized (early cars) or space-saver spare (later cars), compressor and toolkit.
The Porsche 944 has brakes that are powerful and progressive, especially the Turbo and S2. Where fitted, the ABS system should work effectively and unobtrusively. Even with spirited driving, the discs/pads should see 25,000 miles. Brake calipers can seize on little used car. Service parts and uprated components are readily available.
The handbrake should hold well without too much pulling on the lever; adjustment is straightforward.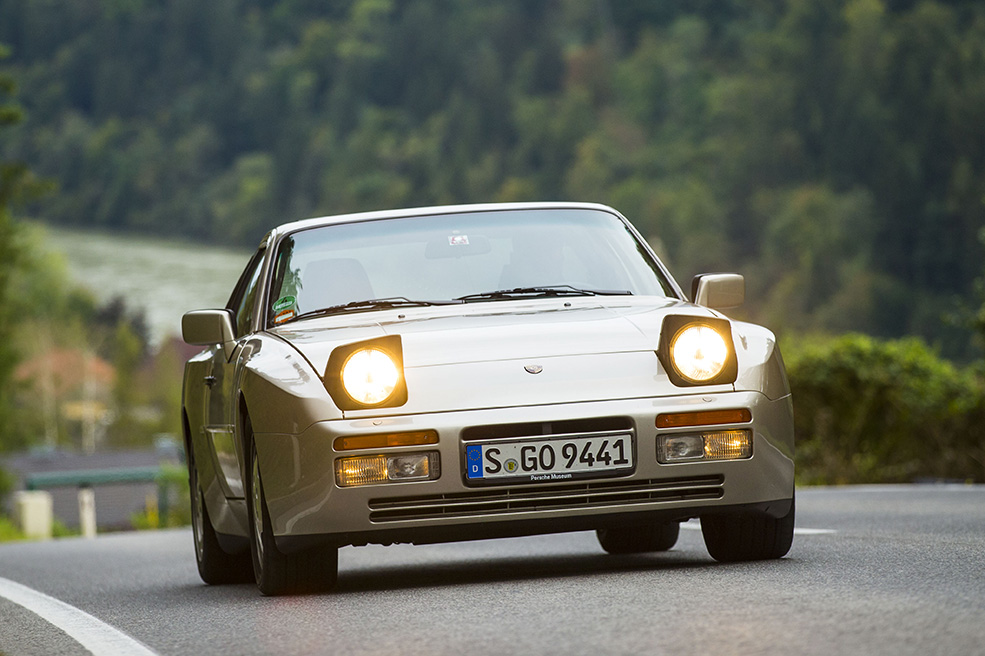 Electrics
Common problems with the Porsche 944 electrics are bad earths, corroded terminals, faulty switches, and/or bodged repairs.
Alarms/immobilisers are frequently troublesome. The battery light, an integral part of the alternator charging circuit, must have the correct bulb – not an LED.
Check if the rheostat on the light switch works.  If it doesn't, the switch will stop working soon. The headlamp motor's internal switching (controlling open/closed positions) can fail. If a headlamp won't raise when the switch is in the dip/main position, or lower when turned off, check the relay mounted on the motor. Fortunately, second-hand motors/assemblies are cheap and plentiful.
The Bosch airflow meter can give trouble. Luckily, it can be reconditioned. ECUs are less problematic, although dry joints are not unheard of. ECUs can also be reconditioned.
The DME relay (actually two relays: one powers up the ECU; the other relates to the fuel pump) is a known weakness.  Solid state ones are now available – it is recommended to always carry a spare!
Check electric window operation, as the channels could be warped or dirty. Test the electric sunroof, electric seats, mirrors, aerial (only on early models: later cars have the aerial in the windscreen), heated rear window, rear wiper, headlamp washers (although the washers are often disconnected), and tailgate release. An ill-fitted or poorly adjusted tailgate causes extra noise.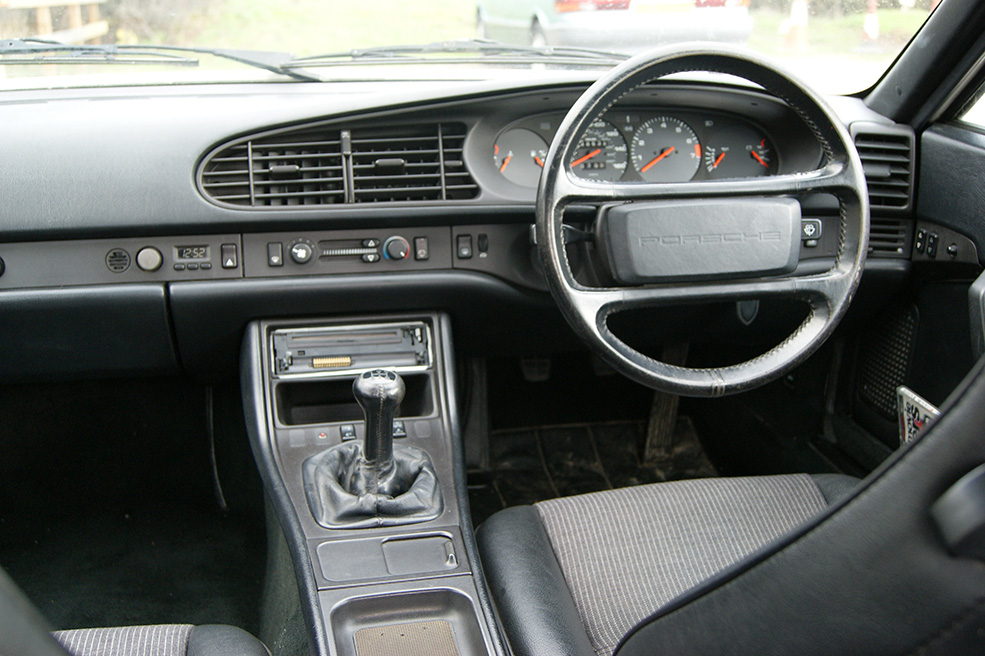 Interior
Like most old cars, Porsche 944 seats bear witness to care and mileage. Front seats can split along the seams and the driver's side bolster is a known wear area, while leather seats can need conditioning. The majority of interior fixtures and fittings, including carpets, are easily obtained.
The worst problem on pre-oval dash cars is the dashboard top, which cracks in the heat of the sun. There are options here, from relatively cheap used items to very expensive, new, modern, manufactured replacements shipped from Germany. The oval dash is more resilient.
The air conditioning does not freeze you like a modern car but it makes driving on a hot day much more pleasant. However, using the air-con does impact negatively on power and economy. Check that the system delivers cold air, and if the fan operates on all of its four speeds. Replacement air-con parts are expensive to buy and install.
Porsche 944: our verdict
Until the arrival of the Porsche Boxster, Cayman and 997-gen 911, the 944 was Porsche's most successful sports car. A total of 163,192 Porsche 944 models were produced so there are still plenty of good examples around – but the market has really strengthened for the faster models in the range.
Buy wisely and you'll have a car that will impress with its performance, will astound with its handling, and will draw countless admiring glances.