Forty years ago, the Ford Sierra was as famed for its 'jellymould' design as its family car credentials. Today, it's a practical classic with few pitfalls and plenty of retro-cool appeal
Words: Dan Williamson
Supercar-slaying RS Cosworth models continue to grab the headlines, their lotto-winner auction results casting an iconic halo across the entire Sierra range. Yet the bread-and-butter variants are a world apart – not just in terms of price, but better usability, availability and ease of maintenance. Four decades on from the Sierra's debut, it's a classic with a great deal to offer.
The Ford Sierra famously superseded the conservative Cortina, and shocked loyal Ford buyers with its swooping curves and low-drag bodywork. The public wasn't prepared for aerodynamic bumpers and flush wheel trims – even though the underpinnings were completely conventional. Worst of all, their beloved three-box saloon was replaced by a five-door hatchback, alongside a bulbous estate; the 'jellymould' nickname was quick to stick.
Launched in September 1982, the Ford Sierra retained the Cortina's rear-wheel drive layout, albeit using MacPherson strut front suspension and an independent rear end. Powertrains were also carried over, being a choice of ancient Pinto (1.3-, 1.6- or 2.0-litre) with four-speed gearbox or outdated Cologne V6 2.3-litre with three-speed auto, plus an aged Peugeot 2.3-litre diesel – now with a five-speed manual. Ford market sector targeting resulted in trim levels of entry-level Saloon, L, GL and Ghia, each more noticeably neighbour-pleasing than the last.
Poor public reaction meant slow sales, so Ford released the XR4i in 1983. Powered by a 150bhp V6, the XR4i's sporty styling failed to hit the mark; the plastic body cladding and bi-plane rear wing were, again, too much too soon. So Ford fixed the issues by introducing 1985's XR4x4, with a sedate appearance above a highly effective Ferguson Formula rear-biased all-wheel drive system. By then though, the rest of the range was making ground; a basic three-door Sierra (1.3 or 1.6) had been and gone, there was a 1.8-litre Pinto, five-speed gearboxes on petrol engines, a limited-edition Laser and the short-lived 2.0i S.
Giant-killing RS Cosworth and RS500 motorsport beasts arrived in 1986 and '87 respectively, taking the Sierra into new territory. In February 1987, the range received a significant facelift, boasting bigger headlamps, a larger glass area and integrated roof gutters. And at last, Cortina fans could buy a Sierra four-door saloon, wearing the Sapphire badge for marketing reasons. From 1988, there was even a Cosworth four-door, replaced in 1990 by a 4×4 rally contender.
By then, the Ford Sierra had slipped from perceived modernity to a dated position behind its front-wheel-drive rivals. Further facelifts emerged, including 1.6- and 1.8-litre CVH engines, 2.0-litre DOHC, 2.9-litre V6 and 1.8-litre Endura D turbodiesel. And as the Sierra continued to fight its corner until the Mondeo arrived in 1993, end-of-line Azura and Chasseur models rounded off a range that had sold 1,299,993 examples in the UK alone – a sure sign of the Sierra's right to be preserved and enjoyed.
Bodywork
The Ford Sierra is known to rot extensively, so your biggest battle could be finding a rust-free example. Mid-1980s Sierras (C- and D-reg cars) tend to be worst, as do British-built cars compared with their Belgian counterparts.
Conduct a thorough inspection, beginning with the obvious places: doors, A-pillars, wheelarches, front wings, bonnet, tailgate and boot aperture (beneath the seals). Underneath, examine the inner and outer sills, floorpan (lift the carpets from inside, too), crossmember, inner wheelarches, chassis rails (especially the rear box sections near the spring seats) and boot floor.
Most importantly, look beneath the bonnet, where the inner wings and bulkhead are difficult and costly to repair. In extreme cases the suspension turrets can collapse, so check the wheel camber is matching on both sides.
Be prepared to pay more for a Sierra with original bodywork, so inspect the front wings for factory stampings and seam sealer where they meet the bonnet slam panel. Genuine Ford replacement panels are rare and are unfortunately the same whether for a 1.6 Laser or RS Cosworth – resulting in scarily high prices.
The same goes for tinted glass, sunroofs (check for rot), headlights and fog lamps; if they're applicable for a sporting model, your wallet won't be happy.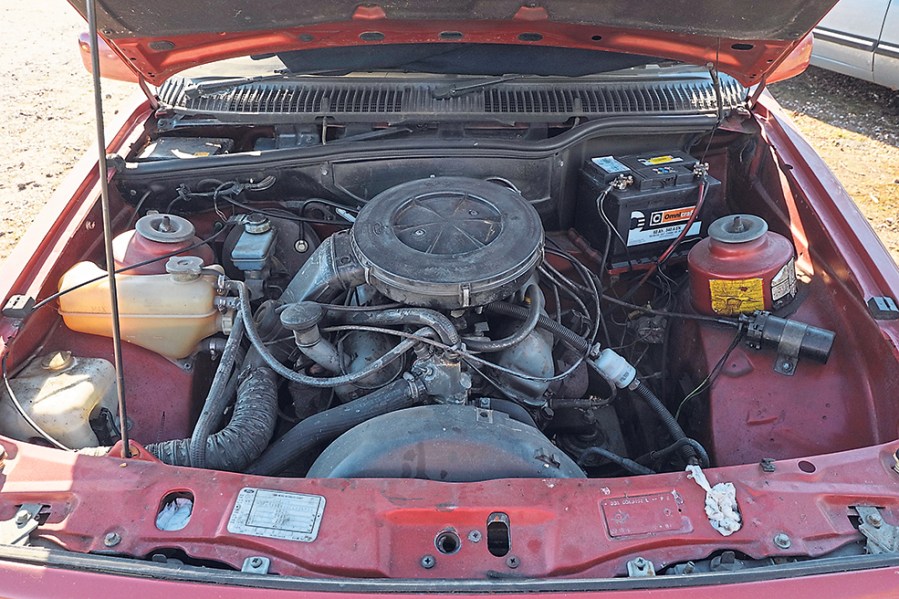 Engine and transmission
The vast majority of early Ford Sierra models were Pinto-powered (even the Cosworth used a derivation of the old Cortina unit), which was generally unrefined and asthmatic but would go on forever while getting gradually noisier. Lack of servicing led to oil spray bar blockages, typically causing camshaft wear; clattering from the top end means it's time for a new cam and followers.
Bottom end knocking usually means the crank and shells are worn, requiring an engine rebuild – as do plumes of bloke smoke from the exhaust (piston/ring/cylinder bore wear), often accompanied by breathing from the oil filler cap. Don't be concerned about whiffs at start-up, which will merely be the valve stem seals. Check for blowing from the head gasket and ensure there are no water leaks. Regular oil changes and biennial cambelt swaps should keep it in good health.
Later CVH-powered Sierras were no significant improvement over the Pinto and were equally susceptible to a worn camshaft, lifters and cylinder bores. A rattling CVH is less worrisome than heavy knocking, but oil breathing problems are common.
The DOHC engine was unrelated to the Pinto, but had similar oil spray bar problems, albeit with costlier results; noise from the top end is typically caused by tired hydraulic tappets, potentially wearing out the cams and cracking or warping the cylinder head. It also suffers from cooling issues, causing head gasket failure and a damaged head. Unlike the Pinto, the DOHC ran on a timing chain, which could stretch or snap; be very wary of rattling. Oil leaks are also common.
Cologne V6-engined Sierras were limited to early (1982-84) carburettor-fed 2.3s or fuel-injected 2.8s and 2.9s. Again, tapping from the top end is typical, often resulting from a need to adjust tappet clearances; bear in mind that late 2.9s had hydraulic lifters, which may have accidentally been over-tightened, leading to poor performance. The 2.9 benefited from chain drive instead of the earlier plastic timing gear, which can cause tapping, and should be replaced with a metal wheel. Look for leaks from the manifold gaskets and beware of bad running – the 2.8's mechanical Bosch system is temperamental and costly to fix.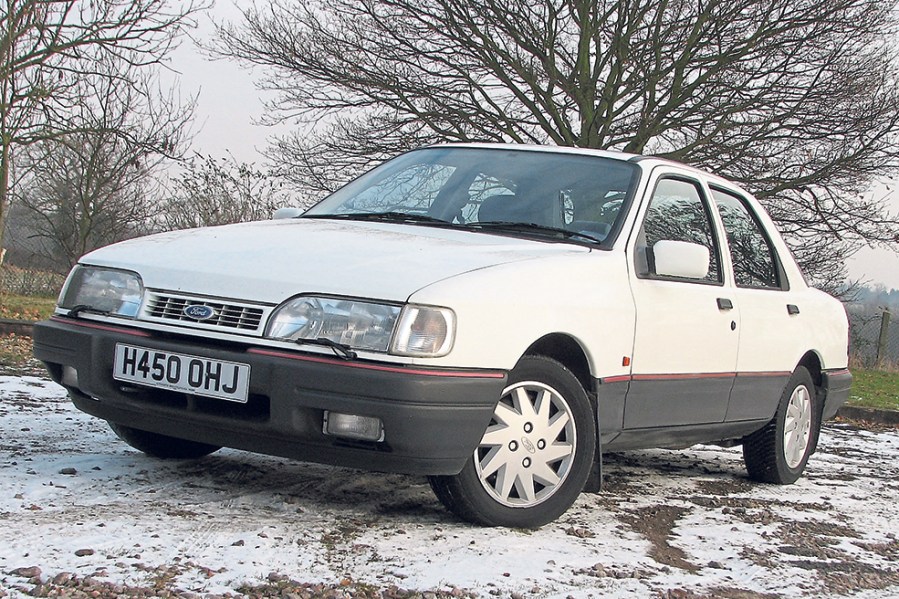 By now, most early four-speed Ford Sierra examples have disappeared or been upgraded to the more common Type 9 five-speed gearbox. Both types tend to run forever, although transmission noise is typical. Crunching between gears is common, especially on third, pointing to synchromesh failure. Rumbling from the 'box suggests worn layshaft bearings. In either case, a rebuild will be required.
Four-speeds are slick, but the Type 9 has a stodgy change. Excessive baulking should be investigated: fifth can fail altogether (jumping out of gear), but sloppiness can have a variety of less-serious causes. Look for oil leaks and check the propshaft for play.
Ford's tougher MT75 gearbox was fitted to DOHC Sierras and 2.9 4x4s. It's also susceptible to synchromesh failure, but sogginess tends to result from a knackered linkage. Four-wheel drive Sierras typically feel harsh through the drivetrain, although anything more than slight rumbling might be bad news. Clicking could be a crack on the front transfer shaft's universal joint (pricy to repair), while the rear shaft is prone to tearing the doughnut.
Check for clutch slip and a noisy release bearing, but don't worry about a floppy pedal, which suggests the plastic adjuster gears have worn out.
Sierra automatics are now rare; the later four-speed unit is preferable to the original three-speed version. Ensure it's topped up with clean oil, and check it changes up and down smoothly. If selection is dozy, suspect a failed vacuum modulator, worn servo seals or damaged internals. It won't be a cheap fix.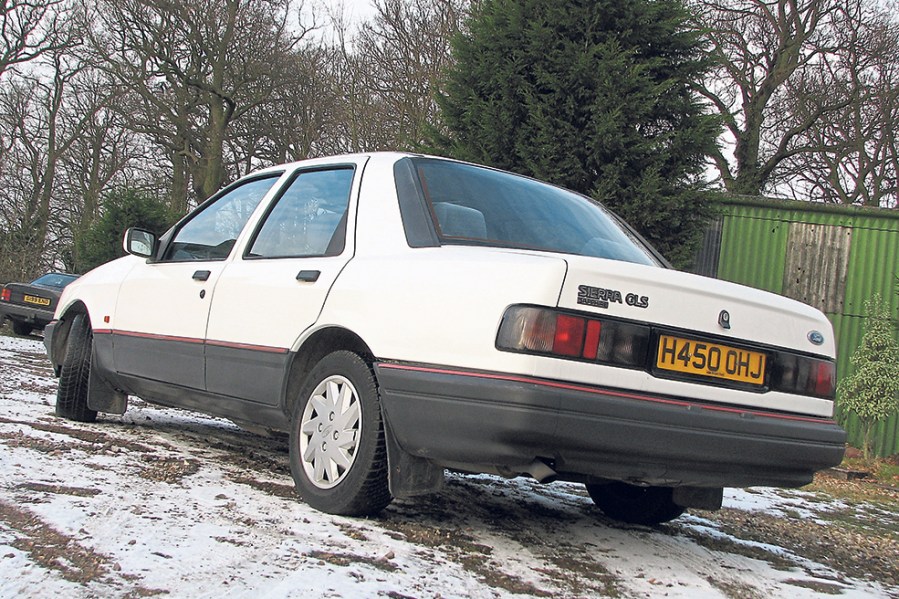 Suspension, steering and brakes
The Ford Sierra has a straightforward platform with MacPherson struts up front and an independent rear with coil springs and semi-trailing arms. The ride on non-sporting Sierras was floaty but should never feel unsafe. Vagueness at the front tends to be caused by sloppy outer track control arm bushes, which may be accompanied by clonking over bumps. Floating from the tail is typically due to perished rear trailing arm bushes. Tired dampers may also be to blame, and it's worth checking the springs aren't snapped.
Wandering at speed may also be due to a simple steering column bush, tired or leaking steering rack; check for play at the front wheels, and bear in mind the majority of Sierras lacked power-assisted steering, but it's considered a worthwhile extra.
Braking on humdrum models was uninspiring, although larger-engined Sierras featured ventilated front discs. Expect there to be juddering through the pedal, generally resulting from worn discs and pads or, if only on one side, a sticking calliper. The rear drums tend to leak on wheel cylinders or seize on the handbrake mechanism – also common on sporting models with rear discs. Sponginess is normal, as are rusty brake lines, splitting hoses and a tired master cylinder.
Thankfully, most replacement components cost pennies and are generally still available from motor factors. An ABS-equipped Sierra could be more problematic, so ensure the dashboard light goes out at start-up.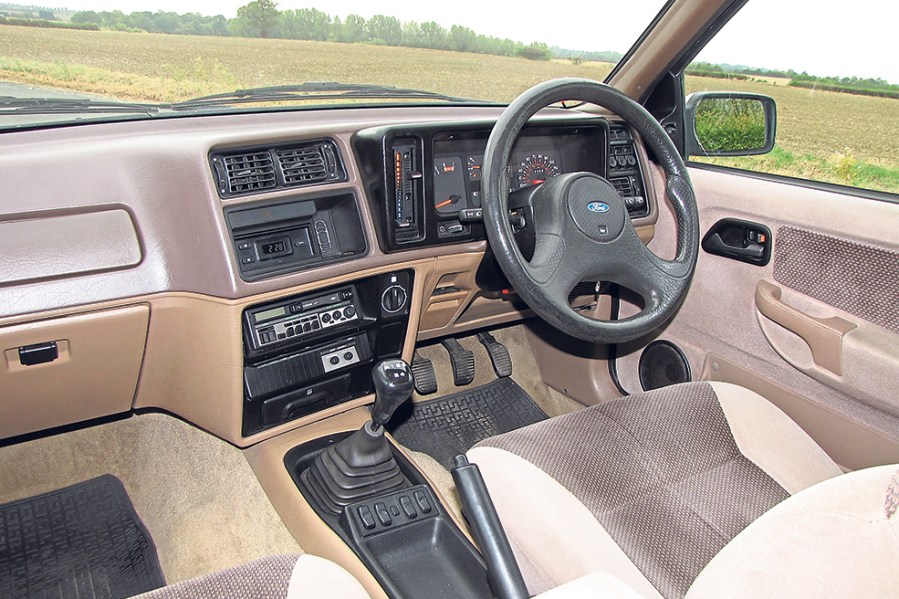 Interior and trim
The Ford Sierra was designed to be durable, and most types of upholstery don't show wear until a high mileage has been covered. The driver's seat typically comes unstitched or torn on the bolster, the base may be collapsed, and the recliner mechanism could be loose.
The vinyl on door cards is prone to wrinkling and lifting from the backing, which can be difficult to repair or replace. The headlining is also likely to be sagging, although refurbishment isn't prohibitively pricey.
If it's a Mk1 Sierra, the dashboard will almost certainly be cracked and/or warped, especially around the speaker grille in the centre. Mint dashboards are extremely rare, and repairs tend not to last long; to make matters worse, Mk1 dashboards are in demand among Cosworth owners, so command four-figure sums. So, don't be surprised to see an early Sierra fitted with a later model's dashboard (without the speaker grille).
Switches, stalks and electrical components should be checked (especially electric window and central locking motors), but they're shared throughout the range and so aren't overly expensive.
Ford Sierra: our verdict
Sierras aren't the last word in style, although their rarity and nostalgia factor are increasingly appealing as the years fly by. Thanks to rear-wheel drive and that Blue Oval badge, retro-motoring fans consider any Sierra to have a considerable cool factor.
As usual, it's the fast Fords that gain the most attention, and that's where our money would go: an XR4x4 or GLS is very investable. And if you find a 2.0i S, be sure not to miss out because they're few and far between – albeit not great performers.
Still, even a basic 1.6-litre Sierra gives the incomparable feeling of being behind the wheel of an older car, yet lacks nothing when it comes to practicality or economy. It really is a usable classic.
Leaving aside RS Cosworth models – which can reach six-figure sums – Sierras can still be purchased for little more than the price of an old banger. This makes them achievable and usable, as long as you keep the tinworm at bay.
Four-door Sapphires and their five-door counterparts are similarly priced, with condition more important than body style; estates are sought-after for their excellent load capacity, although they don't command a premium.
A crusty Sierra is worth little more than scrap value, and even a runner could be acquired for £500. A ropy but roadworthy Sierra can be picked up for under £1000, although it would still be a project. If possible, it's worth digging deeper for a car that requires less work – £3000 should achieve an original well-specced model with high mileage, while £5000 will bag something very nice indeed. Even an XR4x4 or the desirable 4×4 wagon shouldn't bother the £10,000 bracket, although concours XR4is can reach £25,000.