In the wake of the Ford Mondeo's demise, we chart Ford's classic family saloons through the years
Words: Dan Williamson
These days, you're considered old-fashioned if you favour a traditional family hatchback over a high-riding SUV. And if you fancy a big saloon, you're positively antiquated. Thanks to an influx of crossovers, hybrids and plug-in electric machines, the cars that formed the cornerstone of British motoring are on their way out. And none is more conspicuous than Ford's D-segment stalwart, the Mondeo, which was axed in Europe in April of this year when the final example rolled off the Valencia production line.
For almost three decades, Mondeo had been a byword for middle-England motoring; Labour leader Tony Blair popularised the phrase 'Mondeo Man' to refer to aspirational working class voters. Ford's highly-successful saloon had become a synonym for a family car or a sales rep's workhorse – just like its Cortina and Sierra predecessors. Yet at the end of the 1950s, Ford had little to offer British buyers of mid-sized machines. Its range of large saloons and sales-busting small cars were joined in 1961 by the Consul Classic 315, but it was over-styled and overpriced.
Meanwhile, Ford in Germany was developing a mid-sized Taunus, and BMC's Mini was causing a sensation. Ford's UK bosses opted to face both rivals with a Taunus-sized car for a Mini-baiting price.
But instead of choosing its competitors' front-wheel drive layout, Ford's new car – codenamed Archbishop – would use a conventional rear-wheel drive platform with MacPherson struts and a leaf-sprung solid back axle. The styling was intended to be simple, yet ended up as one of Ford's most charismatic designs, with its circular rear lights – known for looking like inverted CND logos – immediately grabbing attention.
Ford Cortina Mk1
Unveiled in October 1962, the initial Consul Cortina line-up included only a puny 1198cc Kent engine. Mated to a four-speed all-synchromesh gearbox, it topped 77mph. Two specifications were offered: Standard (with body-coloured grille) and De Luxe, which gained a padded dashboard and chrome grille. Buyers could order a two- or four-door saloon. A Super joined the range in January 1963, with luxuries of heater and carpets; it also gained a 1498cc engine, which became optional in lesser models. In March came five-door Cortina estates, and the GT a few weeks later. With a Cosworth-tuned 1.5-litre powerplant, front discs and stiffer suspension, the 78bhp GT set wheels in motion for a motorsport career.
It also paved the way for the legendary Lotus Cortina homologation special. Assembled at Lotus's Cheshunt factory from February 1963, it was based on a two-door GT but with a twin-camshaft cylinder head on its 1558cc engine, producing 105bhp. Road trim included lowered struts, lightweight rear suspension with bespoke A-frame set-up, and aluminium body panels. Wide wheels, front quarter bumpers and a Sherwood Green flash along Ermine White paintwork made the Cortina Lotus (as it was officially named) an instant icon and circuit-racing hero.
Meanwhile, mainstream Cortinas topped the UK sales charts, and Ford kept ahead of the competition with continual updates. A new fascia appeared in October 1963, January '64 brought an automatic gearbox, and the following autumn saw 'Aeroflow' ventilation, a wider grille and front discs. Production of the Lotus ended in August 1966, after 3301-or-so had been built. The rest of the Mk1 range stopped in September, by which time 1,013,391 had been assembled around the world.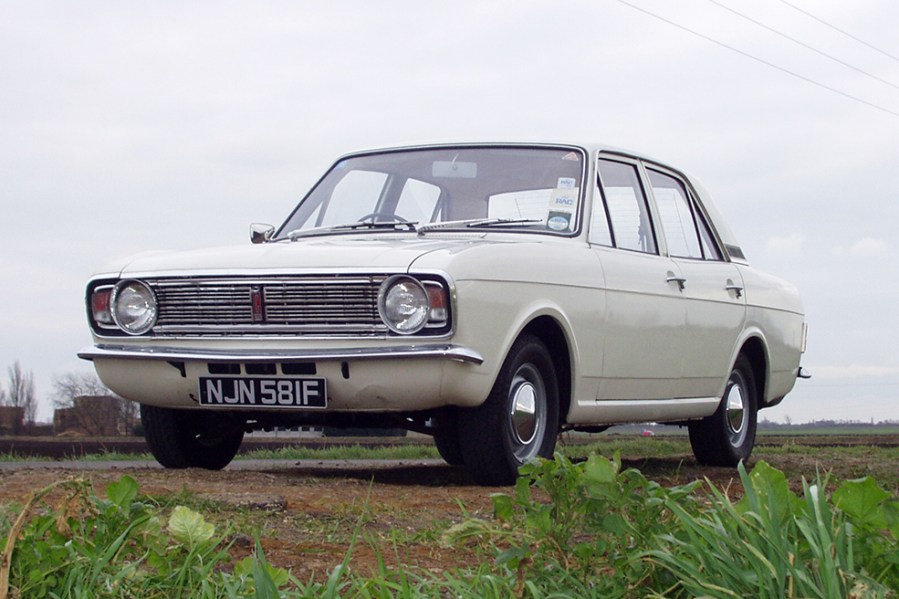 Ford Cortina Mk2
The second-generation Cortina took over in October '66, based on the Mk1's floorpan. Its sharp – if anonymous – styling added two inches in width and an airier cabin, the suspension gained wider track, and the 1.2 was superseded by a 1298cc unit. Standard, De Luxe, Super and GT remained as two/four-door saloons; a five-door estate waited until February 1967. The already-legendary Lotus Cortina appeared in Mk2 form in March, albeit now a mainstream machine built at Dagenham; it could even be ordered in a variety of colours.
September 1967 saw the introduction of Ford's now-famous Kent Crossflow engine, in 1298cc and 1599cc form. The 1.6-litre GT version boasted 88bhp, being showcased in the 1600E sporting saloon: Lotus suspension, Rostyle wheels and a wood-clad cabin captured an eager market; optional metallic paint and vinyl roof were executive must-haves. A minor midlife facelift appeared in October 1968, when the Lotus Cortina was renamed Cortina Twin Cam. Its time in the spotlight was waning, as the Escort became Ford's fearsome rally champ. Even so, the Cortina 'Twink' carried on until August 1970, by which time 4032 had been produced. In contrast, the staggeringly successful 1600E had moved 58,582 units, and 1,024,869 examples of the whole Mk2 line had been built around the world.
Ford Cortina Mk3
Despite such success, Ford had no qualms about reinventing the Cortina for its third generation, which hit the streets in October 1970. The Blue Oval cast aside concerns about British buyers resisting its American influence and embraced Stateside styling with Coke-bottle curves and an unorthodox sloping dashboard.
The Cortina Mk3 was longer and wider than its predecessors, having been designed alongside Ford of Germany's Taunus TC. Rear-wheel drive and double wishbone suspension was standardised, with rack-and-pinion steering finally ousting the Mk2's recirculating-ball set-up. A wide variety of powerplants started with the existing 1.3- and 1.6-litre Crossflows, joined by a fresh overhead-camshaft Pinto: top-model Mk3s were fitted with a 1993cc version, while a 1593cc was found in GT-spec cars.
The range comprised two/four-door saloons and a five-door estate as base, L and XL (wearing single round headlamps), GT or GXL (with twin headlamps). GTs got fabulous high-backed bucket seats, and the GXL was adorned with fake wood, which buyers found tacky.
Things weren't perfect, since the Mk3 proved to be more rust-prone than previous Cortinas – the Dagenham Dustbin nickname was becoming inescapable – and poor build quality became ever more typical. Yet sales were booming, with the Mk3 finally wresting the UK bestseller spot from BMC's 1100/1300 once and for all. By September 1973 the Mk3 was due a facelift, and with it came a conventional dashboard, rectangular headlamps, and a 72bhp Pinto replacing the 1.6 Crossflow. A plush 2000E pushed out the GXL; despite its wood-veneer and vinyl roof, it couldn't emulate the 1600E's kerb appeal. The Mk3's styling didn't age as well as the clean-cut Mk1 and Mk2 and by the middle of the decade the flashy chrome and curvy waistline seemed dated. October 1975's facelift was a token gesture to keep the showrooms busy, but it couldn't hide the Mk3's early onset of antiquity; it was time for a new model.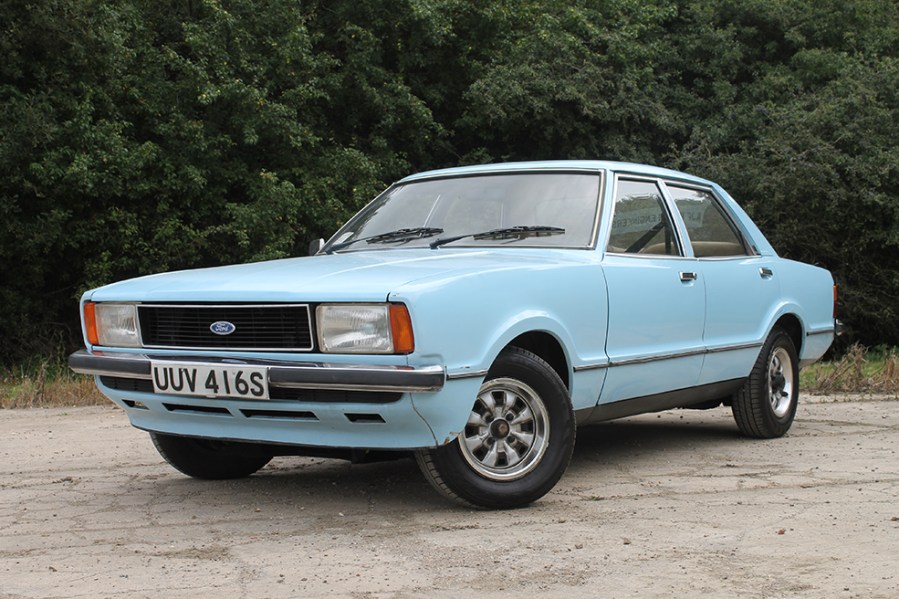 Ford Cortina Mk4 & Mk5
The fourth-generation Cortina hit the market in September 1976, now fully aligned with its Taunus counterpart; it had boxy styling and more glass than the Mk3, yet rolled on the same platform and even shared its predecessor's dashboard. As before, there were two-doors, four-doors and estates. Base models were austere, but most had reclining cloth seats, and the new Cortina S featured sexy stripes and uprated suspension. The range-topping Ghia (named after Ford's recently acquired design studio) boasted velour upholstery and a vinyl roof. Entry-level Mk4s were burdened with an economy-tuned 49bhp 1.3 Crossflow or 59bhp 1.6 Pinto; others received a 72bhp 1.6 or 98bhp 2.0-litre. From September 1977 there was also a 108bhp 2.3-litre V6, with power steering as standard. By then, build quality and driving dynamics were lagging behind rivals, yet sales stayed strong. To the UK's fleet market, the Cortina could do wrong.
When a facelift was implemented, Ford kept improvements to a minimum. Externally, there were bigger bumpers, plastic grille, taller windows and wider door apertures. Gas dampers enhanced the ride quality, engines gained more grunt, and model choices were gradually reduced. Two-doors were falling out of favour, and the sporty version was now just an S option pack. To consumers, the August 1979 Cortina was called the Mk5 but in reality it was little more than a stop-gap until an all-new replacement would arrive. In the meantime, Ford dug into its box of fancy names and silly stickers to keep Cortina fans flocking into showrooms; the special editions of Carousel and Crusader helped Mk5 sales stay strong until it reached the end of the line in July 1982, after 1,131,850 Mk4s and Mk5s had been built. By then, more than 11,000,000 examples of Cortina and Taunus had sold around the world.
But buyers wouldn't let go without a fight. Massive stockpiles of Mk5s saw dealers offering huge discounts, and the public couldn't bear to lose a car they saw as integral to the British way of life. Many sought alternatives, such as the brilliant front-wheel drive Vauxhall Cavalier, or the Hyundai Stellar, touted as the true Cortina replacement. Even Ford hastily introduced a traditional three-box saloon – the Orion – to fill the Cortina's shoes.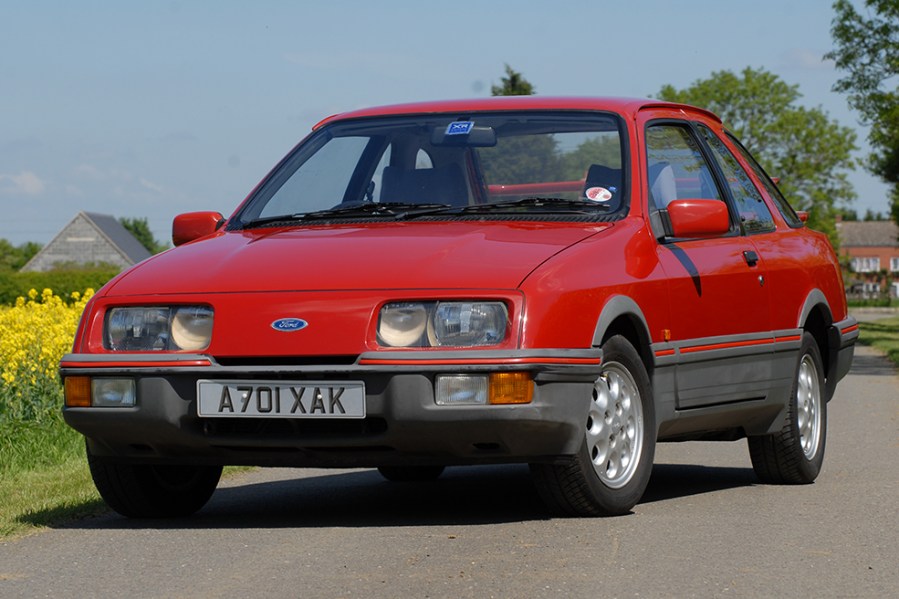 Ford Sierra
Conservative buyers simply didn't like the Cortina's futuristic replacement: the Ford Sierra. Indeed, the Sierra was intended to be aerodynamic even from its 1978 beginnings on a designer's sketchpad. Fuel efficiency demanded swooping curves, while Ford's marketeers pushed for premium styling. The concept, codenamed Toni, was backed by a colossal $1.2 billion budget, split for development between Britain and Germany. Key objectives included an ergonomic cabin, a vast choice of powertrains, and a broad array of options. Radical low-drag bodywork was deemed crucial: while the outgoing Cortina scored a 0.45Cd drag coefficient, Toni's goal was 0.35Cd. Modern techniques included plastic bumpers, bonded windscreen, rear-end bustle, and flush wheel trims to reduce wind resistance. Tested in Daimler-Benz's wind tunnel, the result was 0.34.
But the public was unimpressed. Soon after the Sierra was launched in September 1982, it gained the nickname 'Jellymould'; folk couldn't get to grips with the styling, even though the Sierra's running gear was thoroughly conventional. It used a longitudinal engine/RWD layout, which enabled Ford to retain the Cortina's ageing engines: the 1.3, 1.6 or 2.0 Pinto, the Cologne 2.3-litre, or an outdated Peugeot 2.3-litre diesel. Transmissions were initially the old four-speed manual, but the V6 received a three-speed auto, and the oil-burner gained a Type 9 five-speed, which gradually became standard on petrol-powered Sierras. Although the front suspension had reverted to MacPherson struts, the Sierra's rear received an independent set-up with coil springs and semi-trailing arms. Braking was also updated, receiving ventilated discs on the front of 2.0-litre models.
Trims had been carefully selected to give noticeable appearance enhancements for a little more money. Base models wore a bare plastic grille, the L added wheel trims and colour-coded grille, while the GL got halogen headlamps. The range-topping Ghia had a striking smooth nose with wider headlamps. Crucially, the three-box saloon had been ousted in favour of five-door hatchback or estate.
Yet sales were disappointing, so the Blue Oval stepped up its marketing drive. The first attempt to enhance the Sierra's image came as February 1983's XR4i, fitted with the Capri 2.8 Injection's 150bhp V6. With beefed-up brakes and suspension, the XR4i was a smooth tourer, if no sports saloon. But again, the styling raised eyebrows; buyers declined the three-door/ four-pillar bodyshell, plastic-clad wheel arches and double-decker rear wing.
The XR4i gave way in March 1985 to a five-door XR4x4, featuring sedate styling but the same V6 engine. Now, though, there was a Ferguson Formula all-wheel-drive system and disc brakes on each wheel. It was good enough for the Sierra to begin a meaningful motorsport career – essential for sales of high-performance machines – but would soon be eclipsed by a homologation special.
And it was very special indeed. The Sierra RS Cosworth took the world by storm, boasting a turbocharged 2.0-litre with a 16-valve head built by Cosworth Engineering. Its official power of 204bhp meant 150mph performance; mated to a tough T5 gearbox and limited-slip differential, the RS was capable of outraging contemporary Ferraris. And it looked the part too, its three-door body wearing wild wings and wide wheelarches. For Group A racing eligibility, 5000 had to be built, but Ford stopped at 5542 – putting 500 aside for conversion into the evolution-spec RS500. With a stronger engine, bigger turbo and larger spoilers, the RS500 could produce 550bhp in race trim. It won every circuit-racing championship it could enter, until it was outlawed by motorsport's governing bodies.
By then, of course, its work was done; it had immeasurably increased the Sierra's public profile, and mainstream models continued to improve. More engine choices and model variety were followed in February 1987 by a well-deserved refreshment. Revisions included a new nose, greater glass area and integral roof gutters. There was now, finally, a four-door saloon variant, known as the Sierra Sapphire. As a nod to traditional Cortina buyers, it included a grille instead of the hatchback's smooth beak.
Perfect for pensioners, maybe, but it gave rise to yet another Blue Oval legend: January 1988's Sapphire RS Cosworth combined the three-door's running gear with discreet bodywork but the same blistering performance. And it didn't end there, because January 1990 brought a 4×4 Sapphire Cosworth, with a reinforced engine (220bhp) and the XR4x4's superb transmission. Its moderate rally success led to the Sapphire donating its underpinnings to 1992's incredible Escort Cosworth. By then, the Sierra range had evolved into an understatedly great car. Facelifts had kept the line-up looking smart, while improved powerplants were a match for most rivals.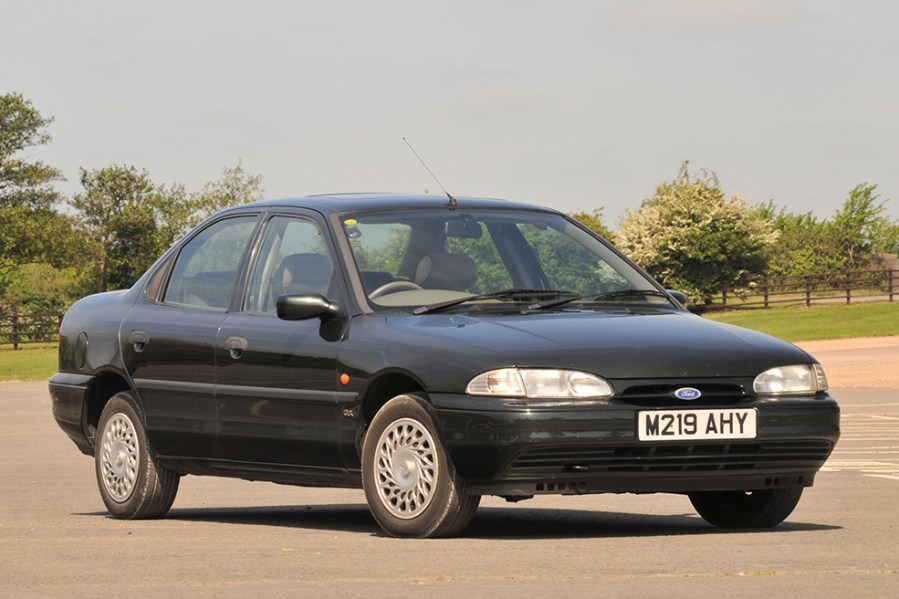 Ford Mondeo Mk1
Yet there was no denying the Sierra platform was outdated. So while Ford showrooms churned out limited-edition Azuras and Chasseurs – having produced 2.7-million Sierras around the world, with 1,299,993 reportedly registered in the UK – the firm looked to the future with its replacement, the Mondeo.
Development of the new world-beating mid-sized Ford began in June 1986 and was named CDW27 – the CD said it was for C and D sectors, while the W referred to 'world'. CDW27 was intended for Europe and North America, designed on both continents at a reputed cost of $6 billion. And although it didn't quite work out that way (the USA version would share few parts with Europe's), ours was given a global-sounding name of Mondeo, 'monde' meaning 'world' in French. Americans, meanwhile, got the Ford Contour and Mercury Mystique.
Still stinging from reactions to the Sierra, Ford insisted on CDW27's bodywork being inoffensive. In contrast, it would be mechanically up-to-date, packaged on an entirely new platform with front-wheel drive, multi-valve engine technology, excellent ergonomics and a focus on build quality. There was nothing revolutionary about the MacPherson strut front suspension, but the back had a subframe with struts for four-door saloons and five-door hatchbacks, or a multi-link system for estates. There was even a (short-lived) four-wheel drive option. Crucially, CDW27 would be great to drive and reliable to own – it truly was a world beater.
Mondeo production began at Genk in November 1992, followed by the launch in March 1993. It was immediately well-respected, being named European Car of the Year for 1994 and taking control of its market sector. Like the Sierra, the Mondeo offered a broad choice of models, priced perfectly for each particular consumer. Power steering and a driver's airbag were standard, the LX added a sunroof, GLX gained electric mirrors, the Si received a rear spoiler, while the Ghia was given air conditioning.
Engines were the eagerly awaited 16-valve Zetec (then named Zeta) in 1.6, 1.8 and 2.0-litre guise, followed in September by a 1.8 turbo-diesel and, in October 1994, a smooth 2.5-litre 24-valve V6. A tough MTX-75 five-speed gearbox was used throughout the range, alongside a four-speed auto with electronically-controlled driving modes. Traction control and active damping were high-tech options.
Ford Orion
When Ford launched the Mk3 Escort and Sierra hatchbacks to replace the Mk2 Escort and Cortina it left a saloon-sized gap in its line-up. In 1983 though, the four-door Orion arrived to plug the gap and win over some of the customers who weren't keen on a hatchback. The Orion was initially with 1.3- or 1.6-litre CVH engines and a choice of GL and Ghia trim level, the latter in carb-fed form or with the same fuel-injected set-up as the Escort XR3i. One year on, an L model was introduced alongside a 1.6-litre diesel engine.
A 1986 facelift mirrored that of the Escort and brought about more model options, further broadening the car's appeal and seeing it peak as the UK's seventh bestselling car in 1987 and '88. It survived into a third guise in 1990 but received similar criticism to the Mk5 Escort it was based on, and like its hatchback stablemate, only really recovered with the introduction of the Zetec 16-valve engines and other tweaks. Sales were never as strong as the previous model however, and in 1993, the Orion name was retired in favour of using Escort on all body styles.
It's probably fair to say that the Orion played second fiddle to the Escort when new, and on the second hand scene. However, looking into historical market trends it is clear to see values rising. A handful of years ago sub-£1500 were easy to find, but more recently £3500–4500 has been required to buy a good car, ans more for a nice Ghia. As examples, WB & Sons sold a 1987 1.6 GL showing 11,800 miles for £4568 back in February 2022, and a 1989 1.6i Ghia sold at Mathewsons last year for almost £7000.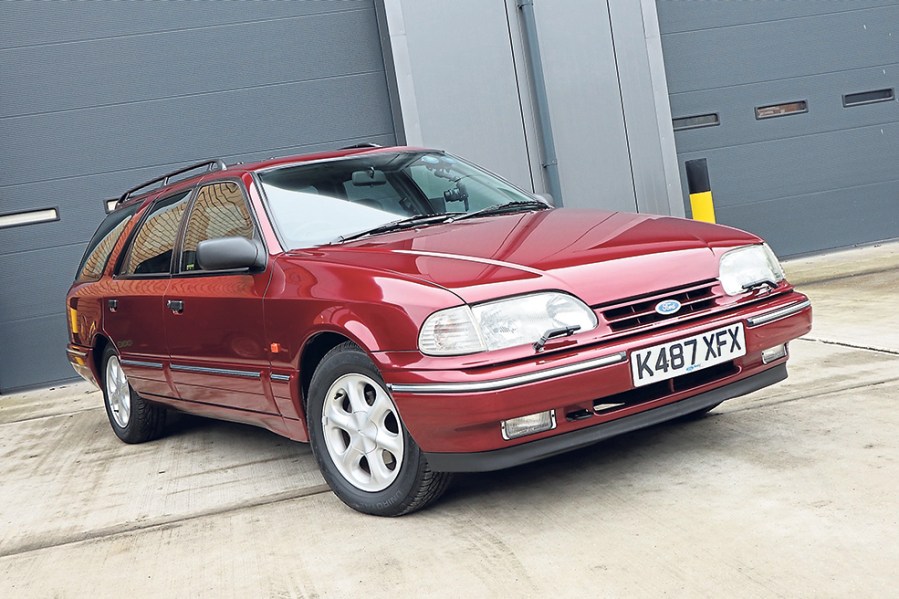 Ford Granada Mk3
The third and final incarnation of Ford's Granada – the Mk3 – arrived in 1985, with the name now employed in the UK and Ireland only, the Scorpio badge being used by markets in Continental Europe. Interestingly, the Granada Mk3 was the first volume production model in Europe to benefit from anti-lock brakes, fitted as standard across the whole range.
While it followed the path set out by the Sierra and Escort in changing from saloon to hatchback in body style, the last Granada was also available in booted guise for its final run between 1989 and 1995 before it was replaced by the new Scorpio with its distinctive new styling. The final 1989-on versions are easily identified via their front badge sitting on the grill rather than the bonnet. Granada engine options ranged from early Pinto units to the later range-topping Scorpio 24-valve 2.9-litre Cologne – this being one to own as it was breathed upon by Cosworth Engineering and good for 200bhp.
Hatchback and estate models are prevalent, but those in the market for a saloon might have to search around to find a car that fits the bill. In terms of values, anything other than a Scorpio could be had for under £3000 in a few years ago, and that appears to be the case now; WB & Sons offered a 1991 32,000 2.0 GL in February 2022 that was estimated at £3000–4000, but it failed to sell. As for the Scorpio, you'll pay a premium; at the time of writing we found a 56,000-mile 1990 car priced at £7000.