The MGF is still a bargain modern-classic sports car but prices are on the rise. Here's how to secure a great example
Words: Aaron McKay
The idea of a new MG sports car had been floating around design studios and management desks for more than a decade before the MGF actually came out in 1995. While the MG EX-E and MG F-16 concept cars had given the public suggestions but no promises, Mazda swept in and  got in first with the MX-5.
Finally, Rover Group could give an emphatic, if somewhat late, green light to the MG roadster as a production model. Following the F-16 concept rather closely, it kept the general profile, including provision for a mid-mounted engine, but the nose was changed to something more evocative of the MGB.
On release in 1995, the MGF was available in two forms: a standard 1.8-litre, 115bhp model, and a high-performance 143bhp model that featured a clever variable valve control system allowing the Rover K-series unit to rev to 7200rpm. Equipment levels were pretty generous, although early non-VVC models made do without standard power steering.
In 1998 and 1999, two special models were introduced named the Abingdon and the 75 respectively, both with special trim and colour options. In late 1999, the whole MGF range was facelifted, and today it's these later cars that probably appeal most to prospective buyers. These cars featured higher levels of equipment, including new seats, extended interior trim design details, and a new six speaker stereo system.
The VVC models also left the standard 15" wheels behind for newly designed 16" items, wearing wider rubber. Mechanically, all these facelifted cars also benefitted from revised electric power steering systems and cylinder head designs, two of the biggest issues identified on the early MGF.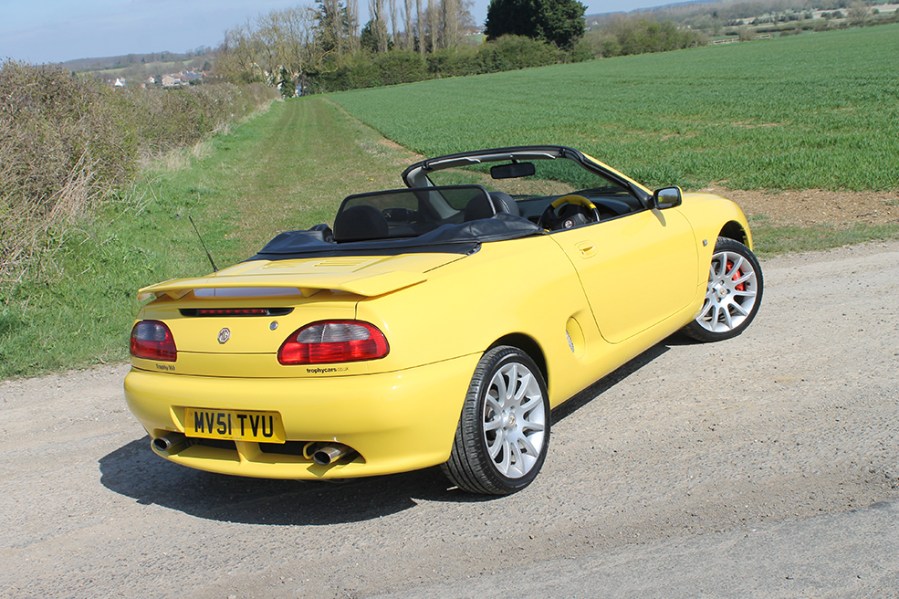 Introduced in 2000, the Wedgewood SE was another desirable special edition offering unique trim and a new blue paint colour. The Freestyle was introduced in 2001 and was the sportiest of the special editions, picking up on certain exotic details seen on the options list and some even from the Trophy 160.
The most focussed MGF, the Trophy 160 came out in spring 2001. This car featured a lowered and stiffer suspension, uprated brakes, special aerodynamic addenda, plus a fettled engine to bring power up to its namesake 160ps, or 158bhp. At the same time, there was a new basic version of the MGF featuring much less kit and a revvy 1.6-litre engine. For those who wanted a more relaxed MGF, a continuously variable transmission (CVT) had been introduced the previous year. Available from 2000, this was called the Steptronic, perhaps pinching some of the marketing capital earned by Porsche with its Tiptronic. In 2002, the MGF was overhauled and re-released as the MG TF.
Bodywork
Most MGFs still look good today, thanks mainly to devoted owners and effective rust-proofing from the factory. As far as rust goes, the worst areas tend to be at the leading edge of the front wings, along the sills, especially at the join with the rear wings, and on the boot lid near the number plate trim. Also look carefully at the air intakes on the side, where water and dirt can get trapped in between the bodywork and plastic mesh cover.
Underneath, things should be solid so don't be dismissive of any significant corrosion. If you see damage or rust on the front and rear subframes, it's probably worth walking away unless you're prepared to invest a good deal of time and/or money. It can also be worth checking under the front bonnet for signs of crash damage.
The paint quality on MGFs is good but can hide scratches and swirls from over-eager polishers, so try to inspect the paintwork under good light.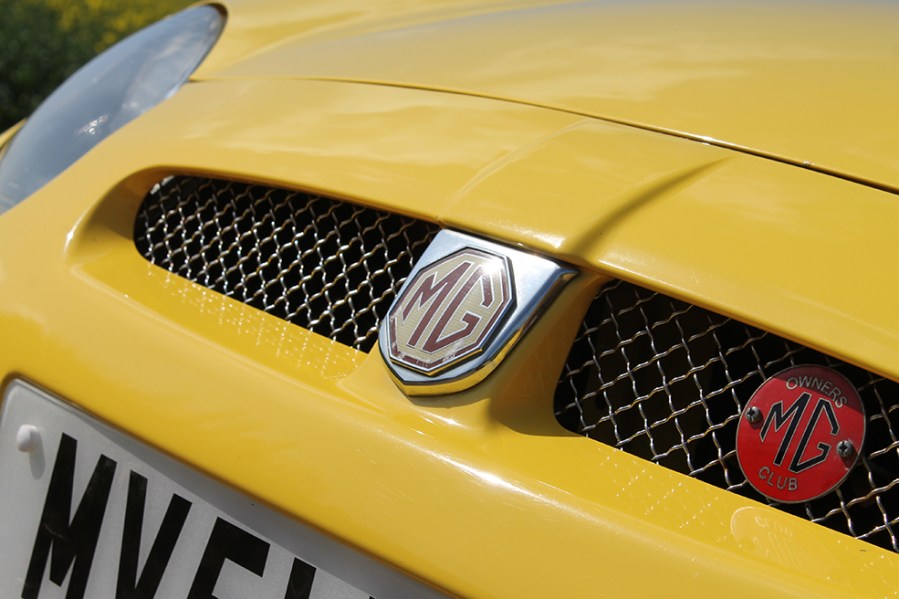 Engine and transmission
Under the rear boot lid lies the engine because of course the MGF is mid-engined. This location can present a variety of unique issues to consider. The restricted access can make replacing things like alternator belts, exhausts, and fuel delivery components that bit more time consuming.
Vents on the boot lid can let in water, often dropping directly onto the engine block and causing issues with the ignition system. Early cars are the most vulnerable because they have two coil packs serving two spark plugs each, with long leads, offering plenty of opportunities for water ingress. Post-facelift cars have coil packs on top of the engine and tend to be less vulnerable. Issues with the ignition system will result in difficulties in the engine starting, especially when cold, although be aware that this could also be a fuel pump on the way out.
When talking about the Rover K-series unit it is sensible to mention the risk of head-gasket failure. Many have since had overhauled cooling systems and multi-layer gasket upgrades, but it's still something to look out for.
Look at the condition of the coolant and oil for the usual signs of contamination, although beware that cars not run for a while, or recently used for short trips especially in the winter months, can display some milkiness on the dipstick. If unsure, it's best to inspect the oil cap on top of the engine, accessed beneath a bolted-on panel – bring your 10mm socket and ratchet.
Another thing to watch is the running temperature when on a test drive, both oil and water should warm up steadily and then sit at their optimum, with oil temperature subject to change if driven hard.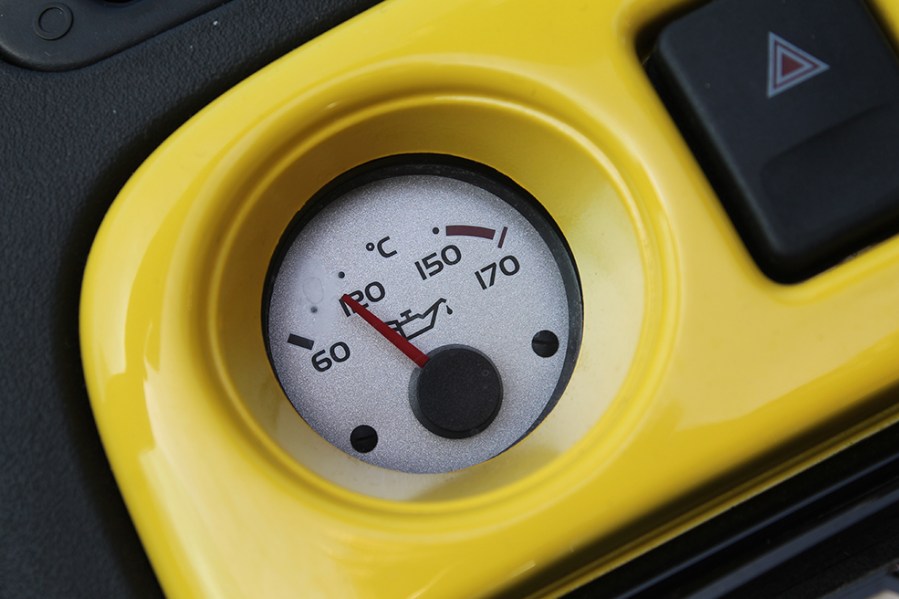 Listen out for running smoothness, especially once warm, as the K-series should generally be a quiet unit, only making the right noises when pressed. Any rattling could be a sign of loose cam bolts, which can break and become a nightmare to fix. VVC models can emit a rattling from the right side of the engine signifying wear in the variable valve control camshaft: another expensive fix.
Power increases from the Rover K-series are best achieved by improving its ability to breathe. Full induction kits are popular and sound great, but are quite expensive and not as effective as imagined, especially compared with the simple panel filters from Pipercross or K&N. Opening up the exhaust can be hugely beneficial, especially with a 4-2-1 manifold to replace the relatively weedy standard item. When combined with a Daytona or Trevor Taylor exhaust, it can unlock a good 10-15bhp from a VVC unit. If getting this serious, you might also consider a 52mm throttle body, as fitted to the Trophy and later MG TF models, to replace the standard 48mm unit.
The PG1 5-speed manual gearbox used across the MGF range is well proven and generally solid. The same gearset is used across all models, with a shorter final ratio used for VVC-equipped cars to keep the higher-revving engine on the boil.
The change should be positive and precise, albeit with a long throw. Any signs of sloppiness could indicate worn linkages or, at worst, wear in the gearbox from wanting an oil change. Also note that both clutch and handbrake cables are sensitive to adjustment.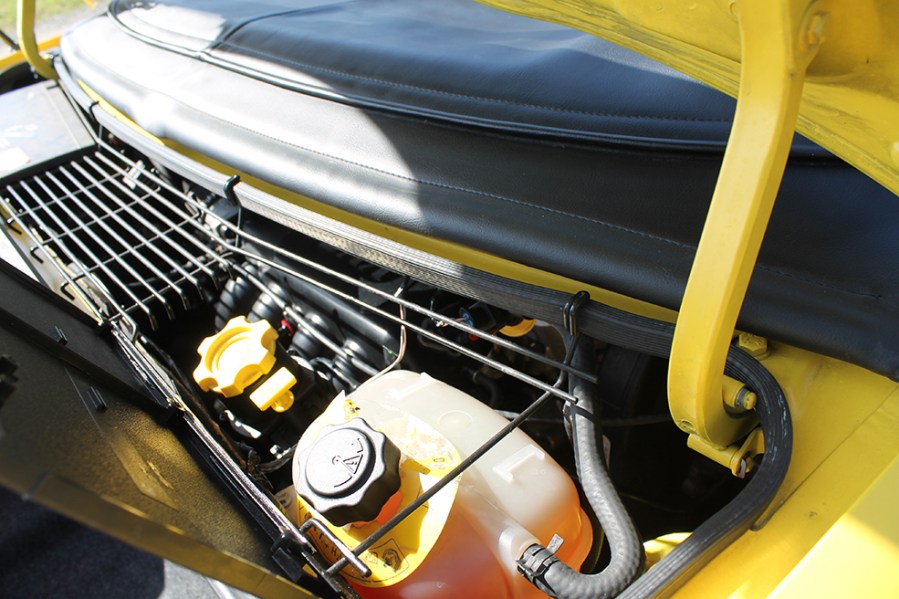 Suspension, steering and brakes
Along with the head gasket issues, one of the biggest things to watch for when buying an MGF is the suspension, namely the Hydragas system. Any system that hasn't had attention for over a decade is likely to be operating at sub-optimal levels. The nitrogen gas inside the system leaks out of the porous rubber seals and eventually the suspension units' ability to provide a supple ride is dramatically reduced. Cars that ride stiffly and sit low (the distance between the wheel centre cap and the wheel arch should be around 35cm) will probably need a re-gas.
Very few cars will have been upgraded with aftermarket units that can be re-gassed, so the options are usually like-for-like Hydragas sphere replacement or a coilover conversion  both considerably expensive.
Elsewhere, look for worn suspension bushes and upper ball joints, as well as signs of excessive corrosion on the lower wishbones. Rear shock absorber mounts are also known weak spots, sometimes even to the point where they split. It's worth noting that stiff-riding cars with worn-out Hydragas spheres can apply serious stress onto suspension mounting points.
MGFs are known to be particularly sensitive to tyre choice, as might be expected for a mid-engined car. The general wisdom is that a directional pattern and strong sidewall are essential. The Goodyear tyres originally fitted to early MGF models are no longer in production but there are plenty of options available today and even high-end tyres don't cost the earth.
Those with early cars with 15" wheels will want to look at the Yokohama Advan series, such as the Fleva V701, available in 195/50mm and 205/50mm profiles. This series of tyre was developed with Toyota's MR-2 in mind, and in fact the Japanese company's vested interest was the only thing in the way of these being fitted to the MGF when new.
Later cars tend to have 16" wheels, particularly the VVC models. For these, the Toyo Proxes range has long been popular, although some will recommend BF Goodrich as better all-rounders. The larger 16" wheels were fitted with 215/40mm tyres from new, except the MGF Trophy 160 which went to 195/45mm tyres on the front. Today, most enthusiasts extoll the benefits of the same size tyre front and rear, as it reduces the understeer inherent in the chassis' original balance, making the most of the MGF's sporty character.
A recent development is that mid-range tyre manufacturers are offering options that have had good reports, such as the Avon ZV5 and Nexen N2000 or N3000, making it even less excusable for a well-cared for MGF to not be wearing good rubber. However, you often do have to go through lesser-known channels to source the exact tyre you want, rather than popping down to your local chain depot.
A popular upgrade is to retrofit the four-pot calipers from the MG TF 160, although some specialists now offer a two-piston setup which is just as effective, if not more so.
Suspension upgrades range from the newly available fully re-gassable Hydragas units to a complete coilover conversion. There are also comprehensive polyurethane bushing kits that cost a few hundred pounds but can work wonders with the car's dynamic behaviour. Replacing the rubber bushes in the suspension arms and along the anti-roll bars can dramatically sharpen the MGF's responses.
Interior and trim
Plenty of the MGF's interior switchgear has the blessing of Honda's detailed component engineering and development, so it generally holds up well. One issue is with the standard stereo system, which only has two speakers and so is pretty susceptible to abuse when compensating for roof-down wind noise. Cars with speakers behind the seats should have fared better.
Make sure that the wipers work too; the linkages are known to fail and can be tricky to replace. Also check that the headlights are producing strong beams of light, as headlight casings and reflectors often become opaque with age.
If an MGF has failed power steering then you might not need to run too far, because it can be a simple fix. Usually it can be traced to a 40-amp fuse found under the front bonnet or, if the issue is temperamental, a faulty ECU found behind the glovebox. Neither will break the bank. If the mechanism is at fault then this will be more of a problem as it's part of the steering column and more difficult to access.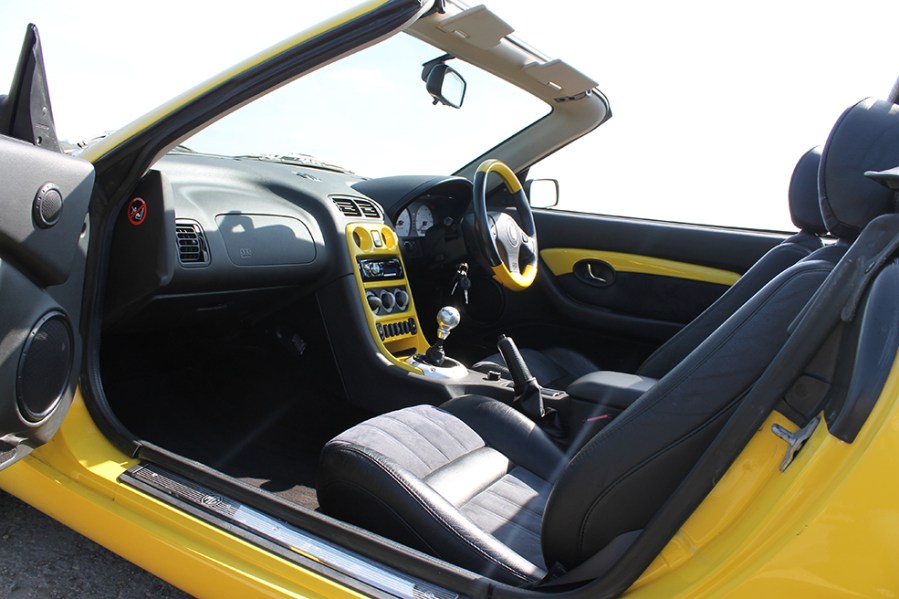 MGF: our verdict
For now, buying an MGF is still an affordable way to get into a mid-engined sports car behind a badge of serious heritage, with all the benefits to be gained from plenty of cars being parted-out, as well as an extensive and devoted enthusiast community. However, values are already on the rise for the MGF, and while it's still possible to buy one for peanuts, you're likely buying into much more work than you would have done even five years ago.
Still, the MGF stands as a fine alternative to those rivals whose values have exploded – see the Mazda MX-5, for example – offering mid-engined thrills for very little outlay. If you're in the market for a small, cheap sportscar, it's a good idea to jump on the wagon while 'F prices are still sensible.