Favoured by newcomers and experienced owners alike, the chrome-bumper MGB is popular for a reason. Easy to maintain and great to drive, it's a cracking choice
Words: Chris Randall
Enthusiasts will need little in the way of introduction to one of the most affordable and popular cars on the classic scene. Launched in 1962 to replace the MGA, the MGB proved to be an instant hit, and with monocoque construction it was a much more modern affair. The roadster appeared first, with the GT arriving in 1965 with its neat Pininfarina styling that blended sporting looks with useful practicality.
All were powered by the durable four-cylinder B-Series engine (plus a Rover V8 from 1973, although we'll save that for another time) and while there were numerous rivals – including the likes of the Triumph TR4 and Sunbeam Alpine – few could match the overall usability and driver appeal of this newest MG. We're concentrating here on the chrome-bumpered B that, with various detail changes, was produced until 1975 when it was transformed into the somewhat divisive 'rubber bumper' model that ultimately lasted through to 1980.
Essentially, the MGB makes as much sense as it's always done. Perfect for seasoned owners or beginners alike, it's a classic that appeals on so many levels and one that deserves every bit of its enduring popularity.
Bodywork
For a car that appears so compact and simple, a B can harbour a multitude of corrosion-related sins, so don't be swayed by a shiny exterior. Rust can fester deep within the structure, requiring major surgery, and the cost of such work will far outstrip the value. Plenty have been restored already, of course, although you'll need to establish the quality of the work as low values led to more than a few examples being bodged over the years.
In the worst case scenario you can buy a brand new shell but at £13,000–15,000 depending on the version, this is an expensive undertaking. Assuming you're not considering such a drastic approach, the important thing is examining every inch of the bodywork, concentrating on all of the typical trouble-spots such as wings, wheelarches, door bottoms, bonnet (alloy prior to around 1970 when it was swapped for steel) and the GT's double-skinned tailgate.
The scuttle, screen surrounds and door pillars also require inspection, and assess the fit of the doors; if they catch on the B pillars the whole shell could be awry. The integrity of the sills and castle sections is crucial, too, as replacement means cutting off the bottom of the front and rear wings. And close scrutiny is needed beneath as the floors, outriggers, jacking points and rear spring hangers can all dissolve away. Under the bonnet, check the bulkhead for rot.
The good news is that every panel and repair section you could need is available, but don't underestimate the time and cost involved in restoring a B properly; finding one that's been done to a good standard is a much better starting place. Finally, remember to check the condition of the brightwork along with the hood and frame on a roadster – the design changed from the old 'packaway' style to a folding type in 1970 but it's possible to fit the later, improved set-up to an earlier car.
Engine and transmission
The B-Series engine is a tough old thing and the five-bearing version fitted from 1964 is notably more robust. They'll soldier on with even a modicum of regular maintenance and a DIY rebuild is straightforward; budget around £2500 for a professional to do it, and a similar amount for a rebuilt unit with an unleaded cylinder head.
If it seems broadly healthy then check for blue smoke indicating bore wear or a blocked crankcase breather, and low oil pressure – 50-60psi at speed is a good sign. And listen out for knocks and rumbles from the bottom end indication the need for a rebuild, and for the clatter of a worn timing chain and valve-gear. Check for oil leaks too – a leaking rear crankshaft oil seal means the engine will need to come out to fix it. Neglect can result in the cooling system silting up, so look for signs of overheating which will do for the head gasket.
There's little to worry about with the fuel and ignition systems and both can be overhauled without major expense, though the fuel tank can corrode so be sure to inspect it. In terms of upgrades, there are plenty of ways to improve power and performance so it's well worth establishing if any work has already been carried out.
As for the gearbox, there was a three-speed automatic available but these are now rare. The four-speed manual is strong and reliable and a test drive will soon reveal synchromesh and bearings that are past their best (bear in mind that pre-'67 cars lacked synchro on first gear). An overhaul isn't especially costly, and there's the option to upgrade to a five-speed transmission although this will set you back upwards of £3500 for a complete kit.
Overdrive was a popular option so ensure it works, although it's likely to be electrical issues or a low oil level rather than anything more serious. You can source a reconditioned unit for around £500, and while it's possible to add overdrive to cars without it, you'll need to fit the complete box and unit. Lastly, check for a noisy back axle and for clunks as drive is taken up.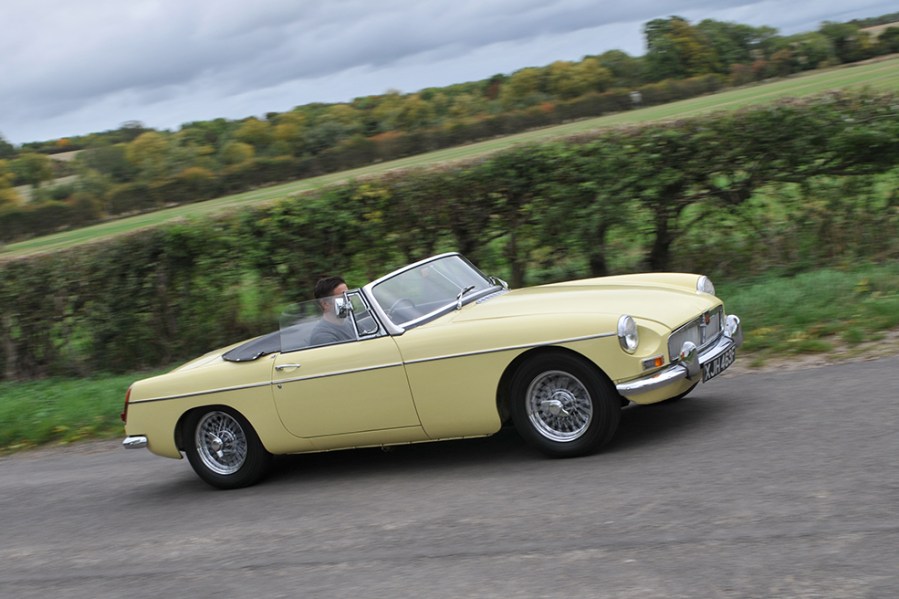 Suspension, steering and brakes
The simplicity of the MGB extended to the suspension with coil springs and wishbones up front, a live axle with leaf springs and lever arm dampers all round. As long as the mounting points haven't succumbed to corrosion it's just a case of checking for perished wishbone bushes and for springs and dampers that have succumbed to age. Replacement parts are cheap and readily available, with reconditioned dampers costing around £40 apiece.
If you want to swap to telescopic dampers at the back then budget £250-300 for a conversion kit. Indeed, there are numerous ways to upgrade a B's suspension so ask about any work that's been done as the resultant ride and handling might not be to everyone's taste. As for the steering, the rack and pinion set up should feel light and precise without any notable slop. Replacing a worn rack costs around £100 for a reconditioned part, but it's also worth checking for any cracks around the mounting points.
You'll also want to ensure that the kingpins have been greased every 3000 miles as they'll wear quickly if this is ignored; rocking the top and bottom of the wheel with the car raised will reveal any play, but replacement parts are just £45 per side.
Braking was by discs and drums with a servo made standard from 1973, and assuming they've not been neglected there's nothing obvious to worry about. Worn and corroded parts are pretty much the extent of any problems, and a DIY overhaul is easy and won't break the bank.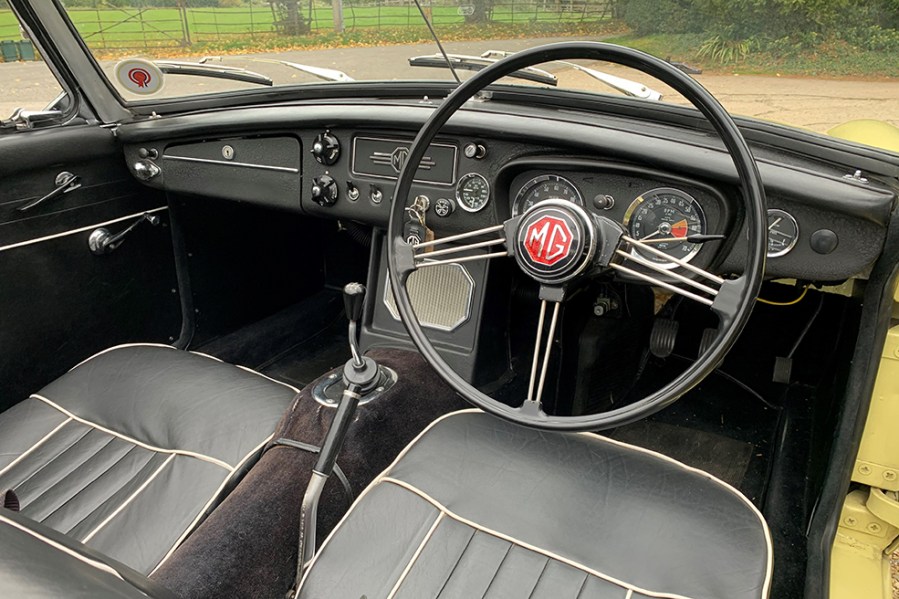 Interior, trim and electrics
Another part of the MGB's appeal lies in the comfortable and reasonably spacious cabin, and with a sound driving position it makes for a very useable classic. There's not much to concern potential buyers here, and everything is available if refurbishment is needed; you're looking at around £700 for a full set of vinyl seat covers and new carpets, with leather costing a few hundred more if you want to add some plushness.
The only question mark is around originality as many cars have been restored more than once, although this may or may not matter to you. Perhaps more important is that a scruffy interior is nothing to worry about if the rest of the car is solid. All of this applies to both GTs and roadsters, although the drop-top requires an additional check for signs of water ingress which won't do trim any good and risks corrosion in the floors.
There's not much to worry about with the electrics, either, with most problems being caused by the usual combination of corroded terminals and poor connections. Of more concern is the potential for bodges and amateur tinkering, so make sure that any alterations or additions have been done to a proper standard.
One other point worth mentioning is that the electrical system used a pair of 6-volt batteries located in compartments (which are prone to corrosion so remember to check them) behind the seats, and it's not uncommon to find this has been converted to use a single 12-volt battery. Easy enough to carry out – specialists can supply a battery and fitting kit for around £120 – it's a worthwhile improvement that notably improves starting in cold weather and proves much cheaper when battery replacement is needed (consider that a pair of new 6-volt items are £180–200).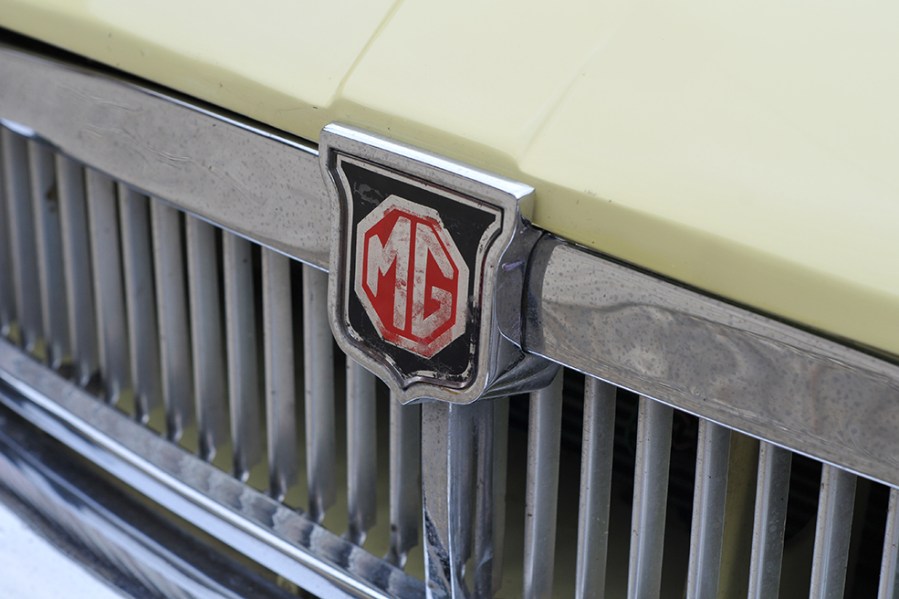 MGB: our verdict
Affordable, fun to drive and simple to maintain, it's easy to see why the B remains so hugely popular with enthusiasts of all ages. That it benefits from the sort of specialist and club support that many classic car owners can only dream of is the icing on the cake, and it means that you can buy one safe in the knowledge that you'll not struggle for help and advice.
That level of support shouldn't be underestimated if you want a pain-free ownership experience. If there's a downside it's the propensity for rust, and the potential for cheap examples to have been bodged in the past, but with so many out there you shouldn't have any trouble avoiding problematic cars.
And whether you opt for a rtoadster or GT you won't be disappointed with the enjoyment on offer, plus there's lots of scope for upgrades – from improvements to handling and performance, to making one easier to live with on longer journeys – so you can really make an MGB your own. It might seem like the default classic car choice but there are good reasons why so many have fallen for its charms.
The one thing you won't struggle with is finding MGBs for sale, so you can afford to be fussy when it comes to condition and find just the right car for your budget. For an early 'pull handle' Roadster that'll need to start at £3000–4000 for a project, with more usable ones commanding around £8000. Expect to pay from £15,000 to £25,000 for excellent and concours examples. MkIIs are worth a few thousand less for the equivalent condition, with the MkIII a little cheaper again.
If it's the best value you're after then you should be looking at the GT, particularly the later ones where you could pick up a project for less than £2000. Even sound, us3able ones that you can smarten as you go can be bagged for less than £5000 while shopping with a budget of £10,000–15,000 will secure one in superb order.
Values have crept up slowly over the years, and there's no reason to think that'll change in the short to medium term thanks to the continued demand amongst enthusiasts after a thoroughly useable and enjoyable British classic.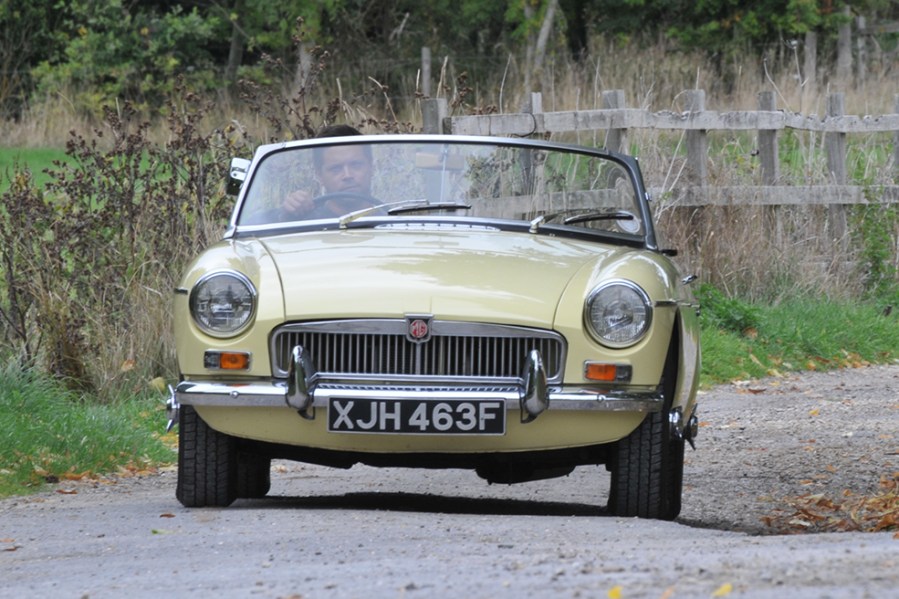 MGB timeline
1962
The B is launched as a replacement for the MGA, bringing unitary construction and dependable mechanicals. It arrives in Roadster form first.
1963–64
Overdrive becomes optional and the original B-Series engine is replaced by a stronger and more durable five-bearing unit.
1965–1967
The Roadster is joined by the Pininfarina-designed GT. Mk II is launched in 1967 with an all-synchro gearbox and push-button door handles replace the original pull handles.
1969
Becoming the Mk III, improvements include reclining front seats and a year later the Roadster gains an improved hood while a steel bonnet replaces the alloy item.
1973
Further styling changes include a honeycomb grille and a brake servo and radial tyres become standard. A V8 engine is available, too.
1975
Production of the chrome bumper cars ends as US legislation forces the introduction of the rubber bumper model.