The second-gen Mercedes E-Class is still a great luxury car despite a reputation for iffy build quality. Here's how to buy a great W210
Words: Chris Randall  Images: Paul Walton
Launched in 1995 as a replacement for the much-admired W124 generation, the new W210 E-Class was designed by Steve Mattin and delivered a sleeker, more modern look. The saloon that arrived first was joined by a cavernous estate, and both would do battle with the likes of the BMW 5 Series for executive car supremacy.
Unfortunately, the new model coincided with a dip in quality – the bodywork being the most noticeable issue – and compared to the bank-vault build of its predecessor it was something of a disappointment. Still, at least there was a wide range of petrol and diesel engines to choose from, including an E36 AMG that's quite rare now and a 349bhp V8 for the E55 AMG that turned the luxury cruiser into a proper hot rod.
A facelift in 1999 brought a number of improvements, including styling tweaks and revised engines, and production would last until 2003. Around 1.65 million would be made including 280,000 estates, so despite the quality wobbles, it was a successful model for Mercedes.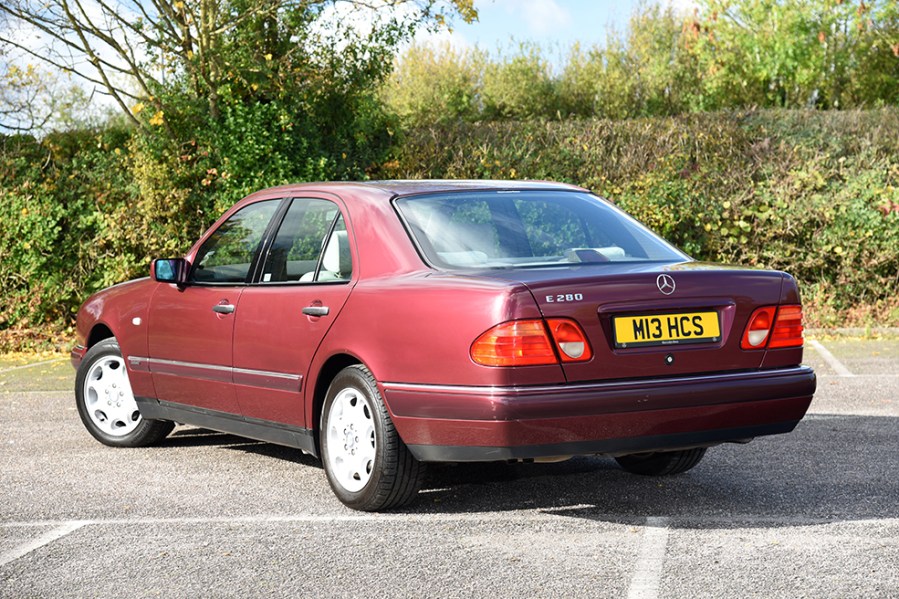 Bodywork
We've already alluded to the W210's quality issues, and it's here where they really manifested themselves. Mercedes said that a switch to water-based paint was the issue, but whatever the root cause, the result was a car that corroded in a way that would have been unthinkable with previous generations.
Rot can break out almost anywhere, but the main places to concentrate on are the front wings (especially where they meet the bumper and the lower edge by the sills), the wheel-arches, the doors, and the boot lid. A close examination for tell-tale bubbling is vital, and don't be surprised to find unsightly rust patches breaking out around exterior trim. You might be happy to live with it if the car's very cheap, but the cost of professional rectification won't make sense so think hard before taking on a badly-affected example.
Rot also afflicts a number of other areas, including the metalwork behind the headlights, so dig as deeply as you can before parting with any cash. And it would be a wise move to scrutinise the nether regions such as the sills and jacking points, plus the cabin and boot floors. Less serious but equally unbecoming of a luxury car is the potential for scruffy paintwork that can suffer from peeling lacquer, and it's far from uncommon to find W210s with cloudy headlight covers. Assuming they've not become really bad there's various products on the market that can revive the latter, so a bit of time and effort will really improve the appearance.
Aside from all of that it's going to be a case of assessing the overall condition and checking that exterior trim and fittings aren't missing or damaged. This was also the first Mercedes to benefit from xenon headlights so make sure they work properly.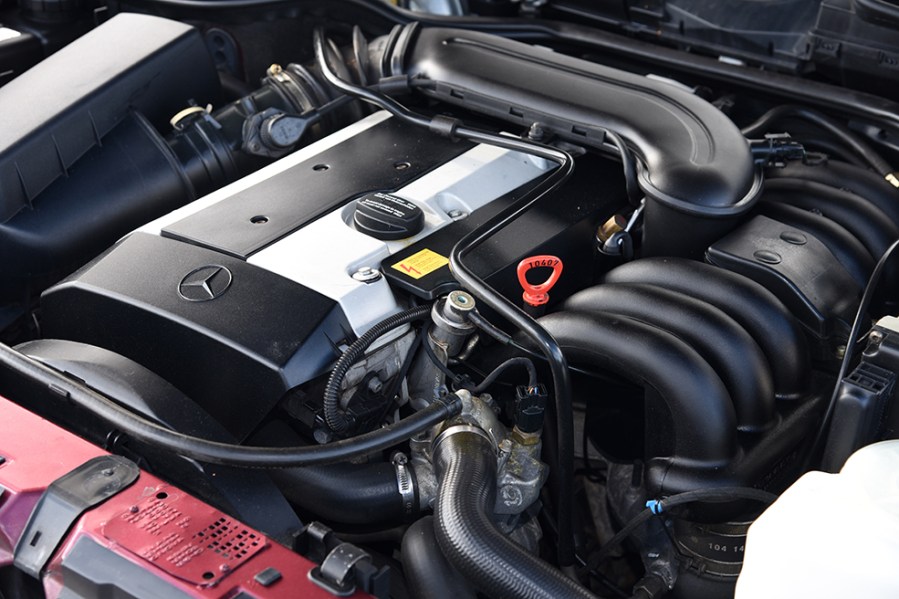 Engine and transmission
Such a wide variety of engines, encompassing four cylinder, straight-six and V6 units means there's isn't the space here to cover them in detail. However, most are pretty robust as long as they are maintained properly, and as many of these cars ended up as cheap workhorses or minicabs there's the potential for neglect. A record of oil and filter changes every 6000 miles would certainly be good news – it's especially important on AMG V8s to avoid internal sludge build-up – and you'll want to check for signs of excessive exhaust smoke, oil leaks, noisy timing chains and evidence of failed head gaskets.
The M104 straight-six is prone to the latter, along with vacuum pipe leaks that cause poor running; the M112 V6 that replaced it in 1997 was a better unit, and more efficient, too. All engines will also need inspecting for a healthy cooling system, as well as for signs of engine management system issues; failed mass airflow and crank sensors (budget £150 for a genuine one from an aftermarket supplier) aren't uncommon, so watch for uneven running and warning lights.
The CDI common-rail diesels that arrived with the 1999 facelift were notably smoother and more frugal than those employed previously but leaking injector seals can lead to carbon/tar build-up on the cylinder head (the infamous 'black death'). Left untreated it can become difficult and expensive to sort, so a 'chuffing' sound or obvious fumes should be approached with caution. Watch for leaking fuel pumps on earlier diesel engines, too.
Some W210s got a manual transmission but these are rare and not very desirable, so we'd stick to automatics. Early four-speed ones were soon replaced by five-speed units, these being electronically controlled later on and given a 'tiptronic' manual shift function from 1999. Use the road test to ensure that gear-changes are prompt and jerk-free, and watch for warning lights indicating electronic issues; oil could get into the control module causing all manner of problems. And it's best to ignore any talk of the 'boxes being sealed for life – fluid and filter changes every 30,000 miles will do wonders for longevity and you can buy a kit for less than £120.
Suspension, steering and brakes
Unsurprisingly it's age and neglect that take their toll on the suspension, so it'll need checking for the usual issues such as worn dampers, cracked springs and bushes in need of replacement. Knocks and creaks can be caused by wear in anti-roll bar drop links and front lower control arm ball joints, but aftermarket replacements aren't especially costly at around £135.
What's more worrying is the potential for corrosion which can affect the aforementioned lower arm and front spring seats. It could occur quite early in the car's life and could result in complete (and dangerous) failure, so spend plenty of time examining these areas – if you've any concerns it'd be best to find another car. You'll also need to ensure there are no issues with the self-levelling rear suspension on estate models.
The brakes don't pose any major problems aside from worn pads and discs, and corrosion affecting the calipers and pipework, so just ensure everything's in order. The cost of a complete overhaul will soon add up, especially when it comes to the beefier stoppers on the E55 AMG model. Other points to watch for include failure of the high-level brake light and a faulty brake light switch that can bring up ABS and traction control warning lights. The steering should feel light and accurate without noticeable play, and you'll want to check that the power-assistance is free of any hydraulic fluid leaks. Lastly, check for corroded and damaged alloys and for cheap, mismatched tyres fitted by penny-pinching owners.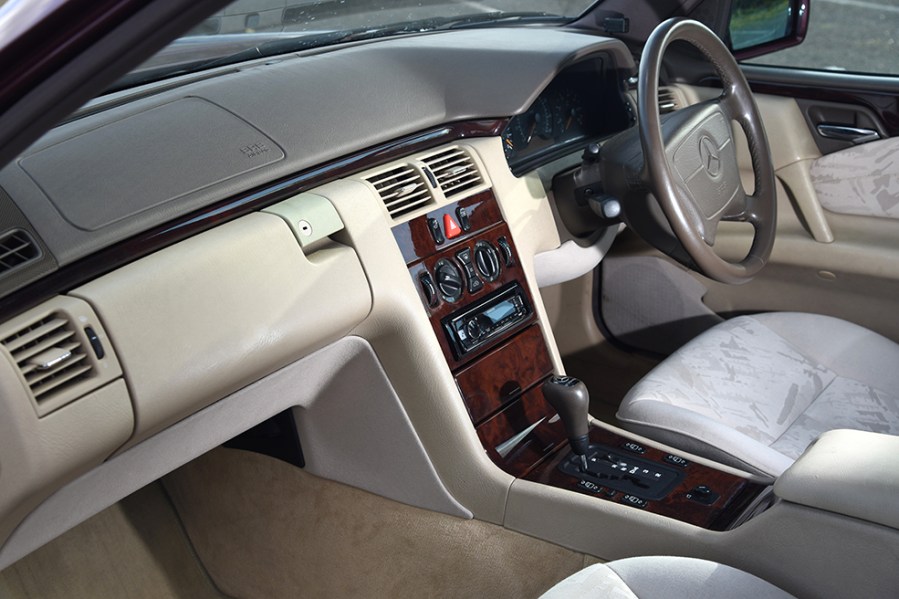 Interior, trim and electrics
This generation of E-Class provided all the space and comfort you'd have expected from an executive car of this era, and it provided strong competition to rival BMWs and Audis. There wasn't the technology you get nowadays, of course, and standard equipment was a little miserly in base Classic trim. Upgrading to Elegance or Avantgarde models added more luxuries, and it's one of those you'll want today unless a Classic is in excellent condition. Unfortunately, build quality wasn't quite up to the mark so creaks and rattles aren't uncommon.
That aside, it's a matter of checking the overall condition, looking for grubby cloth trim and damaged leather and plastics, plus general scruffiness resulting from years of use and abuse. Some DIY cleaning might restore things but you're better off finding a tidy one to begin with. And if you're tempted by the usefully practical estate take a good look at the condition of the load area; you don't want anything that's seen duty as a workman's van.
As for the electrics, things aren't entirely trouble-free here, either. Amongst numerous problems are faulty ignition switches and air-bag warning lights caused by failure of the sensor in the passenger seat, along with LCD displays that are missing pixels. All of these things can be sorted but it will come at a cost unless you're happy to tackle them yourself. It's also a good idea to check that all of the convenience features still operate as they should, especially the electric windows, which are prone to failure of the regulator; replacements can be found for less than £50 but fitting is a fiddly task. It's a bonus if the air-con works as it's pricey to repair and likely to have been ignored.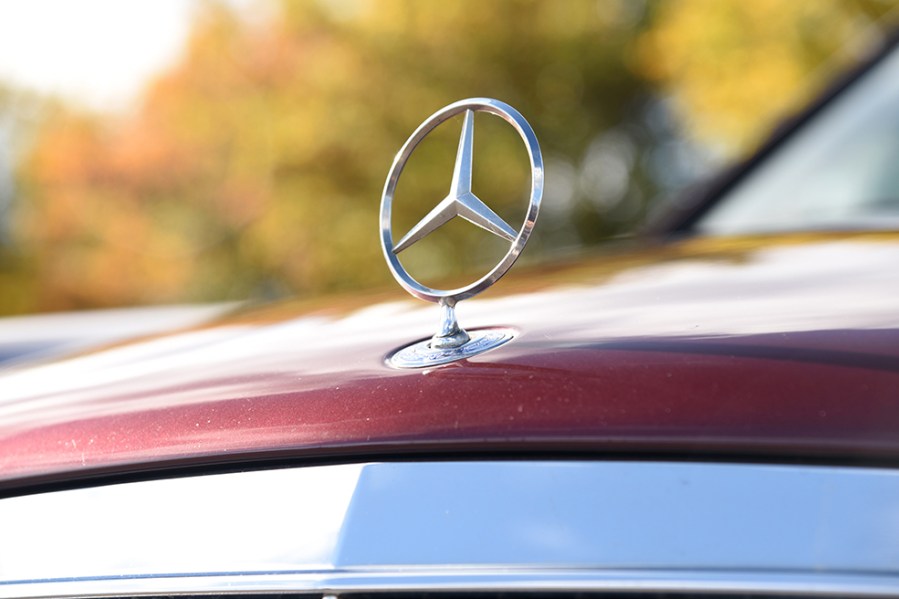 Mercedes E-Class (W210): our verdict
The classic appeal of the W124 E-Class is as strong as ever, but the same can't really be said of the successor we have here. Not everyone liked the new look, and what with corrosion and general quality concerns, it rather fell out of favour, which makes it a relative rarity today. But don't be too quick to dismiss them.
A good example – and they are out there – provides all the comfort and luxury you'd expect of a car bearing the three-pointed star, and if properly looked after the V6 petrol and CDI diesel engines are generally very good. And arguably the W210 was the last E-Class before it began to feature more complicated technology, so if you're competent with the spanners then looking after one on a DIY basis is easily possible.
Parts supply is reasonable, too, and there are plenty of independent specialists out there. And let's not forget the E55 AMG which provides serious performance if that's what you're after. BMW's E39 5 Series might be better to drive (and, arguably, to look at) but if you like the Mercedes way of doings things, this one is worthy of consideration.
A poor reputation saw the W210 descend into the bargain basement quicker than you'd think, and while there isn't a huge number to choose from in the classifieds there are some tempting prices. You can find a mega-mileage diesel from around £1000 although a fair degree of caution will be needed, so you'd be better off budgeting £2000-£2500 which is where you'll find petrol models in good order and with less than 70k miles on the clock.
At £3500-4000 you can expect cars in very good condition indeed and with full service histories, though very late, low-mileage ones can be advertised for twice that. Broadly-speaking, estates fetch a little more money but its condition that counts the most. As for the AMG models, the E55 is a pricier proposition – even average ones command upwards of £6000, good ones are in the early-teens, and the very best command around £20,000. The rare E36 is more expensive still.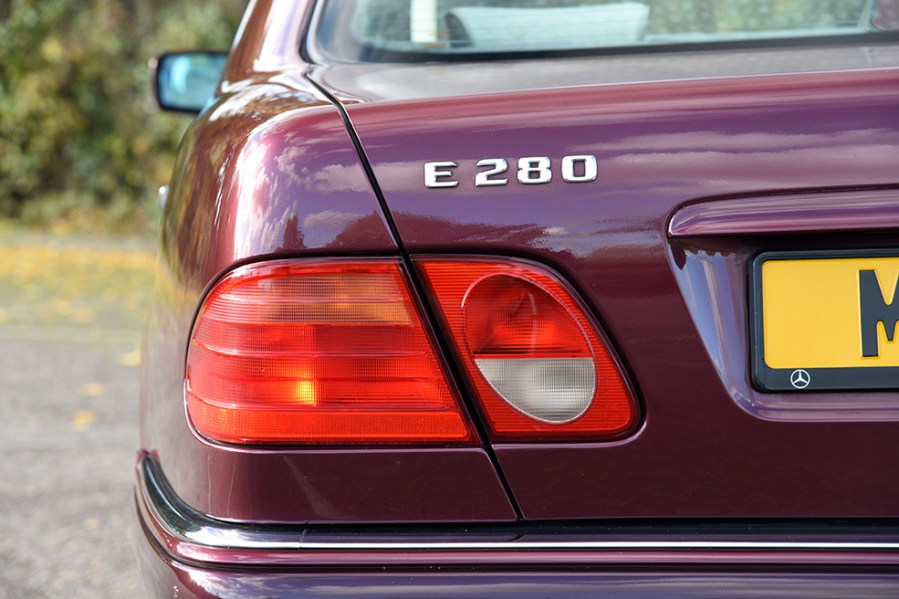 Mercedes E-Class (W210) timeline
1995
After being previewed as a concept two years previously, the new W210 E-Class goes into production. Saloon and estate models are available.
1996–1997
Updates include a new electronically-controlled automatic transmission and replacement of the M104 straight-six engine with the M112 V6. It made 221hp in the E320.
1999
A wide-ranging facelift brought changes to the grille, bumpers and lights amongst other areas, and a common-rail CDI diesel engine was introduced.
2003
Production ended to make way for the new W211 model. Around 1.65 million had been built in total.