Fancy a family-sized GT with corrosion-proof bodywork and V6 power? Look no further than the Reliant Scimitar GTE
Words: Rob Hawkins  Images: Jack Grover
The story of the Scimitar began in 1964 with the coupé-shaped GT, which was acquired from Ogle Design, initially built on a Reliant Sabre chassis and powered by a Ford 2.6-litre straight-six. After 296 of them had been built, the 2994cc Essex V6 was fitted in 1967, and then the year after, the familiar-looking GTE was launched. This is the model that's largely available to buy today, although 442 GTC convertibles were also manufactured from 1980 onwards.
The aforementioned coupé-shaped GT was called the SE4, with improvements arriving over time as the SE4a and SE4b. The GTE became known as the SE5 and a total of 4311 of these were manufactured up until October 1971, when the Scimitar GTE became the SE5a after electric windows were added along with new rear light units, some changes to the interior and exterior trim and a tweak of the inlet manifold's ports to increase power output by 7bhp.
The SE5a was replaced in 1976 with the wider and longer SE6 (roughly four inches longer and two inches wider) with larger doors, improved soundproofing, a larger 20-gallon fuel tank, larger headlights, rubber bumpers instead of chrome and optional power steering. Only 543 of these were manufactured; a year later the revised SE6a appeared with a stronger scuttle, larger rear drum brakes, improved power steering and optional Wolfrace wheels.
This version lasted for four years, selling 3877 examples, but was replaced with the SE6b in 1980 when the GTC was also launched (known as the SE8b). The GTE SE6b was powered by the smaller German-derived 2792cc Cologne V6 and came with a new scuttle hoop for the chassis, better engine cooling, electric door mirrors and some exterior alterations (larger front spoiler, halogen headlights and the addition of a side rubbing strip). Production of the Scimitar GTE and GTC finished in 1986.
The car was revived by Middlebridge in 1989 using Ford's 2.9-litre fuel-injected V6 mated to a five-speed manual or four-speed automatic gearbox. Sadly, production ceased the following year, by which time only 77 GTEs and one GTC had been manufactured. Graham Walker of Chester then took on production and built a few cars; he still owns the moulds, jigs and manufacturing rights.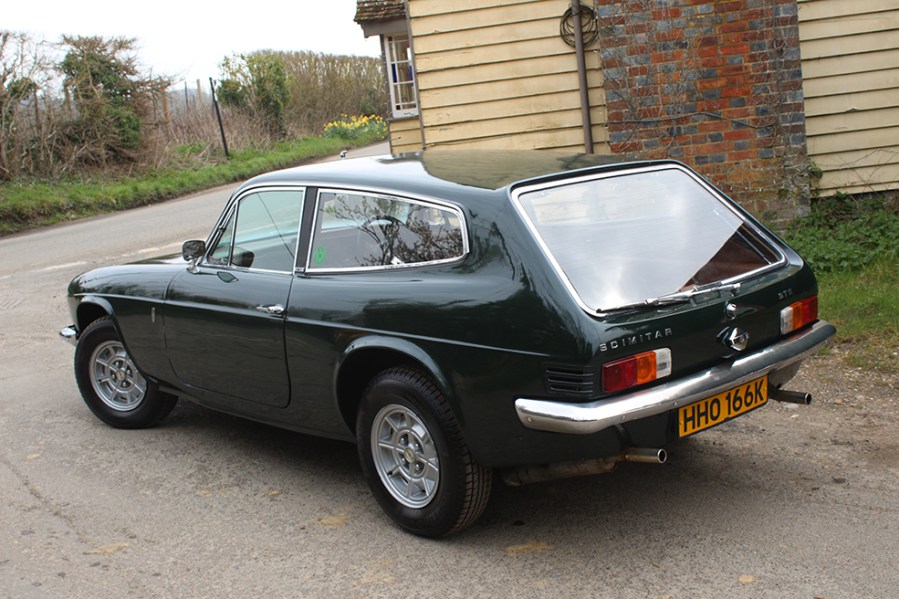 Bodywork
A respray of the glassfibre bodywork can easily cost £5000 or more, so it's essential to factor in this cost if you are looking at a Scimitar that needs lots of paint repairs. Even if the paintwork is only tatty, don't assume that it can be made to look as good as new while avoiding a full respray.
Look closely at the body for spider cracks – which as their name suggests are tiny cracks that resemble the shape of a spider – where the GRP has fractured on the exterior. The best remedy is to sand down the bodywork to remove all traces of the cracks, then build it back up again.
Carefully examine the paintwork for microblisters, where moisture has become trapped and has lifted the exterior finish. It's a common problem on GRP bodywork that has been protected with a car cover and not allowed to breathe – a buff and polish won't fix such a problem.
The Scimitar's chassis is a straightforward ladder frame construction consisting of two long box sections of steel running almost from the front to the rear, with outriggers each side and an additional box section for the outer sill area. The engine and gearbox are mounted to the chassis, along with the live axle at the rear and all of the suspension. Consequently, the GRP bodywork can be removed to leave a rolling chassis – it's only secured with 18 bolts.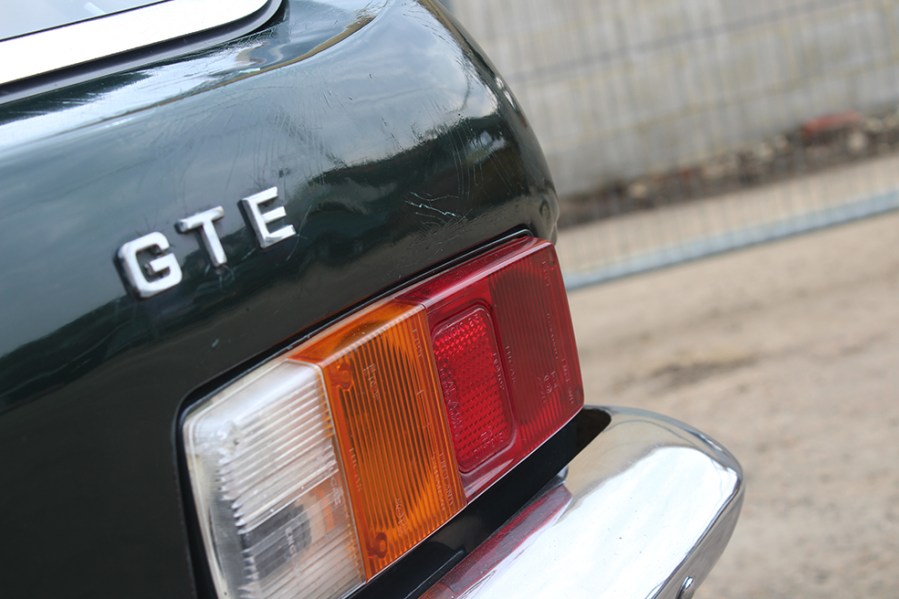 The chassis was galvanised from 1981 onwards, but don't rely on this if you are looking at one of these later models because the galvanising will be old and may not provide any rust protection.
Corrosion of the chassis is a potentially major problem on the GTE and could easily be ignored if the vehicle is classed as MoT exempt. While repair sections are available (outriggers cost £20-£40) and those that are not available can be fabricated, welding in new metal with a glassfibre body fitted onto it is a major fire hazard, so the bodywork should be removed in some cases.
However, as Nigel at QRG says: 'Common jobs like front and side outriggers can be replaced, but care must be taken not to damage the glassfibre. For more complex jobs like trailing arm mounts, you can cut the floor area out to access the chassis.'
Most of the chassis can be inspected from underneath, so armed with a torch and the rubber handle of a screwdriver, check all areas of exposed steel.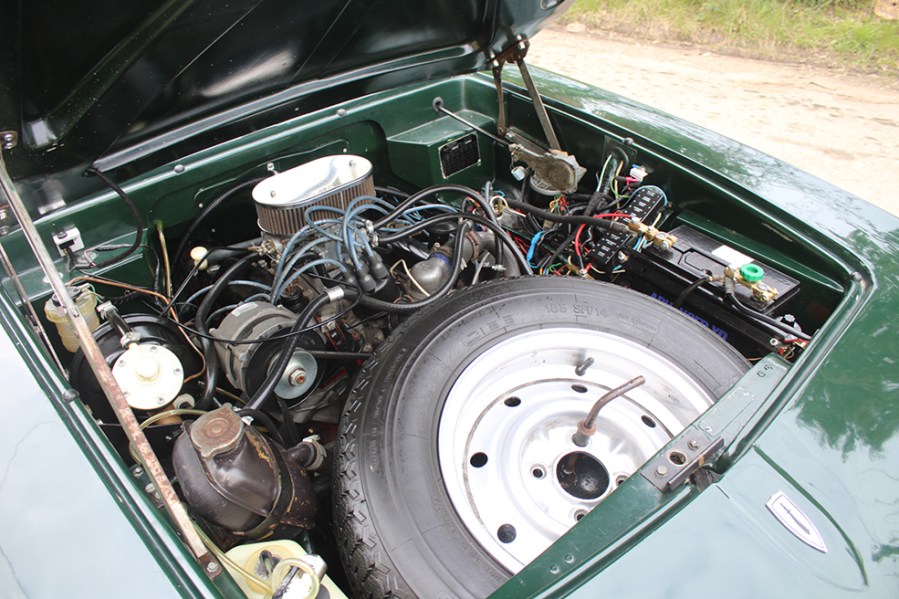 Engine and transmission
The Ford Essex and Cologne V6 engines are strongly supported by a range of classic Ford specialists, so parts availability is good. With a mid-mounted camshaft and overhead valves, they all use timing gears instead of a belt or chain, so there's nothing to change here. The only possible problem concerns the camshaft gear, which consists of a composite material that can wear, resulting in engine noise and eventually running issues. The solution is to fit a steel or aluminium replacement, which is noisier than the composite type, but longer lasting.
Misfires on the Essex V6 can sometimes be caused by wear of the distributor drive, which can be replaced for around £25, but as Nigel at QRG warns: 'You need to be looking at the wear and tear on the actual distributor shaft as you can get lots of movement from side to side; the tell-tale sign is the rotor arm catching the pickup points in the cap.'
For all engines, listen for leaks from the cast iron exhaust manifolds, which can be caused by cracks. Budget for around £95 for a reconditioned cast iron exhaust manifold, or £240 for a stainless steel tubular assembly.
A twin-choke Weber or Solex carburettor should provide the fuelling, which Nigel at QRG says can wear out and fail to be overhauled with a rebuild kit. He sells new carburettors that are jetted to suit an engine.
With the spare wheel mounted in the front of the engine bay and the engine squeezed between it and the bulkhead, cooling issues can arise, so leave the engine running and watch the temperature gauge, ensuring the electric fan (if fitted) is automatically activated when the coolant gets too hot. If the engine overheats, then Nigel advises that if ancillaries such as the radiator, water pump, hoses and fan are all in good order or have been replaced, then there's going to be an issue with the engine.
Nigel reassuringly says that the engine is almost bulletproof, but oil leaks can emerge from the rocker cover gaskets, which leak down the back and drip out, suggesting the rear main oil seal is the problem. He also says that the manual gearbox and its overdrive unit are more likely to leak oil.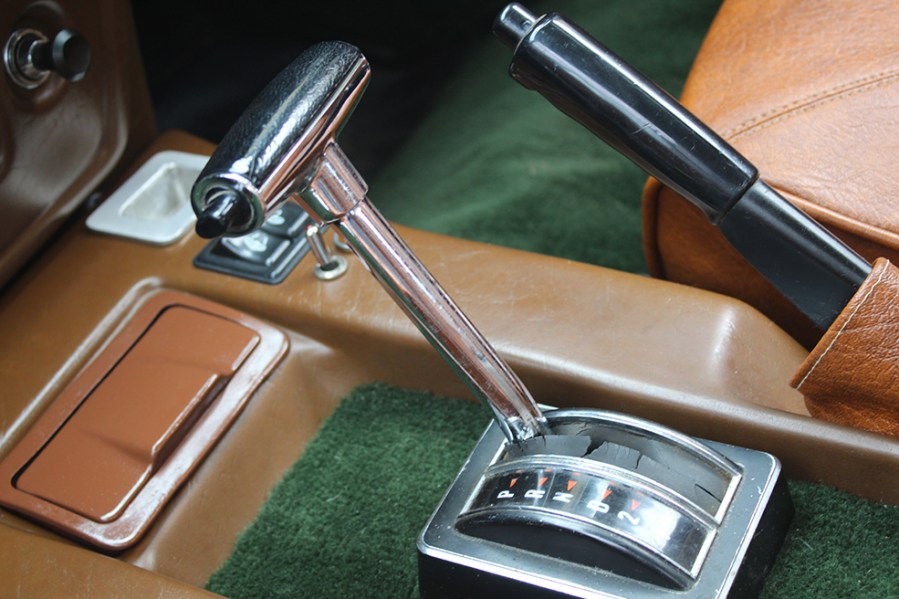 The four-speed manual gearbox benefits from overdrive (fitted as standard on most models apart from a short run of the SE5a) for relaxed cruising, so make sure it engages and disengages smoothly. These gearboxes are known to jump out of first and second, so look for this when moving up and down gears. If gear selection is notchy and difficult, this may be caused by a problem with the clutch release fork, which can become damaged.
Check the operation of the clutch pedal, ensuring there's a sufficient biting point and there isn't a whining noise from the clutch release bearing which disappears upon pressing the pedal. Budget for around £200 for a clutch kit, or £95 for a release bearing.
A Borg Warner Type 35 three-speed automatic gearbox was initially installed in the Scimitar SE5; oil leaks are common so look for service evidence. Any automatic gearbox in a Scimitar SE5a or later model should be a four-speed Ford C3 type, as fitted to Fords including the Mk1 and Mk2 Granada. Its front oil seal is prone to leaking but new seals are available.
A Salisbury 4HA live axle is fitted to all vehicles, initially with a 3.58:1 final drive ratio for all manual gearboxes, which was later changed to 3.31:1. For automatic gearboxes, this was a lower 3.07:1, which was changed to 3.54:1 on the SE6b with the less torquey 2.8 V6. Check around the casing for signs of oil leaks, which may mean the seals have blown, but can also be caused by a blocked breather hole on the top of the casing.
Suspension, steering and brakes
All models prior to the SE6a (1977) were equipped with Girling brake components (single-circuit up to the SE5a, then dual-circuit from the SE6), which included servo-assistance with three-pot calipers and solid discs at the front and drums at the rear. This was changed to Lockheed components, which featured two-pot calipers with solid discs at the front and larger diameter rear drums. All brake components are available and reasonably priced today.
While individual prices are cheap, if the brakes on a vehicle have been neglected and are seized and corroded (Nigel at QRG says internal corrosion of a caliper is common), then a full set of discs, drums, calipers, wheel cylinders, shoes and pads can easily cost over £500.
Check that the brakes don't pull the vehicle to the left or right, which may suggest one or more of them are not working. If the pedal feels hard or the brakes seem to stay on after braking and letting go of the pedal, the servo may have failed: this isn't cheap to replace at around £400. A brake master cylinder is similarly expensive at around £200–300.
The front suspension consists of upper and lower wishbones attached to a vertical link via a balljoint at the top and a trunnion at the bottom. There's also a coil-over at all four corners and an anti-roll bar at the front. Check the condition of the springs, looking for fractures and corrosion – a new spring costs around £50 – and also look at the lower mounting panel, which can corrode but costs around £90 to replace. Known as the front chassis panel, this consists of individual panels bolted together on all models up to the SE6a, whereas on the SE6b onwards it's one prefabricated front support panel which is bolted onto the chassis.
The rear suspension consists of trailing arms and radius arms to locate the live axle, along with coil-overs. Check all of those arms for corrosion and damage, and if the handling feels vague at the rear, question whether their bushes are worn. Many suspension components are readily available today.
Listen for a droning noise from the front during a test drive, which may suggest a wheel bearing is worn, or be symptomatic of a worn or collapsed tyre.
With rack-and-pinion steering fitted to all models, power steering became an option from 1976 onwards with the introduction of the SE6. In all cases, check the steering is smooth to operate and not notchy or vague. If power steering is fitted, there's a belt-driven pump on the front of the engine, so check around it and the pipework routed to the steering rack for fluid leaks.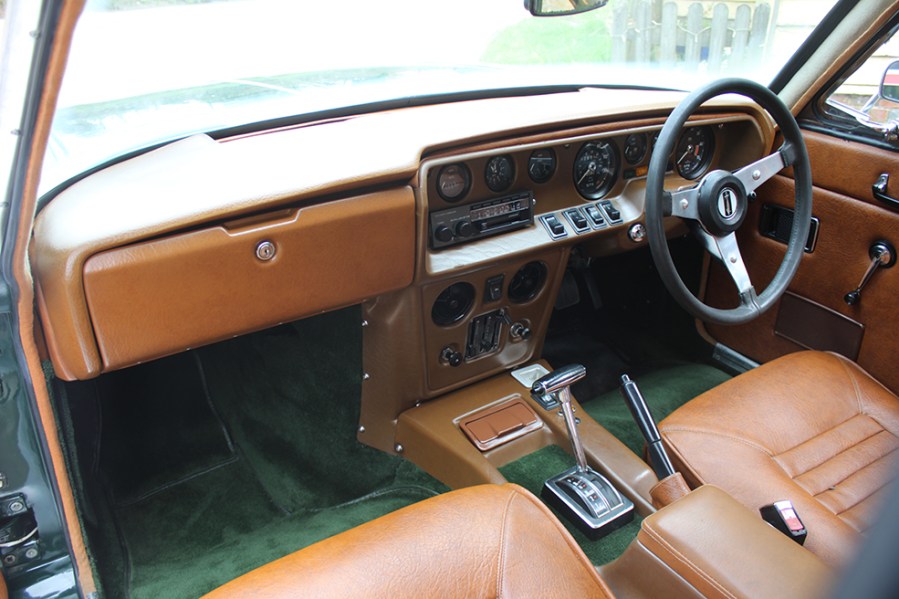 Interior, trim and electrics
Interior and exterior trim parts are largely unavailable, especially large items such as bumpers, whereas exterior lighting is easier to find because it's shared with other vehicles. Tan and leather trim was introduced on the SE5a, which is available in some cases. Where replacements are not available, you may have a chance with a general upholsterer if the trim is black vinyl. Otherwise, don't assume that a tatty seat cover in blue on an SE6 will be straightforward to replace.
Check the condition of the vacuum-formed dashboard on the SE5a, which can crack and break up over time. Inspect the headlining for sagging as this can be a pricey replacement job
All models should have 12-volt negative earth electrics (the SE4 GT had positive-earth electrics) with an alternator. 'Common electric problems are corroded connections,' says Nigel. 'If you fit new ends and connectors, it fixes the problem. Corroded switch contacts are also a problem, but with care this can be fixed. We also find there are added wires which don't need to be there.'
If electric windows are fitted, check they operate smoothly up and down – they are known to be slow, but should work. A new regulator (mechanism and motor) costs around £140. Similarly, if a rear wash/wipe is fitted (added in 1969), then don't discount it if this doesn't work because the motor costs around £240 and a worn wheel box will cost almost £45 to replace. Desirable upgrades to look for include a heated windscreen, which is now readily available and costs around £400.
Verdict
The Scimitar GTE is an all-round usable classic car that's more affordable than equivalent makes, and with the bonus of a rust-free GRP body. But don't forget that there is a steel chassis underneath, so be meticulous with any inspection and check parts availability for anything you may need.
One of the main appeals of the Scimitar GTE, aside from its practicality and performance, is the cost of buying one. Restoration projects sell for around £3000, but a roadworthy example generally costs around £8000–15,000. Even an earlier SE4 GT or a potentially more collectable GTC tend to sell for broadly comparable prices.
That compares well with similar classics such as the Volvo P1800 ES, Ford Capri and Jensen Interceptor, for which £12,000 can often be a starting point for a restoration project. And with over 14,000 Scimitar GTEs having been manufactured and survival rates being high at over 10%, availability is surprisingly good, so there are often quite a few for sale.
Reliant Scimitar GTE timeline
1968
SE5-generation Reliant Scimitar GTE shown to the public for the first time. The new car brought a new longer chassis over the SE4 car it replaced, along with new suspension, a new fuel tank, a rollover bar and a relocated spare wheel.
1970
Borg-Warner 35 automatic transmission added as an option.
Princess Anne receives her first Scimitar for her 20th birthday, a manual SE5 car, starting a famous love affair. She has reportedly owner eight other Scimitars since.
1971
Four-speed manual gearbox with overdrive added.
1972
SE5A improvements added, including power boost and a curved plastic dashboard (below).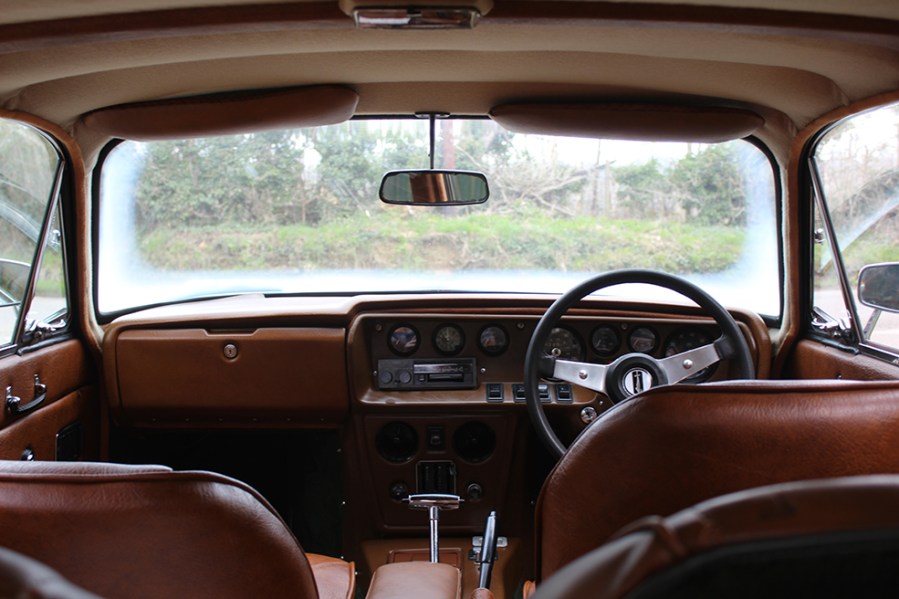 1975
SE6 version arrives with a longer wheelbase for more rear legroom, wider track, larger headlights, rubber bumpers and optional overdrive on 3rd and 4th gears.
1976
SE6A specification adds Lockheed brakes and revised suspension
1980
Scimitar GTC convertible launched, also known as the SE8B
SE6B version arrives with 2.8-litre Cologne V6 power and various mechanical and chassis updates.
1986
Scimitar production ends
1989
Middlebridge resumes production with modern appointments including a fuel-injected 2.9-litre V6 and 15-inch wheels.
1990
Middlebridge production ends.