Volvo entered the grand tourer market in the early 1960s with the stylish new P1800, a model that enjoyed a lengthy career and now makes for an intriguing classic choice
Words: Paul Jackson
If Sir William Lyons hadn't turned down a request to provide a Jaguar E-type for a new TV series called 'The Saint', the car you see here – arguably Volvo's most stylish model – would probably have remained relatively unknown in the UK. But such was the power of television even in the early Sixties, Volvo's decision to supply a P1800 made it an overnight sensation, ensuring it would forever be associated with Simon Templar, famously played by Roger Moore.
The P1800 was a new addition to the market back then – and a surprising one given Volvo's reputation for producing sturdy saloons and hardworking estates rather than sporting coupes. The other surprise was that the P1800 would initially be built by Jensen in West Bromwich, thanks to Volvo's Swedish plants being at full capacity. Two years after its 1961 launch, however, production was switched to Sweden, at which point the car was renamed P1800S, although bodyshells continued to be built at Pressed Steel's Linwood plant until 1968.
The Volvo's 1.8-litre B18 engine was upgraded to 2.0-litre B20 spec in 1968, at which point the model became known simply as the 1800S. Bosch D-Jetronic electronic fuel-injection arrived the following year, with what was badged as the 1800E offering an output of 120bhp. Perhaps not surprisingly, Volvo decided to add rear disc brakes for the 1970 model year onwards, while 1971 saw the option of three-speed Borg Warner automatic gearbox for the first time.
A semi-estate version of the sporting Volvo arrived in 1972, marketed as the 1800ES and offering the same type of practicality as the Reliant Scimitar GTE thanks to its glass tailgate and folding rear seats. It was a handsome design but also a short-lived one, with Volvo ceasing all 1800 production by 1973.
For what was essentially a niche offering, the P1800 family was a success, with around 47,500 examples being built during its twelve-year career. It proved particularly popular in North America but wasn't exactly a common sight in the UK, with relatively high pricing proving to be its biggest challenge. Back in 1965, for example, the P1800S retailed at £1814 including Purchase Tax, putting it within £120 of the cheapest E-type and making it substantially dearer than just about every other four-cylinder sportster.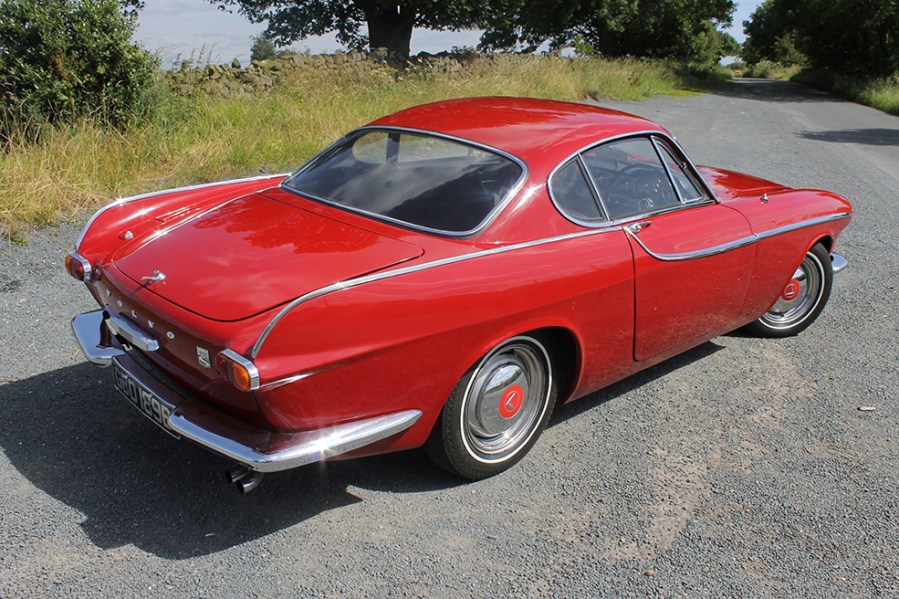 Bodywork
On any steel-bodied car of this age, corrosion issues aren't unusual – and anyone thinking of taking on a P1800 project should be particularly wary, as genuine Volvo replacement panels are now very few and far between. It's particularly important to check the condition of any P1800's sills, as many have suffered from poor quality previous repairs; if anything other than Volvo parts have been used, there's a chance the sill profile will be wrong.
At the front of the car, carefully check the inner and outer wings, particularly around the headlamp and sidelight surrounds. Any signs of bubbling paintwork will suggest potentially major rot beneath. You also need to be vigilant when checking the P1800's doors (they tend to rust along the bottom edge), the boot lid and even around the fuel filler. You also need to make sure the windscreen surround is rot-free, as repairs here are particularly tricky.
The good news is that certain reproduction panels and repair sections are available, with Volvo specialists offering complete front panels, headlamp area repair sections, door skins, lower rear quarter panels, complete front wings, and many more parts. Fitting such panels and sections tends to be a specialist job, as P1800 panel fit seems to vary from car to car – but with the right skills and assuming your budget allows, you at least have options for restoration.
Under a P1800's bonnet needs thorough inspection, as below the radiator is a box-section crossmember that is very prone to rot – and with access to the crossmember being rather limited, restoring it is very much an engine-out job. While you're under the bonnet, make sure the bonnet hinge mountings are in good order, as it's not unusual for the hinges to seize and damage the relatively thin metal around the mounts when forced.
The underside of a P1800 also has its problem areas, including the front outriggers and steering box mountings, the latter being difficult and costly to put right. And it's vital that you carefully examine the floorpans, as major rot here is far from unusual.
Obviously, when inspecting any P1800 it's as important to look for previous accident repairs as it is corrosion-related problems, with the car's front and rear ends being particularly prone to damage. With new panels and repair sections having been a rarity for so many years, you may just find copious quantities of body filler hiding beneath the paintwork.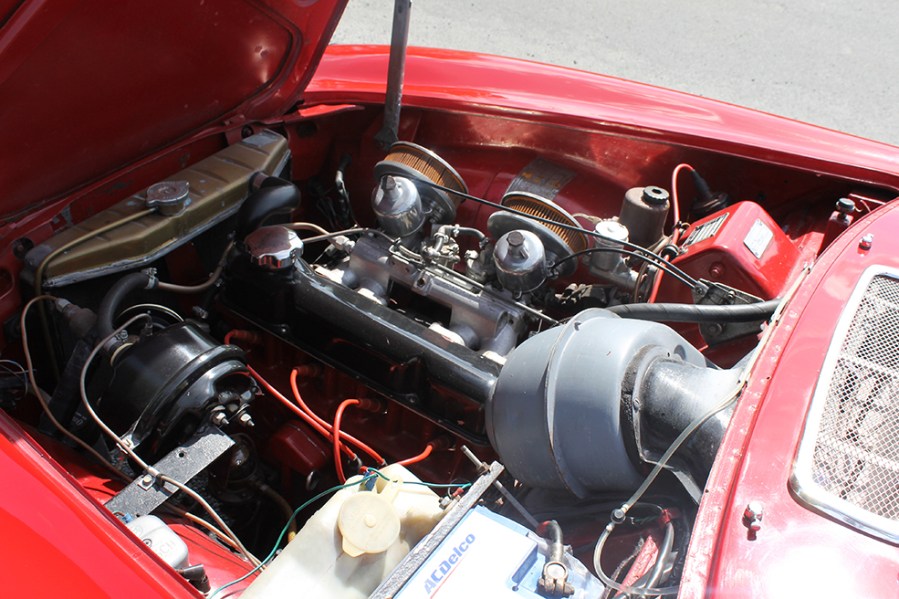 Engine and transmission
As a P1800 holds the record for the highest-mileage car in the world (with the late Irv Gordon driving his more than three million miles in total), you'd be right to assume it's one of the most robust, most durable sporting machines of its generation. All models were fitted with essentially the same four-cylinder engine, the original 1780cc B18 version being usurped by a 1986cc B20 derivative in 1968. Both units are well-proven, enjoying an enviable reputation for reliability under the bonnets of various Volvo saloons and estates; but don't let this lull you into a false sense of security, as it doesn't mean a P1800 will automatically be free of mechanical faults.
Either engine is tough and can easily give more than 200,000 miles before major work is required, although maintenance is the key. A careful P1800 owner will arrange an oil change every 6000 miles – or at least once a year if the car's annual mileage is less than that. And the same owner will also insist on a genuine Volvo oil filter each time, as these come with a non-return valve that means the bearings aren't starved of oil when the engine's started from cold.
If on your test drive you hear any thumping noises at steady speeds, they're likely to be caused by worn timing gears rather than big-end bearings. Other than that, a P1800 engine that's past its prime will show 'tiredness' in the usual ways, with any blue exhaust smoke suggesting worn piston rings and/or cylinder bores. There should be around 40psi of oil pressure when the engine is up to temperature and the car is at cruising speeds.
Transmission-wise, it's equally good news. The manual gearbox in the P1800 is extremely tough and hardwearing, particularly if it's well maintained – which means making sure the transmission fluid is at the right level. If it falls too low, the car's overdrive set-up will stop working, although this can also be a sign of an electrical issue. Interestingly, most UK-spec P1800s came with overdrive as standard (an option in some markets), making them even more suited to long-distance cruising.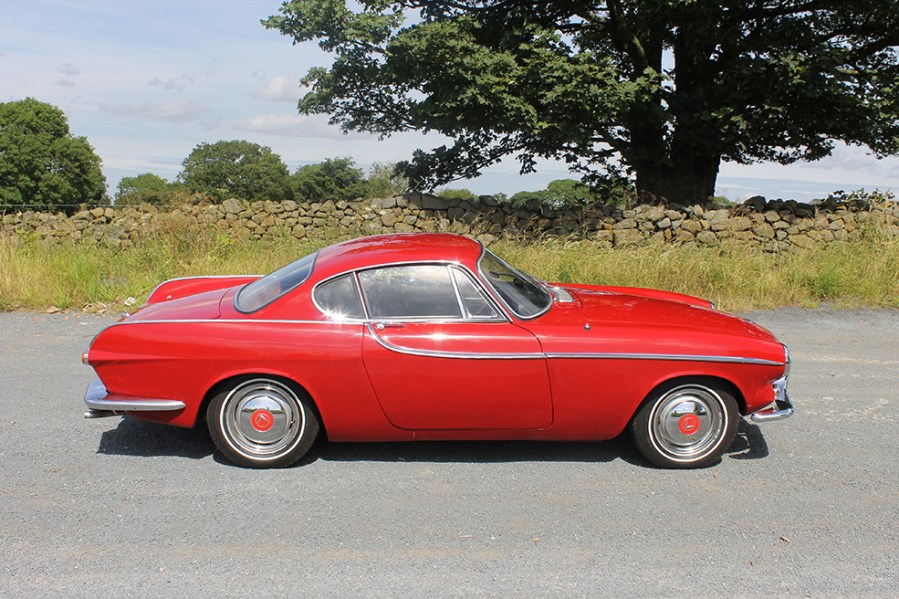 Suspension, steering and brakes
If the steering doesn't feel reasonably light, it's possible that the steering box has been overtightened to remove play – something that will then lead to premature wear. If the steering box is worn, then a secondhand replacement is your only realistic option.
The P1800's suspension system is as hardwearing as the rest of the car, as well as relatively straightforward. The front features an independent set-up with rubber-mounted control arms and ball joints, and there are coil springs and telescopic shock absorbers all round. Worn top wishbone bushes aren't unusual (there are four of them), but these are relatively easy and inexpensive to replace with standard rubber or polyurethane bushes.
When inspecting, carry out the usual checks for wear and neglect, listening out for any creaks and groans when cornering and being vigilant when looking for signs of worn or leaking dampers.
The Volvo's braking system is uncomplicated in its design and, as long as the car has been maintained well, should give little cause for concern. Sticking calipers aren't unusual (particularly on cars that aren't driven on a regular basis), but that's not exactly a major issue. Note that rear discs weren't fitted until the 1970 model year, and it's these that inevitably impress the most in terms of braking capability.
Fuel-injected cars came with dual-circuit servo-assisted brakes – and it's not unheard of for the servo to fail. Cars fitted with carburettors came with a Girling servo that can't be rebuilt, but there is the option of swapping it for a Lockheed one if problems arise.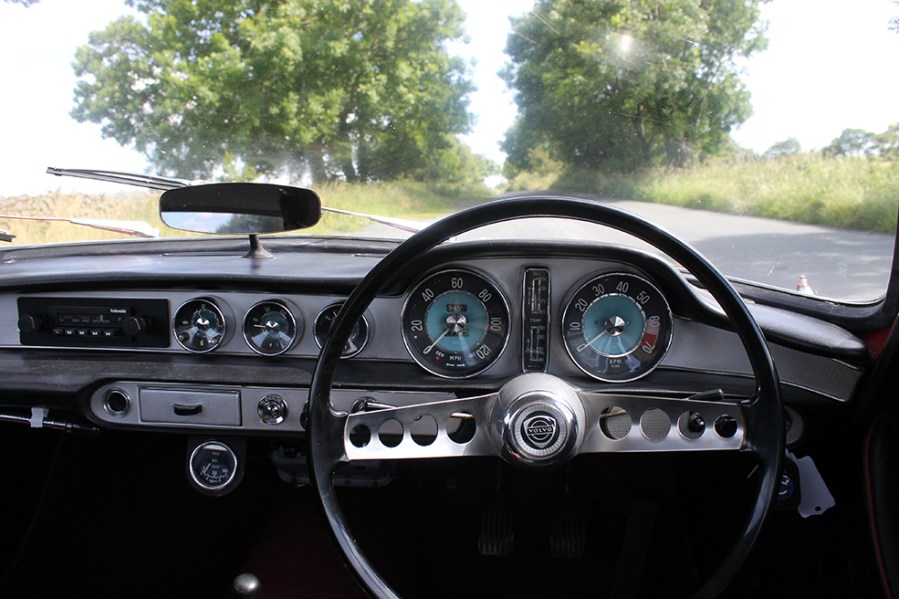 Interior & trim
As you'd expect with just about any classic Volvo, the P1800's interior is hardwearing and capable of taking high mileages without showing much in the way of wear. The most likely damage to the seats will be the seams starting to split, something that a competent upholsterer will be able to sort for you. If your car's seat webbing is sagging or the carpets are worn, these are again relatively straightforward to replace and readily available. Replacement door and side panel trim is also available, as are authentic looking replacement seat covers and all the shaped foam beneath. It's important that you check for cracks in the dashboard, however, as this will be far more difficult to source and replace.
Original 'old stock' exterior trim is almost impossible to find, but reproduction sections are available. If the bumpers are so damaged that repairing and re-chroming them isn't a viable option, Brookhouse Volvo Parts sells stainless steel replacements, with front and rear bumpers costing £567 each. The protruding radiator grille is very prone to damage, but the same company can also help here; grille surrounds are available for £480, with the centre grille insert costing £396. Brookhouse can also help with new side trim sections, so don't despair if the P1800 you're buying has less than perfect brightwork – although you'll need to research what it's likely to cost before you offer on the car.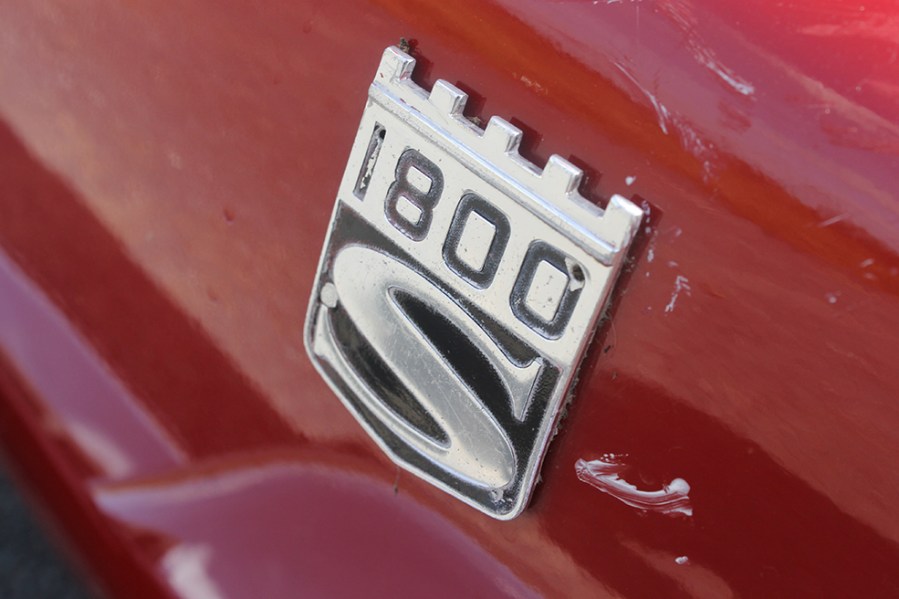 Volvo P1800: our verdict
it's fair to say that after the PV544 and the Amazon, the P1800 was something of an abrupt departure for Volvo. Its history is also intriguingly intertwined with the British motor industry too. Today the P1800 and its derivatives are a really unusual sight in the UK and make for a really practical ownership proposition too, especially the rare estate model.
The earliest Jensen-built cars with the 'cow horn' bumpers are much sought after by enthusiasts, but for many enthusiasts the favourite is the last of the P1800s with the 2-litre engine, which retained the original stylish dashboard but came with dual circuit brakes. A well-sorted B20 engine with the manual box is the nicest of the range to drive, while a well-tuned B18 is more revvy than the torquier B20.
All these years later, a well-sorted P1800 is still no bargain, although it's a car with plenty of fans thanks to its combination of robust mechanicals, inherent reliability and sensational styling.