By far the most commodious of all the passenger Minors, the Morris Minor Traveller is still a popular choice – but it's not without its problems. Here's how to buy one
Words: Paul Jackson
Launched in 1953 and running for an impressive eighteen years, the Traveller proved to be a crucial expansion of the best-selling Morris Minor range, with more than 215,000 examples of this distinctive woody-style estate being produced. The Traveller's combination of basic reliability and a cavernous load area ensured it was a long-term hit for BMC. And on today's classic scene, it remains one of the most useful load-carriers, soundly beating many of its contemporaries when it comes to all-round versatility.
As with its saloon stablemate, the Traveller was updated and enhanced over the years, from the original 'cheese-grater grille' Series II of 1953 and the 'slatted grille' of the following year, through to the 948cc Minor 1000 of 1956-62 and its 1098cc successor. The Minor 1000 Traveller is the most driver-friendly of the lot, with the 37bhp of the initial car being improved upon via the 1962-on version's 48bhp (at 5100rpm). The very last Minor Traveller finally rolled off the line in April 1971, by which time its wood-framed rear end was viewed as something of an antiquity.
This much-loved Morris was (and still is) one of the most distinctive estate cars of its time, comprising the front end of a Minor saloon mated to a rear based on the standard floor pan, featuring a structural wooden framework, aluminium rear roof section, twin side-opening rear doors and a generous load area. But why did Morris choose to go the wood-framed route in the first place? There's no doubt that the woody concept was popular on the other side of the Atlantic, and many a European designer was being influenced by American trends of the time.
The wood-framed idea also made production sense, however, for it was a material that was readily available just eight years after the end of World War II. Strength was an issue too, with the Traveller's wooden roof cant rails bringing together a structure of impressive rigidity. Even better, the existing wood shop at the Morris Bodies plant was capable of taking on the task of putting together the timber framework, subsequently transported to the Minor production line at Cowley in complete form ready for final assembly of the finished vehicle. The downside of such a production process was its cost to BMC- despite being a successful, much-loved and long-lived car the Traveller effectively made no profit.
All of this is irrelevant to today's buyer, of course, the kind of enthusiast who seeks a practical but entertaining classic. So, what should you check for if you're in the market for a Minor Traveller?
Bodywork
The Traveller's steel bodywork can obviously suffer from rot just as much as any Minor saloon. An all-original example will be a rare find, since the vast majority of today's survivors have had some kind of restoration work carried out. The key is to make sure any such work has been done to a good standard, as there are plenty of tidy looking examples suffering from patched-up repairs underneath.
Areas to check include the sills, all box sections and the front crossmember that supports the rear ends of the torsion bars and jacking points. Floorpans can also suffer, so have a poke around everywhere and be on the look-out for patch repairs and any thick underseal that might be hiding corrosion or poor quality previous work. The good news, of course, is that replacement structural sections are readily available, from sills to complete floorpans; and prices are reasonable too, with front floorpans starting from around the £35 mark. You obviously need to factor in the cost of labour if you're not capable of such major work yourself.
Outer panels can be just as rust-prone, so you'll need to check the front wings (around the headlamps and down the rear edge) and the bottoms of the doors in particular. You have the advantage once again of excellent parts availability and competitive prices, with new front wings costs from around £215 each via Charles Ware's Morris Minor Centre. The bolt-on wings could be hiding other issues, however, such as rotten inner wings and corroded A-pillars, so make sure you're extra vigilant when inspecting any Minor.
It's the rear end of the Traveller that provides the biggest challenges, with its ash frame being key to the car's structural integrity. You need to be looking for signs of rot and/or filler, as well as any dark staining that is a sure sign of water having found its way into the wood. Some cars will have had localised repairs carried out, but checking the quality of the work is crucial. A good proportion of Travellers will have had their entire wooden frames replaced by now; but if the car you're inspecting hasn't, then it's something you might need to work into your costings.
You may be lucky and find that only certain areas of wood need changing, for which you can buy brand new replacement sections from companies like Charles Ware's Morris Minor Centre (morrisminor.org.uk), Traveller Timbers (travellertimbers.co.uk) and Woodies (morriswoodwork.co.uk). You'll usually pay £1500 or so for a complete set of woodwork, including new rear door frames. Changing it is a major undertaking, however, and a specialist is likely to charge you at least as much again in labour.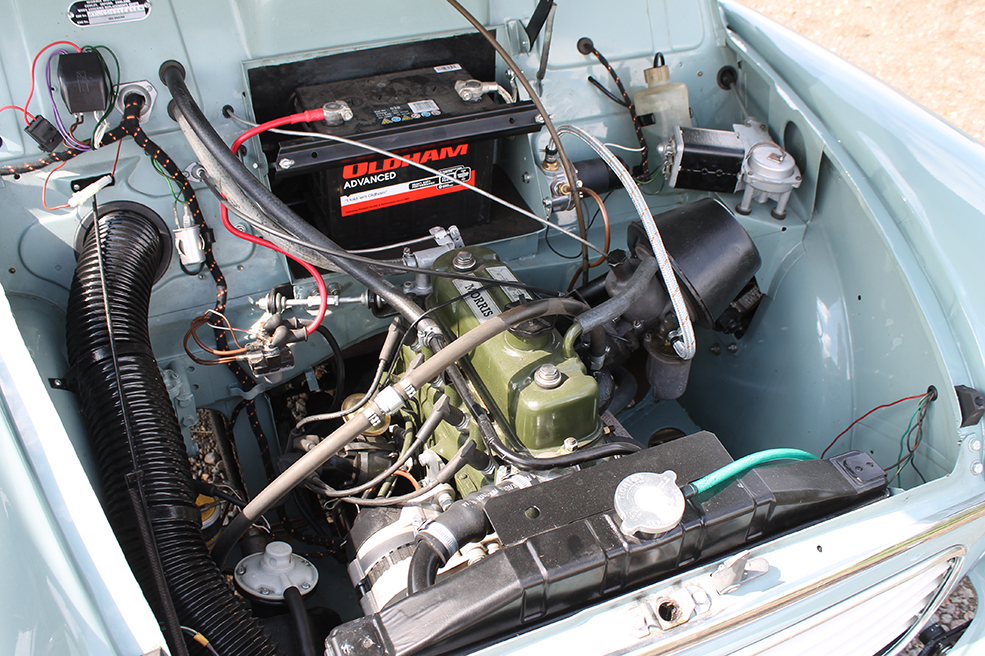 Engine and gearbox
With the Minor Traveller being launched in 1953, all versions benefit from the A-Series engine that Morris adopted following the previous year's creation of BMC (via the merging of Austin and the Nuffield Organisation). The A-Series is famously robust but can obviously wear when neglected or taken to a high mileage, one of the first signs being excessive noise caused by a worn timing chain.
You should check for plumes of blue smoke when you start the engine, as this is usually a sign of bore wear. And you need to check for any head gasket issues, as failure isn't exactly rare, particularly at the rear of the engine; make sure there's no sign of coolant in the oil and vice-versa, with any 'mayonnaise' on the dipstick and around the fuel filler being a cause for concern.
It's common for an A-Series engine to leak oil, most often from the rear crankshaft seal. If it's not excessive, it's probably something you can live with. There are specialists who will rebuild any A-Series engine (either on an exchange basis or using your own engine if you want to keep it 'numbers matching'), but you can expect a bill of around £1500.
The four-speed gearboxes used in all Minor Travellers are tough and reliable, though very high mileage can take its toll. The 'box on the later Minor 1000 (with the 1098cc engine) seems to be particularly durable, although you should still check for signs of worn synchromesh ('crunching' as you change from first to second in particular) and make sure the car doesn't jump out of gear when under load. If there's any clutch judder, it might be caused by a slack steady cable between the gearbox and crossmember – a simple and inexpensive fix.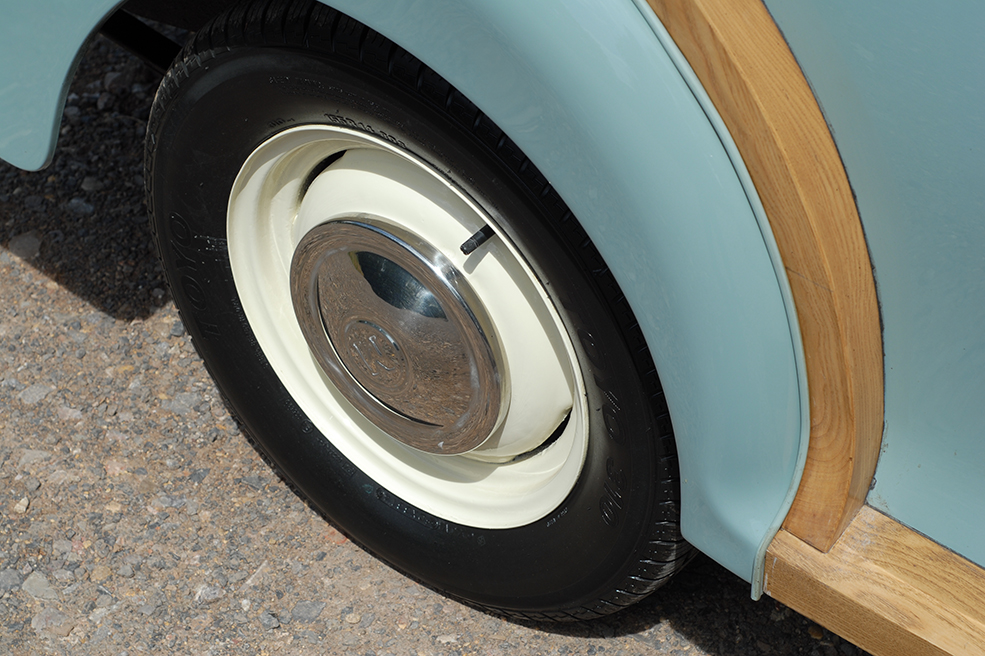 Suspension, steering and brakes
It's not uncommon to find a Minor with seized wheel cylinders, particularly if it's a car that's been off the road for some time. On your test drive, make sure the car doesn't pull to one side when you're braking. If there is a problem, don't let it put you off an otherwise excellent example, as all brake parts are inexpensive and changing the wheel cylinders or carrying out a brake service isn't a major undertaking. A set of front brake shoes costs from around £18, while an aftermarket wheel cylinder can be had from less than £12.
The Minor's all-drum braking system does a decent enough job (even given the extra weight of the Traveller) but it's not unusual to find a car that's had a front-disc upgrade. Unless you're ultra-strict about originality, this is a very worthwhile modification and will help to greatly improve your driving enjoyment. If you fancy carrying out the conversion yourself, Charles Ware's Morris Minor Centre charges around £515 for a Ford-based front disc brake kit.
The Minor's suspension requires regular lubrication, so make sure the Traveller you're thinking of buying comes from a caring owner and has been well-maintained over the years. Neglected cars can see their front suspension collapse when the trunnion comes away from the upright, usually caused by owners failing to grease the screw thread (which links the two) every 2000 miles.
A sure sign of worn trunnions is steering that feels unprecise (a healthy Minor's rack and pinion set-up is sharp and entertaining), something that should be obvious on your test drive. If the mounts for the rack – or even the steering linkage itself – need attention, this might also account for an 'odd' steering feel. It's also worth checking the condition of the rubber gaiters, as these obviously provide vital protection.
If the Traveller you're inspecting seems to sit lower than most, the lever arm dampers and/or rear leaf springs are likely to be worn and sagging. The lever arms are inexpensive and relatively easy to replace, but a pair of leaf springs and all ancillaries will obviously cost significantly more.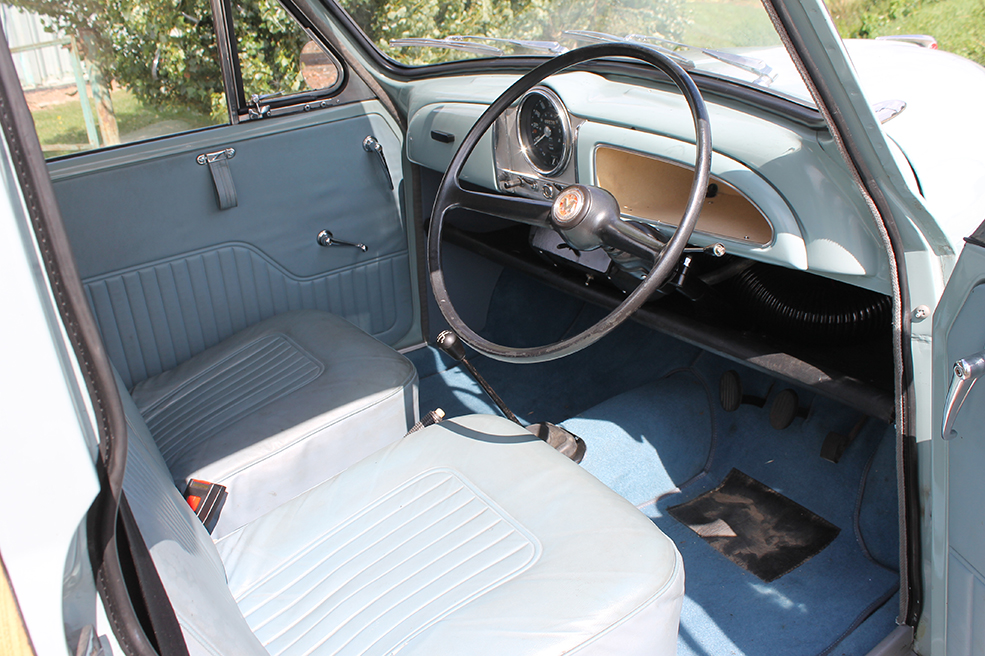 Interior and trim
Any Morris Minor is fairly basic inside, with vinyl upholstery in the vast majority of cases and a simple spec. It makes it easy to check for issues – and if there are areas that can be improved upon, it should be a fairly straightforward process.
Morris Minor specialists will be able to help with most replacement trim, although it's also worth speaking to the team at Newton Commercial (newtoncomm.co.uk), which offers a range of Minor Traveller front and rear seat cover kits (in either vinyl or leather) as well as new door panels, rear three quarter trim panels and door pulls. The seat covers are authentic recreations of the originals, with the same trim patterns and even the duo-tone finish of earlier cars. Whatever age of Minor Traveller you have, giving its interior an authentic new look should be do-able – although the cost of a complete interior rejuvenation can mount up.
Externally, it's obviously a case of checking the chromework is in good order, although again most items are available 'off the shelf' – with bumper blades easily found from around £155, while new stainless-steel hubcaps are less than £24 each.
Morris Minor Traveller: our verdict
It's easy to see the appeal of a classic estate – and they don't much more characterful or more endearing than the good old Morris Minor Traveller. This instantly-recognisable gem is as useful as it is charming, with all the load-swallowing capability you need for a trip to B&Q or a family day by the seaside, whilst being equally at home on any classic showground. It also happens to offer real driving pleasure, aided by its super-sharp steering.
There are downsides, of course, not least the ash frame playing such a major role in the car's structure and strength – and something that's both complex and fairly expensive to replace in its entirety. Buy a decent example though, and you'll have a classic that's both adaptable and entertaining in equal measure.