Few cars have quite as much classic charm as the open top Moggy. It appeared alongside the saloon right from the start in 1948, although the early pre-1951 MMseries cars are best left for the collectors due to their low-powered side valve engines.
Nevertheless, that leaves plenty of cars to choose from – of which, for everyday use, the 1098cc from the early 'Sixties makes the most sense for its perkier performance and stronger gearbox. If you've never driven a Minor before you are in for a real treat because handling was always one of its strong points and its well sorted chassis, torsion bar front suspension and surprisingly precise rack and pinion steering make it a real pleasure to pilot.
Needless to say, the Tourer will always attract a queue of buyers. But don't let that put you off because while it's likely to fetch close to twice as much as the saloon, it's double the fun. Moreover, while the hood's a pretty basic affair, it's water-tight if the hood frame is in good condition, so it's just as usable as its tin-top equivalent.
The only thing to be wary of is that you're buying a genuine factory Tourer. In theory it should be relatively easy to identify a genuine convertible by the chassis numbers; the saloons begin with 'MAS' while factory soft-tops made after 1958 will begin with 'MAT'.
Making good a poor Minor will get expensive, so determining the integrity of the bodyshell is paramount because everything else – the engine, running gear and interior can be sorted as time and funds allow. Parts won't be difficult to find either, with the likes of Moss (www.mosseurope. co.uk) providing all the replacement and servicing items you could ever need.
The great thing is, being so DIY friendly, you can do it yourself and because spares are so cheap and easily available, once you've got a solid car in the first place fettling will prove fun and affordable. Bare in mind too you're likely to get a better deal on a Tourer during the cold winter months than in the height of summer.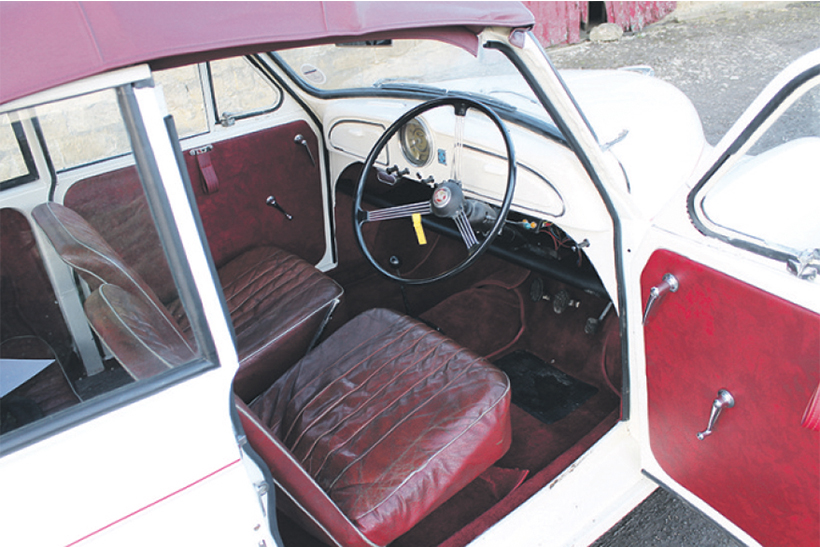 BUYING TIPS
• Beware of rot in the entire lower section of the car, although the outer panels bolt on, which makes life easier.
• Inspect the two main chassis rails and front crossmember, the floorpan and rear spring hangers. Patch repairs are okay, but properly welded in repair panels are better.
• A Series engines are strong but watch for head gasket issues and excessive bore wear. Oil leaks, especially from the rear crankshaft seal, are par for the course.
• The later 1098cc gearboxes are stronger than the earlier types, but watch for worn synchromesh and jumping out of gear.
• Hood covers are inexpensive, but hood frames can distort and cause leaks. A new frame is the best solution.
• Complete interiors with original 'patina' are nicer than total refurbs.
PRICES
Morris Minor Tourer – from £3500 (condition 3) to £10000 (condition 1)
See more CLASSIC CAR BUYER'S GUIDES