Few cars manage to combine character and quirkiness like the Citroën 2CV, and even fewer can match the unique driving experience. Here's how to buy one
Words: Chris Randall
The beginnings of the 'tin snail' date back to the 1930s and the 'Toute Petite Voiture', but the 2CV as we know it arrived in 1948. Famously intended to be able to transport a basket of eggs across a ploughed field without them breaking, it provided cheap, utilitarian transport; something that didn't change until production ended in 1990.
Early models were incredibly basic and to say they were slow is an understatement, so we're focusing here on cars from the 1970s and 80s. By that time a more (relatively speaking) powerful 602cc engine was fitted with 29–33bhp on offer, making the 2CV more useable on a daily basis. More than 3.8 million 2CVs were made in all, and there's little else like them.
Perhaps its closest rival is the similarly straightforward Renault 4, although you could also consider the VW Beetle or Morris Minor if simple classic motoring is what you're after. But the Citroën really is something of a unique proposition – in the way it looks and the way it drives – so if you 'get' what they're about you might just one irresistible. If you don't, then a test drive must just change your mind.
Bodywork
The deux chevaux is incredibly well-supported when it comes to the likes of panels and repair sections, and you can even buy a complete new shell although that will set you back almost £7000. Still, this is good news given the propensity for corrosion so – as simple as the car appears – you'll want to spend plenty of time checking for tinworm.
Look for bubbling in all of the exterior panels, not forgetting to inspect the hinge area of the doors, bonnet and boot lid. They are all easy to remove and replace, but the cost of new ones will soon add up. The innards of the steel body tub also require careful scrutiny, so don't be satisfied until you've checked the sills, inner wings, A/B/C posts, seat belt mountings, lower front bulkhead and front screen surround. Serious rot can cause the whole shell to distort, so take a moment to assess how 'straight' the whole thing seems and take a close look at panel gaps.
The underneath will need equally close inspection, looking for any signs of corrosion in the toe boards, cabin floor and boot floor. Of course, there's the chassis, too. There's a good chance that a replacement has been fitted by now – budget around £1200 for a galvanised one – but unless it's been done fairly recently it's best to assume that corrosion is lurking somewhere. The legs that support the engine and the rear of the body are common trouble-spots.
All of this might sound off-putting, but in reality the 2CV is no better or worse than many classics of the era and there's a wealth of specialists to call on for help or advice. And if you're reasonably confident of tackling body repairs, there's not a great deal to be feared when it comes to a home restoration.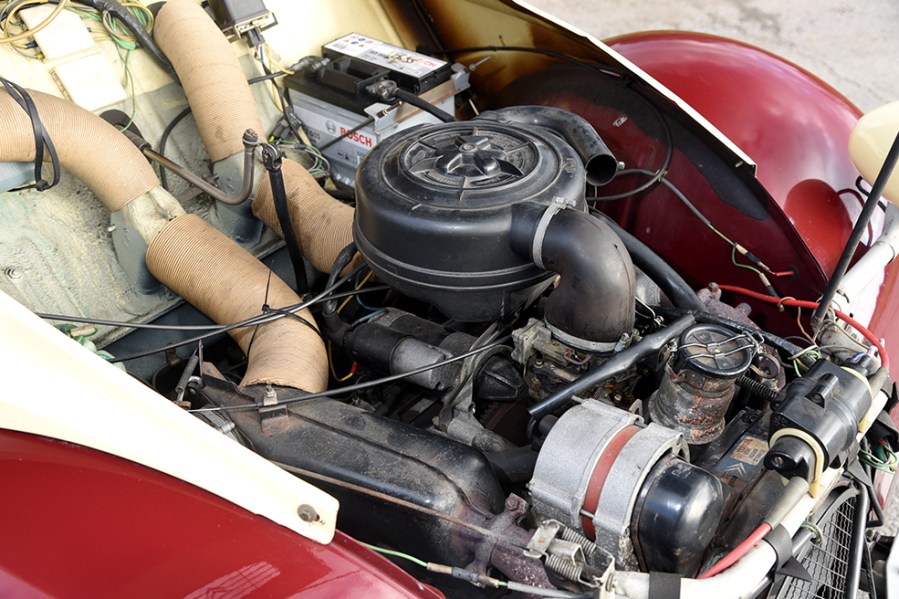 Engine and transmission
The mechanical simplicity only adds to the appeal, and removing the engine for repairs or a rebuild is well within the scope of a competent DIY-er. The air-cooled twin isn't a complicated unit to check, either, and major problems will be obvious. If there's more than just a puff of blue smoke on start-up then suspect the likes of worn or broken piston rings, or valve-stem oil seals in need of replacement.
Use the test drive to listen for the usual knocks and rattles that signify an engine ready for an overhaul. Poor valve adjustment will affect the already limited performance, as will an ailing fuel or ignition system, although these areas are easy enough to sort. The latter will benefit from electronic ignition as accessing the points for renewal is an awkward job. You'll also need to watch for oil leaks, with the rocker covers and pushrod tubes being common culprits. And make sure the engine's not getting hot and bothered; a sound cooling system is crucial for longevity, so ensure the fan operates correctly and that the oil cooler isn't blocked with debris. These are easy engines to maintain, though, and refreshing the oil and filter every 3000 miles will keep things healthy.
You can't mention the gearbox without reference to the quirky method of gear selection, although you soon get used to it. Changes themselves should feel quite easy so anything else will need further investigation, and the most likely problems you'll encounter are whining bearings and worn third-gear synchromesh. Budget around £600 for a rebuild of the box, or spend a couple of hundred more on one that's been refreshed by a specialist. Lastly, check for signs of a slipping clutch; a replacement kit is less than a hundred pounds and fitting isn't difficult.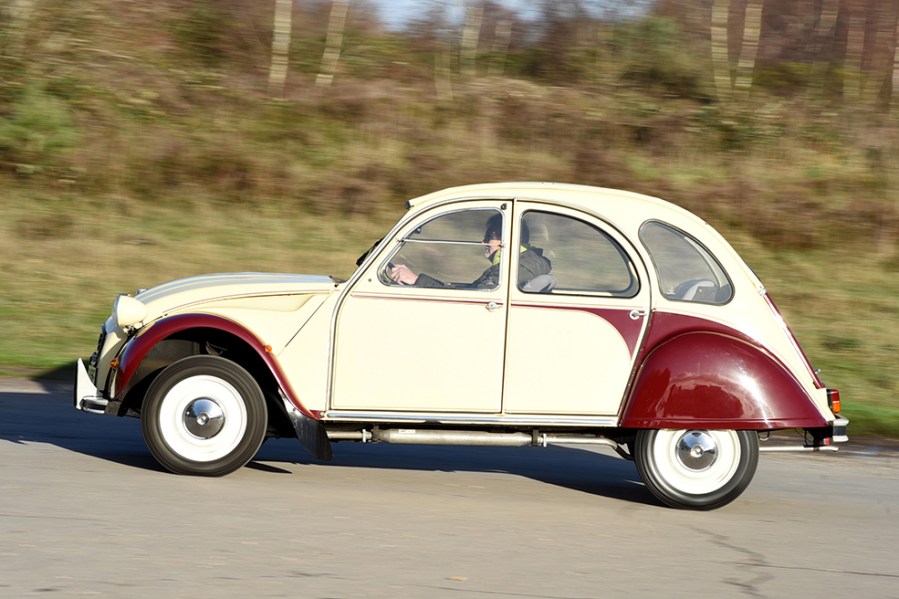 Suspension, steering and brakes
It's the rather unusual suspension arrangement that gives rise to the roll angles that so alarms 2CV newbies, but it's all part of the character. Telescopic dampers were fitted front and rear from 1974, so it's more conventional than early models, and if they're leaking you can source replacements for less than £100 per pair.
You've also got springs located inside tubes beneath the car, but these can be overhauled or replaced without major expense; the tube itself can rust but a new one is only around £50. And items such as new tie rods are cheap and easy to replace. The steering is a straightforward rack and pinion system which should feel light on the move but a worn rack isn't costly to replace. Unlike early examples the kingpins don't require regular lubrication but watch for wear, but check for the usual wear and tear in track rods and the like.
As for the brakes, the most notable change was a switch in 1981 from drums at the front to inboard discs which are more effective. Maintenance is easy and parts are inexpensive with a pair of discs costing around £55 and pads less than twenty pounds a set. The handbrake operates on the front wheels via separate pads – new ones are £15 or so – but it can need adjustment so check it works effectively.
There's one other point worth mentioning which is that disc brake cars use LHM rather than conventional brake fluid; it doesn't really need changing unlike the latter which should be renewed every couple of years. Cars that see little use could be suffering from corroded and seized brake components but an overhaul is straightforward.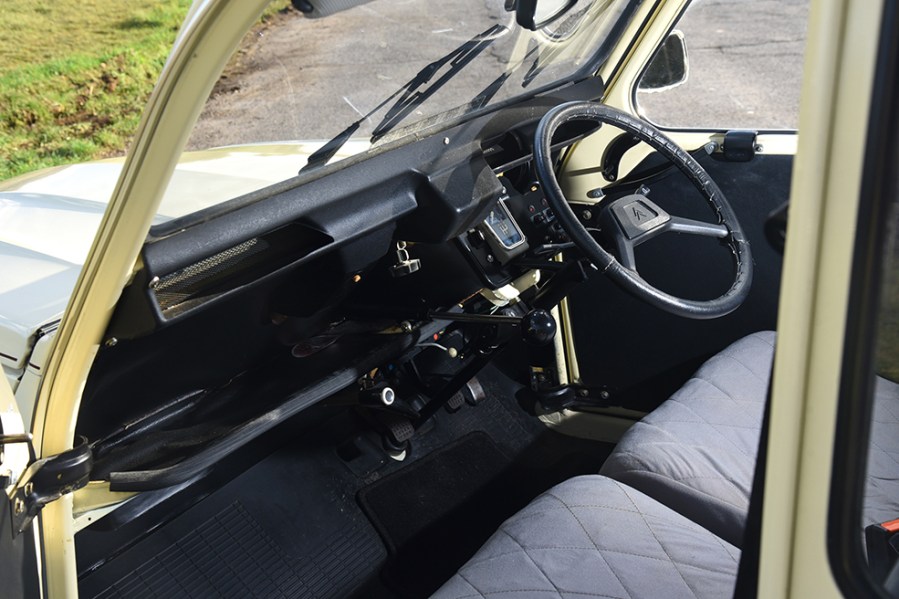 Interior, trim and electrics
The characterful Citroën has most other classics well and truly beaten when it comes to cabin simplicity, and that's good news for potential buyers. What soft furnishings there are just need assessing for obvious signs of damage and shabbiness, and it won't take long to establish the condition and security of the seat frames themselves. Everything is available to refurbish a scruffy cabin, and spending £500 or so will bag a full set of seat covers, carpets and door cards.
One thing worth checking for is evidence of water leaks that will not only damage trim but hasten the onset of corrosion in the floor; look for perished screen and side window seals and signs of moisture getting in via the fresh air vents. And take a good look at the condition of the folding roof – it can also be a source of water ingress, but a replacement is only around £250 if it's really past it.
As for the electrics – and it's the 12-volt cars we're considering – once again it's all incredibly simple. It won't take long to check the minimal switchgear, and any problems will likely be caused by corroded and loose connections. The latter can also be responsible for inoperative lights, so make sure they all work; a failed headlight switch isn't uncommon but it's cheap to replace. And just make sure that amateur fiddling with the electrics, or poorly-executed modifications, haven't caused problems of their own.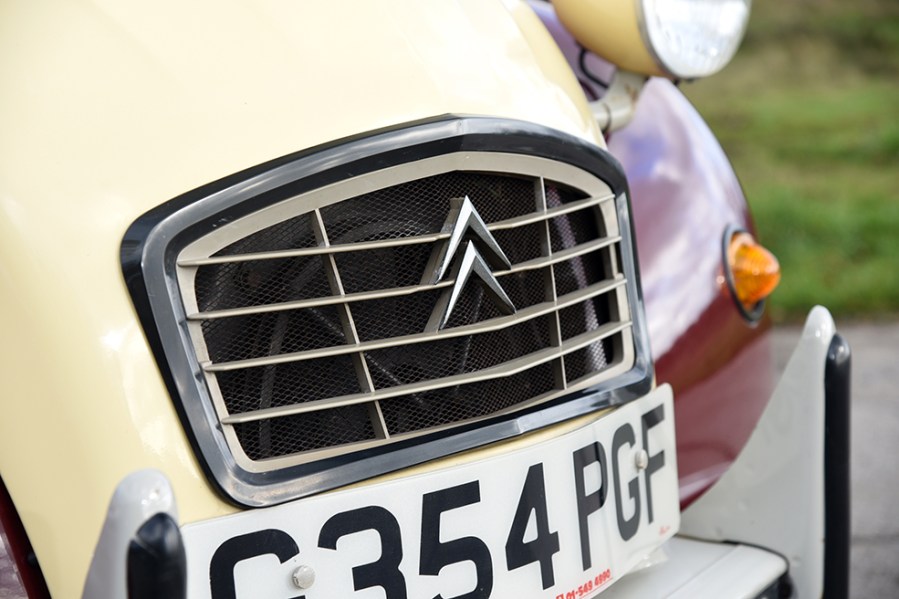 Citroën 2CV: our verdict
Experience a 2CV for yourself and you'll probably discover it's either a car you'll find incredibly endearing, or something that you just couldn't live with under any circumstances. It's certainly not a classic that attracts indifference. But assuming you're in the former camp this is a car with charm and character like almost nothing else and it's one that's guaranteed to put a smile on your face every time you get behind the wheel. More so than most rivals, we'd wager.
Fun to drive and easy to maintain, the important thing is finding one that's in fundamentally sound and rust-free condition as nothing will wipe that grin off your face quicker than discovering you've a restoration case on your hands. But there's no reason to land yourself with a duffer.
There's an excellent support network on hand, from friendly clubs to knowledgeable specialists, so we'd certainly advise that you make the most of that before taking the plunge. If you're someone that admires simplicity and a massive dose of function over form then this is almost certainly the car for you, and we guarantee it's one that really gets under your skin.
Their enduring popularity means you won't struggle when it comes to finding a 2CV that suits your pocket, and while there's quite a wide spread of values, there's no need to break the bank. If you're heart's set on a restoration project you'll find those from £1500 to £2500, but stretch the budget to nearer £4000 and you can still bag cars with an MoT but in need of ongoing tidying.
Smarter, clean examples will set you back in the region of £5000-£7000 and by the time you reach the £12,000 mark you're into the realms of very nice ones indeed. The very best can command a figure around the mid-teens, and while we've seen them advertised for more there's really no need to pay that much.
Values haven't changed a great deal over the last few years so any future rises will likely be of the gradual variety. So don't worry about any investment potential – just concentrate on finding the right car for your needs and budget and enjoy everything this iconic French classic has to offer.
Citroën 2CV timeline
1948
The 2CV as we know it is launched at the Paris Salon, powered by a 375cc engine managing just 9bhp.
1970
Following numerous changes over the previous 20 years, the arrival of the 2CV6 brings the 602cc engine and more modern 12-volt electrics. Recognisable thanks to rectangular headlights.
1980–1981
The Charleston edition appears and would become a regular model. 1981 sees not only front disc brakes but a famous appearance in Bond film, For Your Eyes Only. A 007 special edition follows with stick-on bullet holes.
1985–1988
There's another special edition in the shape of the Dolly, but just three years later it's the end of production in France. It's not over for the 2CV yet, though.
1990
Production had moved to Mangualde in Portugal, but this year sees the very last car made. More than 3.8 million had been produced in total.