Often overshadowed by V6 versions, the early four-cylinder Ford Capri Mk1 makes for a great classic. Here's how to buy one
Words: Chris Tilbury
Ford might have touted the Mk1 Capri as 'The Car you always promised yourself' on its February 1969 launch, but the distinctive coupé's chances of fulfilling that somewhat tall order hinged a fair bit on what was under the never-ending bonnet.
Granted, the Capri's long nose, squat rear end and sloping roofline certainly attracted plenty of admirers, but fitted with the entry-level 1298cc motor it's debatable whether it was anyone's dream car.
To have even a fighting chance of backing up the Capri's purposeful looks, the 1599cc Kent engine was the absolute minimum and, even then, you really needed the GT specification to give MGB owners a run for their money. More performance was just weeks away though, the Zephyr and Corsair's 1998cc V4 motor introduced in March and reserved exclusively for the sporty GT. With its twin-choke Weber carburettor and better suited gearbox ratios, the 2-litre GT could run to 107 mph and at just £46 more than the 1600GT it was a steal.
Adding to the GT's appeal and also to the rest of the range were a host of appearance-enhancing Custom Packs – X, L and R. The X pack with such items as reclining front seats, bucket rear seats and reversing lights; and the L pack including overriders, chrome exhaust trim and dummy air scoops were available on all models, while the R pack with its Rostyle wheels, lairy matt black bonnet, spotlamps and leather-shod steering wheel was unique to the GT.
Such choice, its unique formula and Ford's masterly marketing meant the Capri was a smash from the off, running changes such as more power for the 1.6-litre engine in September 1970 and a major facelift in 1972 ensuring its continued success.
All good things come to an end though, and with the hatchback Mk2 model around the corner, Ford called time on the production of the Capri Mk1 in December 1973.
By then, the smaller-engined cars were overshadowed by the burly 3.0-litre V6 models and while that's still the case today, there's a great deal to recommend the four-pot Capris. For that reason, that's what we're focussing on here.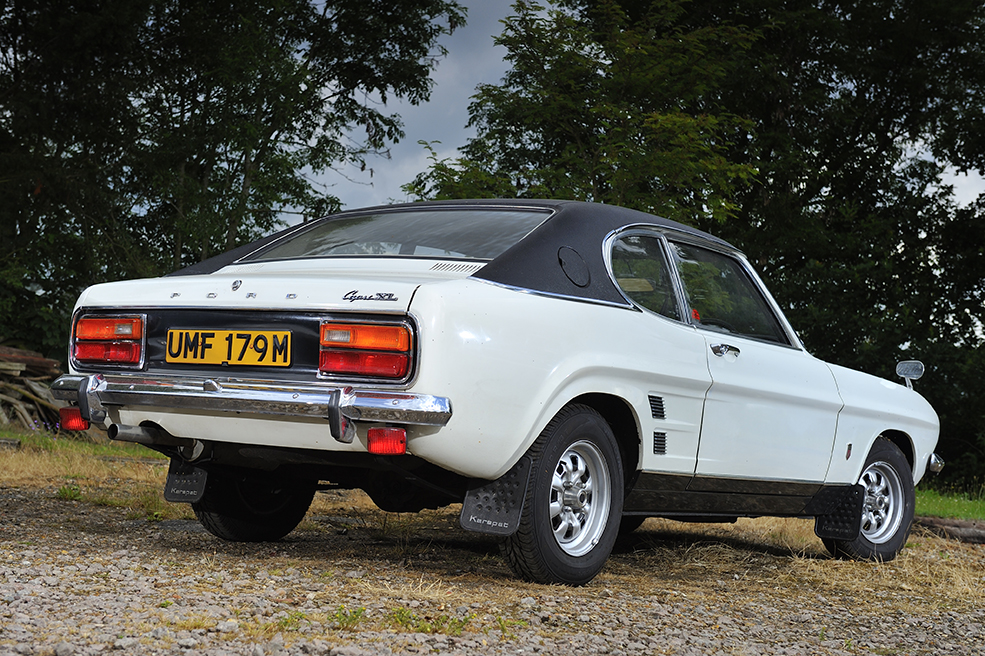 Bodywork
Wings rot around the headlights and at the rear quarters, NOS Ford replacements costing circa £600 apiece and pattern panels around £300. Such is the price that the opinion is to professionally repair the original Ford wings if they're still in place. Reckon on £450 to replace a frilly valance, although the likes of sills and the often-rusted rear arches can be rectified with more affordable reproduction panels. Bubbling on the scuttle is a tell-tale of major rust in the A-post, the difficult-to-repair area rotting inside out.
Doors don't suffer too much, but if they do need replacing be aware that they're not interchangeable between early and late cars without modification to the doorcard and lock fixings. Decent second-hand trim is hard to find, although some parts like the scarce and expensive hockey sticks around the rear lights and the strip that runs below the boot have been reproduced in recent years by the likes of Motomobil in Germany.
Engine and transmission
A rattling timing chain, tapping top end and heavy breathing are all signs of a tired Kent motor. Later 1.6-litre Pinto is also prone to a noisy top end – the cause being a worn camshaft that's been starved of oil – and if the valves are to stay straight it'll need a cambelt change every 30,000. Thorough servicing and resetting the tappets can usually sort rough running issues with both engines, although flat spots and idling can be down to wear in the carburettor.
Essex V4 isn't particularly smooth but reasonably durable if well maintained, issues such as overheating and blown head gaskets only tending to arise if the cooling system is neglected. Running hot can also increase the V4's chances of smashing its nylon timing gear. The V4 GT's Weber is reliable and it's usually the pump at fault if there are any fuelling issues.
Type 3, single-rail box is reasonably durable, although any rumbling points to terminally-worn bearings. English axle isn't nearly as hardy as the later 3-litre's
Atlas, but it tends to soldier on even with a bit of a whine. Bits to rebuild both the four-speed 'box and rear end are readily available.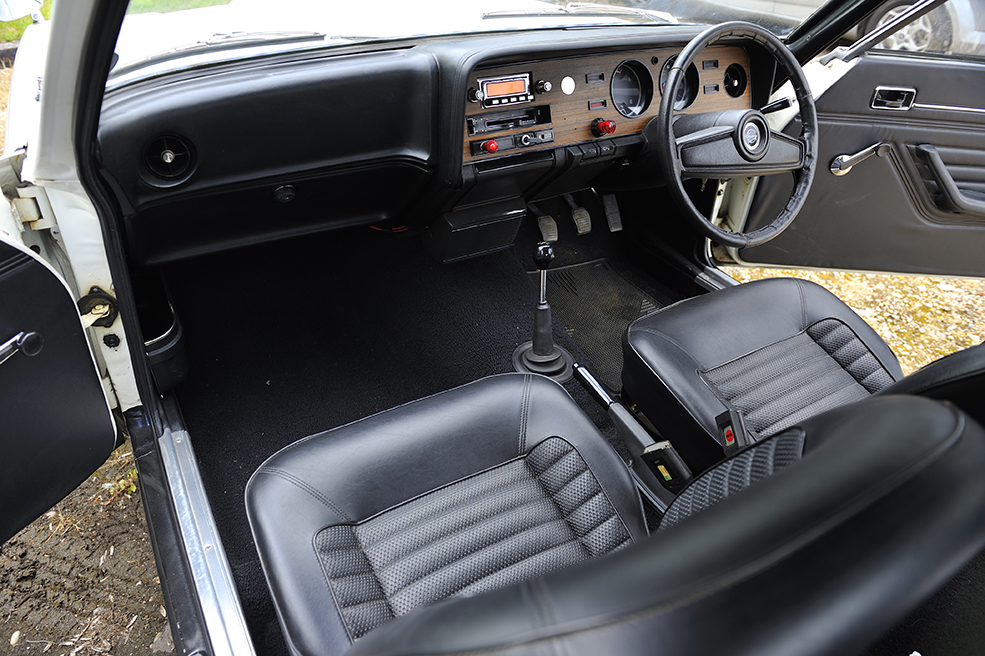 Interior and electrics
Reproduction black trim is available but doesn't come cheap, a set of front seat covers costing over £340. Only 10 per cent of surviving Mk1 Capris are thought to be running shades different to black and its nigh-on impossible to find replacement trim for these. Door cards can warp and it's not unusual for the rear carpet to suffer from water damage if the rubber seals of the doors have perished. Black door cards and rear panels can be bought new as can carpet sets, although it's worth checking that the latter is to correct OE specification where the front section covers the floor crossmember.
Replacing the lights of early cars is relatively straightforward – the headlights are fairly common sealed-beam units and the rear clusters are shared with the Mk1 Escort. Facelift items are a lot harder to source, both front and rear lights being unique to the model and the latter's use on the RS3100 driving up prices. To make matters worse, the facelift's oval lights also have a tendency to suffer from damp-induced damage.
The lack of a relay can cause the headlight switch of pre-facelift cars to melt, while the GT's rev counter is unreliable in its readings. It's not interchangeable between 1.6-litre and 2-litre GTs either, the bigger-engined car's rev counter being marked V4. Batteries for cars with flat post connectors are hard to find but it's possible to change the leads. Pre-facelift models used narrower batteries, check the size of the battery tray before buying a replacement.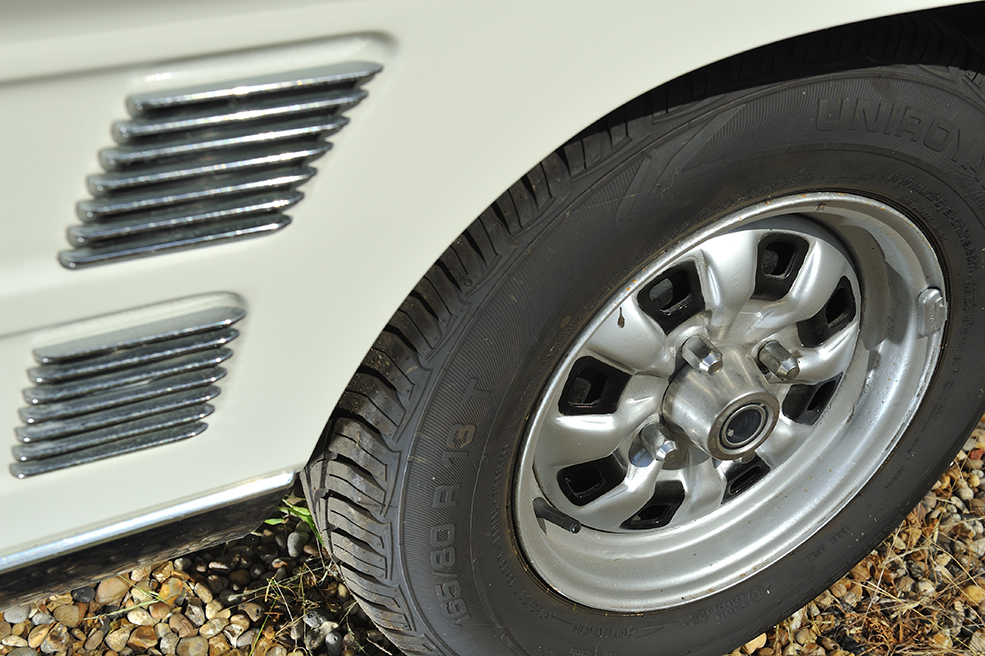 Suspension, steering and brakes
Seldom used cars are prone to sticky calipers and seized rear wheel cylinders. New replacements are easy to source, as are the likes of front discs, rear drums and shoes.
Unresponsive steering and wallowy ride point to the respective problems of tired bushes and worn dampers. Facelift models are softer sprung than earlier cars and watch for cars that have upgraded rear suspension – the Mk1 has a very light rear end and if it's stiffened too much it'll skip everywhere.
Ford Capri Mk1: our verdict
They might not be the fastest of the Capri Mk1 lot but the four-cylinder cars are cheaper to run – and while you might indeed have always promised yourself a V6, the four-cylinder models certainly won't leave you disappointed.
Buy a good one today and classic Ford values in general dictate that you're likely to be onto a winner in the future. What's not to like?