MGB GT 1975-1980 BUYERS GUIDE
The MGB was a classic, sleek two-seat open top or 2+2 hardtop GT at the leading edge of 1960s sports car design, a description that was still true when it passed out of production in 1980! Throughout that time it was powered by a very solid if slightly agricultural 1798cc BMC B-series engine, delivering in UK form between 84bhp and 95bhp depending on how the power was measured. This drives through a four-speed manual gearbox, often with overdrive available on 3rd and 4th, through to a robust rear axle.
The BGT delivered competitive performance for the period, but today it is a little muted. Steering was by a precise rack and pinion, allied to independent front suspension with coil springs and lever dampers. At the rear was a solid live axle controlled by semi-elliptical leaf springs and lever dampers.
Inside, the two seats (the +2 of the GT is really more effective as a parcel shelf than as a suitable perch for people) provide very good comfort for longer drives, with different cover materials depending on year. The dashboard was a simple pressed steel panel with crackle black paint finish of attractive design. Until 1977 this featured four dials – main speedo and rev counter (originally 3in diameter but later 80mm to allow fitment of a collapsible steering column) plus two smaller dials, one for fuel and the other split into two showing oil pressure and coolant temperature.
From the 1977 model year, the dual gauge separated into two, making a five-dial dash along with other cosmetic changes such as the adoption of more ergonomically laid out wiper and light controls on two steering column stalks. However, the accompanying new very plastic four spoke steering wheel was a bit like a pimple on a model's face!
Driving is a very rewarding experience, with responsive if slightly heavy controls by modern standards, especially the steering. Today, effective certified power steering conversions can overcome any heaviness in this area if desired.
The 'solid and slightly agricultural' description of the engine carries through to all the main mechanical parts of the car and this gives great longevity, but the youngest MGB is 38 years old so even the most robust mechanical parts can be expected to show some wear if they are yet to be reconditioned. For example, clunking from the back end can often be due to backlash, or slackness in the differential that leads to a clunk when taking up drive from standstill. It can be reduced with replacement spacer/thrust washers for the differential gears. However, axle whining is not acceptable and would indicate either worn bearings, or possibly wear between the crownwheel and pinion gears.
The gearbox has a short and precise change, but the internal ratios are a little oddly spaced with a low second and high third. Overdrive was an extra cost option until June 1975 (UK models) and so will be found on most rubber bumper cars, but was not a commonly selected item before the early 1970s because back then road networks didn't have the long open out-of town stretches that are the norm today. The benefit of overdrive is that it provides more relaxed cruising, reduced fuel consumption and reduced mechanical wear. Adding overdrive to a non-overdrive car is quite feasible, but usually requires the fitting of a replacement overdrive gearbox as you can't simply bolt an overdrive unit onto the back of a non-OD gearbox.
In recent years five-speed gearbox conversions have become more commonplace, and with escalating costs for overdrive conversions these have become steadily more attractive. They offer greater efficiency, better spaced ratios and, being smaller, you can remove the gearbox from underneath the car for any future clutch changes, something not possible with the longer MG gearboxes. Surprisingly, from the driver's seat they look and feel like a natural part of the car.
Brakes are 10.75in solid discs clamped by twin piston calipers at the front and 10in drums at the rear. If kept in tip-top order, their performance has always been more than adequate for the car in standard and mildly tuned form. A brake servo was an option from early 1970 and then standard from mid-1973, and does considerably reduce the brake pedal effort required. Note, however, that a servo doesn't improve braking performance, it just reduces the driver's effort. It can easily be retro fitted to a car that doesn't have one.
Mechanical repairs are relatively simple so labour costs are smaller and more predictable than with bodywork repairs, but buying big items like engines will still be quite expensive. MGBs are of an age where it is reasonable to expect most will have seen at least one engine change or reconditioning. Basic aspects of a sound engine include oil pressure of at least 10psi at idle when the engine is fully warmed, and at least 50psi at 3000rpm, although most will be 60 to 70psi. Only where upper oil pressures exceed 80psi would this to be too high, but the commonly seen higher idle pressures are not a problem.
If you can smell petrol at the back of the car and it is not obviously coming from the filler cap area, then a common MGB rust area is the top of the fuel tank where water and crud can collect and sit unseen. Usually liquid leaks only show when the tank is filled above the three-quarter mark, at which point slosh from driving may be seen, or at least the dried residue stains it leaves down the sides of the tank. A more recent fuel related problem is ethanol as this degrades older hoses, so unless the age/provenance of the fuel hoses is known then checking these is always advised. Aside from obvious leaks and smells, look for external cracking and any hoses that appear suspect need renewing with ethanol resistant fuel hoses.
The fuel tank is only the tip of the potential rustberg, and in truth it is the condition of the body and paint that will ultimately determine a car's value. However, while we have selected the rubber bumper GT as our pick for £3000, we also have a chrome bumper Roadster as top tip for £7500. Therefore, rather than repeat everything, we have split it half and half, with the background and mechanical info here and the crucial bodywork stuff in the second instalment starting on p48, so be sure to read both even if you are only interested in one of our two chosen variants.
Here, we just have room left to talk about some of the points specific to the rubber bumper cars of 1975-1980. First up, there is no denying that the arrival of the raised ride height and rubber bumpers (actually a plastic cover on a steel frame) for the 1975 model year was seen as a very retrograde step by most people, one that forced the rest of the world to suffer from American regulations. The reality was that with the lion's share of production going to North America, it was not viable to produce chrome and rubber bumper MGBs at the same time and if the cars couldn't be made to satisfy US regulations, then production would have ended in pretty short order for everyone.
What didn't help was the variable quality of the bumper materials, and the fact that the only option was black (painting plastic wasn't reliable then). As a result, the new bumpers looked really presentable on black cars, but were not always as successful on some of the other colours available. More recently, effective painting of the bumpers in body colour does in most cases provide a more integrated and less clumsy look.
Aside from raising the ride height by 1.5in, rubber bumper Roadsters lost the front anti-roll bar so the combination of increased height and removed bar delivered a marked increase in body roll and reduced handling capability that the press made note of! Today handling is not the focus it was then, and ironically the increased ride height is a bonus in negotiating speed humps and ploughed-field road surfaces.
MG responded to the critical comments with a facelift in September 1977 that restored the front anti-roll bar on Roadsters and added a new (on the MGB) rear anti-roll bar on both Roadsters and GTs. These worked very well and restored general handling to chrome bumper levels, but other changes attracted greater (and more negative) comment. One of these was the all-new striped 'Deck Chair' pattern seat covers, bright orange for Roadsters and grey for GTs, something that to this day divides opinion quite strongly.
In terms of values, the 1975/6 rubber bumper cars are the least sought after of any MGB, so if you find a solid one then this could actually be really good value – but only if you are happy with the black bumpers and don't view it simply as a candidate for a chrome bumper conversion. That's because although you can buy a chrome bumper conversion kit for under £1000, that conversion is neither simple or cheap. If the end result is to look perfect and so add value rather than lose it, the conversion work will cost far more than the original outlay on a kit.
The MGB is almost unique in being an old car that is better served today with spares and services than it was when it was in production. This is one reason why so many examples are still on the road. When looking for a car, always remember that it will invariably cost more to buy a project and then do it up than the finished car will be worth, so it is best to push the budget to the max and buy the best car you can afford.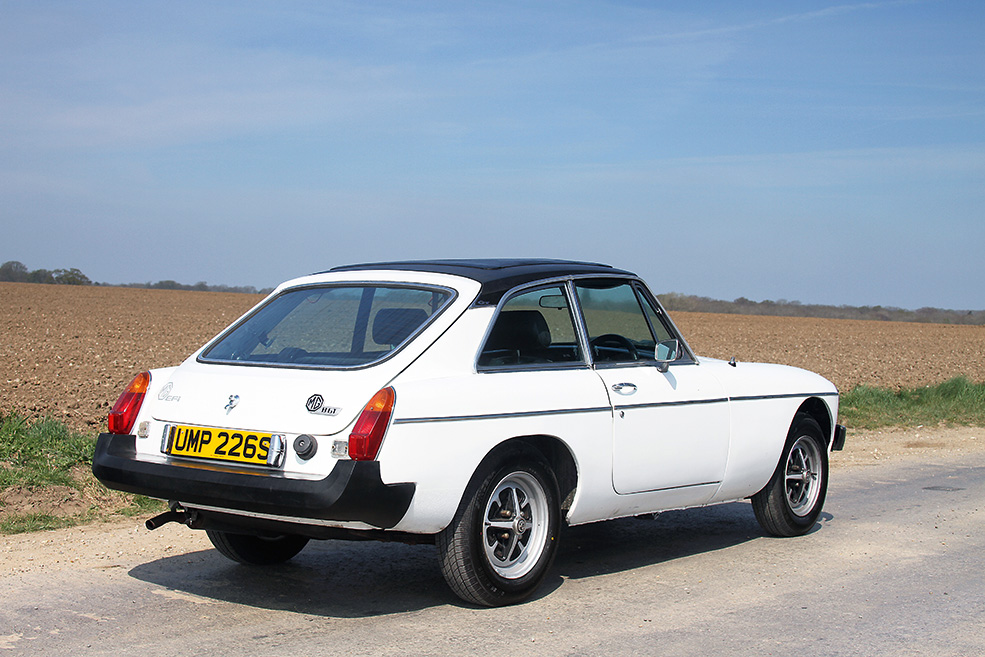 WHAT TO PAY
The general negativity when the rubber bumper cars were in production was not reflected in sales figures, as these remained strong. In the intervening decades, the widely separated views between chrome and rubber bumper fans have closed noticeably, but still not enough to erode the financial advantage offered by the rubber cars.
A 1975/6 Roadster in really good condition may only attract £4000-£5000. Cars from the 1977 to 1980 model years are more sought after, and a very good Roadster will be in the £5000-£6000 region, but as is seen with chrome bumper cars values are rising. As a result optimistic sellers have asking prices significantly higher, although only some cars justify higher values.
GTs are always worth less, more so with the rubber bumper cars than with the earlier chrome ones. That means good RB GTs often struggle to reach much above £3000-£3500, which probably makes them the best value MGBs available.