The BMW 5 Series reached new heights of success in its E34 generation. Here's how to buy this desirable modern classic
Words: Chris Randall
Following its launch in 1972, the BMW 5 Series became pretty much the definition of a premium executive saloon, blending top-notch quality with entertaining driving dynamics. It was hugely popular as a result, but the car we have here represents the third generation that was unveiled at the end of 1987 and went on sale shortly after.
Boasting similar styling to the E32 7 Series, initial design work was carried out by Ercole Spada and finalised by J Mays (also responsible for the 8 Series), with the familiar shark-nosed look giving way to something more contemporary. It was a major step forward over its predecessor, boasting a stiffer body, an impressive 0.32 drag coefficient and greater refinement; the latter had been a real focus for BMW, and a hefty chunk of sound deadening was employed to help keep noise levels down.
Launched as a saloon initially, the newcomer was longer, wider and featured a five-inch lengthier wheelbase than the outgoing model. In 1991 came the addition of the Touring estate, which added some useful practicality to the mix. And the E34 also marked several firsts for the 5 Series range, among them the availability of a V8 engine, a four-wheel drive variant in the form of the 525iX, and increased levels of tech such as electronic damping and stability and traction control systems.
Naturally, BMW was keen to cater for every level of buyer aspiration, which meant an extensive choice of engines with which to establish the pecking order in the company car park. Things kicked off with the four-cylinder 518i, with the 520i and 525i offering six-cylinder power while those after something more sporting could opt for the 530i and 535i, the latter boasting a useful 208bhp. Even more shove came courtesy of the 282bhp 540i V8, with the range topped by the properly quick M5 that made 335bhp in later 3.8-litre guise. For those more concerned with frugality there was a choice of diesels, the most powerful of which was the 525tds.
Trim levels were relatively limited, the entry-level models coming with the basics but not much else, which is why most buyers opted to upgrade to the better-equipped SE and Sport versions. And there was always the lure of the lengthy options list.
Remaining on sale until 1996 when it was replaced by the E39-generation 5 Series, the E34 was an unqualified success with 1.3 million being made.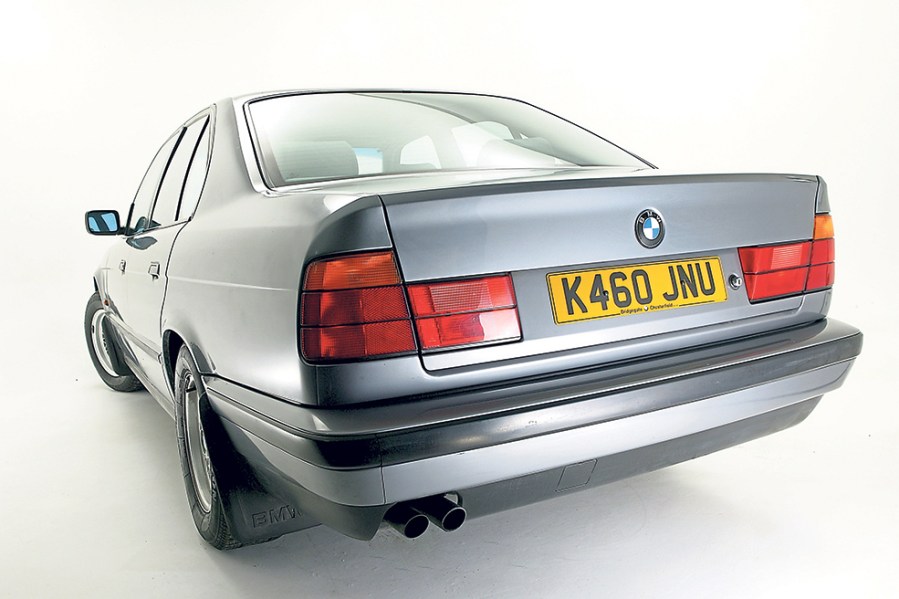 Bodywork
The fact that this car carries a premium badge is pretty much irrelevant because, this many years on, its bodywork is going to suffer like any other. Indeed, both specialists and the owners' club say that corrosion is the issue of most concern when it comes to buying an E34, so be prepared to spend plenty of time scrutinising every inch of the panels.
Most serious is rot in the sills, and the forward section can rust alarmingly on cars equipped with a sunroof; the drain tubes go down the A-pillars and if they become blocked the sills can corrode away unseen beneath the plastic covers. It can be a complicated repair – even straightforward sill replacement is going to cost around £1000 to do both sides – so it won't be cost-effective on cheap examples.
There are plenty of other areas to inspect too, including the front wings, wheelarches (especially at the rear), door bottoms where a plastic trim retains water, and the bottom edge of the bootlid and tailgate. The area around the rear lights and fuel filler are further rot spots, and it's wise to get a look underneath to establish the condition of the floorpan and jacking points. Don't be surprised to find a car has had fresh paint in the past, but you'll want to be sure it's not hiding bodges or filler. Scuffed bumpers can be renovated easily enough, but it's worth bearing in mind that some exterior trim parts are getting scarce – especially those unique to the M5 – so avoid anything where it's badly damaged or missing altogether.
Fortunately, the large number of E34s sold in the UK means you shouldn't have too much trouble tracking down the likes of secondhand panels, light units and mirrors, but it can soon bump up the cost of any renovation work. If you're tempted by the more practical Touring, the latch mechanism for the separate tailgate glass can play up, and if the panoramic sliding roof is fitted be sure to check its operation; prone to jamming, removing the entire sunroof cassette is a pain of a job. Lastly, check all models for correct windscreen wiper operation as the motor and regulator assembly can fail; be wary if the wipers hit the bodywork.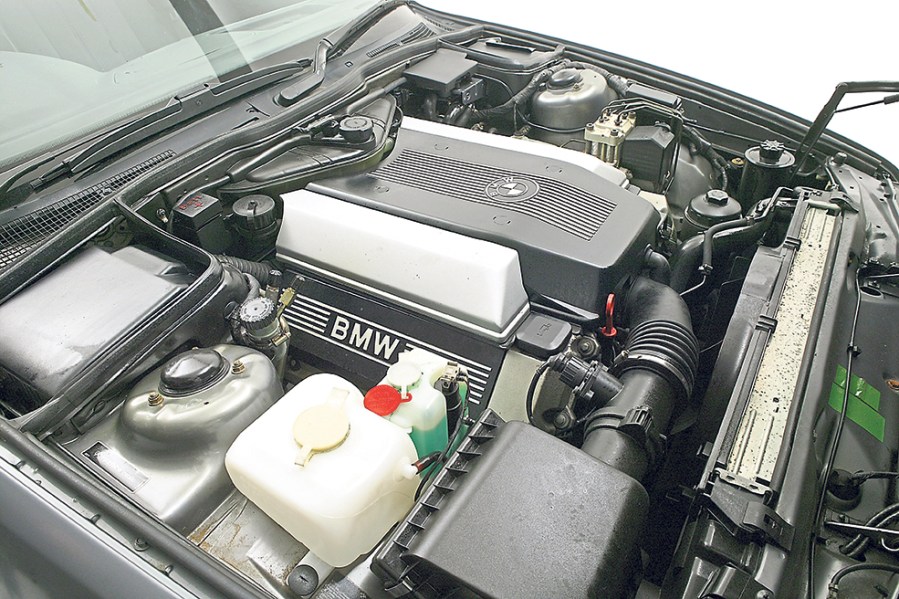 Engine and transmission
All of the engines are capable of covering 200,000 miles or more with ease as long as they've been well maintained; but as values tumbled and the list of owners on the V5 grew, therein lies the rub. Neglected servicing could become all too common, and you shouldn't rely on the dashboard's service indicator as that can be reset.
Some of the early single-cam engines, such as the M40 and M20 units found in the 518i and 525i respectively, used a cambelt; specialists advise ignoring the official BMW renewal intervals and replacing them at least every 25,000 miles or four years. It can be a bit of a weak spot and it's not worth risking the major damage when it fails.
Later iterations of these engines and most of the others featured a timing chain, and if oil and filter changes haven't been ignored – every 6000 miles or annually is best – they should be trouble-free. That said, replacement isn't cheap and for a V8 you should budget a few thousand pounds once you've factored in a few other minor jobs that will inevitably be required.
You needn't worry today about the bore wear issues that affected some early examples, but these units are prone to oil leaks, as is the M5's S38 motor, and eradicating them can see costs mount up. And with that latter engine being somewhat more specialised – valve clearances require checking and adjustment every 15,000 miles, for example – it would be very unwise to buy one without an unimpeachable maintenance history.
As for more general issues, some of the six-cylinder engines can suffer from a cracked cylinder head, while the cooling system on the E34 was a bit of a weakness. Spend plenty of time checking for coolant leaks and examining major components such as the radiator and viscous fan; overheating risks doing for the head gasket, and as parts aren't especially pricy it's sensible to budget for a complete overhaul for peace of mind. And watch for running problems and misfires caused by engine management problems. As for the diesels, they were impressive for their time, but when you factor-in the added complication and expense of repairs, there's not really a compelling reason to choose one today.
Transmission-wise, the majority of manuals are five-speed units built by Getrag. Not inherently troublesome, it's a case of avoiding the usual wear and tear such as whining bearings and tired synchromesh and checking for a clutch that's due for replacement; budget up to £1500 to have the 'box rebuilt. Later M5s got a six-speed gearbox and much the same applies to those.
Arguably, the smooth-shifting ZF automatic transmission (a £1400 option when new) better suited the E34's relaxed demeanour, and assuming it selects ratios without jerks or delays there shouldn't be much to worry about; a change of fluid every few years will aid longevity. Should you find one of the rare all-wheel drive iX models, it's worth bearing in mind the additional complexity and the cost and rarity of some parts so tread carefully.
Suspension, steering and brakes
The E34 shared quite a lot of its running gear with the larger 7 Series, including the suspension that comprised MacPherson struts at the front and a semi-trailing arm arrangement at the rear. It resulted in a fine blend of ride and handling that still impresses today, and any sign of knocks and creaks means an overhaul is on the cards. Good quality springs, dampers and anti-roll bar links aren't costly so it's not worth skimping, and replacement bushes can also be sourced cheaply. A steering wheel wobble at around 50mph points to worn front control arm bushes (you can almost consider these consumables), while collapsing rear axle bushes are also worth checking for.
Some models were fitted with self-levelling rear suspension that needs inspecting for any leaks, but potentially more of a headache is failure of the Electronic Damping Control system where fitted. New dampers aren't available, so you're looking at having the old ones refurbished; Polish company, Nagengast, can supply these for around £325 each on an exchange basis but you'll also need to factor in the cost of removal and refitting. It's possible to convert an EDC-equipped car to conventional suspension… at a cost.
When it comes to the brakes, these shouldn't really be the cause of any great concern, so just look for the usual signs of worn discs and pads and ensure that there are no warning lights relating to the ABS system (it was standard on all but the entry-level 518i and 520i). It's a similar story with the steering, which – 525ix aside – was a recirculating ball set-up with the ZF Servotronic system optional.  Smooth and accurate without being pin-sharp, the only real issues are wear of the steering box (reconditioned ones are a few hundred pounds) and leaks from the power-assistance hydraulics.
Lastly, you'll need to check the alloy wheels for damage and corrosion and for cheap tyres fitted by penny-pinching owners, which leads us to the TRX rims fitted to some variants. The odd metric sizing caused problems sourcing tyres even when the E34 was new, and even now fresh rubber can cost around £350 per corner. To make things easier and more affordable, some owners have fitted conventional wheels.
Interior and trim
The E34's larger dimensions compared to its predecessor resulted in a spacious cabin, and although taller passengers relegated to the rear seats might still find knee room a bit tight, there are no such concerns up front. It was a very comfortable place to be, and even today it's hard not to be impressed by the quality of the build and materials – assuming the example you're looking at hasn't been abused, of course. Years of hard use could have left even a cabin as good as this in a scruffy state, and with most original trim and fittings now obsolete you should be wary of anything too battered.
Secondhand parts are a good idea and if it's just the minor scuffs and seat bolster wear that you'd expect of any car this age, then some DIY renovation might suffice; otherwise, you'll need to budget for the services of a professional trimmer.
In terms of electrics, the E34 was nothing like as complex as today's offerings so it's essentially a case of establishing that the likes of central locking, electric windows and sunroofs still work. Be wary of damp carpets indicating a leaking heater matrix though, as that's a dash-out job to replace, and check that the air-conditioning systems still operate.
Other things to watch for include a failed instrument cluster and electric seats that can go askew on their runners as they are slide back, although the latter can usually be fixed by removing the seats and overhauling the mechanism.
BMW 5 Series (E34): our verdict
One of the most handsome saloons ever made, the E34 5 Series also happens to be one of the very best. Comfortable and luxurious yet huge fun to drive, the E34 combines an alluring engine lineup, a dynamically capable chassis and dependable, solid engineering. Today, a good example of the E34 will prove a very satisfying ownership proposition – regardless of which model you pick.
Considering how numerous these once were, there are surprisingly few E34s to be found in the classifieds. There's little difference in value between saloon and estate, with around £1000 being what you'll pay for something in need of renovation and/or with a moon-shot mileage. Around £3000–7000 is where most can be found – and while condition varies, the upper end of that sum should bag something very nice. We've seen some examples carrying price tags of £12,000–13,000 but that's pretty ambitious even for one in mint condition.
The M5 is rather a different prospect, and you should budget from £25,000 for a decent one while the best can head for twice that amount. With any E34, it's condition and ownership history that matters most.