The Mercedes W124 is the perfect practical modern classic: bank-vault build, reliability and lots of space. Here's how to buy one
Words: Sam Skelton  Images: James Howe
There have been few automotive ranges quite like Mercedes-Benz's W124-generation E-Class. Simple yet effective, appealing to taxi drivers and titans alike, it embodied everything a medium-sized saloon range should, without excess frippery or concessions to passing fashion. This simple, square-edged design offered good sense and solidity, and over a twelve-year production life endeared itself to almost everybody who experienced it.
Styled with characteristic simplicity by Bruno Sacco, the reputation of the W124 endured to the point where even during its years in the banger market, it remained highly regarded. Even if you were on your uppers, at least you had a Merc. Built from 1985 to 1997, the W124 range spanned a total of five body styles – saloon, estate, coupe, convertible and stretched six-door limousine – and each has its own army of fans today.
Under the skin, the W124 was little more than an upscaled variant of the new 190E compact saloon, to the point where key suspension components were identical. The four-cylinder engines were identical too, although in addition to the 2.0 the W124 gained the 2.3-litre version that the 190 only received for America. The 2.6-litre six-pot was shared too, but the larger 3.0 variant would come from the S-Class. From 1992, new multi-valve engines were used, shared with the C-Class model. Most were automatic with gearboxes of Mercedes' own design; but if you're especially keen to shift your own cogs, manual transmission was an available if rarely specified option. Four-, five- and six-cylinder diesel models were available, the latter earning a reputation for its impressive combination of power and economy.
A slight facelift for 1989 brought new plastic side claddings, while a more comprehensive rethink in 1992 gave the car a new grille, new bonnet and new bumpers. The saloon and estate would be replaced by the W210-series E-Class for 1995, while the coupe went in 1996 and the last convertibles were sold in '97. You may find the occasional 1998-registered E220 manual; these cars sit slightly higher and were built in India for the local market, but slow sales as a result of high prices mean that many were subsequently imported into the UK.
Given the W124's lengthy production run and impressive sales success, there are still plenty available on today's modern-classic market. But what should you be checking if you're about to take the plunge?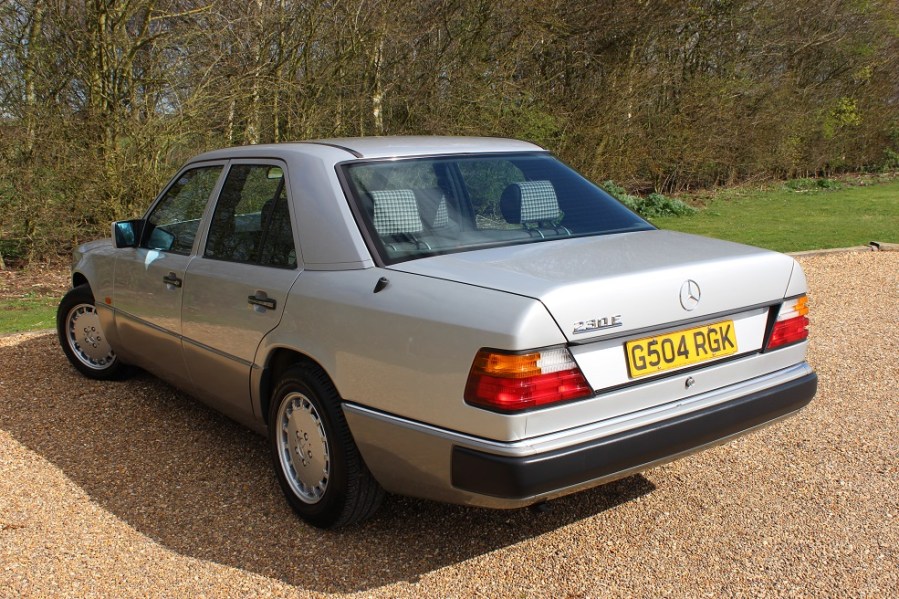 Bodywork
Rust is the biggest killer of these cars, especially post-facelift examples, when Mercedes switched to water-based paint and thinner steel.  Front wings are usually the first sign that things are amiss, and if there's nothing on the outside you should still stick your hand in the wheelarch and check the inner wing, as there's a rot trap ahead of the front arch. A sagging bumper can also indicate issues, as this bolts to the wing. Water can trap beneath the washer bottle, rotting the inner wing out, while the crossmember under the sump can trap mud and road grime.
Rear wings can also go. Check under the rear windows on estates by removing the inner load bay trims. Subframe supports rot out at the back, and are best spotted with the rear wheels off – but get under there with a torch just in case. Any repairs to this or the rear brake lines mean removal of the back axle.
Check the jacking points too, especially on later cars where they're hidden behind plastic – and be suspicious of underseal. We've known of cars with water trapped beneath the underseal rotting out the floor from inside; it all looks fine from outside until it's poked, and then it crumbles to dust and can sometimes be too far gone to be viable for restoration. Fortunately, almost all panels can be sourced if needed (at a price), so there should be very little to stop a determined owner restoring a much-loved car if cost is no object. Coupes are susceptible to leaky rear screens, while water can sometimes get in around the pillarless windows. On convertibles, check the condition of the hood as these can be expensive and time consuming to replace if damaged.
Engine and gearbox
Most W124s are petrol and come with a choice of four- and six-cylinder engines – each from two different families. There was also a 500E V8, and a trio of diesel options.
Pre-1992 cars have fours and sixes with two valves per cylinder, known for their longevity and reliability as long as basic maintenance is regularly carried out. Check that the timing chain has been replaced every 60,000 miles on a four-cylinder, and check six-cylinders for oil leaks. New four-valve engines came in post-1992, boosting power and economy as a result; barring stretched head bolts on high-mileage fours and an oil leak from the timing chain cover damaging the alternator on sixes, there's little to worry about here either.
With the introduction of those later engines, Mercedes also pioneered biodegradable wiring loom insulation in a bid for environmental friendliness. The snag was that the insulation would degrade while cars were still in service, leading to corrosion and – worse – short-circuiting of the loom. Many have had replacements, and with this costing into four figures it's vital to check that it's been done.
Of the diesels, you're most likely to encounter the 3.0 six-cylinder unit seen in the E300D. It's naturally-aspirated, but from 1993 a new 24-valve head brought 134bhp, which in turn meant performance that was surprisingly good for a non-turbo diesel of its age.
There are, broadly, two types of transmission available. Manual models used a five-speed gearbox of Mercedes' own manufacture; it was seen as notchy in the day but is no worse than those fitted to the Peugeot 605 or Saab 9000, for instance. It's perhaps not fitting for a car at this price point but is perfectly serviceable if this is what you want to have. This box is long-lasting and has no inherent design flaws if the oil is regularly changed.
Most, however, are automatics – again a Mercedes box, with four gears and a choice of Standard or Economy modes. Don't be fooled into thinking 'S' means Sport (it doesn't), but gear changes will happen sooner in 'E' in a bid to maximise fuel economy. Don't be surprised if you only hear three changes; in 'E' the box should always start in second, and in 'S' it should only start in first if the accelerator is depressed heavily. This is not a problem. Check that the ATF is red – brown fluid has been in there for some time, while black indicates trouble.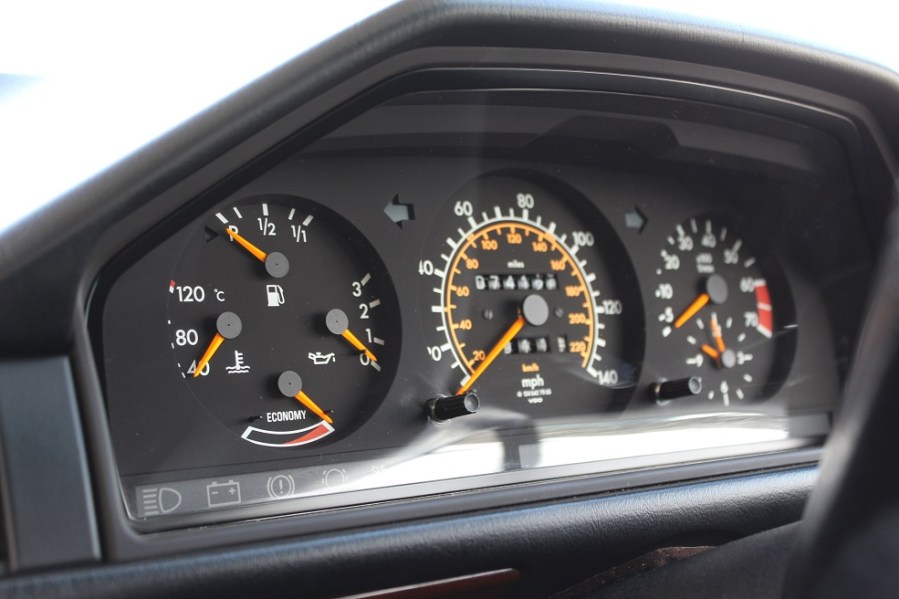 Suspension, steering and brakes
Coil springs and separate dampers with a rubber top mount at the front followed the same pattern as the smaller 190E, as did the multi-link rear end with coil springs and separate dampers. Parts for this are actually shared with the 190, making them easier to source. Estates featured self-levelling suspension at the rear, using a system similar to Citroen, with gas spheres as dampers atop suspension struts, aiming to ensure the car stayed level no matter the load. Rear coil springs were retained, which maintained the rear ride height when the car was parked. The height, unlike Citroens, would be fixed at a single level.
W124 brakes comprise a simple system and shouldn't pose any serious concerns. They're servo-assisted, with discs on all four corners. It's important to note, however, that the parking brake is foot-operated and should neither allow the car to roll nor be especially tight to engage – think of it as having broadly the same sort of resistance as a clutch pedal and you won't go far wrong. If it's not like this, bank on having to make adjustments sooner rather than later.
Interior, trim and electrics
There are four basic material choices: cloth, velour, leather and MB-Tex. The latter is a high-grade vinyl and can be identified as distinct from leather by its narrow vertical pleating. W124 leather interiors had flat panels to the seats, but Tex can appear to be leather to the uninitiated. It's less desirable as an option but more fiercely prized by ardent Mercedes fans on account of its longevity and its significance within the Mercedes-Benz timeline. Hardest to find will be velour as it was rarely optioned, though the plush trim does make these cars lovely places to be. Leather will always sell best. Sportline cars came with a unique checked fabric if cloth was specified, and this is desirable today.
Unusual colours add interest but parts can be harder to source. Simple blacks, greys and creams are best if finding replacements for cracked plastic trim is important to you, while rarer colours like Palomino tan and red may be harder to get right.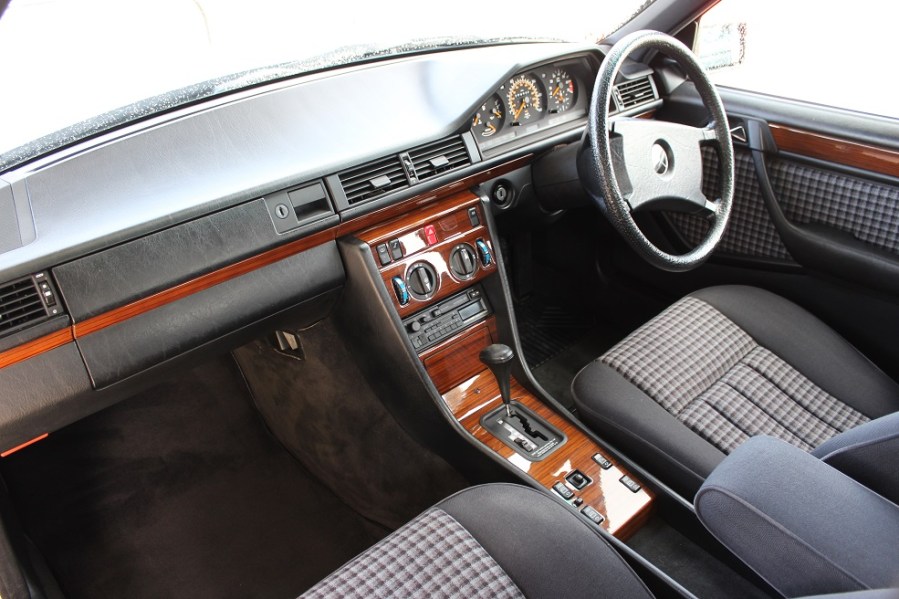 Mercedes W124: our verdict
The W124 has rightly earned itself a place as one of Mercedes-Benz's best-loved models. While there are concerns over corrosion, the fact remains that the newest of these cars are now over 25 years old and it's unreasonable to expect a model of that age to be totally free of faults. It's not quite as fun to drive as its E34 BMW 5 Series rival but can more than hold its own in every other respect.
There are many excellent examples out there, and with a little care you can avoid buying one riddled with tinworm. It's a car that appeals to wide tastes too, from puritanical 200Es with MB-Tex and manual windows through to the fearsome performance legend, the left-hand drive only 500E. There are estates, saloons, coupes, convertibles – whatever your automotive needs, there is a W124 for you. And as hardy, reasonably inexpensive cars to own, there really is no reason not to.
Best models for everyday use are the biggest of the four cylinders – a 230E or E220, depending upon age and preference. We'd pick a nice E220 if we could be sure that the wiring loom had been done, but a 230E offers the sort of reliability only a Mercedes can. If it's a weekend toy, the sonorous appeal of a 300E or E280 is equally understandable, but the price for the power is fuel economy.
The days of finding nice examples for around a grand are definitely gone, and E320 convertibles are well into five-figure territory now. But you should be able to get hold of a nice four-cylinder saloon for around £2000, while estates and coupes can be had from around £3500 upwards. Add 50 per cent to each of those figures if you're after a usable six-cylinder, and double them in each instance for something really nice. Specialist dealers have been known push W124 estate asking prices into five-figure territory, such is their popularity, although at that level they need to be immaculate and with a low mileage.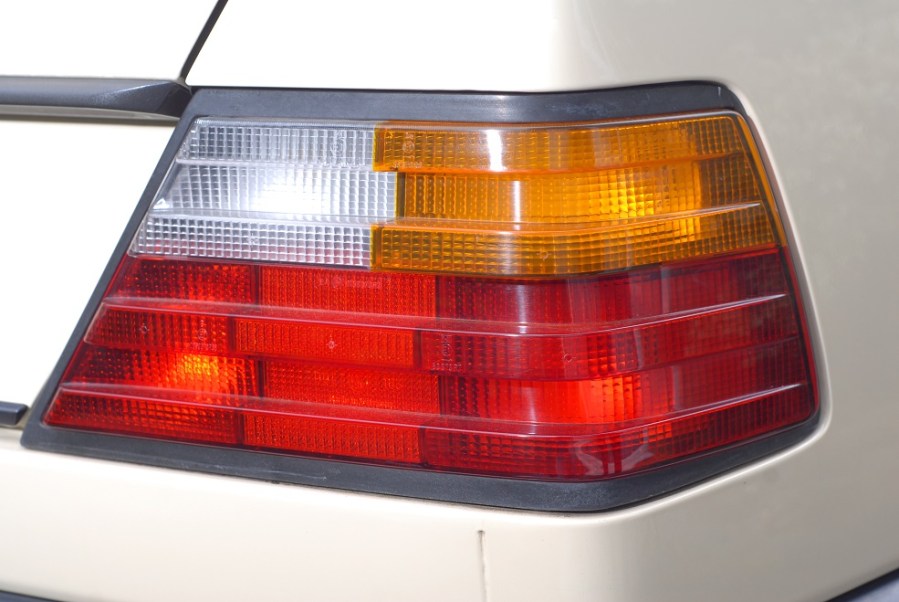 Mercedes W124 timeline
1977
Development begins on a replacement for the long-standing W123 saloon
1981
Final exterior design completed
1984 
Production begins in November
1985
Estate production begins in October
1987
Coupe production starts
1991
Porsche-built performance-orientated 500 E version arrives
1992
Convertible introduced
1993
Facelift and range rebrand introduced, with badging now including E- prefix
1995
Saloon production ends
W210 E-Class enters production
1996
Estate and convertible production ends
1997 
Convertible production ends