The Mercedes W124 has all the hallmarks of a practical modern classic, offering bank-vault build, reliability and lots of space. Here's how to buy a good one
The Mercedes W124 was a crucial model for the company, taking over the position held by the iconic Mercedes W123 for a decade. Looking a little like a like a bigger Mercedes 190E, the new car was similarly modern, well-built and over-engineered. Where the 190E sowed the seeds of the long-running C-Class, the W124 represented the genesis of Mercedes' E-Class, being aimed squarely at the BMW 5 Series.
The front end was actually tilted backwards slightly, part of a programme to reduce aerodynamic drag which gave the Mercedes W124 an impressive drag coefficient of 0.30. The W124 also shared the 190E's innovative multi-link rear suspension design.
Inside the cabin was simple, hardy and effective: today, it holds up as one of the most attractive and simple of all 1980s car interiors. Naturally, it's all built to an exceptionally high standard.
The engine range was extensive, as was the list of optional extras. These were generally independent of one another, so you can find big-engined cars with low equipment levels, and vice versa. At the bottom of the range was the 200, a carburetted 2.0-litre version of the four-cylinder M102; the range then moved up to the fuel-injected 200E and the larger 230E. This engine was carried over from the Mercedes W123 with a few detail improvements, then was replaced in 1992 with the new double-overhead cam M111 range of engines, which produced about 10 per cent more power. The carburetted version had been dropped in 1990.
The six-cylinder engines are the most desirable of course, even if many enthusiasts will tell you that a four-cylinder is more than adequate. These were offered in 2.6-litre and 3.0-litre forms, with a hot 24-valve, double-overhead cam option arriving in 1989. The six-cylinders were revised in 1992, with all receiving double-overhead cam heads with 24 valves, now in 2.8- and 3.2-litre flavours.
Fans of diesel were also catered for, with a wide range of four-, five- and six-cylinder options of the OM600-series engine. A six-clyinder turbo-diesel arrived in 1987, with a five-clyinder turbo-diesel added in 1990 to top the range until the new OM606 'multi-valve' engines were introduced in 1994 for the last couple of years of production.
An automatic gearbox was an option on all these models but was almost always specified. There was even a four-wheel-drive 4Matic system available, although in the UK this was offered only with the 3.0-litre 12-valve engine in saloon and estate models.
Then there was a Mercedes E36 AMG model with a 3.6-litre straight six tuned up to 268bhp. The V8-powered 400E and 500E were something quite different, as they were assembled by Porsche and had to receive special structural work to fit the engine. Naturally, these low volume models command a premium today.
Besides the variety of engine options, there were different body styles and lots of equipment to choose from too. An estate came out in 1985, a coupe in 1987 and a four-seater convertible in 1992. There are no trim packages to speak of but the equipment list is very long and includes ABS, alloy wheels, memory and heated seats. Even electric windows were optional on early models, with only a few items becoming standard in later models, like an airbag and ABS.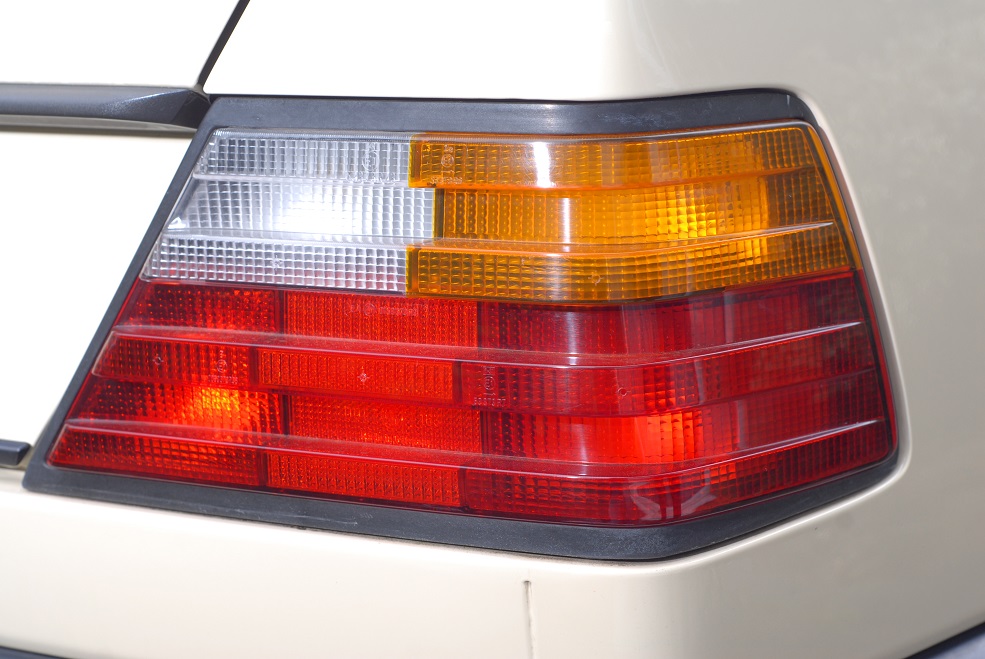 Body and chassis
It pays to inspect a prospective car's bodywork and chassis thoroughly as there can be big bills hiding behind patches of corrosion. Fortunately, replacements are available for most panels – but more terminal cases can become a nightmare.
The front end can be particularly bad on high-mileage cars, shown up by damage to the leading edge of the bonnet for example, but it's the front wings that seem to succumb to rust most of all. If there's no visible rust on the outside, still check from the inner wing just ahead of the wheelarch, above the bumper. A sagging front bumper can also be a sign of something going on here, as it's secured to the wing.
Also cast an eye towards the washer fluid bottle; water can get trapped beneath it and will eventually rot out that part of the inner wing. While underneath, it's worth checking the condition of the crossmember below the sump, as this can often be subject to a lot of road dirt and can be expensive to replace.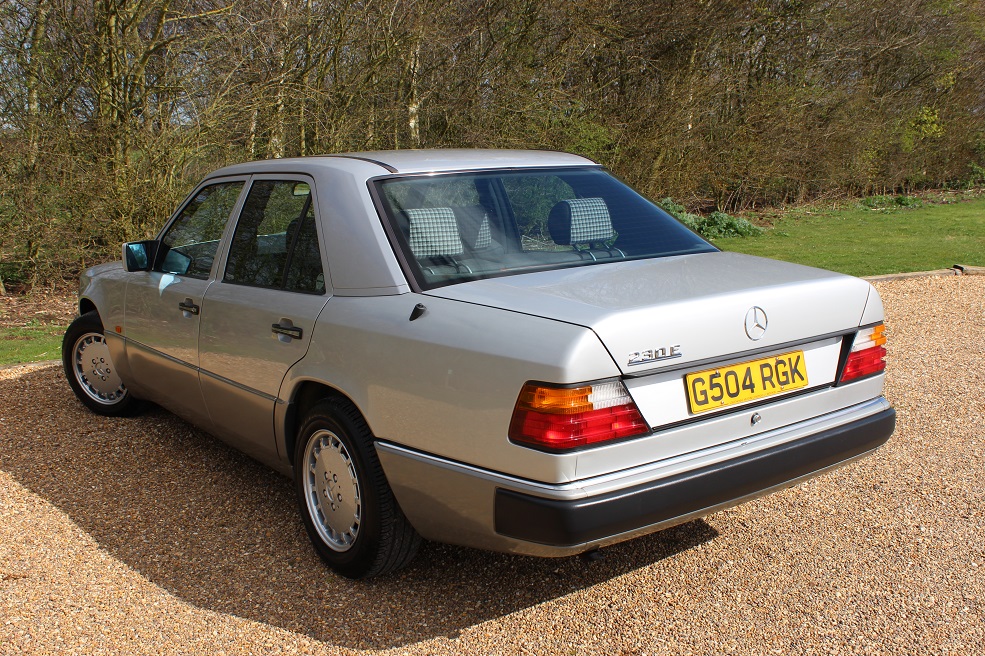 Rear wings can go too, but not normally as badly as the front items. It's the rear chassis and suspension that might need your attention, as these go at the subframe supports. The front support is a usual suspect but is best accessed with a rear wheel off, so can be tricky to spot when buying. It's important to check, however: if it's gone from the inside then a fix will require dropping the axle. The same goes for brake lines, which tuck themselves over the subframe. You'll also want to go out of your way to check that the jacking support points are solid, as particularly on later cars they are hidden beneath trim covers.
Estates seem to attract moisture at the rear of the cabin more than saloons and water ingress can eventually reach the extent of constantly misting up the rear windows. Check along the window seals for signs of serious rot: if it's minor it can be repaired fairly easily, but if it has had time to spread it can be very bad. Be especially careful of damage at the bottom of the C-pillar, where significant rot can become unviable to repair. Coupes tend to be most susceptible to leaky rear screens, which will in turn also let in water to the rear.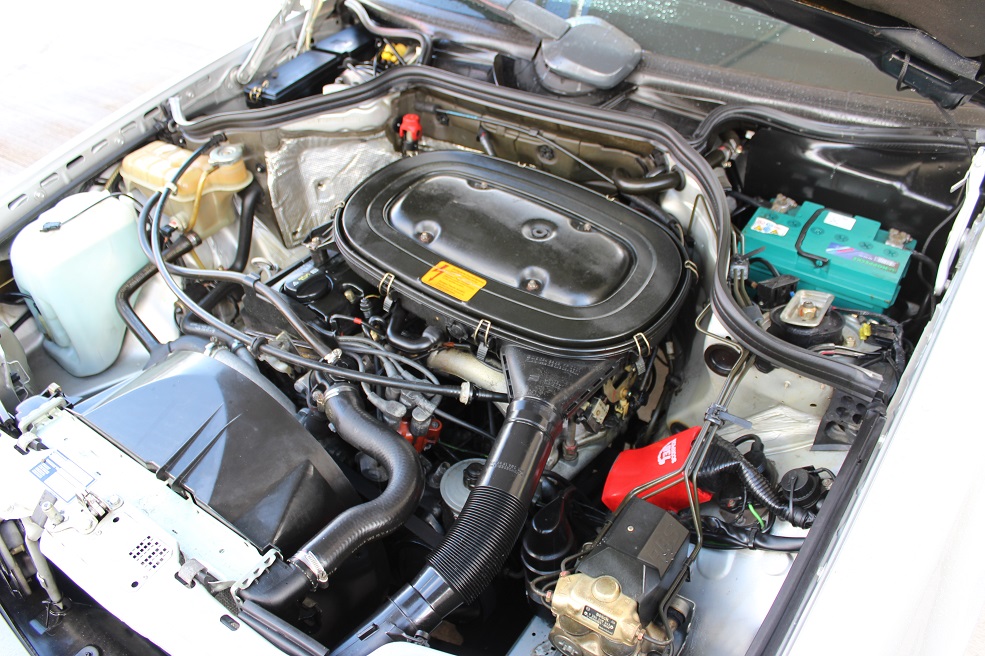 Engine and gearbox
Generally speaking, the W124 is bulletproof in the engine department. Very high mileages can be racked up provided maintenance is kept on top of. However, there will be things to watch out for when looking to buy one today.
First and foremost is, quite naturally, evidence of regular maintenance. Earlier four-cylinder cars had simplex timing chains with shorter replacement intervals of 60,000 and oil changes recommended every 3,000 miles; later cars came with duplex chains. At very high mileages, later four-cylinder units in particular can suffer from stretched bolts that will lead to oil leaks at the head. If the engine doesn't idle quietly it might need attention to the hydraulic tappets.
Six-cylinders can suffer oil leaks at the front and rear of the head, while the later multi-valve sixes can also leak from the timing cover – if this goes left unchecked it will also spell the end of the alternator, which lies underneath.
The later sixes are also most vulnerable to the infamous biodegradable wiring loom issue, which if haven't been sorted by now should be fairly obvious with visible cracks or just a brittle feel of that which is visible under the bonnet.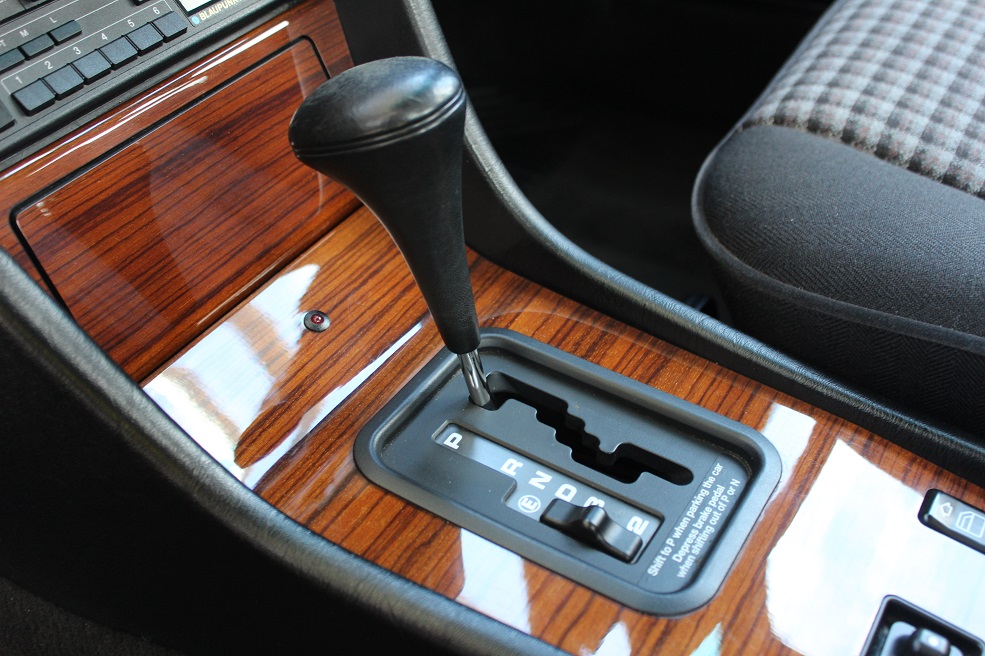 Diesels will wear engine mounts more than petrol engines, and turbochargers will become service items when well into six-figure mileages. Some have also noticed a loss of compression over time, with valve-seat recession on cylinders 5 and/or 6 normally the cause. A rebuild will work wonders but will be costly, so be sure that your car performs if you don't want to go there.
The 722.3, 722.4 and optional 722.5 gearboxes are excellent and should cause no problems. They may leak a little oil but are generally supremely robust. If your car doesn't shift smoothly, suspect a lack of oil. If it is reluctant to change and makes noises then be prepared either to walk away or negotiate suitably. Be aware that most differentials will leak a bit of oil, so this might be the cause of an untoward whine – not great, but better than a dud gearbox.
The rare 4Matic four-wheel-drive system on is worth inspection on its own. The 4Matic light on the dash should illuminate on start-up then disappear, and listen out for clunks or rumbles from the drivetrain when turning at full lock.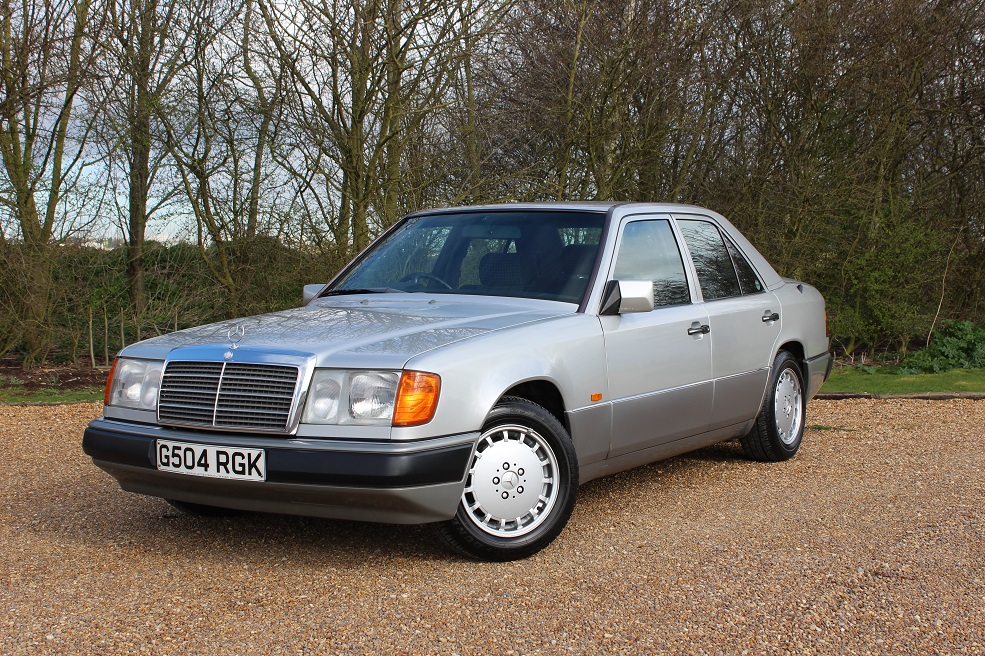 Suspension and brakes
As with all old cars, suspension components wear. Perishable rubber bushings add a layer of refinement – and the W124 uses a lot of them. Listen out for clonks or squeaks from the suspension that will point you to worn suspension bushes. Other common points at the front are the anti-roll bar and ball-joints. At the rear, subframe bushes can need replacement; ditto rear wheel bearings. If the rear ball-joints have gone, factor in the cost of a specialist because they require a special tool for removal.
Self-levelling rear suspension was an option on the estate and, strangely, the coupe. The system employs a pump and ram to maintain a constant height with special suspension spheres. If it all works it's great; if not, it can be difficult to fix.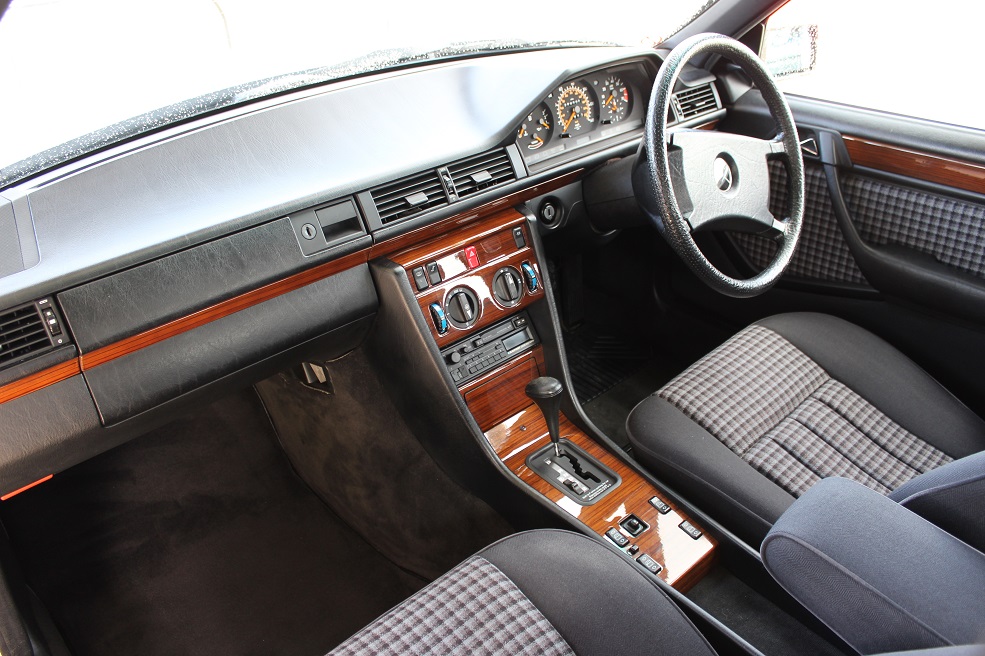 Mercedes W124: our verdict
It may lack the driver-thrilling abilities of a contemporary BMW 5 Series nor the luxurious edge of a Jaguar XJ40, but there's much to love about the Mercedes W124. Often cited as one of the last 'proper' Mercedes models, the W124 was built to last and is pleasingly honest in its execution. The car's huge range of engines and sprawling options in period mean there's a specification for everyone – whether you need seven seats and dog transport or a relaxed, smooth and quiet car for the airport run, there's not much a good Mercedes W124 can't do.
Rust is the main enemy today but given proper maintenance from a dedicated enthusiast – of which there are many, thankfully – a W124 will happily carry on in daily service. It's a very easy modern classic to recommend.