The Volkswagen Golf Mk3 has a bit of an image problem but we think it's makes a fantastically useable modern classic. Here's how to buy one
Words: Joe Miller
As the 90s dawned, Volkswagen's much-loved Mk2 Golf was showing its age; amongst Ford's ever-evolving Escort and hit after hit from Peugeot, the Golf looked dated. 1991 saw the release of the Golf 3 and where the second-generation car evolved the original formula, the new car really was new – more spacious, yet merely four inches longer and a single inch wider, the Mk3 demonstrated effective packing and featured a much larger interior in an identical wheelbase to its predecessor.
The styling was all new, too – gone were slab sides and right-angles, curves were king. Smart front end, curvaceous rear and defined style lines made the new Golf Mk3 look every bit the modern hatch and highlighted quite how dated the Golf Mk2 was, itself only really a revised 1970s design.
The suspension was heavily revised to be more compliant, whilst the interior was completely overhauled to improve refinement, comfort and, in an age where the phrase 'crash test' was slowly becoming part of car legislation, safety.
Some argue the third-generation Golf wasn't quite as exciting as its forebears, but it brought Volkswagen's family hatchback into the modern age and none of its rivals combined practicality and quality so well. These days, a Mk3 Golf can serve as a comfortable, usable daily driver whilst still offering a retro flavour.
But with the model celebrating its 30th birthday this year, it's also worth buying carefully to make sure you get a good one.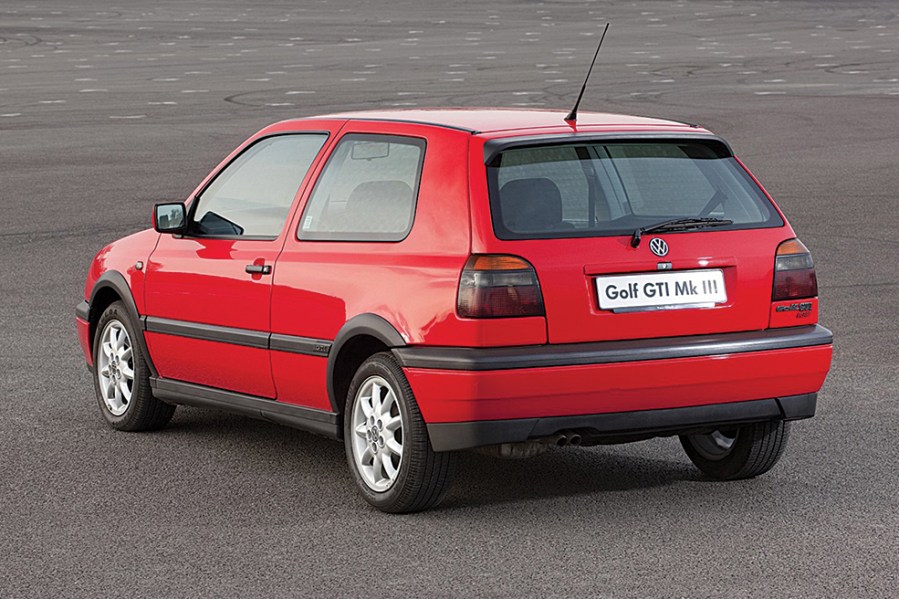 Bodywork
One might imagine that Volkswagen's habit of self-inflicting 'patina' was a thing of the past by the 1990s, but the Mk3 Golf is no longer a new car and is as susceptible to rot as its predecessors. Problem areas are the tailgate (easily rectified), windscreen frame and lower front wings.
The plastic over-arches modernise the styling, but are known to trap moisture and rot panels from within. As with when inspecting any rust-prone car, a small magnet is a useful companion and also helps show any areas of filler, potentially indicating sub-par previous repairs.
In the engine bay, battery trays and strut towers can be eaten by rust and inside, lift carpets and check the rear and boot floors, particularly on cars equipped with sunroofs as sunroof seals are a known weak point. Any amount of rust repair is lengthy, complex and expensive and given the relatively low value of Mk3 Golfs, it's easy for rot to render a car economically terminal.
Solidity is a Volkswagen staple – the way the doors close with that reassuring "sounds just like a Golf" thunk a character trait in itself, owing to well-weighted doors. That said, their weight means extra hinge stress, so check the doors don't drop when opened, as this can cause A-pillar damage, only worsened by rust.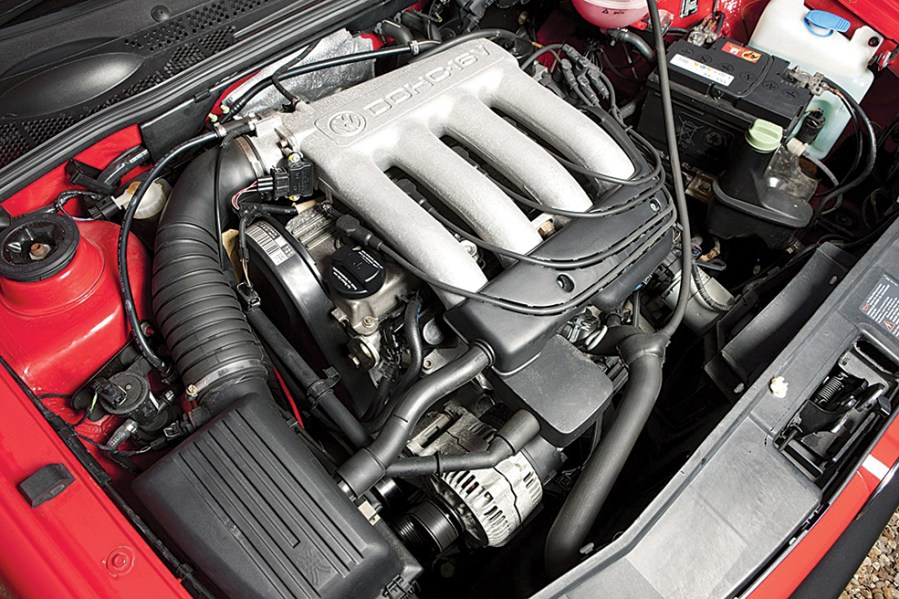 Engine and transmission
The Mk3 Golf was offered with a range of petrol engines; the lower-spec 1.4, 1.6 and 1.8-litre lumps are predictably economical and smooth. Reliability is also excellent given proper maintenance; the 1.4 produces a paltry 59bhp, relatively little to cart around the heavier, larger Mk3, so make sure the smaller engine is particularly well-serviced and shows no signs of having overheated from overworking.
The GTI lump grew to 2.0 litres for the MK3 in both 8V and 16V form; if a 16V car is stumbly on idle, it points to a commonly-failed idle stabilisation valve, the only weak point for an otherwise strong motor. The 2.8/2.9 litre V6-powered VR6 cars are higher maintenance – coil packs fail expensively, and signs of cam chain rattle should be noted. A tinny rattle seeming to come from the driver's side of the engine indicates tensioners and/or chains needing replacement, undesirable at around £800 if done professionally.
Turbo and non-turbo variants of the venerable 1.9-litre diesel were available – Black-pump-powered cars ranged from the asthmatic 63bhp 1.9 non-turbo to the more brisk 108bhp turbocharged unit. The extra power offered by the turbo makes it capable of keeping up with modern day traffic, but both units are economical and exceptionally durable – VAG-group taxis have been known to clock a million miles using a 1.9 TDi without issue. Gearboxes are typically German tough, with both automatic, four and five-speed manual units up for mileage and abuse, just listen for typical bearing noises.
If for any reason you do need a replacement gearbox, second-hand units can be had from about £50. Automatics are more commonly used in town, so a two-pedal car with over 100,000 miles is something of a rarity – this mileage or more on an auto isn't anything to worry about, but their service life is something of an unknown above six figures.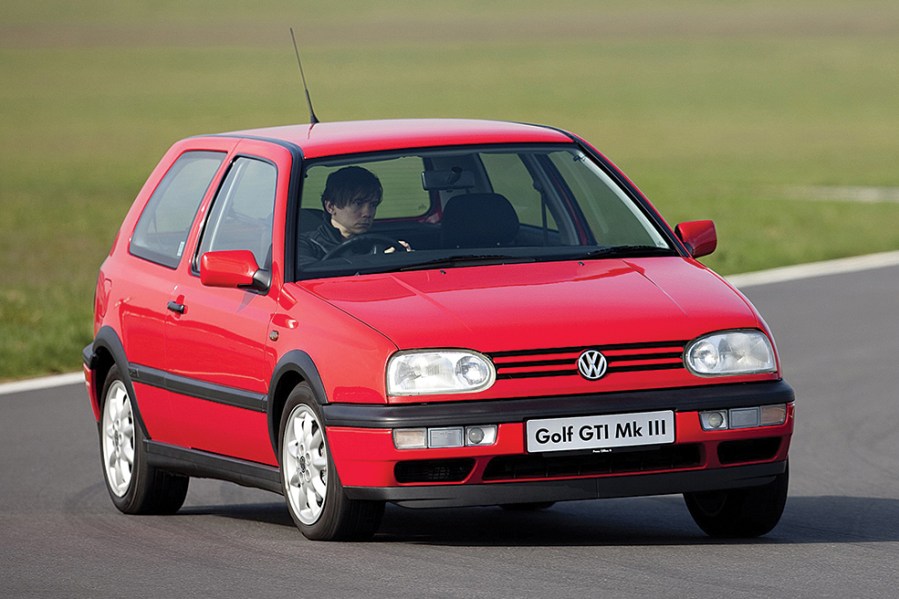 Suspension, steering and brakes
Because the Mk3 gained refinement and comfort over the Mk2, it also gained weight – like for like, the third-generation car weighs around 100kg more than its predecessor, putting extra load on the running gear. The front suspension nicely combines handling and compliance, but usually starts to tire around 80,000 miles.
Thankfully, replacement units are cheap and plentiful and aftermarket adjustable coil-overs are an inexpensive way to sharpen up the handling. If the rear end wanders over bumps, it indicates deteriorated rear axle bushes; on a car of this vintage, it's advisable to thoroughly check all bushes, as worn out units are the difference between a car feeling tight and composed, or sloppy and worn out. Aftermarket polyurethane bushes will firm up the ride and handling nicely, but even OEM-specification replacements can make an old car feel brand new.
Brakes wise, GTI and VR6 models have ABS as standard, but it was optional across the range – check that if fitted, the light comes on and goes off appropriately and try some emergency stops to make sure it's fully functional. The GTI and VR6 are the only models to use all-round disc brakes, with lower models using a drum-brake rear end. Earlier four-disc cars use Mk2 Golf callipers, prone to ceasing after standing for extended periods or particularly cold weather. Thankfully, brand new replacements come in at around £60 each and are an easy DIY swap.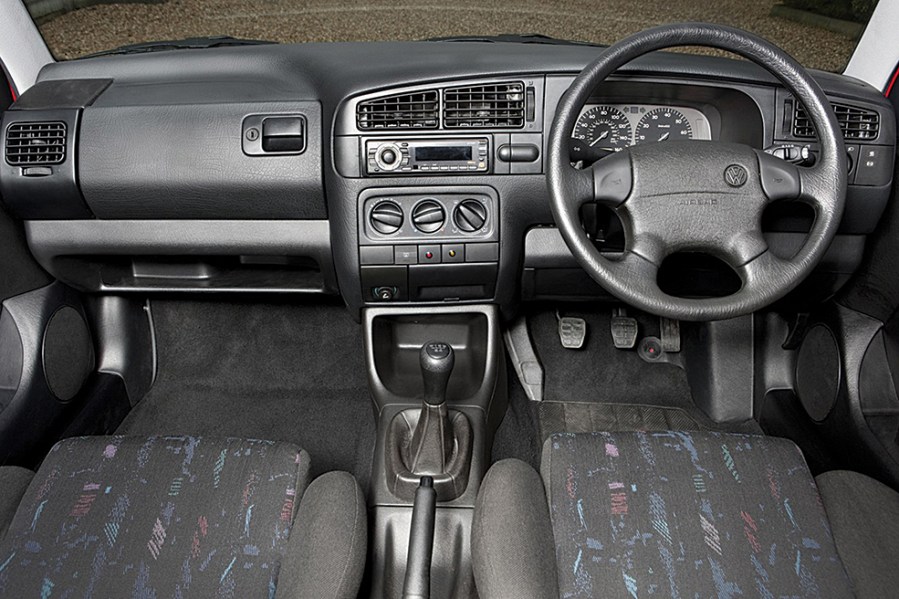 Interior and electrics
Stepping from a Mk2 Golf into a Mk3 is like time travelling – the plastics softer, the dashboard curvier, the controls altogether more grown-up. Amongst the more refined cabin however, there are weak points; seat side bolsters (particularly on the wider sports seats) are commonly worn, but replacement seats satisfyingly cheap. Small trim pieces are fragile and become brittle with age, a broken glovebox catch being common but easily fixed.
Being a 90s German car, electrics are your worst enemy – immobilisers should be faultless, particularly if the car has a period aftermarket setup. Make sure you get any fobs, keys and codes required to easily lock, unlock and de-immobilise the car and unless your insurance policy requires it, removing the system after purchase isn't a bad move given the infamous unreliability of ageing alarm systems.
If any airbag lights illuminate, check the condition of the wiring and plugs, as it's often a bad connection rather a fault. Electric window motors and regulators are prone to failure, so make sure all complete their journeys smoothly and with decent pace. If your windows are slow or clunky and a good clean and spray lubricant doesn't improve matters, Heritage Parts will sell you new regulators for less than £30 each.
Any other suspicious electrical issues can likely be traced to either decaying wiring or water ingress. Our advice would be to buy a car with minimal , if any aftermarket electronics such as stereos, alarms or subwoofers. If left untouched, the original wiring lasts well.
Volkswagen Golf Mk3: our verdict
The Mk3 Golf offers diversity in terms of engines, trim levels, specs and body styles, offering retro styling whilst sporting modern car levels of refinement, equipment and safety.
Values remain low as they have yet to obtain classic status in the eyes of many and, being one of the last Volkswagens before things all got a bit too electronic, they last well. If you want a petrol car, the GTI makes the most sense as they're more likely to appreciate over time and offer the best performance.
Some would argue VR6 is preferential, but they do like a drink and with expensive maintenance costs, owning one isn't a financially sensible decision. Seeking out a tidy, unmolested Mk3 could prove surprisingly challenging but prices remain low – although presentable GTI models are climbing in value.