There's plenty to love about the Smart Roadster but it's not without its issues. Here's how to buy a solid example
Words: Chris Randall  Images: Smart, Phil Weeden
It's been more than 20 years since Smart's tiny two-seater micro-car hit the UK's roads, and there really was nothing else like it. But the company had ambitions to launch something sportier and after being shown as design concepts the Roadster and Roadster Coupe were launched in 2002, reaching the UK the following year.
Swapping the easy-to-park diddy dimensions for a more stylish look, the new models were powered by a turbocharged, 698cc three-cylinder engine offering sprightly performance. The automated manual gearbox was no great shakes but you could drive around its foibles for the most part, and it didn't really detract from what was a very fun package. Compact and light – the Roadster weighed less than 800kg – they blended frugal motoring with fresh-air appeal thanks to a sliding soft top for the Roadster and lift out panels for the Coupe.
If you wanted something with greater performance, the Brabus versions were tuned for 101bhp for a 0-62mph time of 9.5 seconds. They looked a bit meaner, too, thanks to 17in 'Monoblock' alloys and a body kit, while the interior gained leather trim. There was no escaping the fact that the small dimensions limited practicality – luggage space was understandably miserly – but if that didn't matter to you these Smarts were an affordable way to enjoy some motoring fun. And the same holds true today with around £3000 enough to get you behind the wheel.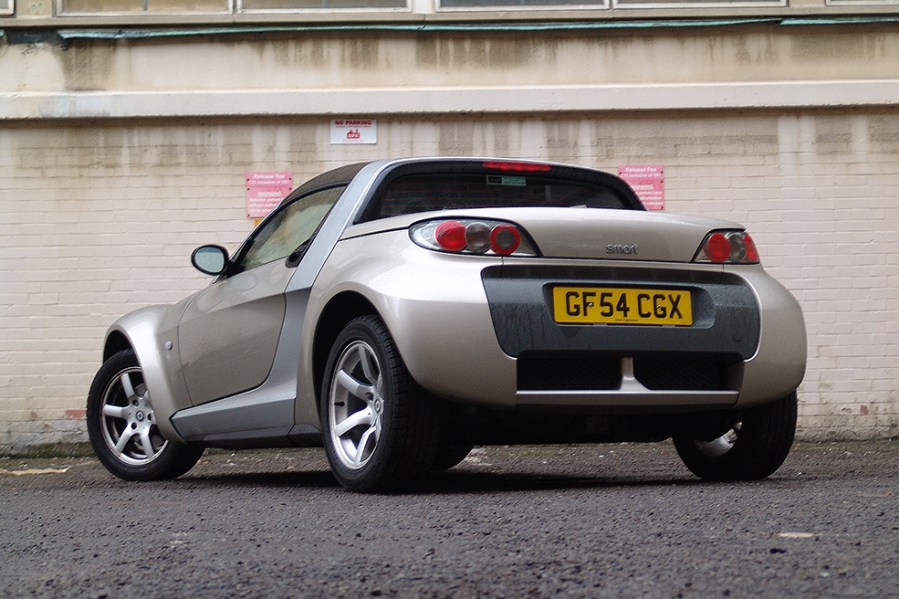 Bodywork
Like other Smarts of the time these cars featured a steel 'Tridion' safety cell with plastic used for the body panels. The former doesn't tend to suffer from corrosion, although it's worth a quick check to make sure all's well, and check the history for any evidence of past accidents. It's a good idea to spend time examining the panels, though. As well as the usual scuffs and scrapes keep an eye out for peeling lacquer (it seems to affect some colours more than others) and bear in mind that sourcing new replacements is getting harder. Fortunately, there's a decent supply of secondhand panels with front wings and rear quarters starting at around £70.
Some of the trim and panel fixings could have turned brittle by now, making them prone to breakage, so ensure everything is securely attached. Rattles from the Coupe's lift-out roof panels are something you might have to live with, but examine the condition and operation of the Roadster's electrically sliding roof. Replacing the drive cables costs around £400 including labour, and you'll pay a similar sum to have the top re-trimmed, so problems may well have been ignored. However, the biggest issue by far is water leaks which can have a disastrous effect on the electrics.
Problem areas included the roof seals, around the door mirrors, and the scuttle/bulkhead area so spend plenty of time checking for any signs that water's been getting in. The luggage compartment could also be damp, and while attempts might have been made to effect a cure in any of these areas, they're not always successful. Lastly, look for condensation in front and rear lights units, and check the latter are working as electrical connectors could suffer from corrosion.
Engine and transmission
The little engine is fairly strong if maintained properly, so look for evidence of oil changes every 7000 miles and that the spark plugs have been changed during the larger 'B' service. This latter job is trickier than you might expect as the three plugs nearest the rear number plate are hard to access, and various bits of bodywork need to be removed first.
A smoky exhaust can point to cylinder bore wear or a turbo that's failing, and use the road test to check for signs of a misfire caused by coil packs that need replacing. Ben Coleman at specialist, Smart-TECNIC, says that cracked ABS rings at the rear can also give similar symptoms at higher speeds, although they are cheap to replace.
A further issue is timing chain wear and it's worth having this replaced as a preventative measure; aftermarket parts will be needed as Mercedes no longer supply new ones, and you're looking at around £500 for a specialist to do the job. Lastly, re-mapping the ECU can release extra power so try to establish whether this has been done on the car you're considering.
The automated manual gearbox was never a strong point, not only due to the effect on the driving experience, but because it can also suffer from costly problems.
The clutch can last from 60,000-100,000 miles and you're looking at £650 or so for replacement by a specialist, but it also needs fairly regular adjustment (some specialists will include this as part of a service). Done separately, it should only cost about £100 and might be the cure if gearshifts seem particularly jerky. Actuator replacement will set you back in the region of £450. Given the potential for expense, getting a specialist to check things over before you buy is a sensible move.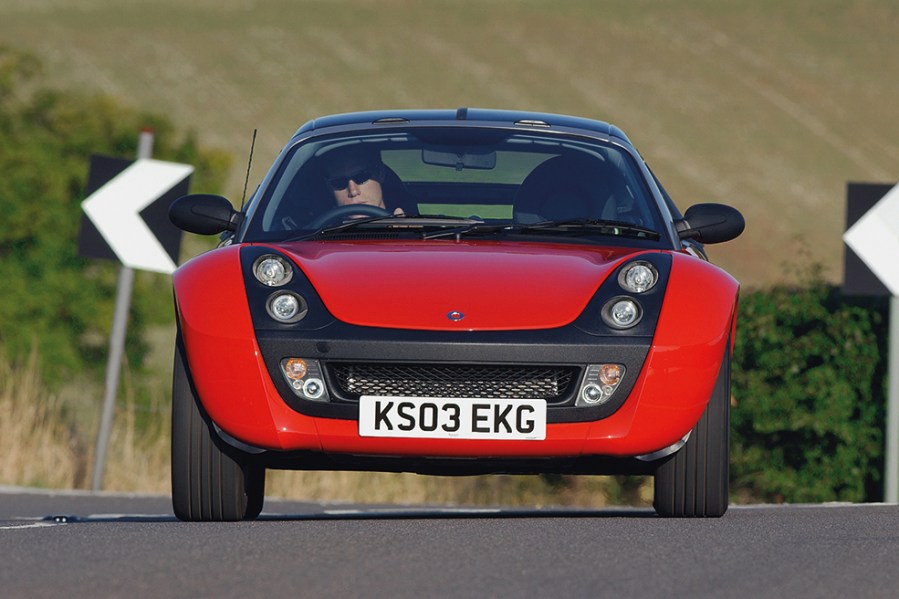 Suspension, steering and brakes
The light kerbweight means the suspension – comprising MacPherson struts at the front and a de Dion axle at the rear – doesn't come in for an especially hard time, and it's mainly going to be a case of checking for the usual signs of wear in balljoints and bushes. Anti-roll bar drop links are a common cause of knocks and rattles, although they are cheap and easy to replace, and if you discover rusty front wishbones you can source new ones for around £40 apiece. It's worth checking for cracks in front coil springs, although it's not a particularly common problem.
Assuming they've not been neglected the brakes shouldn't give any trouble, although given how slowly they wear you might find the rear drums have been ignored for longer than is wise. It's possible to upgrade to discs at the back – budget around £650 for parts and labour – but with such modest performance on offer it's probably not necessary. Lastly, check for any signs of ABS issues; ensure the warning light illuminates and extinguishes correctly. The power-assisted steering, which should feel light and responsive, doesn't suffer from any inherent problems.
There was no spare wheel; instead, a can of repair gunk and a compressor was stored behind a trim panel towards the front of the passenger footwell, so check they aren't missing. One other thing to watch for with Brabus models is damaged wheels; they are prone to buckling and will suffer on today's pothole-strewn roads.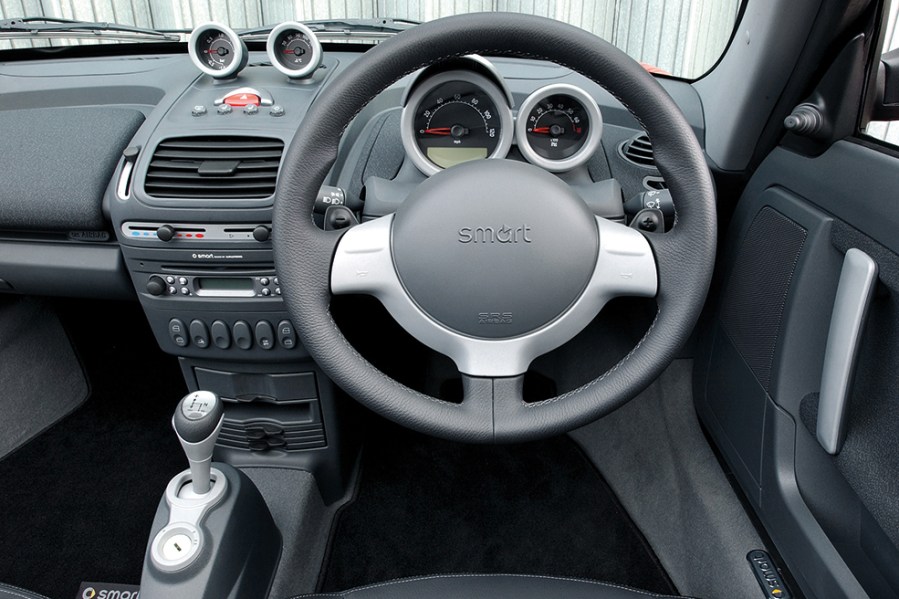 Interior, trim and electrics
There's not exactly a large interior, so checking the condition of seat trim, carpets and dashboard plastics won't take along. Door handle release cables can be a bit fragile, so ensure there's no issue with opening the door from inside, and check that the air-conditioning works as it can suffer from perished hoses.
And then there's the aforementioned water ingress which is where the most careful scrutiny is required. If it gets into the wiring loom and then into the SAM (Signal Acquisition Module) it will lead to all manner of electrical havoc, so if there's a multitude of electrical problems this is probably the cause. The unit can also suffer from dry solder joints which will cause trouble of their own. A number of Smart specialists offer replacement and recoding but you could be looking at the thick end of £900, so a car exhibiting problems should be approached with caution.
That's not the end of electrical troubles because the instrument cluster can also play up, either because of issues with the cluster itself or due to SAM failure. A blank mileage display or inoperative speedo or warning lights is a sign of trouble, but repairs are possible with specialists charging around £150. You'll also want to ensure that both keys are present and working, although replacement or re-coding isn't especially expensive; budget around £75 for the latter.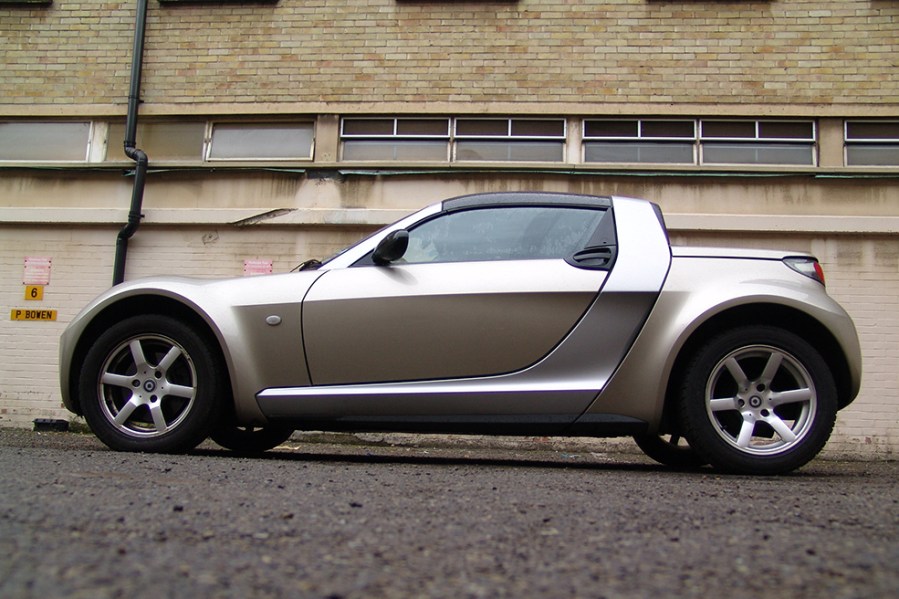 Smart Roadster: our verdict
If you're looking for an antidote to today's big, heavy and complicated offerings, the Smart Roadster could be just the ticket. It has a mixed reputation for reliability but buy accordingly and you could secure a great sports car for not much money. It remains a left-field alternative to the likes of the BMW Z3, Toyota MR-2 and Mazda MX-5.
Although not especially abundant in the classifieds, you shouldn't have too much trouble finding this sporty Smart. Prices are similar for both models, and start at £2500-£3000 for an example with up to 100k miles on the clock and potentially in need of a little work. Increase the budget to £4000-£5000 and you'll bag a car from the last year or two of production, in good order and with 50-60k miles showing.
You'll likely need to spend £6000 or so to get your hands on a Brabus model, with closer to £7000 being the point where you'll find final edition and sub-25k mile cars.
It's worth saying that while a cheap one might be tempting, the cost of bringing it up to scratch means you're better off spending more on a decent one to begin with. Keep that in mind, and you should enjoy everything these entertaining little motors have to offer.
Smart Roadster timeline
1998
Design work begins
1999
Smart Roadster first shown at the IAA Motor Show in Frankfurt
Work begins on Coupe version
2000
Roadster Coupe unveiled at the Paris Motor Show
2002
Production-ready versions of both bodystyles shown at the Paris Motor Show
Sales begin
2003
Brabus V6-powered concept produced with an engine derived from two standard three-cylinder units. 10 examples made but not for public sale.
2004
Roadgoing Brabus-tuned versions go on sale with more power, bodykit and 17-inch alloys
2005
Smart Roadster Brabus RCR (Roadster Coupe Racing) arrives, limited to 50 examples
2006
Smart Roadster Collector's Edition arrives
Finale Edition car introduced as run-out special for UK and Swedish markets
Businessman David James tables Project Kimber, a proposed restarting of Smart Roadster production in the UK with MG and later AC Ace badging. The project fails to get off the ground