Britain has a knack for producing fun-to-drive cars – even when they aren't supposed to sporty. Here are our favourites
Austin-Healey Sprite/MG Midget
Throughout the 1960s and 1970s, the Austin-Healey Sprite and MG Midget offered the simple, no frills sports car experience. And while the short wheelbase and quick steering can be a bit dicey on uneven surfaces or in greasy conditions, on a good road there are few classics that are more fun to drive in a spirited fashion.
Today, a Spridget of any sort makes for a great easy-to-own proposition. A non-rusty example  shouldn't be much trouble for a competent DIY mechanic; parts are widely available, specialists are easily found and there's a hugely dedicated club and enthusiast base to help with advice or company on a good drive. As with so many cars on this list, values are on the up; now's the time to buy if you fancy scratching the itch.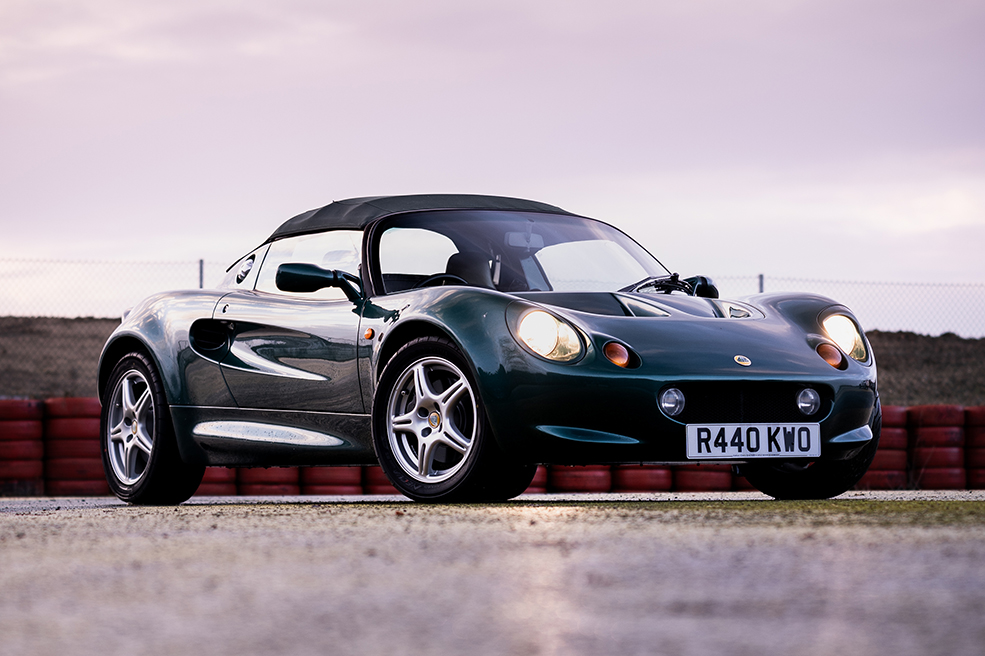 Lotus Elise
When Romano Artioli took the reins at Lotus, he wanted to reintroduce Lotus to sports car sector. It needed a mass market car to generate profit, and small sportscars were coming back into fashion. Two years after development began, the Lotus Elise was launched in September 1996. It took the Rover K-series from the MGF, slotted it into a lightweight GRP shell, and trimmed it with… well, as little as it could get away with. And the formula worked; so well that it's been the basis of almost every Lotus concept since.
For those who wanted a real driver's car with all-weather usability, the Elise was perfect. The old Colin Chapman philosophy of 'simplify and add lightness' worked in this installation, with plenty of performance and excellent handling characteristics afforded by the lack of excess weight to control.
Jaguar Mk2
The Jaguar Mk2 earned its spurs as the ultimate car to use for a robbery – both by the criminals and the police. The Great Train Robbery getaway driver Roy James had a particular preference for the 3.4 – it could outhandle the 3.8 owing to better weight distribution and a lighter crankcase, and when played with could keep pace in a straight line too.
James would steal a standard car and then modify it, using blueprints stolen from the Jaguar racing team of the day. Upgraded rear wishbones and even a modified rear bulkhead would be fitted – and a hand operated brake light, to concern chasing coppers. These mods were so successful, James would modify cars for other criminals too in exchange for a cut of the loot…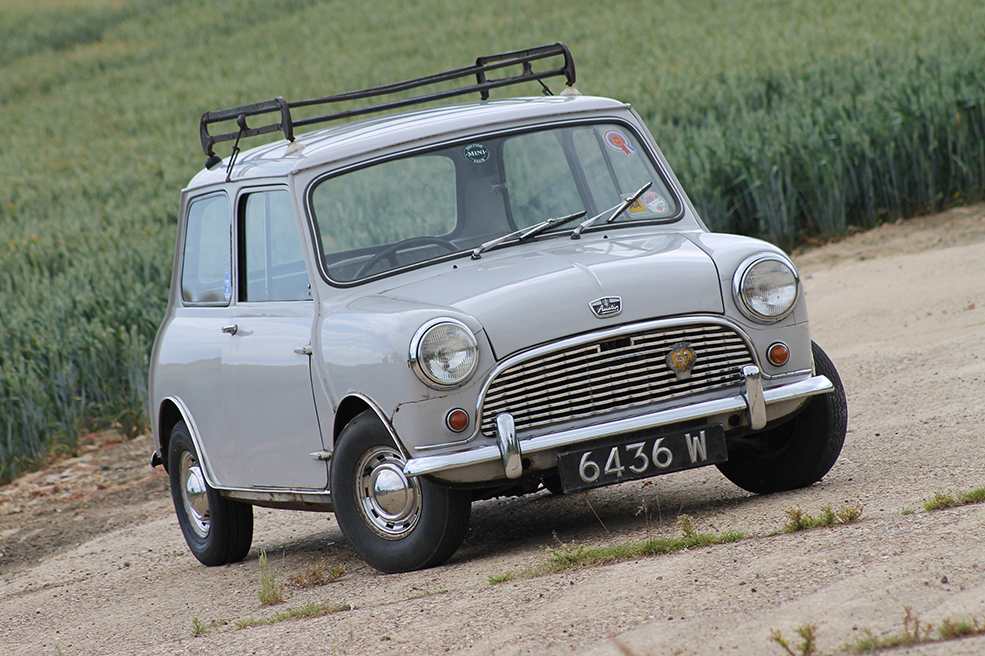 Mini
We couldn't compile a list of the best British driver's classics without mentioning the Mini. Everyone has a Mini story – you might have had one as your first car, or borrowed one from your mum to take out your first serious partner, or you might remember school band trips in the back of the music teacher's Mini Van. Few cars have left such an imprint upon the nation – and with 5.3 million Minis made between 1959 and 2000, it holds the accolade of Britain's best-seller.
But this isn't a place to recite tired facts you know already – we won't mention the bypass hose, Issigonis or the Italian Job after this sentence. The Mini's earned its place in our list of the top ten British classic driver's cars because of the way it handles, and the way that the bigger engine models move. Despite the fact it was designed as a family car, it's as entertaining as a go kart, and made for amusing touring car antics during the mid-1960s. Ford Galaxie 500s would blitz the Mini on the straights, but through the bends the Mini would catch up once more.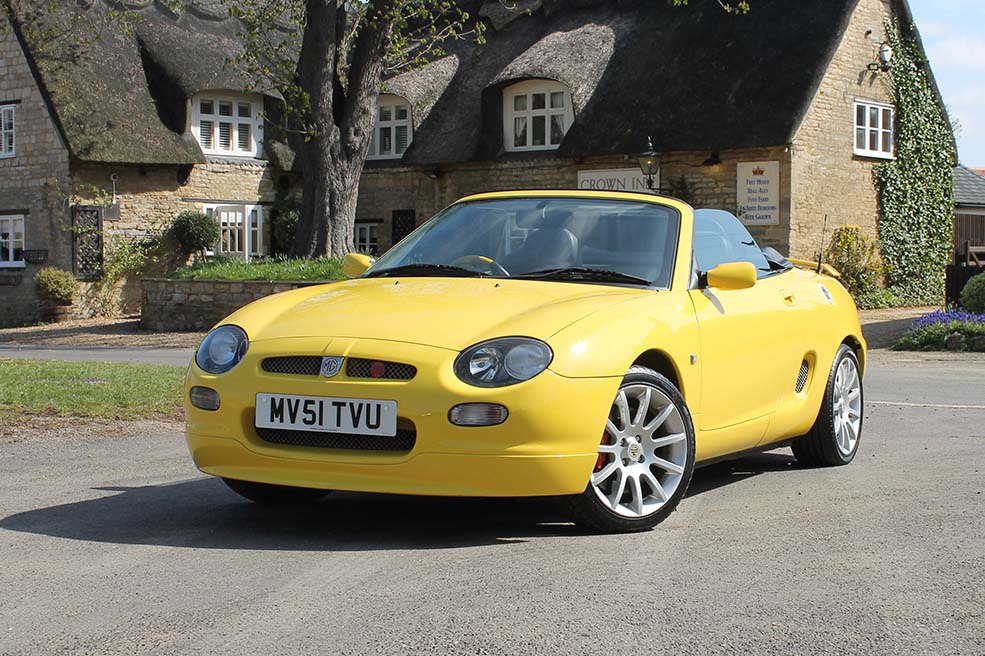 MGF/TF
If we consider that a Classics World staffer sold his Ford Focus to buy an MGF, that should tell us all we need to know about the potential within this small Metro-based sportscar.
After all, the Metro itself was a tidy handler. You could chuck it into bends and it would respond like a well-composed Mini; eager K-series revving freely, though the driving position perhaps left a little to be desired. Rover, in a phenomenal feat of parts bin engineering, effectively stuck two Metro front subframes back to back, fitted the most powerful K-series it could, and clothed the lot in a body reminiscent of the EX-E showcar of the mid-1980s.
Yes, some of the switches were obviously nicked from the Rover 200 and yes, you still sat a little too high, but here was a friendly, useable sports car that felt a shade more special than its competitors purely by being mid-engined, while Hydragas suspension ensured it was soft enough to be useable and yet progressive in handling.
Austin Healey 3000
The 'Big Healey' remains a 1950s car at heart, despite production ending in 1967, which means it needs proper commitment to drive. It still very much belongs in our 'driver's car' section, but the joy to be had from a Big Healey stems not from the delicacy of its responses or the elegance of its engineering, but from the satisfaction of mastering what can be a physically demanding car to drive.
As one owner said to us recently it's like driving a really fast vintage bus and once you gel with the car, you know you've really mastered the art of driving in its most traditional sense. You'll also have found a new respect for the men (and women) who rallied the cars at international level, often with floors which got so hot from exhaust heat that they literally melted shoes.
Triumph Spitfire
The rear suspension design of the Spitfire may have been simple and inexpensive, but under hard braking or cornering you could experience an effect known as tuck-under, where the rear wheels would exhibit excessive negative camber and the rear end would get rather squirmy as a result. Take your time to learn this well, and exploit it with care, and you can use it to your advantage in fast sweeping corners, the outer rear wheel permitting a slight drift which works to your advantage if you steer on the throttle like in an E-type.
If this idea scares you, the later Mk4 and 1500 Spitfires featured an additional lower wishbone in a mostly successful attempt to eliminate the issue. These tidier-handling Spitfires are also the cheapest, making for an excellent introduction to Spitfire ownership. The separate chassis means that rust on panels isn't the killer it could be, and many rotten Spitfires have gone on to live lives underneath GRP kit cars such as the Vincent Hurricane or the Spartan.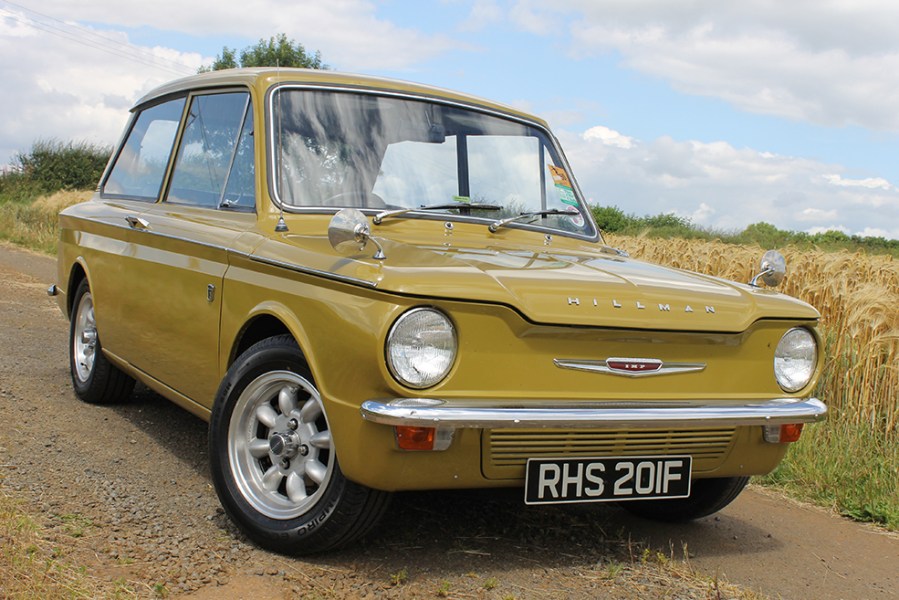 Hillman Imp
The Mini might have wooed the world in the 1960s with its tidy front wheel drive handling and incredibly clever packaging, but it wasn't the only homespun shopping car to offer its driver something out of the ordinary. The Hillman Imp was a rallying and racing success – it might have been a step into the unknown for Rootes, but young designers Mike Parkes and Tim Fry were convinced that the Imp would be a hit in a post-microcar world. The appearance of the Mini only strengthened their resolve, and the Imp was rushed to production by 1963. It featured an all-aluminium engine, derived from the same Coventry Climax as the Lotus Elite engine, and a fully synchromesh transaxle.
One thing that the Hillman Imp had in its favour was the driving experience. The engine was revvy and offered great rear end grip thanks to its location behind the rear seats; the Imp made an excellent competition car in rallycross events and in the Tulip Rally under the expert guidance of Rosemary Smith.
What was good for the track was good for the road too; from a basic single carb 875cc Imp Deluxe to a twin carb Sunbeam Stiletto coupe or even a modified special with the 930cc unit from the Chrysler Sunbeam, all Imps offer the same grin inducing driving experience. Whisper it, but many people even consider the Imp to be a better driver's car than the Mini…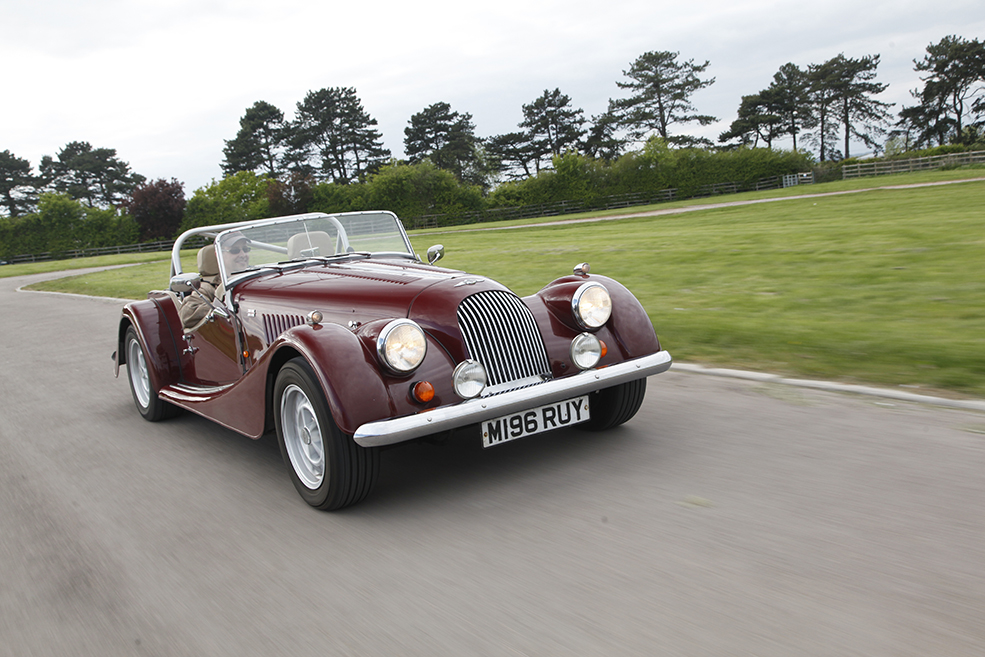 Morgan 4/4
Few cars are quite like a Morgan. Leaf sprung, with an ash frame and unstressed panelwork, it harks back to what many see as a golden age before integral wings, before independent suspension, and before proper weatherproofing. The Morgan is as close to a vintage sports car experience as you can get without buying pre-war, and that means it has to feature on a list of great British driver's cars.
Even today, Morgan makes cars in the same manner – decidedly old school cars for people who like hand-built, crafted creations which offer something completely different. Morgan doesn't sell from stock – and there's a considerable waiting list if you want to get your hands on one.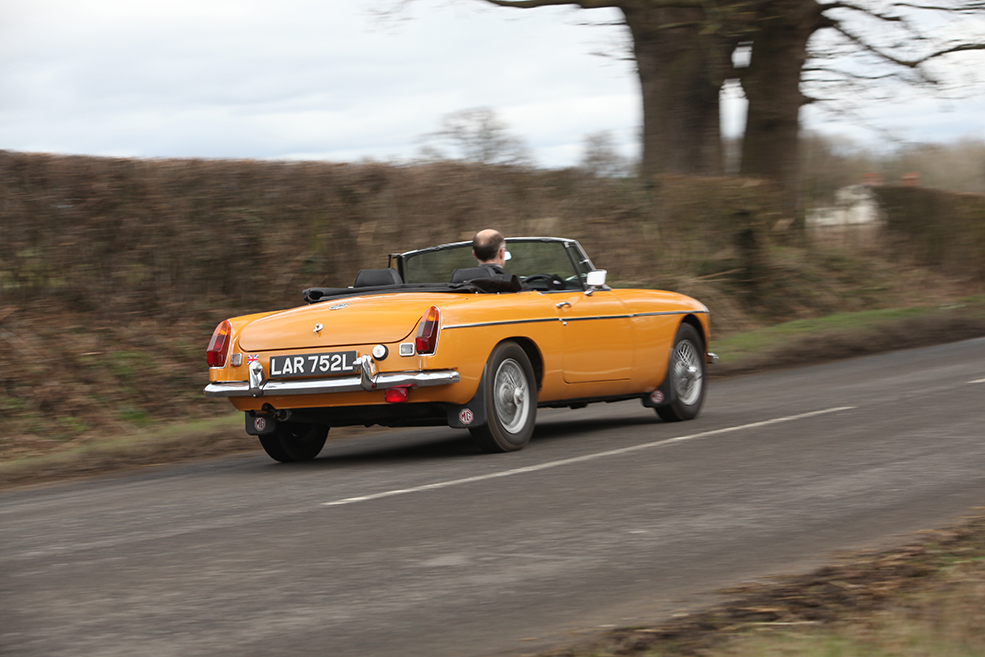 MGB
As for whether the evergreen MGB belongs in the driver's classic section, it's best not to concentrate on the lever arm dampers and leaf springs but recognise the fun that can be had behind the wheel. Which, courtesy of a massive aftermarket industry, is huge.
When the curtain fell in 1980 at the end of the 'Rubber Bumper' era, the MGB was struggling to fend off the new wave of fuel-injected front-driven hatchbacks which represented the easy-to-drive future of predictable mild understeer and family-friendly practicality. But as time went on, drivers began to miss the skill required to coax the best from the MGB – which is why its popularity began to soar to the point where ultimately even entire bodyshells were made available again. Keen drivers, it seemed, missed the fun which could be had with the old-style sports cars and although a front-drive hatch was indisputably technically better for the daily grind, it was the traditional sports car to which they turned for their weekend thrills.
And in terms of an accessible classic sports car the MGB still takes some beating. Yes, that monocoque bodyshell likes to rot but few cars are left which haven't been at least partly restored by now and the joy of the MGB is that absolutely everything you might need is still available.