Viewed as a classic almost as soon as it launched, the Lotus Elise S1 is a truly special sports car that entertains like few others. Here's all you need to know
Words: Chris Randall
Lotus has a long and illustrious history stretching back more than 60 years, its back catalogue containing some of the finest road and racing cars ever built. But it's 1996 that we're interested in here, the year that saw the Elise – one of the company's most successful models of all time – go on sale. Named after Elisa Artioli, then-Chairman Romano Artioli's granddaughter, it stayed true to Colin Chapman's ethos of lightness and simplicity – and few cars made before or since have delivered a driving experience with this level of purity.
Motoring magazines showered the Elise with plaudits, with Autocar calling it "the most technologically daring Lotus road car since the original Elite". Styled by Julian Thompson, the Elise combined a lightweight GRP body with an advanced bonded and extruded aluminium chassis that was the work of chief engineer, Richard Rackham. Power came from Rover's 1.8-litre K-Series engine, and while 118bhp seemed a modest output, it could propel the featherweight roadster to 60mph in just 5.5 seconds. But the outright performance wasn't really the point, the supremely agile and responsive handling being what delighted anyone lucky enough to drive one. The spartan cabin made it seem all the more focused, with all of this ability costing just £18,995.
More power and speed would arrive, of course, starting with the Sport 190 of 1997, which made 190bhp and managed 0-62mph in 4.4 seconds – but it was pricier at £33,000. The cheaper Sport 135 arrived the following year, and in 1999 buyers could opt for the 143bhp 111S which added variable-valve timing to the K-Series unit along with a closer-ratio gearbox. The final iteration was the Sport 160 that arrived in 2000; just 337 of those were made from a total production run of 10,619 S1s.
A variety of special editions could be had over the years, some carrying iconic liveries from Lotus' past, such as JPS and Gold Leaf, as well as 1999's Millennium edition which featured Atlantis Blue paint and leather/Alcantara trim. Oh, and there was also the 340R – a slightly bonkers, hardcore creation that lacked doors and roof and was aimed at track use (although it was road legal).
The Series 2 Elise would arrive in 2001 bringing improvements in comfort and refinement without diluting the handling magic, yet it's the purity of the first iteration that many enthusiasts are drawn to.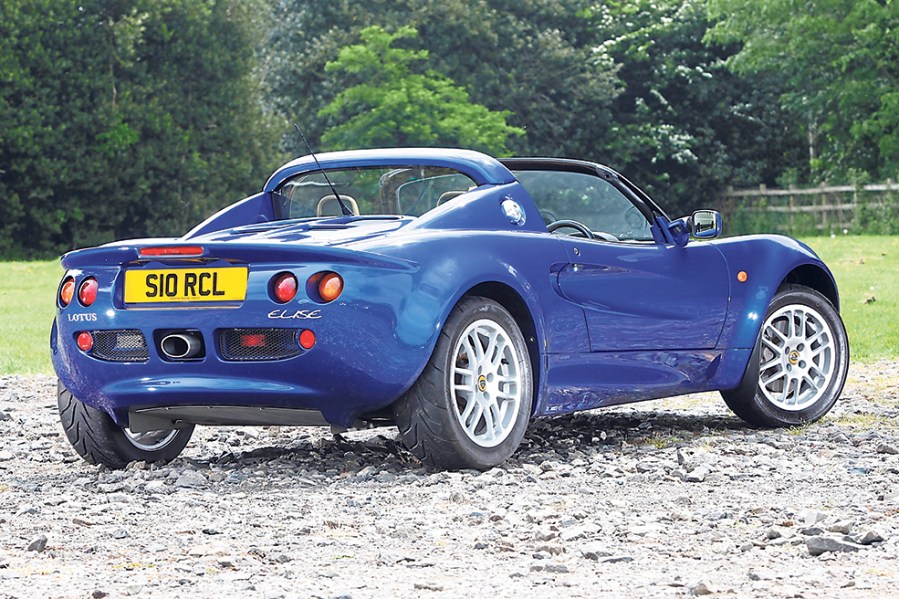 Bodywork
The need for skilled, professional repairs means the GRP bodywork requires careful scrutiny. Look closely for signs of star cracks and crazing, and any evidence of previous damage that hasn't been rectified as well as it should have been. Bubbles in the paint caused by moisture getting in can be labour-intensive to sort properly, too. It's also worth a thorough check underneath the front clamshell for any damage caused by speed humps and the like; and while front and rear clamshells are available (they cost around £3000 from Lotus, with aftermarket ones at £1500–2000 each), you'll need to factor in the cost of painting and fitting, so replacement isn't a cheap undertaking. Panel gaps weren't laser-sharp but still pretty good, so anything obviously amiss could point to previous accident damage.
Even more important than the bodywork is checking the condition of the chassis, and any major concerns here are a reason to walk away. You need to get the car on a ramp and remove the under-trays so you can get a proper look, focusing on any signs of damage or bodges. You can't buy a replacement from Lotus, and in truth they weren't really designed to be repaired, so you should tread carefully; specialists say minor repairs are possible in some cases, so you'll need to get an expert opinion before going ahead with a purchase.
There's also the potential for corrosion at the front of the chassis where the wishbones attach. Speaking of which, it's a good idea to examine the steel subframe at the rear to ensure there's no sign of rot; a galvanised replacement is £1300 and fitting involves plenty of labour time. As for the rest of the exterior, the headlights can be prone to internal corrosion and you'll want to spend a bit of time checking the condition of the hood. It's reasonably effective although a bit fiddly to erect, and you're looking at £500-£600 for a replacement. It's a bonus if the car you're considering has the optional hardtop; be sure to check it for damage and poor fit and listen out for any rattles if it's fitted when you do a test drive, as a replacement costs over £1000.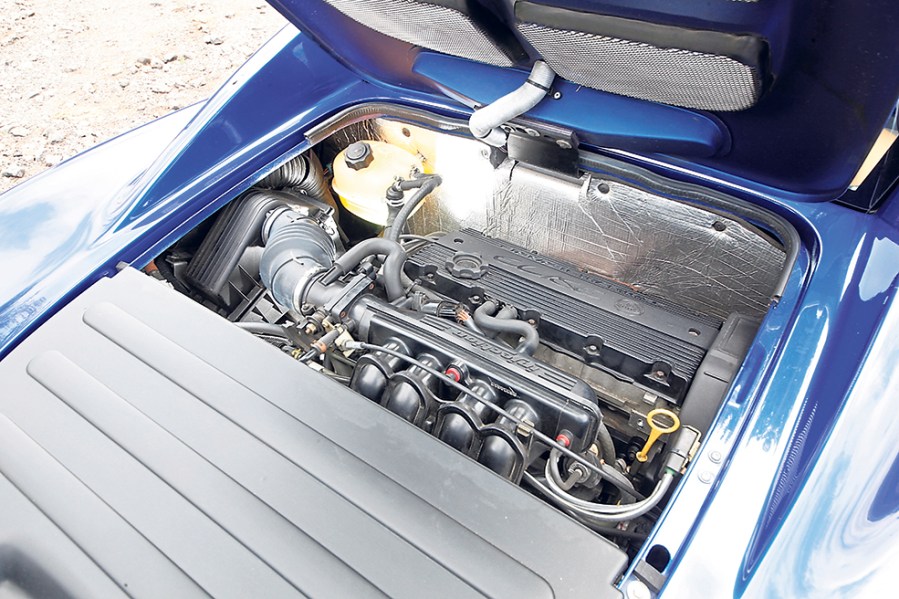 Engine and transmission
Despite a reputation for cooling-related problems, which we'll return to in a moment, the Elise's K-Series engine can cover high mileages with careful maintenance. Servicing is required every 9000 miles, with specialists charging around £250 for a minor one, while the bigger 'C' service – including cambelt renewal – comes in at £650 or so. That belt swap should be done at 54,000 miles (or four years) on most models but 36,000 miles (or three years) on the Sport 160. You'll not need us to tell you that an example with a patchy service history represents something of a risk, so make sure you're satisfied that the paperwork adds up.
When it comes to the cooling system, well-maintained cars shouldn't really be suffering from problems, but it's worth checking thoroughly for peace of mind. The key issue was overheating (resulting in head gasket failure) and there were a few reasons why it occurred; coolant capacity was relatively small, so not much needed to be lost before problems were caused, plus there was the potential for damage to the front-mounted radiator and coolant pipes. With the head gasket, there was also the issue of plastic dowels that located the cylinder head to the block; these broke and allowed the head to move, with predictable consequences. Most examples will by now have been fitted with an improved gasket and steel locating dowels, and once done properly there shouldn't be further trouble. Check for 'mayonnaise' under the oil filler cap just in case, though.
All that said, it's still important to ensure the coolant level is correct (a level sensor kit at around £150 is a worthwhile addition) and to check the radiator and the pipework back to the engine for corrosion. The way the radiator and cooling fans were positioned in the nose made them vulnerable, and replacement requires clamshell removal which bumps up the cost. An uprated alloy radiator at around £350 is a wise investment.
As for other things to watch for, you might find the odd oil leak from the bottom of the engine, and you should examine the exhaust system for corrosion; a good quality replacement costs from £500 but make sure a previous owner hasn't removed the catalytic converter. It's also sensible to ask the vendor about any engine mods or upgrades; there are plenty of ways to tease extra power from the K-Series unit, from traditional porting and polishing to ECU remaps. There's even the potential for engine transplants, but not only can doing it properly cost a five-figure sum, it will also entirely change the car's character; it's very much an acquired taste and certainly not one for the purist.
Assuming everything has remained standard, the Elise's five-speed 'box is more than up to the task – although hard track use may have taken its toll. And while it can be a bit noisy on the overrun, that's not a major worry; a rebuild is around £1500 and specialists can fit stronger internals at the same time. Changing the oil every couple of years will prolong its life, too. Problems with the linkage and cables can cause a sticky shift but it's not a difficult fix. A revised pivot can cure a stiff clutch pedal, but clutch replacement itself is quite time-consuming. Lastly, listen out for a whining differential as replacement is costly.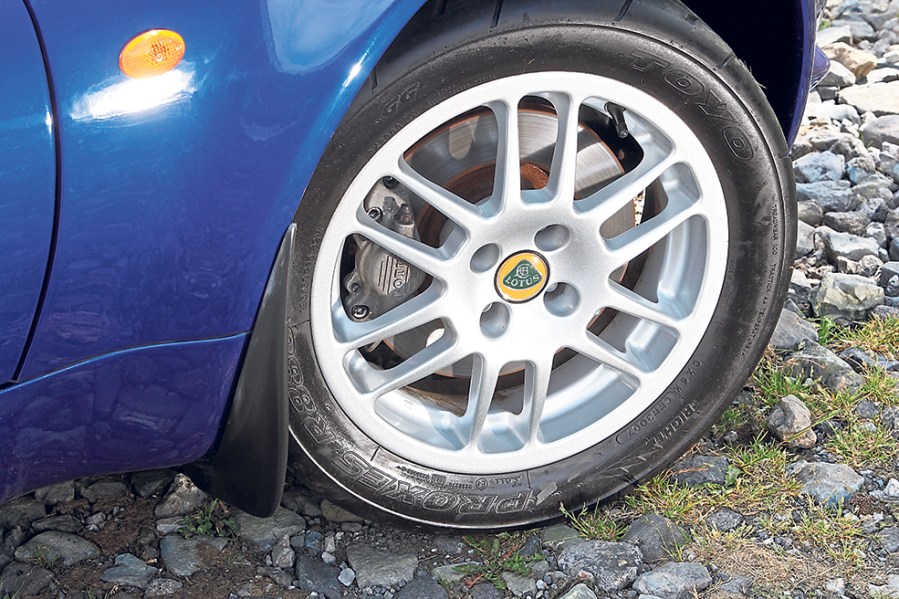 Suspension, steering and brakes
The Elise's carefully tuned double-wishbone suspension set-up resulted in a superb driving experience, and you shouldn't settle for anything less today. Indeed, tired and neglected suspension will destroy the whole point of owning an Elise, so be wary of taking on a car in need of work in this area. The light weight meant it wasn't hard on components but you can still expect the usual wear in ball joints and bushes; and although replacement parts aren't prohibitively expensive, a full set of OEM wishbone bushes will set you back around £500 before fitting.
The original Koni dampers were prone to leaks and rattles but it's highly likely they've been replaced by now, with owners often favouring Bilstein or Nitron units. A full set can cost more than £1000, so haggle accordingly if replacement is due. There's plenty of scope to upgrade the suspension but the potential to spoil the handling means it should be approached with caution.
The feelsome steering was also a key part of the Elise's dynamic repertoire, so ensure that nothing feels awry on the test drive. Worn ball joints and track rod ends are simple and cheap to renew, but if you suspect the rack needs replacement, you'll need to budget in the region of £700. In any case, a specialist geometry check and set-up are well worthwhile.
As for the brakes, the Elise was originally equipped with innovative Metal Matrix Composite discs, although Lotus reverted to conventional cast iron items after the first couple of years. It's those you're most likely to find fitted today, and you just need to check for any wear or corrosion. A full set along with mildly uprated pads is around £400 but check whether a previous owner has opted for more serious upgrades for use on track. Sparingly used cars could be suffering from seized calipers (a new one for the rear is around £380 from Lotus) and you'll want to see evidence that the brake fluid has been refreshed every two years. Failed wheel bearings are cheap to replace, with original front items costing around £130.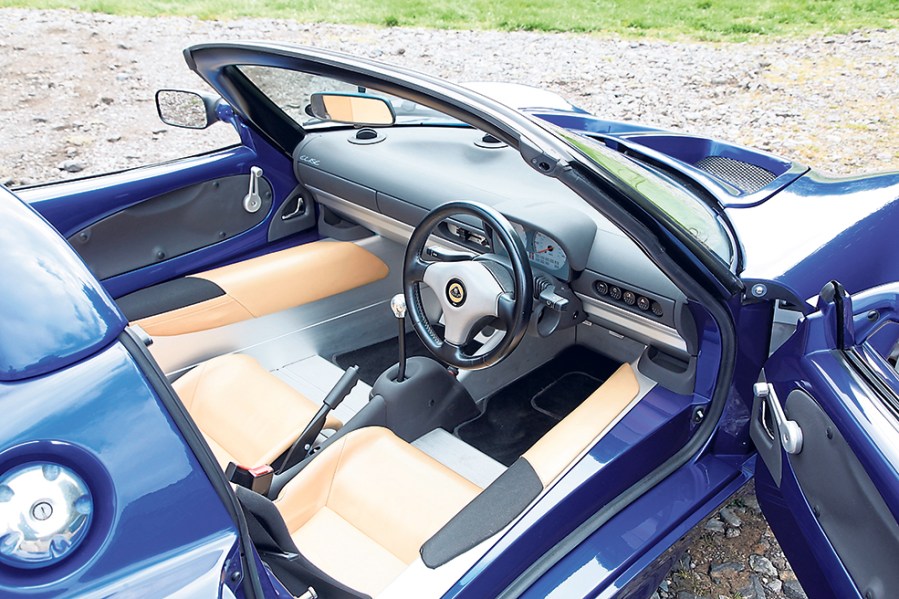 Interior and trim
The sheer simplicity of the cabin makes wear and tear easy to spot, so it's mainly a case of checking for scuffs and damage to seat bolsters and sills. Leather trim was a popular option so make sure it's not been affected by water ingress. Also worth mentioning is that while Lotus offers a variety of replacement trim parts, you can't get everything; check first before assuming an issue will be an easy fix, as you may end up having to hunt for secondhand parts.
The electrics are a simple affair, so you'll soon spot any issues, but it's worth ensuring the Vauxhall-sourced column stalks work as they should. More important is the operation of the Stack instrument panel, so make sure that both gauges operate correctly; you can't buy a replacement from Lotus but Oxfordshire-based specialists, 213 Performance, are authorised repairers and should be your first port of call.
About the only other thing to mention is window operation – the manual winders can get stiff and end up damaged, so it's worth lubricating the mechanism to avoid future problems. The final thing to check is air conditioning, which was fitted to quite a few examples; a non-functioning system may not matter to you if the car is just being used for occasional fun but bear in mind that some parts are no longer available if you do want it working again.
Lotus Elise S1: our verdict
There aren't many cars that get acclaimed as instant classics, but this Lotus is one – and it feels as special now as it did more than 25 years ago. The Elise set such a high benchmark that rivals struggled to match its incredible handling and poise for years; it was a seminal sports car for the modern age, and one that cemented Lotus' reputation as master of all things light, fast and fun.
Last year's 25th anniversary put the spotlight back on the Elise – not that it was ever really off it – and it's no surprise that the recent end of production has further boosted interest. The result is that prices have been on the rise and finding one for sale with a price tag below £16,000 isn't as easy as it once was. Taking the 'base' 118bhp model, a tired one in need of TLC can be £10,000 while a smart, original example with fewer than 30,000 miles on its odometer will command something approaching twice that. With an even lower mileage, you're looking at £25,000–30,000.
You'll certainly be into the £20,000-plus bracket for a nice 111S, with a Sport 160 likely to fetch north of £30,000. With no reason to think that values are going anywhere but up, the time to buy is now – especially as Lotus eyes its return to the modern marketplace with the Emira and Eletre.