Lower fuel bills and classic motoring needn't be mutually exclusive, as this collection of frugal choices proves
Words: Sam Skelton
Petrol isn't getting any cheaper. The fact remains that filling your car is still a hefty chunk of your wages, and that a hobby car really ought to be cheap to run if it is to be justified.
But that doesn't mean that the future of the classic car hobby is to consign us to desperately dull diesels and tiny town toddlers. Whether you want something comfortable, sporting, stylish, practical or unusual, there is a classic for you with running costs that won't break the bank.
With that in mind, we've picked out a selection of our favourite 40mpg classics, with economical entries to suit all tastes.
Citroën 2CV
Fuel economy was always part of the 2CV's design brief. The Tin Snail was intended to do up to 100mpg, while transporting eggs across a field and taking two farmers in hats to market with a sheep in the back. And while it didn't quite meet such an unrealistic brief, it's still capable of north of 40mpg however you use it – Classics World staffer Jack Grover reports a lifetime average of 42mpg. Everything is available, from a new hood to a new chassis, and with such simplistic design there's very little that can go wrong with a 2CV.
The flip side is that there are few toys – but that's not the point of a 2CV. Put your foot to the floor, drive it hard, throw it into corners and revel in the lean, the 2CV is a car that makes it easy to have fun at slow speeds, and with those removable picnic seats you have unbelievable practicality. With all parts available within a day or two, nothing will keep it off the road either. A good 2CV can be north of £10,000 today, but £5000 still buys you something reasonably straight that you can use on a regular basis without any major concerns.
Austin-Healey Sprite
Sports cars that can do 40mpg are few and far between, especially if you want something from the chrome bumper era. But this is where the Austin-Healey Sprite comes in. With an A-Series engine shared with the Minor and A35 housed its tiny body, the Sprite offers pint-sized thrills in a half-pint glass. Launched in 1958 with an eager face subsequently called the Frogeye, it was facelifted in 1961 into a more sensible and sober shape quite similar to the forthcoming MGB. That was no accident; an MG-branded version of the Sprite would also join the range as the Midget shortly afterwards.
A Sprite drives like little else, too – the size and closeness to the tarmac conspire to make it feel far faster than it really is, and the weight and short wheelbase mean that the sharp steering almost feels twitchy in the wrong weather. What's more, everything you could need is available to keep your Sprite going. Even the earlier Frogeyes are catered for, and if you end up with a later car and want it to look like the early ones it's possible to use the Tifosi Rana kit intended for late Midgets to complete the Frogeye look.
You'll need the best part of £20,000 for a nice Frogeye, but if a late Sprite will do, a Mk4 can be bought for half that in good condition if you look hard enough. MG-badged Midgets are typically worth around 10 per cent less than the equivalent Healey but swap the badges and grille and nobody will know the difference.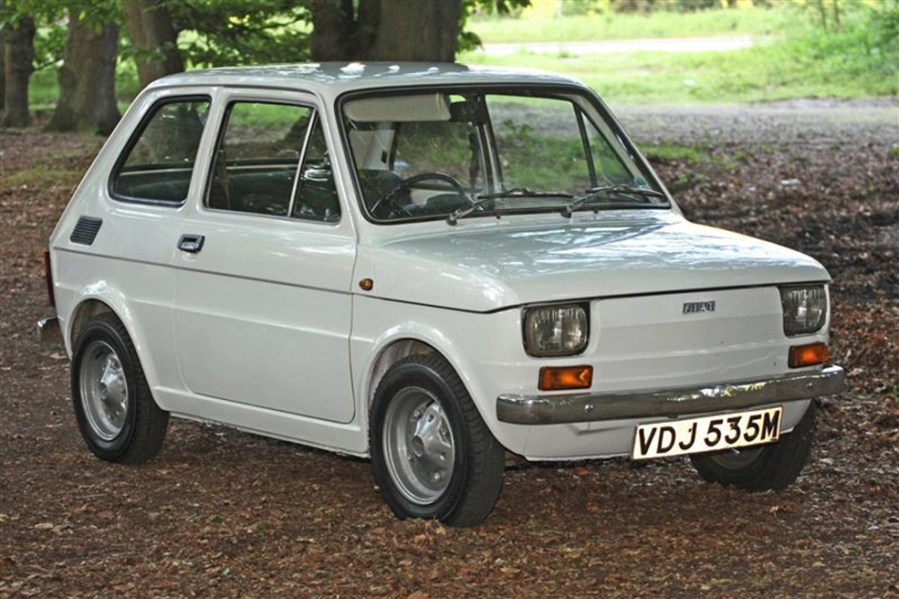 Fiat 126
The Fiat 500 would have been a natural for this list. It's compact, fun, bright and above all economical courtesy of its tiny engine. But let's be honest, they're no longer cheap, and there's no point in buying an economical classic if you're going to spend all the money you've saved on the petrol anyway. That's why we think the Fiat 126 is the answer. Just like the 500, it's a tiny little buzzbox of fun with just two cylinders of feisty Italian fun slung out the back and a teeny-weeny body slotted over the top. But if you want to take three of your mates with you, you'd better be Snow White – small cars have small interiors.
Forget the Sprite and the Mini, if you want the most fun possible from your 40mpg classic, you will find it here by driving the 126 like an Italian. It's impossible to feel sad in a car that gives what little it has quite so willingly as this. And because they were produced for a total of 28 years in various factories across various countries, you won't have trouble either finding a 126 or finding the parts to keep it going.
A budget of £3000-£4000 will buy you a 126 BIS in Britain, with the nicest early cars commanding about twice that. Or you could head overseas, get hold of a Polish-built car and make the memories of a lifetime by driving it home. Jeff Ruggles of Classics World did just that in 2010.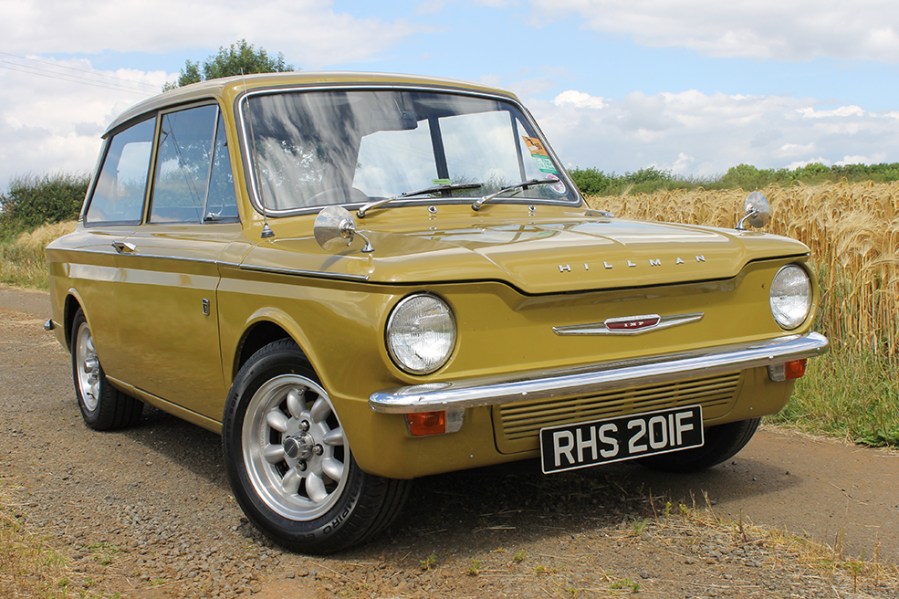 Hillman Imp
The Hillman Imp was a better recipe for success than the Mini on paper. The rear-engined layout was well-tried for compact cars, meaning that all the noise and gases sat behind the cabin and there was a nice tight package driving the real wheels. It was more sharply styled, too. But the convoluted manufacturing process led to reliability issues and the Mini's price advantage meant that once people had grown used to the front-wheel drive packaging it could do no wrong.
Imps make great classics though, now any reliability issues have been ironed out. There's a choice of saloon, van, coupe or estate models, and three different brands with engines in two states of tune. And with an ardent club backing, they're not difficult to keep on the road.
Singer Chamois models offer luxury, Sunbeams performance, but the basic Imp offers the best value with just £4000-5000 needed to get something tidy and very usable. This will also get a Singer, Sunbeam, or Commer Cob van if you're prepared to accept a bit of a project, while coupes typically sell for 10 per cent more than the equivalent saloon models.
Renault 4
The Renault 4 took the same formula that had made the 2CV great and built on it. Developed for rural France, the idea was to take the concepts that had won the 2CV the hearts of all those farmers and to imbue it with the sort of comfort that also made it viable as a city car. That meant a bigger engine, more power, a hatchback rear and a more civilised overall driving experience without losing the soft and pliant ride.
With ponton wings making more space inside and a cleaner shape outside, the 31-year production run from 1961 to 1992 might not have been quite so long as the 2CV's, but in rural France you still see far more 4s than 2CVs in regular use. You'll get around 40mpg from a 4 in normal use, and as the engine made it into the 5 and even the Clio, everything to keep it running can be had from the average motor factor.
They're better value than the 2CV too. Around £8000 buys one of the best, but you'll get something you can use all year round for about half that. And while you won't need to visit the petrol station often, you'll have people asking about it every single time.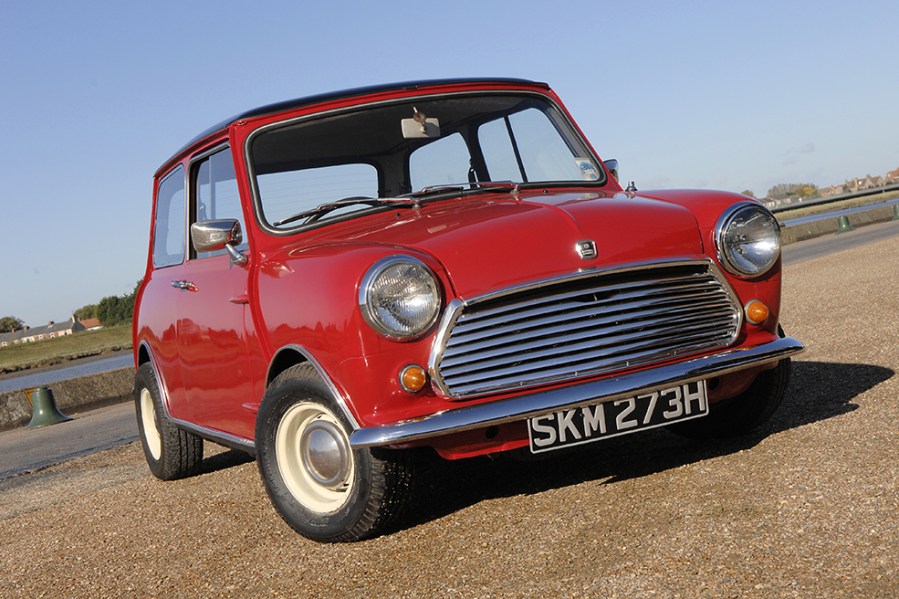 Mini
We couldn't write this list without including the Mini. As economy focused classics go there are few that are more obvious, with 60.5mpg claimed for the now-rare HLE version of the early 1980s just so long as you did a constant 56mph. In truth, you need to be sympathetic to get more than 40mpg in most Minis, but with production having lasted from 1959 until 2000, there's plenty of derivatives in which to have a go.
The Mini's biggest Achilles heel is rust, and you shouldn't discount any area in your quest to find the brown stuff. But the good thing is that pretty much everything you need will be available from a plethora of specialists. And because of the numbers made, you can almost choose what you want to pay based on the model you buy.
Around £7000 will buy a nice City E or Mayfair model, while you might need £20,000 for a good Mk1. The plush Elf and Hornet tend to be cheaper than standard cars because of their less universal appeal but can make for far more interesting buys.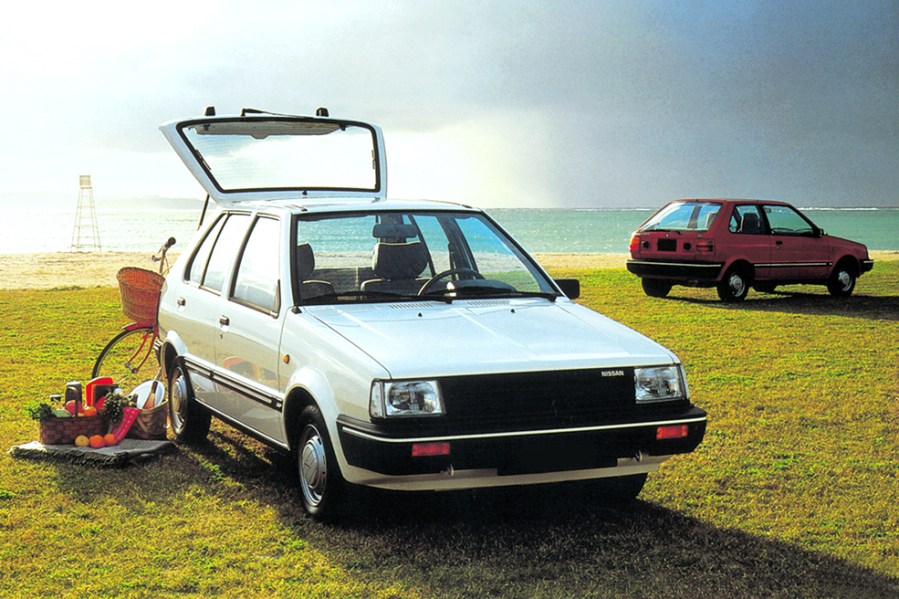 Nissan Micra (K10)
The first Micras were badged as "Datsun by Nissan" – and when they came to Britain, even the humble miniMetro was a new concept. Japanese cars might not have been popular at the start of the 1980s, but as the decade wore on more and more people – tired of the top three British brands – were defecting. Cars like Triumph's Acclaim helped to show British buyers that Japanese cars were to be trusted, and the Micra was arguably the best of the nation's 1980s superminis.
And whichever model you choose, 40mpg should be a doddle. Mechanically there's little to go wrong, though the rarity of the Micra in the UK means that for larger items like panels, the odds are you'll have to look in the car's native Japan if you're not already part of the UK J-tin scene. Japanese classics are appreciating these days, but you should be able to find the very nicest examples for around £3000, and something usable for half that.
We'd go out with £3500 in our back pockets, and not only buy the nicest we could find but invest in some comprehensive rust-inhibiting treatments to ensure we could enjoy the car for a long time to come.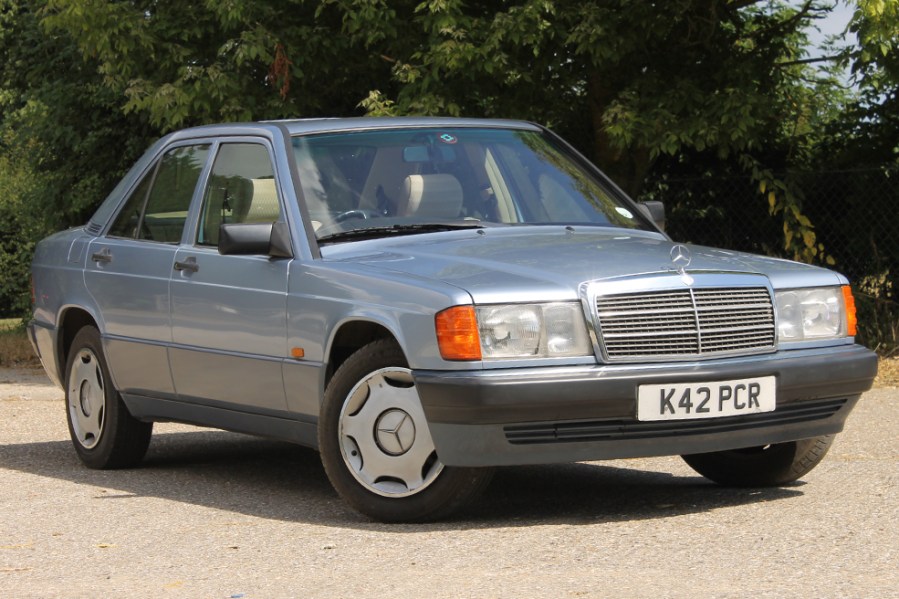 Mercedes-Benz 190D 2.5
It seems like almost every other car on the road these days is a German saloon with a diesel engine. And this Mercedes is arguably the best classic alternative for those looking for maximum economy. The 190D followed in the footsteps of diesel mid-sized Mercedes models, using a five-cylinder unit taken from the 250D model in the smaller 190 shell. This meant more power relative to its weight, better performance, and better economy to boot.
We ran a 190E for a few years – albeit a 2.6 petrol – and it was comfortable, easy to drive, roomy, practical and it made us feel special. If you want all that with an amusing five-cylinder warble and respectable economy, the 190D 2.5 makes a natural choice.
Rust is the biggest problem you'll find with a 190 of any type. Front wings rot through ahead of the arches, while door bottoms can also suffer along with the screen surrounds. Check any car thoroughly before purchase. Leather, air conditioning, automatic gearbox and alloy wheels are all desirable options, and worth seeking out. Budget on around £1500 to get something usable, and £3000 or so for something reasonably nice.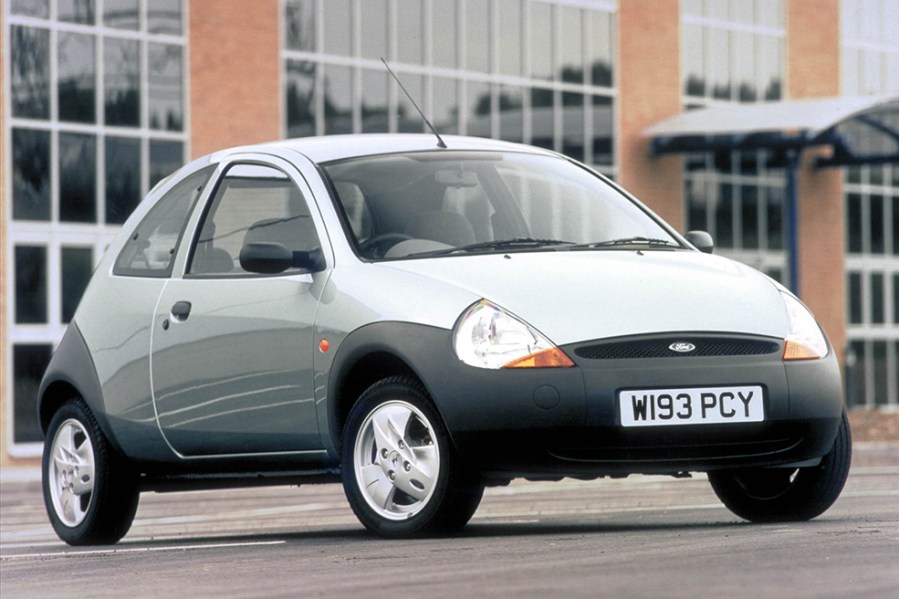 Ford Ka
It's now 26 years since the Ford Ka first hit UK showrooms. That's 26 years since Ford's New Edge design language first hit the streets with the dinky wheel-at-each-corner sub-Fiesta, causing quite a stir. And under the skin lurked familiar and economical components.
Because it was basically a shortened 1.3 Fiesta, it had the Endura engine from that car which could trace its roots back to the Kent engine of the Anglia 105E. A power figure of 60bhp doesn't sound much but in a car this size it's enough, and the bonus is around 45mpg if you drive it sensibly. And if you don't want to drive it quite so sensibly, it'll give you a big grin instead. It's nicely balanced, with precise steering and plenty of grip to let you exploit the nimble little chassis.
One thing all Kas do is rot. You will not find a rust-free example, and there's barely a panel that won't suffer. Start by checking the tailgate and the rear wings, especially around the fuel filler, while sills and the floorpans are other areas of concern. Kas aren't expensive yet, and even a leather-lined and air-conditioned Ka Luxury should be achievable for under £1000. We'd budget £1500 and keep some funds back for a comprehensive rust treatment. SportKa and StreetKa models offer extra speed and style, but their 1.6-litre engines are less economical than the standard 1.3.
Triumph Acclaim
The Triumph Acclaim was the marque's swansong, effectively a badge-engineered small Honda intended as a stopgap to maintain interest in BL until the Maestro was ready. But while many over the years have mocked the Acclaim as an insult to the brand, it remains an excellent option for a regular use classic, and one which owing to its efficient Honda 1.3-litre engine is capable of 40mpg on a regular basis.
With a number of specifications available from base through to the luxurious CD, there should be an Acclaim to meet your needs and tastes. And because they share the same drivetrain, they should all do similar mileage between trips to the pumps.
The downside is that parts are harder to get than for any other Triumph, owing to its Japanese origins and the lack of spares outside the collections of Acclaim owners. But those owners are friendly people, and most items should be easy enough to source once you've made some pals in the scene. Service items are similar to those for 80s Hondas and should still be available. And the Acclaim is still cheap – you can get them for under a grand, while £3000 should buy a really tidy example.