Classic sports cars don't come much more basic or more entertaining than the 'Frogeye' Sprite – although there's still plenty to check before you take the plunge
Words: Paul Jackson
The Austin-Healey Sprite Mk1 – better known by its nickname of 'Frogeye' Sprite in the UK and 'Bugeye' in the USA – wasn't made for very long, yet its influence on the British sports car scene was immense. It evolved into the Sprite MkII after just three years on sale in 1961 and this newcomer was joined by the badge-engineered MG Midget that went on to be a big seller for its Abingdon-based manufacturer, remaining in production for an impressive 18 years. Any Sprite or Midget is fun to drive, of course, but it's hard to top the original 'Frogeye' Sprite for sheer charm.
The idea behind the Sprite was simple: BMC could see a market for a small, low-cost sports car that combined lively performance with reasonable running costs. BMC's relationship with the Healey Motor Company seemed like the ideal route for creating such a machine, so BMC boss Leonard Lord met with Donald Healey in 1956 and a plan was hatched.
In a bid to repeat earlier success with the larger Austin-Healey, the pair decided to develop a budget sports car; Healey would deal with design and engineering, while BMC would provide the running gear. It's why the 'Frogeye' ended up with parts from the Austin A35 (including the front suspension, gearbox and back axle), as well as a Morris Minor steering rack.
Healey and his team managed to get the best out of BMC's 948cc A-series engine, meanwhile, by adding twin SU carburettors and stronger valve springs, pushing power to 43bhp at 5200rpm – a figure that compared well with the A35's 34bhp. It was enough to provide the Sprite with nippy performance, with decent enough handling to ensure plenty of thrills on any winding A-road.
The 'Frogeye' may have shared its mechanicals with other BMC tiddlers, but aesthetically it was unique. The original plan to have flip-up headlights proved too expensive, hence the use of bonnet-mounted cowled units that inevitably led to the car's nickname. But in all other respects, the Sprite stayed true to its original brief. The large one-piece bonnet provided superb access to the engine bay, while the car's curvaceousness both front and rear gave it an abundance of character. The lack of a bootlid and external door handles added to the Sprite's smooth look.
By the time the 'Frogeye' hits the streets in 1958, it was priced at just £679 including Purchase Tax and instantly became a hit with younger buyers in particular. By the time production of this original Sprite ceased in 1961, a total of 49,000 had found buyers worldwide, with a large proportion of cars being exported to the USA. And these days the 'Frogeye' remains as popular as ever, with values having increased substantially in recent years.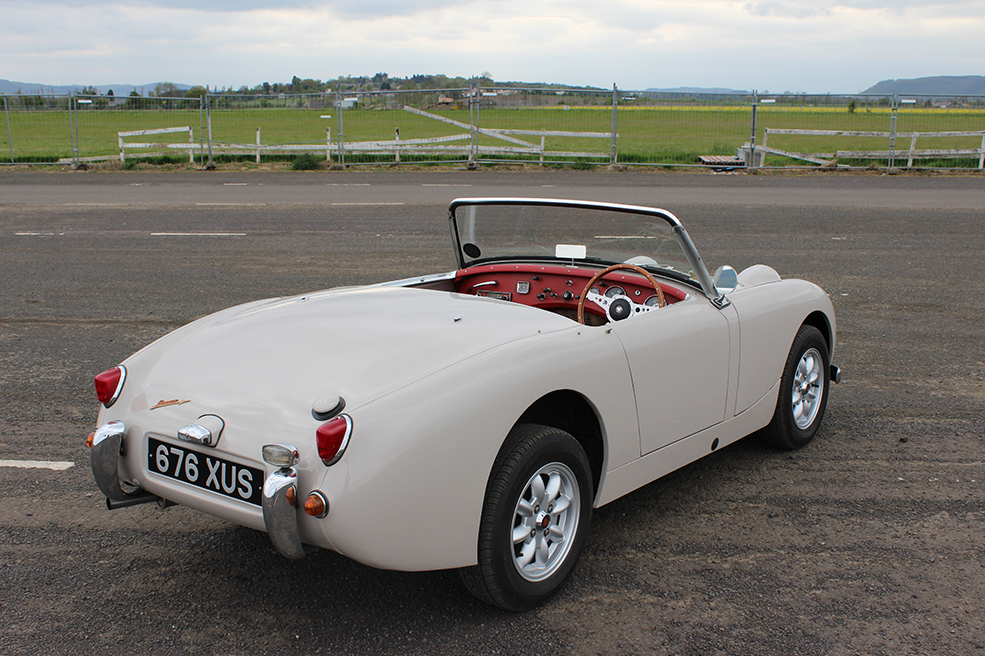 Bodywork
Back in the 1960s and 70s, it wasn't unusual to see a 'Frogeye' with rust issues. Now, with even the youngest examples being over sixty years of age, the vast majority of survivors will have had some sort of restoration carried out. It is crucial to determine the quality of such work and how well it has stood the test of time.
The Sprite was unusual by sports car standards of the late '50s for featuring a monocoque-style body tub, a design that was renowned for being both strong and lightweight. It does mean, however, that any major rot will cause structural issues.
The sills need particularly careful examination, as they're a two-part design: the outer section is easy enough to check for bubbling paintwork and signs of rot or filler, while inspecting the inners means having a good poke around inside the car and feeling for any 'soft' or holed metal. You can also remove the plastic 'bung' in the outer sill and poke a screwdriver through to the inner; if you find any signs of weak steel, you should fear the worst. The structural sections that run between the rear sills behind the seats are also critical, with the area around the rear spring mounts being vulnerable to rot.
The front bulkhead's large void can often hide corrosion issues, and so it needs checking carefully from the engine bay side, especially around the heater box, battery and master cylinder. You should also make sure that the doors are well-aligned and are showing no signs of sagging; this could simply be a sign of worn hinges but could also indicate structural rust issues where the hinges attach to the bulkhead area.
Much of the front end's strength is in the inner wings and the engine supports, easily visible with the bonnet raised. The steel supports are often well-protected by engine oil leaks but you still need to be vigilant. The crossmember beneath the radiator is also vulnerable to rot.
Although the entire lift-up bonnet/wings combination of a 'Frogeye' is non-structural, it makes up the whole front-end panelwork and can't be ignored. Check the hinges and support brackets (as well as the areas where they attach) for evidence of rust or distortion, and make sure the wing/bonnet seams are sound.
New bonnets are available from Moss Europe, as are the adjoining front wings – but at £4374 and £678 each respectively (at time of writing), they represent a major outlay. Incidentally, check that the 'Frogeye' Sprite you're inspecting has a steel front end as glassfibre replacements are available and will usually devalue an otherwise original-looking car.
The Sprite's hood often suffers from leaks, which can eventually lead to rotten floors. Lift the rubber mats (or carpets if they're retro-fitted) and have a good poke around for corrosion and previous patch repairs. Floor sections are readily available, but make sure you budget for all such work when buying a car.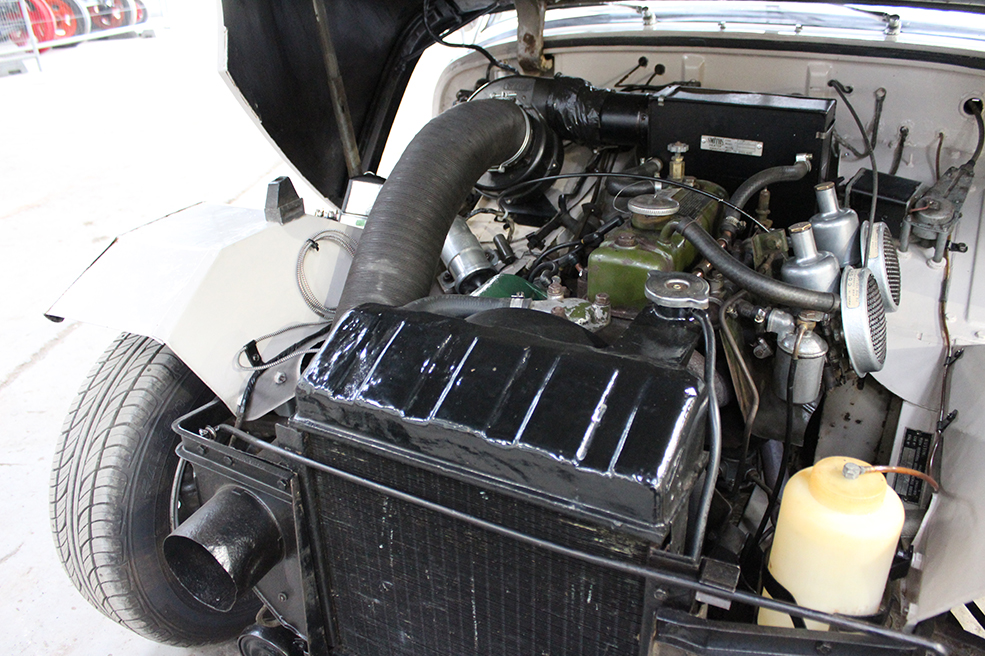 Engine and transmission
The 948cc A-series engine is a familiar unit that's known for being robust, although a Sprite is likely to have been driven harder (particularly in its early years) than an equivalent Minor or A35. You should listen out for bottom-end rumble when accelerating, as this may point to worn main or big-end bearings. You should also look for excessive blue smoke on start-up and when idling, which usually suggests issues with the valve stem seals. There are specialists who will rebuild any A-series engine (either on an exchange basis or using your own if you want to keep it 'numbers matching'), but you can expect a bill of £1500-plus.
Head gasket failure isn't unknown, often starting at the rear of the engine. Make sure there's no sign of coolant in the oil and vice-versa, with any 'mayonnaise' on the dipstick and around the fuel filler being a cause for concern. If the coolant doesn't look clean, the car may have been neglected; changing the coolant regularly keeps the cooling system in good order and helps to prevent a silted-up engine block and other issues. It's common for an A-series engine to leak oil, most often from the rear crankshaft seal; if it's not excessive, it's probably something you can live with.
Many 'Frogeyes' have been upgraded with tuning parts or fitted with larger-capacity A-series engines (a 1275cc conversion is particularly popular) to boost their performance. The end result is a more driveable car, especially on long journeys, although anyone with a penchant for originality may see it as a disadvantage. When carried out to a high standard, these upgrades should have no negative effect on the Sprite's value, and often give it appeal to a wider audience.
The Sprite originally came with a four-speed gearbox with cone-type synchromesh, although many now feature the later Sprite/Midget ribbed-case transmission with its more robust synchromesh set-up. Again, most owners will welcome such an upgrade, although you need to make sure whichever gearbox is fitted is in good health. Check that the synchromesh works as it should (especially when going from first to second or when changing down the 'box) and ensure the car doesn't jump out of gear when under load.
Steering, suspension and brakes
The 'Frogeye' was fitted with unassisted seven-inch drum brakes, an adequate set-up for a sportster with just 43bhp on offer. The subsequent MkII Sprite was fitted with front discs from 1962 and many 'Frogeyes' have since been upgraded this way. When inspecting any Sprite that's been stood for a while, check for perished wheel cylinder seals, corroded drum/disc surfaces and so on. You should also listen out for squealing or rubbing sounds from the drums and make sure the brakes don't pull to one side.
The original 'Frogeye' master cylinder was a single-circuit design for both the brakes and clutch. Fitting the brake system from a later Sprite/Midget with separate master cylinders also requires fitting the later heater box and making a modification to the bulkhead. It's not major work but it does make the engine bay look non-original, which may be an issue for some purists.
The 'Frogeye' Sprite's handling wasn't without its problems thanks to the car using Austin A35 quarter-elliptic leaf springs, known for their stiffness and causing it to bounce. The rear end would therefore 'go light', generating plenty of oversteer and catching out an inexperienced driver. This will be exacerbated if the leaf springs are seized solid or the dampers are worn. You should check the lever arm dampers front and rear for signs of leaks. Some examples have been upgraded to telescopic dampers, which can significantly improve the handling.
The 'Frogeye' Sprite has four lubrication points per side that require frequent attention and need to be pumped with heavy oil or waterproof grease to keep everything in good order. When inspecting a Sprite, try to get the front end of the car off the ground and rock each wheel back and forth to check for play in the suspension upright, the steering joints, the wishbone bushes and the damper arm joints. Wobbles through the steering or slack in the system also suggests problems, which may point to a general lack of maintenance.
The steering system is very straightforward and the rack tends to be long-lived. Nevertheless, you should check there's no 'slack', as any free play is probably a sign of worn track rods or issues with the steering column linkage.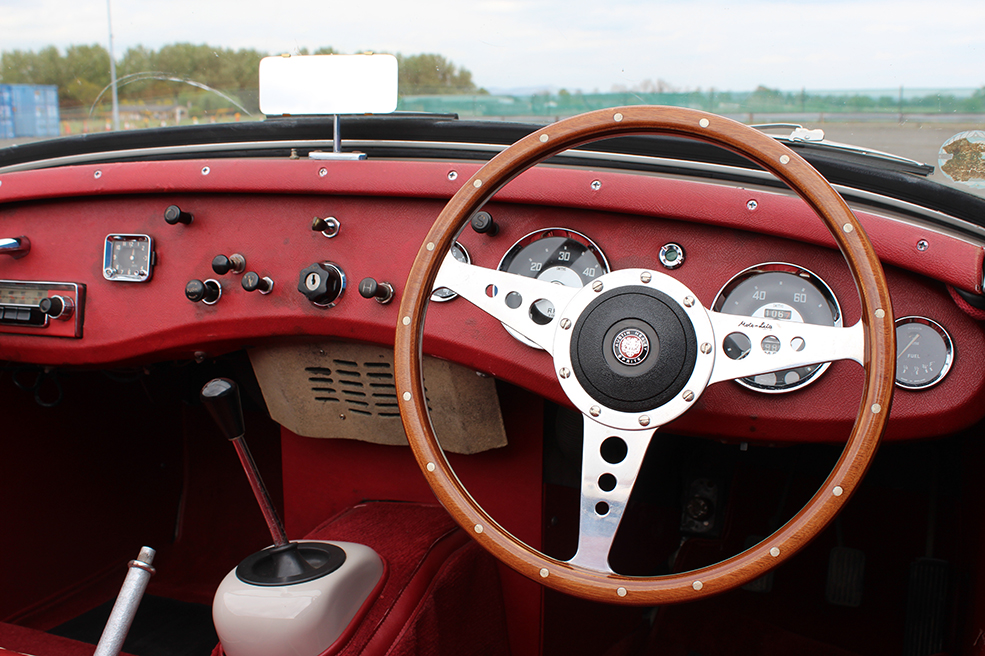 Interior and trim
The sheer basicness of the 'Frogeye' Sprite means its interior is easy to inspect. You get two seats, rubber mats and sparse instrumentation, which means there's not much to check! Even a heater was an extra-cost option, although may buyers did opt for this – so make sure it's working if the car you're inspecting is equipped with one. Even the exterior trim is conspicuous by its absence, which means there's not much to check – although if bumpers are fitted, you should make sure these are in good order as stainless steel replacements are relatively expensive.
If the seats are looking a little tatty, new seat covers are available from companies like Moss Europe. Even if the hood of a 'Frogeye' is showing signs of wear and needs replacing, you'll find new replacements available in various colours.
Austin-Healey 'Frogeye' Sprite: our verdict
If you think of the 'Frogeye' purely in terms of performance-per-pound, it's arguably not as tempting as it once was. But to criticise it for that is to miss the point, as this is one of the most charming, charismatic and entertaining British sports cars of the 1950s and 60s.
No other sports car looks as cute, and few low-powered classics are as fun to drive. It might not be the sporting bargain it once was, but the 'Frogeye' Sprite knows how to entertain – as well as being a brilliant choice when it comes to DIY maintenance and low running costs.