The Triumph Acclaim was a historic car for British Leyland – and British car production as a whole. We get behind the wheel to see how it fares today
By the 1980s, the once great British Leyland empire was in tatters. The public perception of the company was tarnished by the extensive industrial action of the 1970s and the quality of the cars they were actually producing was hit-and-miss – Morris Ital, anyone?
With struggling finances and its reputation at an all-time low, BL was at risk of going under. They needed a lifeline, and they got one: Honda. BL formed a partnership with the Japanese company to learn from their famously class-leading reliability and quality, whilst Honda would learn from Britain how to build a car to European tastes. By being involved in BL's products, Honda could also overcome the import restrictions being imposed on Japanese manufacturers in a desperate attempt to save local produce.
In 1981, we saw the first fruit of the partnership, the Triumph Acclaim. Technically it was a Dolomite successor, but that platform dated back to the Toledo, itself conceived in the late 1960s and well overdue for replacement.
Next to the archaic Toledo and Dolomite, the Acclaim was a spaceship – based on the Japanese Honda Ballade, the Acclaim used a transverse-engine layout, now the accepted, modern formula for most mid-size cars.
The engine itself was Honda's EN4 1.3-litre lump, but sporting twin carburettors in Triumph guise for the extra oomph demanded by motorways. Even on start-up, the Acclaim sounds more fizzy than a comparatively miserable B-Series. With 69bhp in a car weighing just 809kg, the Acclaim was impressively brisk for a car of its class. Being a Japanese engine, the little four-pot was and remains far more eager and revvy than the grumbly B-Series seen elsewhere in the Leyland stable.
A beige-on-beige Acclaim is hardly typical B-road fun material, but I couldn't help but smile at how keen the little Triumph was to pull on winding Fenland roads. Being from Honda, it was also reliable in a way BL's usual fare never was and paired with a pleasingly snicky five-speed gearbox, it was comfortable to drive long distance.
I'd never call the Acclaim a sports saloon, but it turns in sharply, grips well and is far more fun to chuck around than it has any right or reason to be. Comfort was another aspect improved from the Ballade – the suspension was softened slightly for potholed British roads, but retained just enough firmness to minimise body roll and respond to a bump, rather than be sent into a directionless wobble like its Ital stablemate might. The Acclaim strikes a nice balance between ride and handling in a way most contemporary British cars just couldn't.
You could enjoy that ride and handling from pleasant surroundings, too. Most Japanese cars of the 1980s were a sea of grey plastics, fabrics and switches. True, everything was well-made and lasts well, but a brief glace at an early Civic interior reminds you that buyers didn't choose them for a luxurious cabin.
Keen to appeal to their existing customer base, used to upmarket-feeling interiors, British Leyland went to great lengths to improve the Ballade's cabin for the Acclaim. More trim options, softer seats and a more colourful dashboard layout created a bright, comfortable place to be.
Chrome trims on the doors, plenty of colour choices and an altogether more homely feel than the dull grey surroundings of typical Hondas made the Acclaim an easier sell to BL's existing customers.
There was plenty of Japanese practicality, too. The Acclaim sported a sizeable boot and plenty of head and leg room inside. The widely adjustable seating position means whether you prefer a laid-back posture or bolt upright, you'll get comfortable.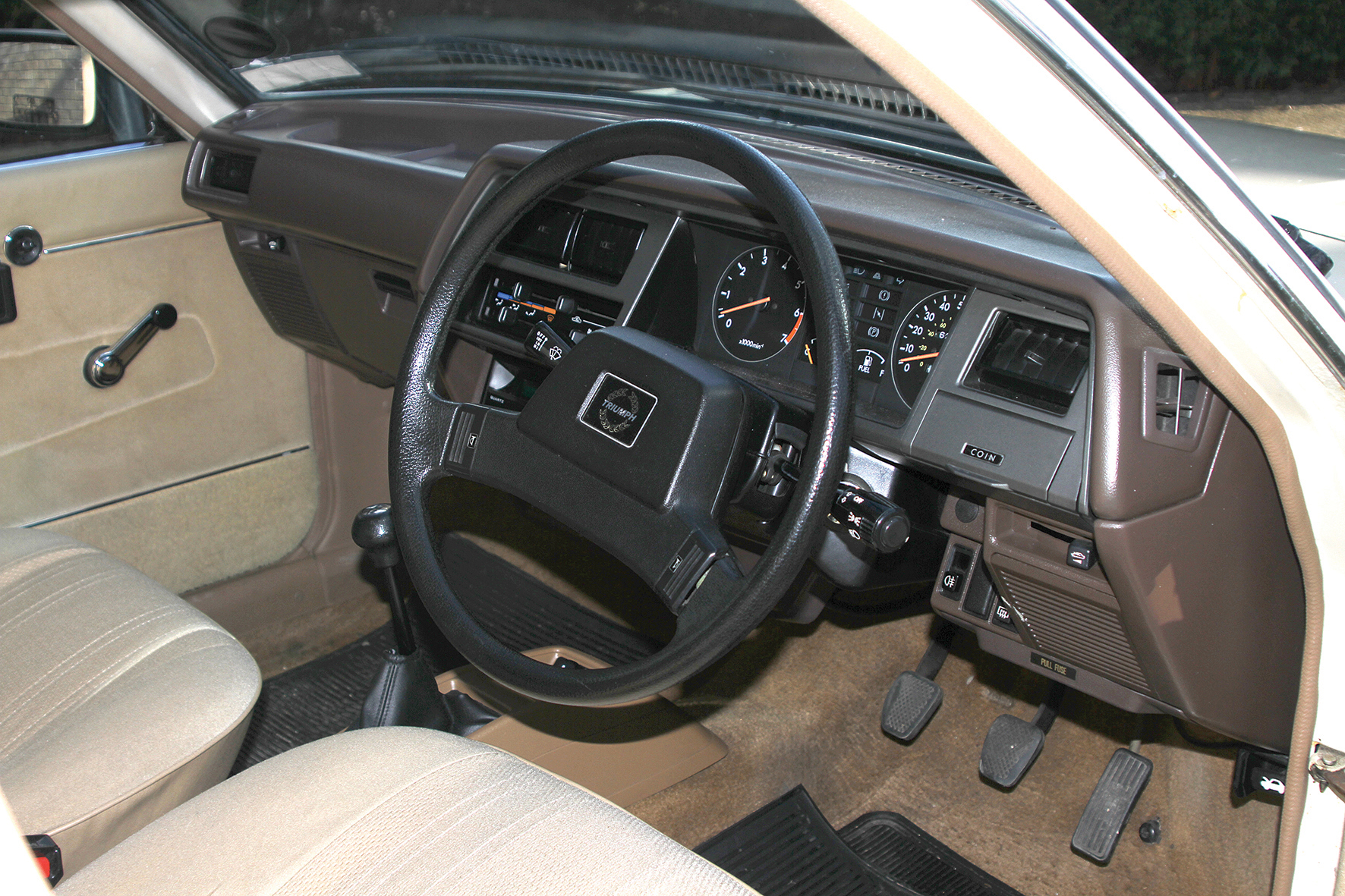 Refinement is decent even by modern standards, with minimal road noise and only a slight wind whistle from the sunroof retro-fitted to the example I drove. In a Morris Marina, you might hear wind noise when stationary, but the Acclaim was a marked step up in quality for BL.
The combination of British Leyland interior comfort and a familiar badge paired with Honda reliability and quality made the Acclaim a runaway success. It was the seventh best-selling car in Britain by 1982, just a year after release and remained the eight best-selling in 1983.
Priced competitively against ageing Ford and Vauxhall opposition, the Acclaim was an easy sell and some 137,000 were shifted in just three years. Consider that it had just one engine option, a handful of trim levels (L, HL, HLS and C) and no estate, two-door or hatchback variant and those sales figures look even more impressive. Here was a car from British Leyland that wasn't reheated leftovers, didn't fall to pieces and was supremely reliable.
The Acclaim cemented the BL/Honda partnership, as Leyland's reputation was salvaged and their quality was on the up, whilst Honda was starting to learn more about the demands of the British and European car markets.
So, what was Triumph's reward for salvaging Leyland's prospects, validating the Honda partnership and bring in sales figures lacking for any BL model in recent memory? It was killed off.
A restructuring of British Leyland's marques in 1984 saw the Acclaim indirectly replaced by the Austin Montego and Rover SD3 200 – the latter another modified Honda Ballade – and the Triumph name phased out altogether.
The Honda partnership went from strength to strength, the Rover 800/Honda Legend representing what Michael Edwardes referred to as a "marriage of equals" between the two companies, while the R8 Rover 200 – an indirect descendent of the Acclaim – was adored by the press and buying public alike.
But the Acclaim started it all. At a time when BL could easily have gone under, the Honda partnership gave it the lifeline it needed and the Acclaim's all round competence cemented a relationship that lasted well into the 1990s.
As technically the first Japanese car built in Britain, it was also the key to the floodgates that lead to Nissan, Toyota and yes, even Honda building plants in the UK to get around import restrictions. With Honda producing their own cars in Britain by the mid-90s and sufficient lessons about the European market learned from Rover, the relationship fell apart. That sent Rover, the last bastion of the Leyland empire, on a downward spiral that ultimately led to their death in 2005.
Where does that leave the Triumph Acclaim? Depending on your perspective, it was either a turning point for BL and British car production, or an unremarkable stop-gap to bridge the transition from old to new Leyland. Some purists of the marque look down on the Acclaim because it's not a sports car, it's nothing lustworthy or exotic and it's not even particularly good looking. But as a car in its own right, for what it represented and what it meant for the future of British car production, the Acclaim can only be considered a Triumph.
Owning a Triumph Acclaim
This example is owned by Simon, editor of our sister title Classics Monthly who says Acclaim ownership is a mixed bag. Reliability is Honda-level excellent, but parts are hard to come by. The usual BL/Rover parts suppliers carry little to no Acclaim stock and what they do have are service items. Many Honda parts fit Acclaims, but do your research – BL's changes to turn the Ballade into a Triumph means some mechanical and trim parts aren't interchangeable. Simon advises having a second car available if you own an Acclaim, as many parts simply can't be acquired as easily and quickly as they can with more popular BL fare.
Their comfort, simplicity and reliability meant many Acclaims were 'last cars' and were well looked after accordingly. That said, they weren't a huge seller comparative to Marinas or Minors and less than 200 survive. Most remaining examples are tidy, low mileage cars that change hands for typically sub-£2000, but you might have to wait a while.