The Mk7 Mini was collectable from the outset – but these revised classics can still be troublesome. Here's what to look for
Twenty years ago, the notion of spending upwards of £10,000 on a 20-year old Mini would have seemed ridiculous. Back then, a Mini of such vintage was still easily attainable for under £1,000. But how times have changed. With obsolescence comes nostalgia – and in the case of the Rover Mini, that nostalgia has bred some pretty serious collectability. The last-of-the-line cars are among some of the most desirable Minis ever made, yet despite years of practice, the build quality was still reminiscent of the British Leyland's 'glory' days.
It was in 1996 that the Mini Mk7 first appeared and, although it was known that it would be the Mini's last hurrah, the final revision was actually one of the biggest that the Mini was given in its 41-year life. The move was in recognition of a fundamental shift in Mini owners' buying habits. No longer was the Mini a small car bought by families or customers seeking a budget city car as a runabout.
At the car's launch at the 1996 Paris Motor Show, Rover's press material announced: "Typical Mini buyers are now less likely to be families seeking a second or third car, but increasingly tend to be single, well-educated professional and managerial people desiring a fashion statement. The 1997 Mini sees an important step-change in the development and projection of the Mini brand by reverting to a classically simple and straightforward range that emphasises the strength of the brand, taking it firmly upmarket."
Externally, not much changed. The front indicator lenses were clear instead of orange, along with plastic infills around the wheelarches and bumper-to-wing seams at the rear, supposedly to help keep rust at bay – but we'll come to that later. There was also the  option of the dramatic Sports Pack, which fattened up the wheels and arches, and added a contrasting roof and bonnet stripes, along with four spot lamps. Other changes were regulatory: the old Lucas headlamps were swapped for Wipac Quadoptic units with adjustable levelling, and a front towing eye was installed below the bumper.
The interior changes were bolder, with new front seats, a fabric headlining and plastic trim around the rear storage bins, partly to conceal the mechanism for the seatbelt pre-tensioners. An airbag was standard too, although a Mini remained one of the places you'd least like to be in a high-speed accident. For the first time, the Mini also got a bonded interior mirror with a proper dipping function. Further 'refinements' included a headlamp level adjuster switch modified from a Rover Metro blower fan controller, and a new two-speed heater fan, which gave an air supply equal to either a gale force wind or breathing – with nothing in between. Still, it was a marked improvement on what went before. Even air-con was an option.
The column stalks were new – or at least borrowed from the Rover 200 – while the carpets contained quite a bit more soundproofing which would, in time, become a double-edged sword for the car. Remote central locking was also included, along with an immobiliser based on Rover's MEMS2 ECU system. This allowed for passive arming if the owner forgot to lock the door.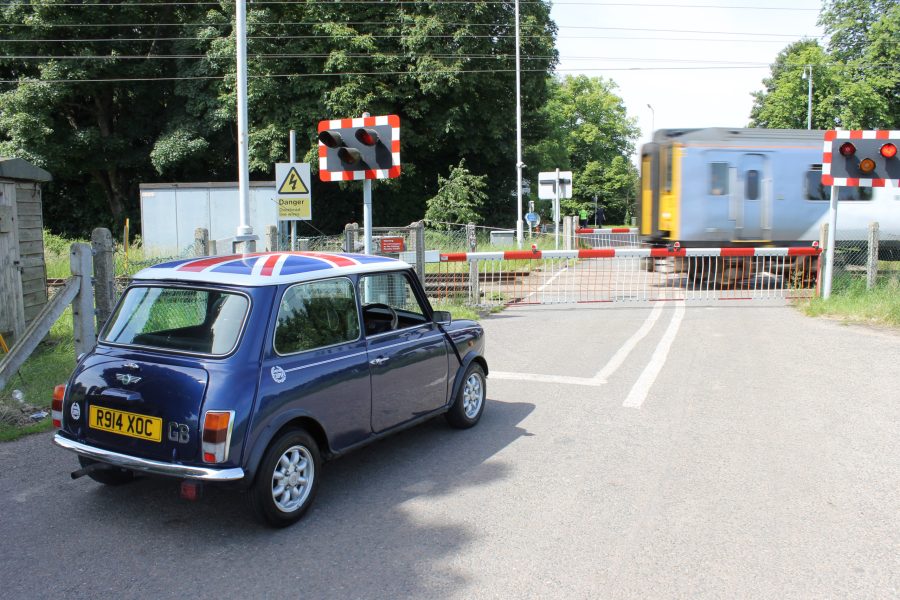 The biggest changes were mechanical. All Mini models now got a 63bhp derivative of the 1275cc A-Series engine with multi-point fuel injection. Although a five-speed gearbox was still one engineering challenge too far for the Mini, the four-speed gearbox was revised to give much taller gearing in its highest ratio, making it a more amenable motorway cruiser. Other tweaks included a new 65-amp alternator instead of the old 45-amp version, and – for the first time – a front-mounted radiator, which in turn allowed the fitting of a radiator expansion tank on the nearside inner wing. Distributorless ignition and an engine bay fuse box (featuring blade fuses instead of in-line items) were further advancements.
The Mk7 Mini range was hugely simplified. Gone were the entry-level Sprite and budget special editions with their jazzy paint, replaced by the Mini 1.3i base model; a car markedly more upmarket than entry-level Minis of old, right down to its alloy wheels, plush trim and remote locking. Then there was the Cooper 1.3i, which evolved from the resurgent Cooper models that had completely revived the Mini in its previous incarnation. The final standard model was the Cooper Sport, which got the wide-body sports pack and a comprehensive equipment list, albeit at a price.
In true Mini fashion there were also a few special editions, one of the more charming of which was the 1998 Paul Smith, with striped headlining and a 'Paul Smith Green' carpet and engine rocker cover. The Cooper S Touring offered an optional five-speed gearbox via Jack Knight Developments (the first time that this popular conversion had been factory-recognised) while the Cooper S Sport 5 took that further by offering the Jack Knight transmission as standard.
Two more specials were introduced in 1999: the John Cooper and the Cooper Works, which was tuned to 90bhp. And finally, there was the 2000 Cooper Sport 500, the name given to the last 500 Mini models to leave the Longbridge production line, each wearing a dashboard plaque and John Cooper's signature.
The last Mini rolled off the tracks on October 4, 2000 with 60s icon and Mini fanatic Lulu at the wheel: a fitting finale for a car that was as much a part of the fabric of British life as it was a means of transport.
Bodywork
The good news is that just about every panel and repair section needed to repair a rusty Mini is readily available. The bad news is that most examples will need some of these parts, not least because the Mk7 Mini was highly variable in terms of build quality and rustproofing. The Mk7 also introduced a new Mini rust spot: the front valance rots out around the towing eye.
Other areas to check are the body seams, the front inner wings and bulkhead areas, and the front panel where it meets the wings below the headlights. Floors and rear subframe mounts are well documented Mini problem areas, and it pays to watch for wide sill panels, which are often fitted badly over the original narrow sills to hide all manner of horrors.The extra soundproofing worsened the effects of moisture from any small hole in the floor – more refined it may be, but the Mk7 Mini is also often alarmingly rusty underneath.
The rear wings behind the arches are a mud and moisture trap, and Rover's attempts to prevent this with rubber inserts between the bumper and the body sadly failed to solve the problem. Check the condition of the spare wheel well, windscreen surround and front scuttle panel, the last two of which can be pretty complex to repair.
As with any Mini purchase, it pays to prioritise body health, as repairs elsewhere are usually pretty simple and will be less expensive.
Engine and transmission
Running 63bhp in standard tune, the MPi Mini feels peppy: it's not a huge figure on paper, but the A-Series was always a torquey engine, and the power delivery is lively and linear with peak torque coming in at just 3000rpm. The 90bhp Sport model is hilarious. Known issues are standard A-Series fare: check for blue smoke to indicate worn valve stem oil seals, and listen for a rumble from the engine's bottom end as this suggets a rebuild is due.
A chattering noise at idle indicates looseness in the timing chain, while traces of 'mayonnaise' on the dipstick tell you that the head gasket is on its way out. None of the above is a total disaster compared to a rough body: the A-Series is one of the most DIY-friendly engines around.
Also note that with a Mk7 Mini it is important to buy the correct parts; the radiator is completely different to that in older cars, as is the alternator, top hose and oil filter location.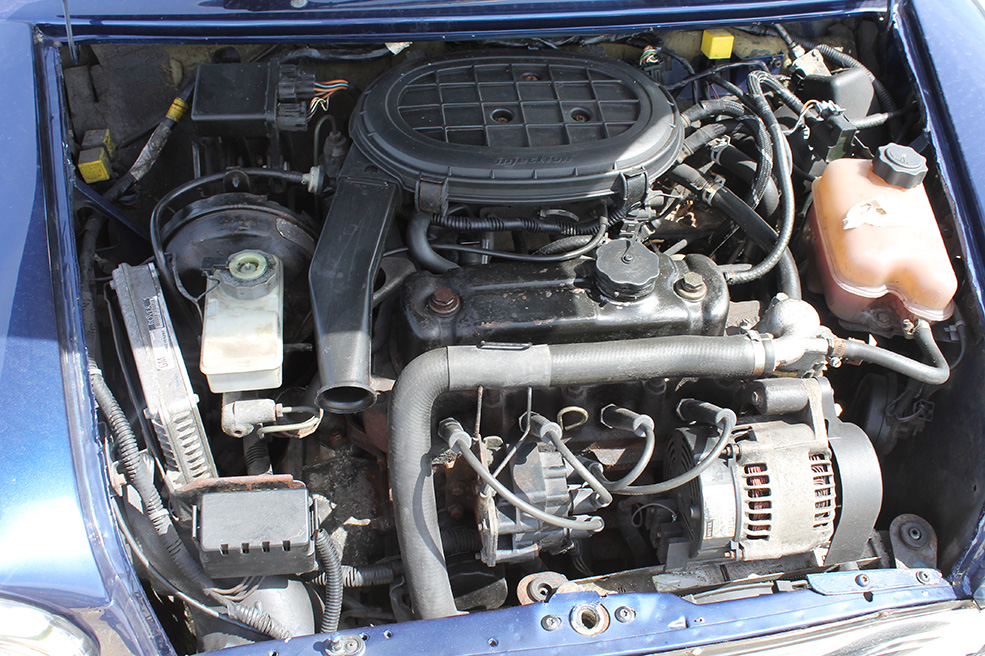 Suspension, steering and brakes
The Mini is such a small car that you can reach most parts of it from the driver's seat, which in turn gives you a heightened awareness of all its bumps and rattles. Relativity is important here, so it makes sense to drive more than one example to get a feel for what a Mini of this era should really feel like. This way it is easier to distinguish between what are faults and what is character.
An overly harsh ride, for example, can be down to suspension bushes getting hard with age, but even a factory-fresh example has a firm ride. Likewise, some noise from the gearbox is perfectly normal; a whine on the overrun is an A-Series trademark, but anything that sounds more 'grumbly' could be sign of worn gearbox bearings and an imminent rebuild.
Another common fault is a clonking or thumping when pulling away, which can sound quite alarming but is usually just a worn engine mount: easily fixed. Brakes are discs and drums, and compared to most 90s cars, they're not great – but that's hardly surprising considering that the Mk7 Mini was based on a 37-year old design when it first arrived.
Interior and trim
Later Minis are sought-after for their seats and trim by those restoring or modernising older cars; the sad side effect of this is that several late-model cars get stolen and broken for parts. If you're tempted by cheap trim bits online, check their provenance first. The last thing you want to do is financially reward someone who has destroyed someone else's pride and joy.
Check that all the trim is complete and in good order. Rover Group's interior trim was of exceptional quality in the late 1990s and the upmarket materials used in cars such as the 600 and 800 were carried over into the Mini. As a result, the interior tends to last a lot better than the exterior. There are a few bespoke parts for the Mk7 that are rare as a result, including pre-tensioner seatbelts and the plastic trim around the rear storage bins, which tends to warp and rattle with age.
The immobiliser can sometimes be problematic and if it plays up a replacement body control unit is required, along with a central locking ECU and ignition barrel receiver ring.
Rover Mini: our verdict
The Mk7 Mini isn't the best-value Mini out there but it's the most refined, most usable and also one of the most sought-after generations, especially in Cooper special edition form.
As with any Mini, the Mk7 is a car that will put an instant smile on your face, as well as win admiring glances and public affection wherever it goes. Just be extremely careful not to buy one that's a stolen clone (if the VIN number looks tampered with or there's a distinct lack of paperwork, walk away) and check the bodywork extremely carefully. It's easy enough for an unscrupulous vendor to make a rough car look a million dollars with some cosmetic work, and with Mini values on the rise, there are those who find it all too tempting.
Buy a good one and you get an instantly rewarding classic that's a joy to own and drive – and one that will only increase in value if it is looked after.