If your garage is too small for a modern car, how about one of these perfectly sized classics to make the most of it?
Words: Paul Guinness
It is an anomaly of modern life that despite the average family car being bigger than ever these days, exacerbated by the rise of the SUV and the pressure on manufacturers to make their models even safer, the dimensions of the average domestic garage – and even the parking spaces we use every day – haven't changed. And so we end up with a majority of new-build garages being used to store bikes, freezers, lawnmowers and just about everything else other than the four-wheeled contraptions they were theoretically designed for. 
Most single garages tend to measure a maximum of six metres in length and up to three metres in width, although we've come across others that have been as compact as 5.8 metres by 2.5 metres. The door to the garage will obviously be even narrower – and once your car's inside, you need enough space to open the driver's door wide if you're to avoid a lifetime of sleeping behind the wheel.  
For so many of today's new cars, a single garage is a no-go area; but by treating yourself to a sensibly sized classic, it's easy to make the most of your garage and exploit its intended use. So, let's take a look at some of our top recommendations for classics that not only fit comfortably in a modern  garage but also allow enough room to work under the bonnet, as well as leaving space for a workbench at the end. 
Mini
When it comes to squeezing a classic car into a single garage, it doesn't get much easier than a Mini – the Issigonis-designed offering of 1959 that remained in production for an impressive 41 years. The front-wheel drive, transverse-engined, wheel-at-each-corner creation was so brilliantly packaged, it would take most European manufacturers another decade to catch up. 
Initially launched as the Austin Seven and Morris Mini-Minor, the Mini underwent numerous updates and refreshed identities over the years. From humble beginnings sprang the rally-winning Mini Cooper and Cooper S; and as the years wore on and the Mini came up against newer rivals, so it became increasingly well-equipped. Versions like the long-nosed Clubman and the later Mayfair, not to mention the Coopers of the '90s, were all a far cry from Issigonis' original idea of basic, utilitarian transport. 
So which version of the classic Mini is the best to go for? It depends on your needs – and your budget. The ultimate for many enthusiasts will always be the MkI Cooper S, but unless you've got £40,000-plus stashed away for a decent example, it's likely to be beyond your budget. Even a standard Mini Mk1 in show condition can be £20,000, which is around twice as much as a Mk2 (with wind-up windows and other updates) in similar order. A Mini City E or Mayfair of the '80s is a more affordable option, with good to excellent cars available for £5000-£8000, while a more sporting Cooper from the following decade can be had for £8000–12,000 in good to excellent order.  
Whichever version you go for, the Mini's biggest issue is inevitably rust. Yes, a Mini can corrode just about anywhere (they've more than their fair share of mud and moisture traps), with the most vulnerable areas including wings, A-panels, front and rear subframes, doors, floorpans and sills. Oh, and everywhere else made of steel. The good news, however, is that parts availability is superb. 
Morris Minor
Another Issigonis-designed model that's the perfect size for a standard single garage, the Morris Minor made it into the history books by being the first British car to sell over a million – and there are still plenty to choose from on today's classic scene, with the Minor remaining a firm favourite among first-time buyers in particular.  
From the earliest sidevalve-engined MM models, through the 803cc A-series updates and on to the eventual Minor 1000, the little Morris was developed steadily throughout its career. Most useable is, of course, that Minor 1000, launched in 1956 when BMC's A-series engine was uprated to 948cc (and 37bhp), usurped by a 1098cc (48bhp) version in 1962. Thanks to that upgrade, the final Minor 1000 offered a more relaxed driving style and noticeable extra power, keeping it competitive enough to remain in production throughout the 1960s.  
Admittedly, as the decade progressed, the Minor started to look increasingly old-fashioned next to a new generation of rivals, and yet it retained a loyal (albeit gradually diminishing) band of admirers even in its later years. The Tourer (convertible) was the first Minor to be killed off in 1969, followed by the two- and four-door saloons the following year, with the Traveller (estate) surviving through to 1971.  
So, which model makes the best buy now? An early Series MM might be an aficionado's dream, but it's not the most driveable choice. Instead, why not opt for a Minor 1000 (either 948cc or 1098cc) and revel in its extra power, better performance and improved gearbox – as well as its superior value for money. Prices for most Minors remain affordable, but it's the Minor 1000 saloons that are particularly suited to the budget-conscious buyer, with solid but cosmetically imperfect cars available from £4000 or so, with well-presented examples tending to be priced at £6000–7000. You'll pay considerably more for a Tourer or Traveller in the same condition, although their extra rarity adds to their obvious appeal.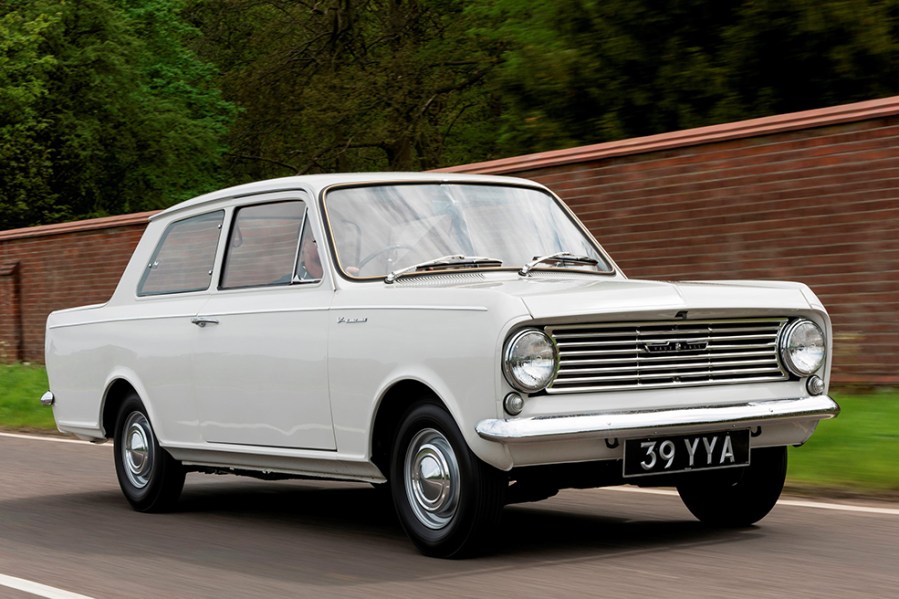 Vauxhall Viva (HA)
The arrival of the original Viva in 1963 marked Vauxhall's return to the small-saloon market, a sector that General Motors' British division was keen to get back into in order to compete with – and hopefully steal more than a few sales from – Ford's Anglia 105E and BMC's new 1100 range.  
The Viva was a pleasing looking machine, featuring clean and simple styling, a traditional rear-wheel drive layout, a new 1057cc OHV engine and an eager-feeling driving style. With 44bhp on tap, performance was lively enough, while an all-synchromesh gearchange and – in later years – high-geared steering helped to create a smooth and easy driving experience. You could even opt for front disc brakes as an optional extra, helping to give what was a fairly basic car some extra driver appeal.  
The most interesting HA of all arrived in 1965, in the shape of the Viva 90 – featuring a 60bhp high-compression version of the regular Viva's engine, as well as a Stromberg carburettor and performance manifold. And with servo-assisted front disc brakes as standard, it was an impressive sporting saloon offering more than 80mph flat out. Sadly though, fewer than 12,000 Viva 90s were produced, mainly due to it being launched so late in the HA's career. 
Elsewhere in the range, the Viva sold extremely well. Fans liked the fact that it was one of the lightest, most pleasing small cars to drive at the time, helping it to become a real success. In fact, Vauxhall ended up producing an impressive 321,332 HA Vivas during its unexpectedly short run, with the final vehicle rolling off the line as early as 1966, by which time the drastically different looking HB range was waiting in the wings. 
These days, an HA makes a great choice for anyone seeking a compact classic that's not as predictable a choice as some. And with very good examples usually fetching £4000–5000 (or up to £8000 if they're exceptional), it offers great value, too.
MG Midget
Given the success of the 1958-on Austin-Healey 'Frogeye' Sprite, BMC saw an opportunity to exploit the small-roadster market still further with its successor, hence the arrival of the Mk2 Sprite and its badge-engineered cousin – the MG Midget – in 1961. Fortunately for the world-famous Abingdon-based marque, it was the latter that proved to be the biggest hit, with the Midget enjoying an 18-year career and impressive global sales.  
The Midget was of monocoque style (a first for MG) and was very basic in design and layout. There were no external door handles, no wind-up windows and no luxuries of any kind. Power came courtesy of the same BMC 948cc A-series engine as the 'Frogeye', but its performance improved when the 1098cc version arrived in 1962 – the first of several engine changes for the Midget. It would subsequently receive 1275cc A-Series power, before the launch of the 'rubber bumper' Midget 1500 in late 1974. 
As the Midget matured, so its specification improved. Trim levels rose, as did power and performance. Favourite among many enthusiasts is the Mk3 Midget; with its 1275cc rev-happy engine, still-traditional looks and upgraded interior, this is perhaps the most useable and most likable of all the classic Midgets. 
The 1975 model year saw the Midget receiving similar 'rubber' bumpers to the MGB, while the adoption of an ex-Triumph engine was also seen as a backward step by many MG patriots, particularly given the traditional rivalry between earlier Midgets and Spitfires. These days, however, the 1500 offers the best Midget value and is less controversial than it once was.  
Any Midget will easily fit in a single garage with plenty of room to spare – though if your storage is very tight, bear in mind that the later cars are three inches longer than the earliest. Values vary widely, but £8000–10,000 should buy you an excellent 1500 that's ready to show, with solid and mechanically healthy examples from as little as £4000–5000. You'll pay significantly more for a Mk1-Mk3 in similar condition, though many enthusiasts consider the extra outlay well worthwhile.
Mazda MX-5 Mk1
When Mazda unveiled its eagerly awaited new MX-5 in 1989, the response couldn't have been more favourable. The two-seater sports car market had declined dramatically in the 1980s, but Mazda's new arrival looked set to reverse the trend.  
At last, here was a traditional roadster that looked good enough to beat the all-conquering hot hatch in the style stakes. And with a traditional rear-wheel drive layout, simply-to-operate soft-top and eager performance from its front-mounted twin-cam engine, it had all the right ingredients to appeal to sports car traditionalists. No wonder the MX-5 was such a big hit, with the 250,000th car rolling off the line as early as 1992.  
Despite the Mazda MX-5 being so well-received (particularly in the UK), Mazda couldn't afford to rest on its corporate laurels, hence the 1992 adoption of a stiffer rear subframe to reduce motorway-speed vibrations, while the following year saw catalytic converters installed on all UK-spec cars. The biggest change, however, came in 1994 when the new 1.8-litre (128bhp) MX-5 was introduced to replace the 1.6.  
A 1.6-litre model was reintroduced in 1995, this time with just 88bhp to make it significantly different from the 1.8. Performance obviously suffered, but the new entry-level model still offered the same kind of entertainment as any other MX-5, as well as some no-frills value for money. Various limited-edition models were also launched before the final Mk1 MX-5 was built in 1998, using such diverse names as Gleneagles, Monaco, California, Merlot, Dakar, Monza, Harvard and Classic. 
Mk1 MX-5s can still be picked up from around the £2500 mark, but they'll inevitably need cosmetic work – and you'll need to be on the lookout for rust. Around £5000 should buy you a solid and presentable example, with exceptionally low-mileage cars achieving £10,000–12,000 or more.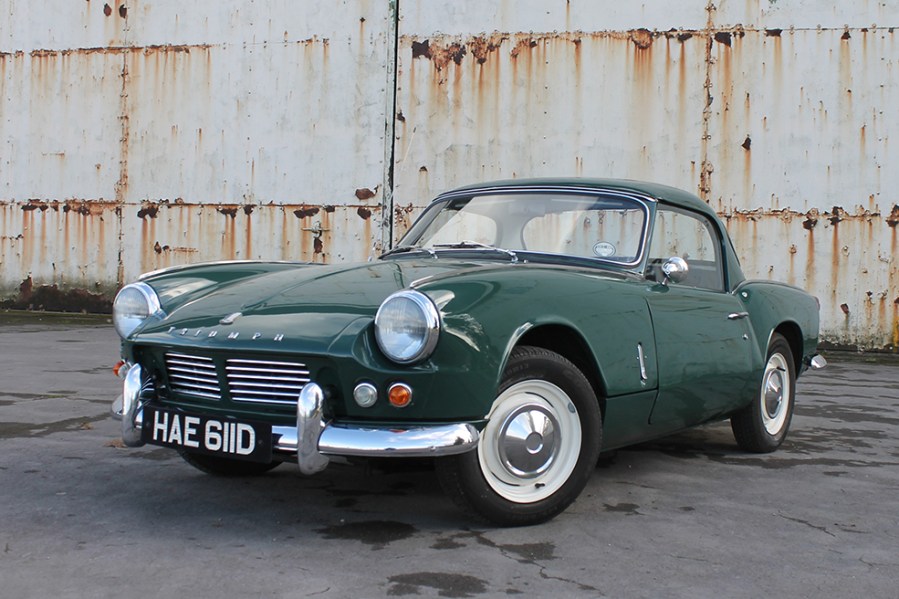 Triumph Spitfire
When the original Triumph Spitfire first appeared in 1962, the concept couldn't have been simpler. Take one Herald-derived backbone chassis, fit twin SU carburettors to the 1147cc engine, clad the whole lot with a two-seater bodyshell and you had the perfect recipe for an MG Midget competitor.  
Sports car fans loved the look of the Spitfire, and enjoyed its lively (63bhp) performance. What wasn't so highly praised, however, was its handling; the Spitfire featured the Herald's coil and wishbone suspension set-up with a single transverse-leaf swing-axle arrangement bringing up the rear, which meant major oversteer when pushed hard.  
Just two and a half years on from the launch of the original Spitfire came the Mk2, hitting the streets in March 1965 and boasting extra power (67bhp) and improved performance. But within another couple of years the Mk3 was being launched, complete with a raised-height front bumper for a more modern look. Also new was a proper folding soft-top for the first time, plus a larger, more powerful engine in the shape of the 1296cc unit from the Herald 13/60 – fitted with twin SUs for an official output of 75bhp.  
The biggest change came in 1970 with the launch of the restyled Mk4 Spitfire. Its one-piece bonnet was longer and sleeker than before, while the rear featured a squared-off look reminiscent of the Stag. The Spitfire's handling was at last improved too, thanks to the introduction of a new 'swing-spring' rear suspension design. The final version of the Spitfire – the 1500 – was launched in late 1974, its most significant change being the adoption of Triumph's 1493cc engine; the very last Spitfire 1500 finally rolled out of Canley in August 1980.  
Spitfire values have climbed in recent years, although it still offers good value. Superb examples can top £12,000 (possibly more for an exceptional early car), although around £6000–8000 should secure a very tidy Mk4 or 1500 in a private sale.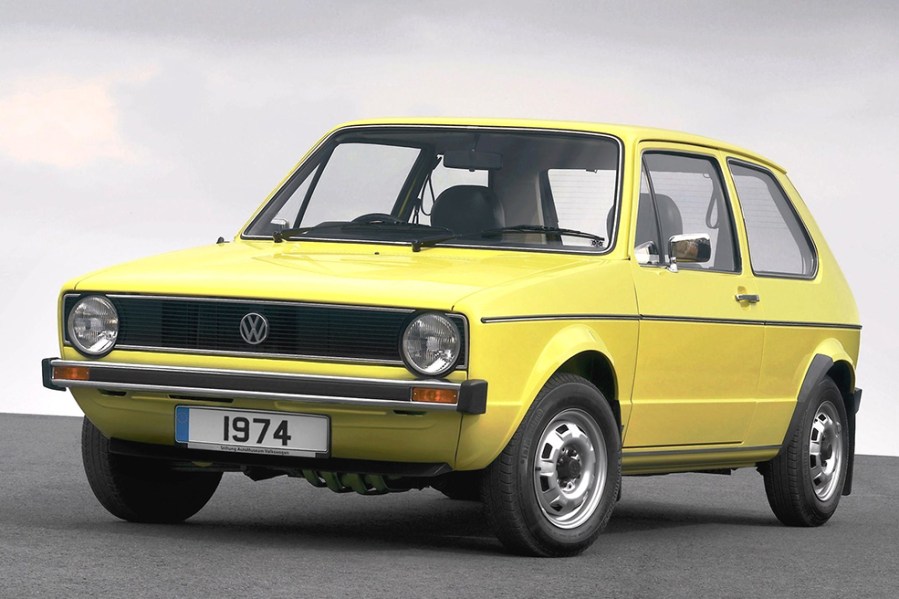 Volkswagen Golf Mk1
Of all the family hatches launched during the 1970s, the original Golf arguably set the standard. Following hot on the heels of the Passat, the Golf arrived in 1974 to revolutionise the small-saloon market – except, of course, it was a hatchback with front-wheel drive and a sharp, modern driving experience as part of the mix. Just as the small-car market was being shaken up by a new breed of superminis, so the family car scene was about to undergo the same transformation. 
Most famous of all the derivatives is, of course, the GTi; but there's far more to the original Golf than that legendary sporting version. This, after all, was the range that helped to change Volkswagen's reputation forever, finally moving the company forward from its increasingly outmoded air-cooled days. During the lifetime of the Mk1 Golf, a plethora of 'normal' models was offered, with a choice of 1.1-, 1.3-, 1.5- and 1.6-litre petrol power, plus a 1.5-litre diesel (finally upgraded to a 1.6-litre) that came along in 1978.  
The Mk1 Golf was steadily developed throughout its highly successful career, though its styling remained largely untouched (and justifiably so) thanks to the timeless-looking lines created for Volkswagen by Giugiaro. The GTi derivative (on sale in the UK in right-hand drive form from 1979) combined a fuel-injected version of the Golf's 1.6 motor – later increased to a 1.8 – together with beefed-up suspension, sharper steering and bigger brakes. And the end result was a genuine sports car in a hatchback body, exactly the kind of machine that was to prove phenomenally popular as the '80s arrived.  
GTi prices have shot up in recent years, with excellent cars often advertised at £15,000–20,000 (or substantially more if exceptionally low-mileage), although it's still possible to spend £4000–6000 on a tidy non-GTi Golf that's ideal as a classic daily driver – and at less than 3.74 metres in length, an easy fit in any garage.
Ford Fiesta Mk1
Debuting in mainland Europe in 1976 and on sale in the UK from the following year, the Fiesta marked Ford's long-awaited entry into the supermini sector. Crucially, it was also the Blue Oval's first ever front-wheel drive production car.  
The Fiesta boasted a new range of engines known as 'Valencia', although its roots lay in the old 'Kent' line-up that dated from 1959. No matter; these 957cc and 1117cc units gave eager performance, and would eventually be joined by 1.3- and 1.6-litre derivatives for those who wanted more oomph. All models featured the now-standard transverse layout with an end-on gearbox.  
Where the Fiesta truly impressed (even with its smallest engine) was in its driving style. It went well, handled nimbly, boasted a slick gearchange and sharp steering, and was one of the most fun-to-drive machines in its class. That it was also exceptionally spacious was the icing on the supermini cake. Whether buyers chose the entry-level Fiesta (later usurped by the Popular version), a mid-range model or the top-of-the-range Ghia, they could be confident they were buying one of the finest superminis of its era.  
Any fears that the Fiesta's Spanish origins might deter Britain's more patriotic buyers were unfounded; if Britain wasn't offering a supermini of its own (which it wouldn't until the Austin Metro's arrival in 1980), there was no choice but to buy a foreign-built alternative. The original Fiesta lasted through to 1983, although its Mk2 successor was little more than a revamp featuring new front-end styling and an updated interior.  
These days, the Mk1 Fiesta is in demand from younger enthusiasts in particular. The sportiest XR2 can command serious sums, with £15,000–20,000 not unusual for one in excellent to exceptional condition. Lower down the range though, there's better value; a regular Fiesta can be picked up in good order for £2500–3500, with an asking price of £5000-plus being reserved for a low-mileage gem.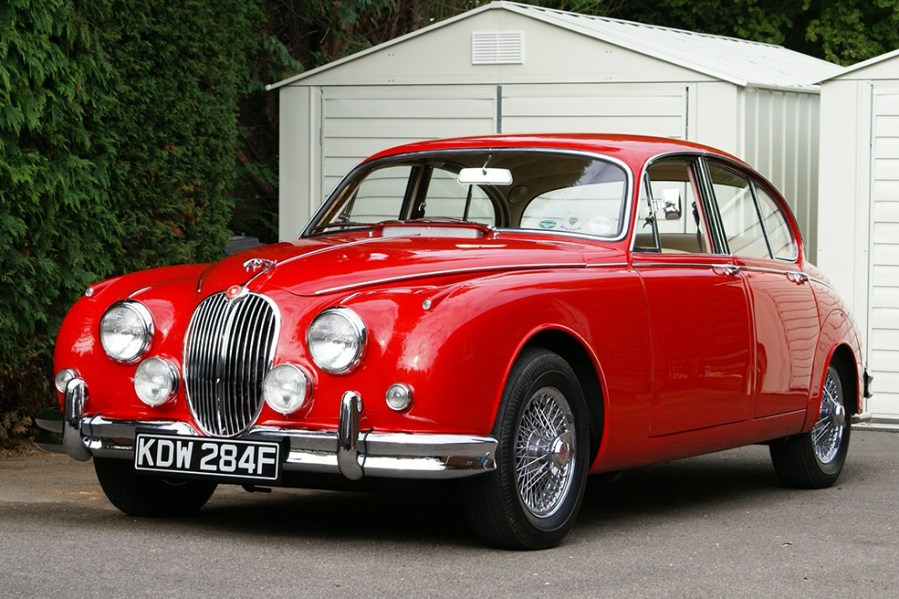 Jaguar Mk2
Rather more upmarket than most of the cars featured here, the Mk2 is one of the few classic Jaguars that will comfortably fit in a single garage, with its overall length of 181 inches (just under 4.6 metres) leaving a little space each end. It's a tighter fit than most of the cars we've chosen, but it is do-able. 
The new-for-1959 Jaguar Mk2 took what was already a handsome model (which we now know as the Mk1) and transformed it into one of the most desirable classic Jaguar saloons of all time. Although it carried over many elements of its predecessor's monocoque bodyshell, it was surprisingly different in overall appearance thanks to a major increase in glass area, with deeper side windows, a larger windscreen and rear window of wrap-around design.  
Combined with a redesigned grille and new-look lights, the overall effect was quite dramatic, with the Mk2 having the appearance of a genuinely new car. Mechanically, meanwhile, there were plenty of familiar features, including continued use of the Mk1's 2.4- and 3.4-litre straight-six powerplants, now complemented by a range-topping 3.8-litre version. Other improvements included the standard fitment of Dunlop disc brakes, as well as a wider track for improved handling.  
The imminent arrival of the XJ6 saw the Mk2 killed off by late 1967, though two re-branded versions – the Jaguar 240 and 340 – were then launched, with an interior that was downgraded via the use of vinyl upholstery. Both models were only ever intended to be stop-gap designs, however, hence the disappearance of the 340 as early as 1968, with the Jaguar 240 ceasing production the year after. 
The very best Mk2s are now achieving extraordinarily high prices, though a 3.8 in good to excellent condition should be achievable for £45,000–60,000. The later 240s and 340s are amongst the best value, with a good example of the smaller-engined model available for around £15,000–20,000 if you're lucky. As single-garage classics go, the Mk2 is surely among the most desirable.