No longer the classic bargain it once was, the Anglia 105E remains a popular choice among Ford enthusiasts. Here's how to buy
When a car is described by its maker as 'new', it often turns out to be little more than a facelifted version of what's gone before. But when Ford's latest Anglia (codenamed 105E) made its debut at the 1959 Earl's Court Motor Show, just about the only thing carried over from its predecessor was the name.
The all-new Anglia's styling was, of course, its most noticeable feature, from its controversial reverse-rake rear window to its gently sloping bonnet framed on either side by front wings that thrust the headlamps well forward, further exaggerated by well-designed brightwork. At the rear, meanwhile, a pair of tail fins with appropriately sharp rear indicators protruded from the boot line, their length enhanced by the backward slope of the rear screen.
Under that adventurous bodywork, the changes continued. Biggest news was the announcement of a brand new over-square 997cc OHV engine, marking the start of the 'Kent' generation, a series of powerplants that would go on to enjoy several decades of success throughout the Ford line-up. Making the most of this new engine was the Anglia's equally fresh four-speed transmission (the first time four gears had ever been fitted to a small British Ford), boasting synchromesh on all but first. Decent handling was assured thanks to the Anglia's MacPherson strut front end and leaf-sprung rear, a layout that would become familiar to other Ford buyers of the '60s and '70s.
Only Standard and Deluxe saloon versions of the Anglia 105E were available initially, though in 1961 came the new Anglia estate and van models. The most exciting moment in the Anglia's development, however, came in 1962 with the announcement of the new Anglia Super, a more upmarket model featuring a 1198cc derivative of the 'Kent' engine, which would also find its way into that year's new Consul Cortina.
The difference was immediately noticeable, with the Super (known as the 123E) having its top speed boosted to around 83mph and the driving experience further improved by the adoption of synchromesh on all four gears. Aesthetics also received a lift via the Super's two-tone paintwork with chrome-trimmed side flash and matching roof colour, while inside there were thicker front seats, a padded dashboard top and carpeting throughout.
The same 1198cc engine could also be specified for the Deluxe saloon as well as the estate, giving Anglia buyers of the '60s plenty of scope to choose their ideal spec. And, of course, the Anglia went on to be a major hit for Ford both in the UK and overseas, remaining in production through to November 1967 – by which time 1,083,960 examples (excluding the van) had found buyers.
Looking back on the Anglia 105E now, 62 years on from its Earl's Court debut, we can appreciate just how much of a risk Ford took with its design. Given the costs involved in creating a brand new car from scratch, the company's management was brave to sign off the newcomer's unique look. But it was a risk that worked, with the Anglia becoming a major hit – and it's a car that still has a healthy following all these years later.
Indeed, as with other Fords of the 1960s, demand for the Anglia over the last decade or so has seen values soaring; no longer is it a 'cheap and cheerful' option for today's first-time classic buyers.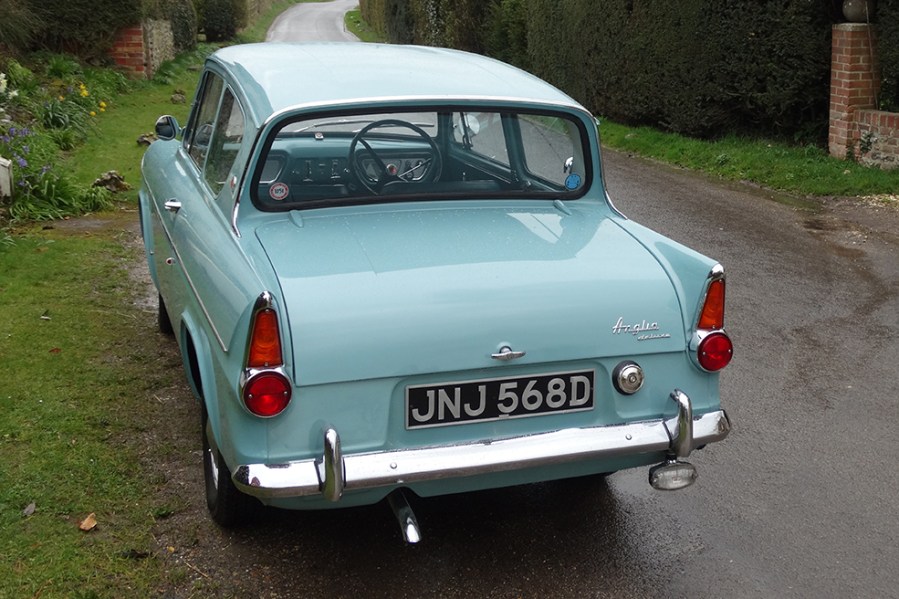 Bodywork
Although no more rot-prone than other monocoque saloons of the '60s, the 105E/123E series can have serious rust issues if neglected. When buying, it's therefore essential that you're on the lookout for structural problems as well as rusting outer panels, especially as the latter can be very expensive to replace.
Starting with the structure, the inner and outer sills both sides are prone to rot, as are all four jacking points; there's also a centre sill section that's hidden but just as likely to corrode. The rear leaf spring mounts can rust through, as can the rear crossmember and boot floor. It's not unusual to find holes in the floorpans (particularly the outer corners and edges of the fronts), while the A-pillars on both sides can also rot – usually from the bottom upwards, which eventually affects the door hinge areas.
Under the bonnet, the flitch panels and inner wings around the front struts will often have been repaired, the latter rotting from behind thanks to mud and salt collecting underneath; if repairs have been carried out to the metalwork around the strut tops, make sure they've been done to a good standard and aren't simply hiding the problem.
If the Anglia you're buying has structural issues, you'll find that reproduction repair sections are available from Ex-Pressed Steel Panels (steelpanels.co.uk), but costs can soon escalate if your shopping list is extensive. A complete boot floor will cost around £475 including VAT, rear spring hangers are over £180 each, outer sills are almost £193 a side, and the outer skin panel for the A-pillar is over £155.
Outer panels are just as prone to rust, with the front wings being particularly vulnerable; rot usually sets in around and over the headlamp area as well as the rearmost edge of the wing, running almost its entire height in line with the A-pillar. New-old stock Ford wings are very scarce, but Ex-Pressed Steel Panels can again come to the rescue – although they involve a hefty outlay of just under £893 each, with a manufacturing lead time of up to eight months. Wing repair sections are also available, with the complete headlamp area costing around £231 per side.
Door skins are also prone to rust, particularly around the centre (below the trim line) where there's a join between the skin and an inner steel section. Rear wheelarches can also rot through, as can the lower parts of the rear quarter panel – though once again, repair sections can be ordered. The rear valance (a purely cosmetic item) is rust-prone, and a new one will set you back around £155.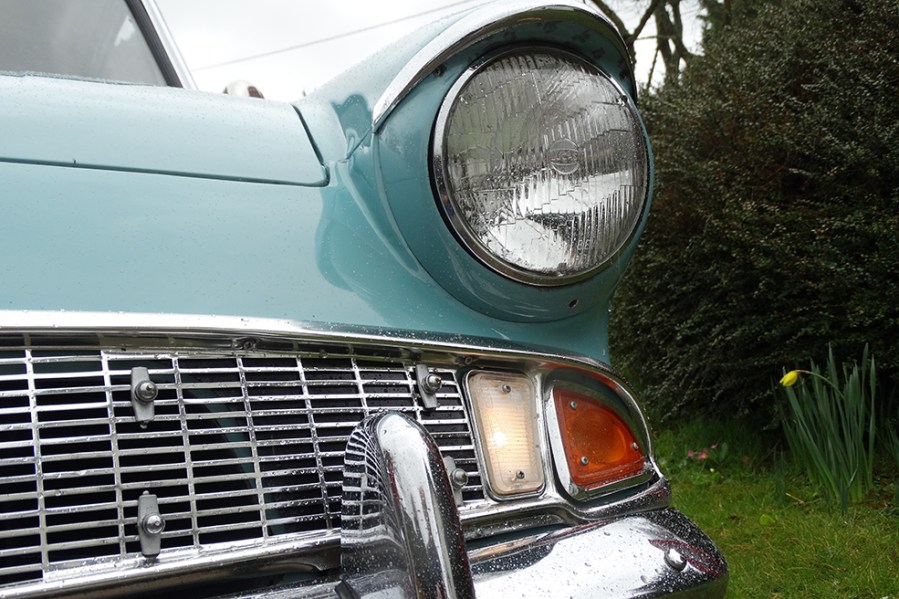 Engine and transmission
The 997cc Kent engine is known for being stronger than the 1198cc version, with the latter being prone to premature bearing wear. Having said that, either unit can show signs of wear, usually via a combination of a rumbling bottom end, high oil consumption and blue smoke. Both engines are also prone to rattling camshaft chains, as well as rotting out their core plugs and leaking oil.
A professional engine rebuild is likely to cost you from around £2000, though companies like Newford Parts (newpartsonline.co.uk) offer them on an exchange basis if you're not too concerned about retaining the original unit. The same firm also offers upgrades, in case you should be tempted to swap your 997 or 1198cc 'Kent' for one originally destined for a Cortina 1500. That was a particularly popular conversion in the 1970s and '80s, and remains so today – although any increase in power may mean also looking at improvements to your Anglia's braking and suspension.
The gearboxes in both the 997cc and 1198cc Anglias are robust, though crunching synchromesh on second gear (and first for the bigger-engined model) suggests excessive wear, as does gearbox 'whine'. Jumping out of second is a sign of wear in the selector rods. Oil can leak from the back of the input shaft, and it can seep out of the diff's nose bearing, which has an often-perished integral oil seal in its casing. An Anglia underside that is completely free of oil and other leaks is likely to have been recently restored!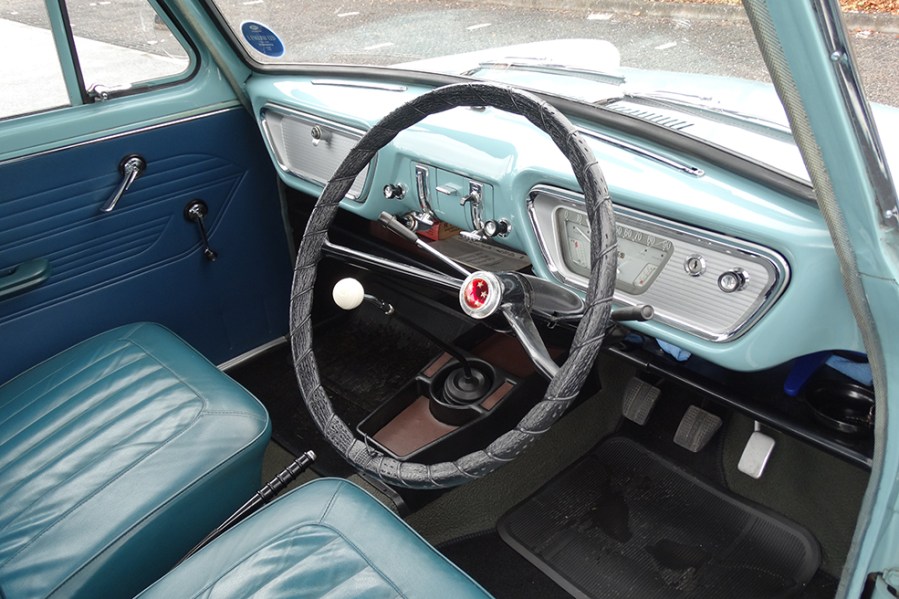 Interior
The Anglia's interior is simple, with Standard and Deluxe models featuring rubber flooring and the Super having the luxury of carpet. All models have vinyl upholstery, although the designs did change during the Anglia's lifespan, with early cars in particular often featuring two-tone trim. Front seats in the Super are thicker and more supportive than those in the Deluxe; the vinyl itself wears well, but it's not unusual to find springs poking through.
If your Anglia's interior is badly worn, Aldridge Trimming (aldridge.co.uk) offers a range of solutions, including new front and rear seat covers (from around £309 per pair and £273 respectively) in a choice of two-tone and single colours, as well as brand new door cards and rear side panels. The same company also sells carpets sets and authentic looking headlining kits for the Anglia.
Front and rear screen seals often crack and perish (new ones are available), so it's important to look for signs of leaks. Check whether the interior smells damp, and have a poke around for any rot that may be hiding underneath the floor covering.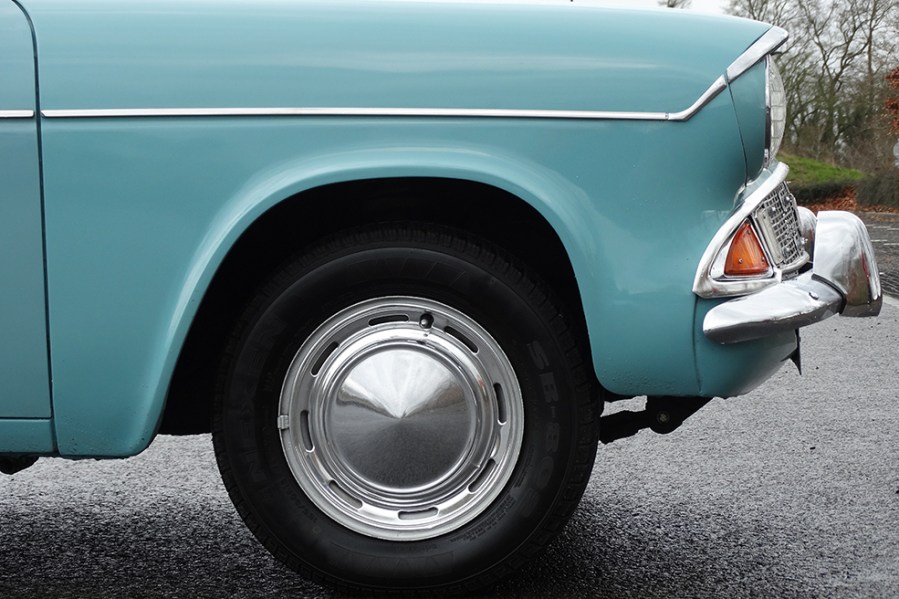 Suspension, steering & brakes
With MacPherson struts and coil springs at the front and leaf springs and lever-arm dampers bringing up the rear, the 105E's suspension layout is typical of this era of Ford. Parts are readily available, and it's certainly worth joining the Ford Anglia 105E Owners' Club (105eoc.com) to take advantage of its excellent spares scheme.
Aside from the usual checks for damper leaks, sagging rear leaf springs and worn front struts (which will be obvious if the handling feels unusually sloppy), it's vital to check the condition of the strut mounts in the engine bay, as it's common for the rubber to perish and weaken the whole mount. New strut mounts are available, with Newford Parts charging around £70 each. The same company will sell you a fully-rebuilt genuine front strut for just over £175, with original-spec inserts priced at around £120 each. New rear dampers are available from Small Ford Spares (smallfordspares.co.uk) for just over £157, although reconditioned units can be had from around £77 each.
If the steering feels vague or there's a wobble at speed, it's likely to be caused by a worn idler joint on the drag link; the club's solution is to offer a remanufactured replacement with a modified idler joint. Most steering parts are available from the club and independent specialists, and the car's basic steering-box set-up is simple enough to work on.
The all-drum, non-servo braking system in the Anglia could hardly be any simpler. It's easy to work on, and the good news is that parts are both reasonably priced and readily available. Newford Parts sells axle sets of new brake shoes for less than £50, while a new master cylinder will set you back around £90 and wheel cylinders start from just £20.
Should you wish to upgrade your Anglia's braking system, you'll find various specialists offering disc brakes conversions using modern components, although the most popular upgrade in the 1970s was to fit Ford Classic front struts and discs – a route still favoured by some of today's traditionalists.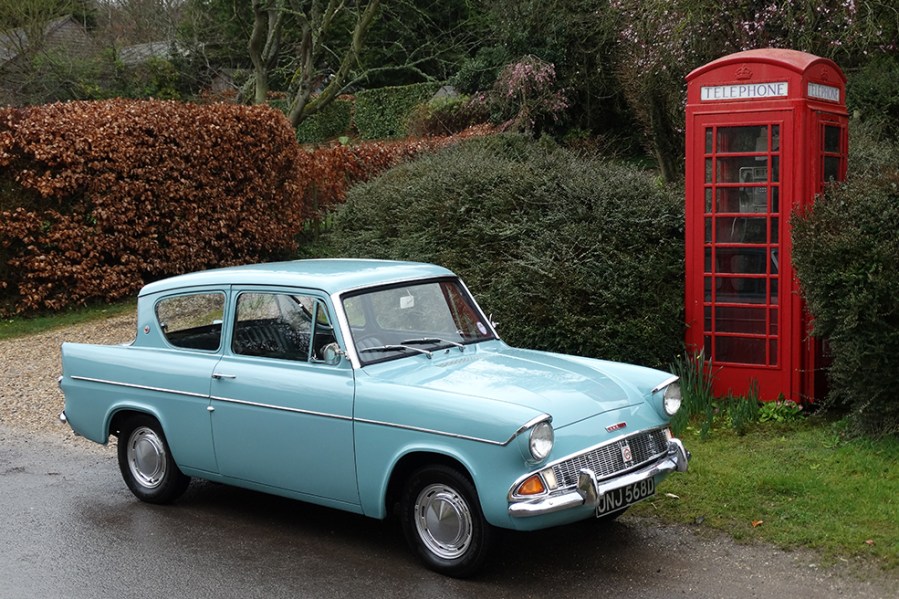 Ford Anglia 105E: our verdict
The days of bargain-priced Anglias are long gone, as are the chances of being able to pick up a rolling project for a few hundred pounds. Values have been on the rise for a good number of years, but the last decade saw them escalate at a rapid rate. The Anglia remains a tempting choice, of course, thanks to its 60s-style head-turning looks, its simple engineering and its pleasing driving style.
The relatively rare estate tends not to be worth any more than an equivalent saloon, but there's an argument that the 1200 Super saloon should be a little more expensive than the more spartan Deluxe.
Whichever model you opt for, it's no longer the highly affordable starter classic it once was, but it's still a great choice.