Want more power and performance from a classic hot hatchback without relying on turbocharging? These hot-hatch icons have the solution: 16-valve engines
Words: Chris Randall
The 1980s had already seen some car makers turn to turbocharging to make their hot hatchbacks even hotter, but as the decade progressed another route to more performance was becoming more and more commonplace. 16-valve cylinder heads might not have seemed quite as exciting as the fire and fury promised by a turbo, but it were a very effective way to boost power without all the complication that went with forced induction. Indeed, the late 80s and early 90s saw something of a multivalve revolution, resulting in some very entertaining models with no shortage of desirability among them. Join as we take a look back at some of the most notable.
Volkswagen Golf GTI
The Golf GTI wasn't the first hot hatchback but it is the car many associate with the genre, and replacing the original was no easy task. But VW pulled it off with some aplomb, the Mk2 Golf feeling more grown up and robust but still more than capable of entertaining when you were in the mood. However, it was clear that more power was needed if it was to stay competitive, and that would come in 1986 with the launch of the 16-valve.
Power output was up to 139bhp, which was 24 per cent more than the 8-valve engine. And while the overall performance gains were modest, with a 0-60mph arriving in just under 8 seconds, this was an engine that really came alive at higher revs. It rewarded a bit of extra commitment, and with suspension lowered by 10mm and stiffened by 10 per cent at the front and 19 per cent at the rear, it was more than capable of making good use of the added 16-valve shove. There were larger brakes, too, although power-assisted steering didn't become standard until 1990. It's not overly heavy without but parking is a bit more of a chore than you'd want it to be.
It cost £1900 more than an 8-valve model at launch but with the usual classy looks, terrific build quality and decent levels of standard kit it felt worth the extra. Today, good ones cost from around £11,000 and there's not a great deal to worry about; engines will cover 150k miles before a rebuild but keep an eye out for corrosion.
Vauxhall Astra GTE
The aerodynamic Mk2 Astra was a real departure from the first generation, plus it offered gadgetry such as a digital dashboard. However, hot hatches are all about performance, and while the GTE was on a par with rivals it was crying out for something to lift it above the rest of the pack. Enter the 16-valve model.
Appearing in 1988, its DOHC 'red top' engine featured plenty of tasty upgrades, from forged pistons and sodium-filled exhaust valves to a tubular stainless steel exhaust manifold. The result was a very impressive 156bhp – a hefty figure for a hot hatch that was enough for 0-60mph in 7 seconds and a 135mph top speed. The punchy performance impressed motoring journos of the day, even compared to turbocharged opposition. Refinement was decent but some did complain of a harsh ride. The stiffer suspension can be thanked for that, but Vauxhall went further with mods such as altered geometry, revised mounts for the steering rack and rear discs instead of drums.
The gearbox and clutch were beefed-up, too, and the raft of improvements added up to a very entertaining whole. No, it wasn't as suave as the Golf but if outright pace was what you wanted it was a cracking effort. Unfortunately, many examples fell foul of rust and abuse, while finding trim and other parts won't be easy. Persevere with the search though, and you should bag a nice example for around £10,000. You won't be disappointed.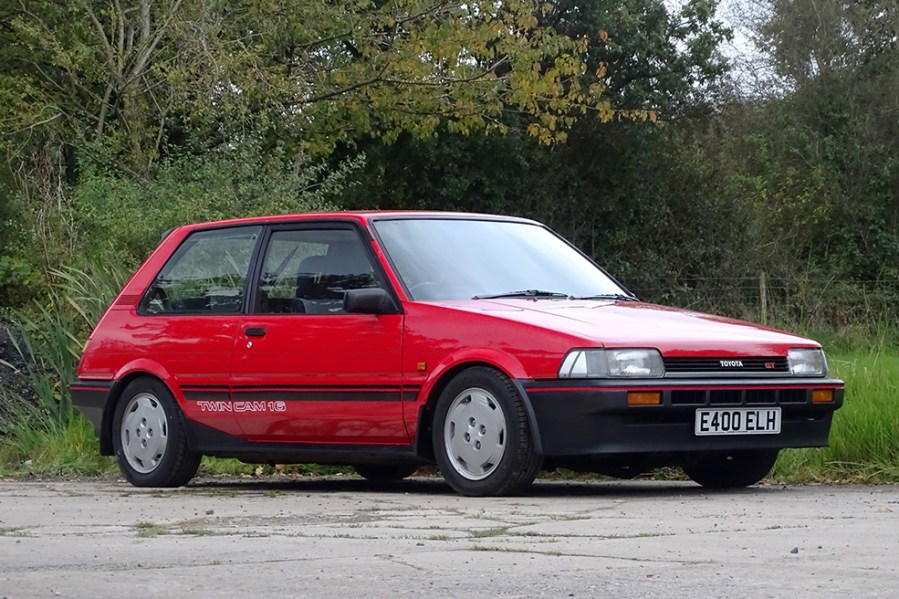 Toyota Corolla GT-i 16
Many mass market European manufacturers wouldn't recognise the marketing value of 16-valve cylinder heads until the early '90s, but Toyota got in there quicker with a hot hatch that somewhat forgotten – the AE82 Corolla GT. Featuring the same 4A-GE 1.6-litre engine that had already appeared in the rear-wheel drive Corolla AE86 and would feature in the mid-engined MR2, the GT arrived in 1985 with 119bhp sent to its front wheels and the same three-door bodyshell as the Corolla GL.
While the AE86 was aimed at the motorsport market, the AE82 had a different target. "The new FWD Corolla GT will appeal to the young enthusiast driver of any age who wants a fast but civilised road machine that will match the hot hatchbacks from France, Italy and Germany," read Toyota's literature.
It wasn't the fastest hot hatch of its era – 0-60mph took around 8.7 seconds – but the fact that it revved freely to 7600rpm provided an extra layer of character. Combined with crisp handling and agile responses, it made for an entertaining car. You also got all-disc brakes, along with plenty of standard kit and the promise of fine reliability.
The AE82 GT was on sale for just two years before it was replaced in 1987 by the smoother – but less aerodynamic – AE92 model, with the newly titled GT-i 16 featuring a slightly revised 4A-GE engine producing 123bhp. However, it was a little slower from standstill to 60mph, taking 9 seconds. This version was part of the seventh-generation Corolla range, which was on sale until 1992.
Sadly, both the GT and GTi-16 are rare cars today. We saw an example of the former sell for £10,000 at auction in February, and if you manage to track down a sound example of the latter, then expect to pay around £8000. That feels like a bit of a bargain.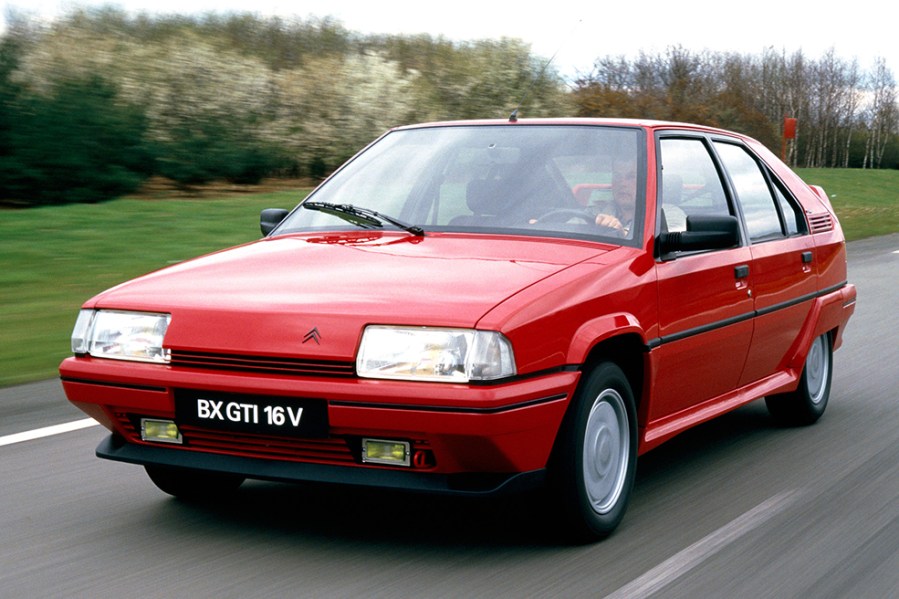 Citroen BX GTi
The BX – the car that 'Loves Driving, Hates Garages' – might be celebrating 40 years since it arrived in the UK but the Marcello Gandini styling looks as sharp as ever. It's a great French classic, but its performance that interests us here, and while 1985's GT was a step in the right direction, our sights are set on the GTi 16-valve that appeared in May 1987.
Adding a special DOHC cylinder head to the 1905cc XU9 alloy block resulted in a punchy 158bhp and 177Nm of torque, enough to shove the Gallic hot hatch to 60mph in 7.6 seconds. That was bang on the pace, and the performance was allied to a driving experience that felt agile and responsive with the added bonus of a comfortable hydropneumatic ride. It's a rather beguiling combination if we're honest, and one that appeals as much today as it did more than 35 years ago.
The BX's case is further helped by the body-kit that added some purpose to the looks, and the roomy and well-equipped cabin. More heavily bolstered sports seats are the main giveaway to its sporting pretensions, and though the plastics are all a bit brittle, that's easy to overlook. If you're tempted, then you'll want to check a prospective purchase for rust and any suspension or electrical issues, but the good news is that even nice cars only fetch £4000-5000. And with so few left on the road this is a GTi that needs saving.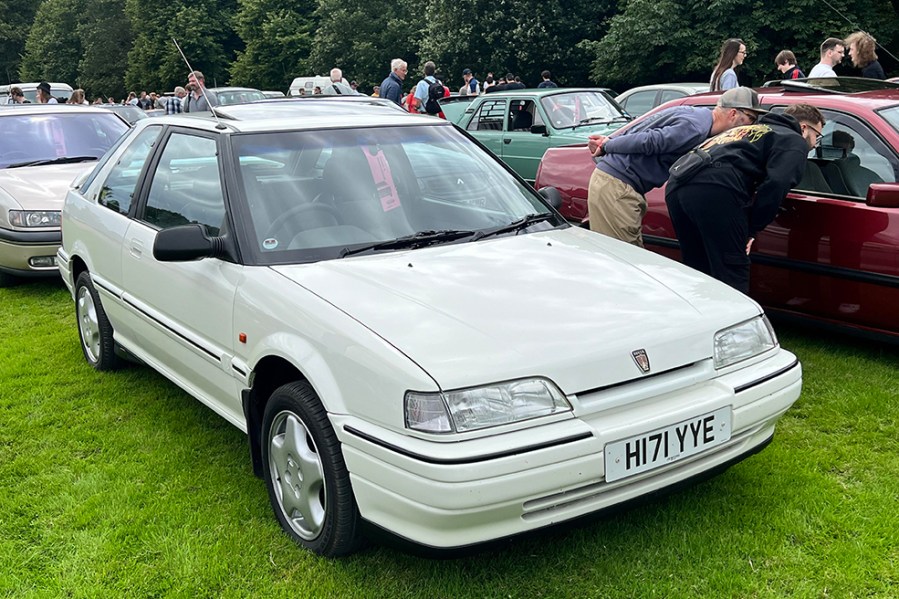 Rover 216 GTi
We're big fans of the Rover R8, a family car contender that arrived back in 1989 and gave the likes of the Ford Escort and Vauxhall Astra something to think about. You could have a saloon variant with a GTi badge but we're more interested in the three- and five-door hatch that debuted in 1991 and boasted a 16-valve 1.6-litre Honda engine that in twin-cam guise made a useful 130bhp.
Good for 123mph and 0-60mph in 8.5 seconds it could certainly take on its hot hatch rivals at their own game, and alongside the decent performance buyers got a car that handled adeptly, too. With nicely-weighted power-assisted steering and a responsive chassis set up it felt very much at home on a twisty B-road, especially in the wet, and when you weren't in the mood it was quite happy playing family hauler. Rover's contender looked quite under-stated with 15-inch spoked alloy wheels the main giveaway to its hotter status, while inside you'd have found a roomy and comfortable cabin with plenty of standard kit and some leather trim.
Like all R8s it felt classy and well screwed together, with the only real blot on its copybook being short gearing that affected high-speed refinement; it's something that period road testers complained about, but with plenty of other talents we can't say it's something that would worry us today. As with some other models here this one's rare with just a handful left on the road, and that makes them difficult to value; budget a few thousand pounds for a decent example.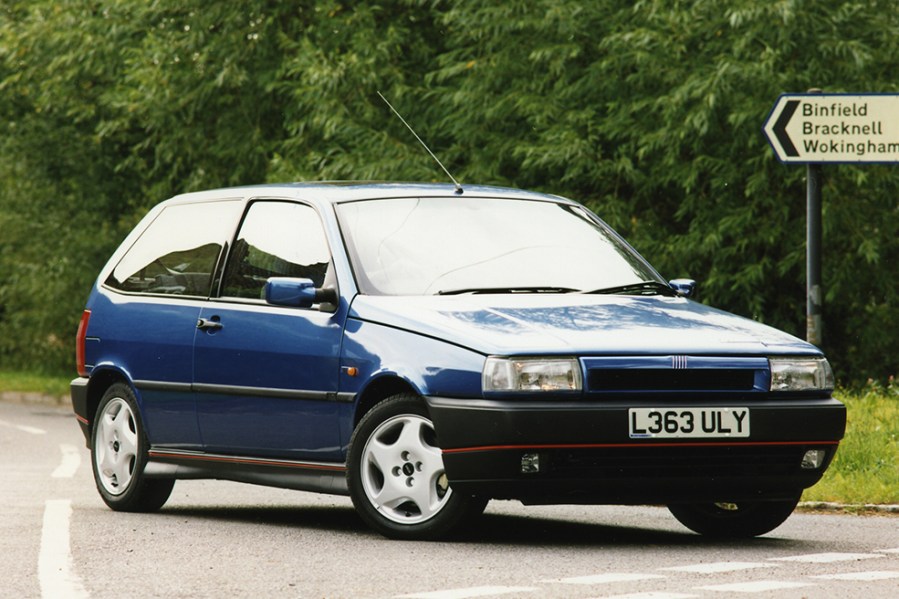 Fiat Tipo Sedicivalvole
We've already mentioned that some of the cars here are on the rare side, but with the number left on the road into low single figures this is likely the scarcest of the lot. Still, don't let that put you off as this would make for an interesting choice. Fiat are no strangers to the hot hatch game, having previously given us the likes of the Strada Abarth, but the Tipo was a boxier, more spacious affair that provided ample punch thanks to a 2.0-litre engine borrowed from the Lancia Thema.
With almost 150bhp on tap it could hit 60mph in a smidgeon over 8.0 seconds and go on to 130mph, so buyers that opted for the Fiat wouldn't have felt short-changed. And the fact that it undercut the likes of the Golf and Astra on price might have provided further temptation to look to Italy for driving thrills. Stiffer suspension was part of the package and handling was secure and accompanied by plenty of grip, even if it wasn't quite as fun as some rivals.
It was also fairly understated on the outside while the cabin gained sports seats and a leather-wrapped Momo steering wheel to add a bit of glitz. Mind you, various road testers of the day remarked on how unpleasant the gear knob was to hold! We could probably forgive it that, though, given the enjoyment to be had from wringing out the twin-cam motor, and also the fact that 'Sedicivalvole' sounds a lot better than plain old 16-valve…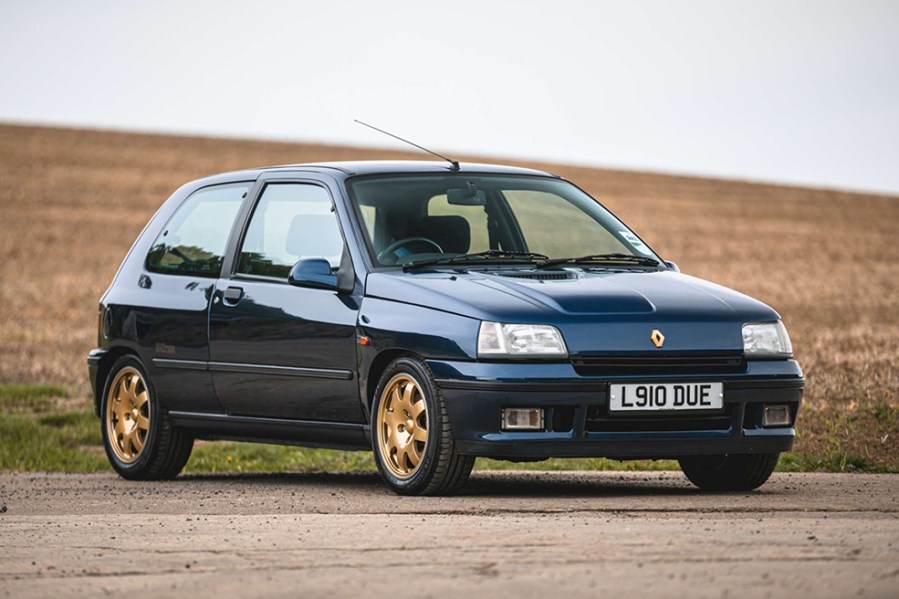 Renault Clio Williams 1
The 1990 arrival of the 19 16S (or 16V as it was known in the UK) marked a change in policy at Renault, which had long relied on turbocharging for its performance models. It's 1.8-litre 16-valve F7P engine produced 138bhp and was an entertaining, rev-happy unit.
However, it was in 1991 that arguably the true successor to the Renault 5 GT Turbo arrived – the Clio 16V. Fitted with a catalysed version of the same F7P engine, it boasted 137bhp (15bhp more than the GT Turbo) and was good for 130mph.
However, this was only the warm-up act for the legendary Clio Williams, which arrived in 1993. It was named in honour of the Williams-Renault team's F1 Constructors' title the previous year, when Nigel Mansell scored a record nine wins in the Williams-Renault FW14B. OK, the cars were built Dieppe facility rather than at Williams' Didcot factory, but that didn't matter. In any case, the aim was to homologate its new F7R engine for rallying. Developed from the F7P, it was enlarged to 2.0-litres and produced 145bhp, which made the Williams good for 0-60mph in just 7.6 seconds.
But it was a lot more than simply a 16V with a bigger motor. The Williams also looked the part thanks to its wider track and the combination of 'Sports Blue' paint with gold Speedline wheels. Renault had to build 2500 road cars for homologation, but the original run of 3800 was supplemented by another 1600, and by the time the subsequent Williams 2 and Williams 3 editions were completed, 12,100 had been made.
The Williams 1 was lighter and featured less kit than the later iterations, which makes it the model of choice for many. Only 390 came to the UK with a price tag of £13,275, and 30 years on you'll need to pay a couple of thousand more than that to get your hands on a good one, while the very best can fetch more than £30,000.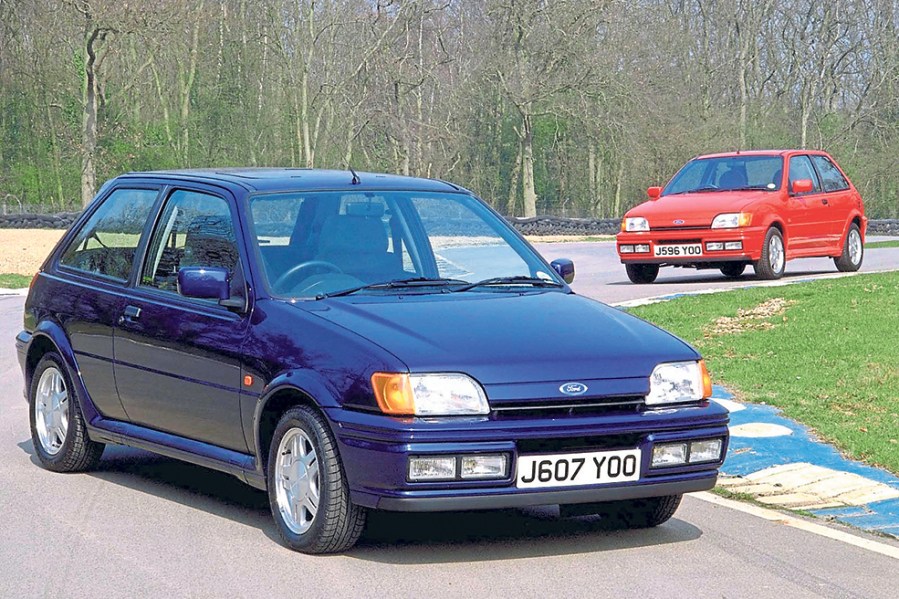 Ford Fiesta RS1800
The concept of the fast Fiesta dates back to 1981 and the first XR2, but Ford would introduce plenty of other sporty temptations over the years including a rapid but slightly unruly Mk3 RS Turbo. What we have here is that car's replacement. Appearing in 1992, the RS1800 saw the company returning to natural aspiration with a 130bhp, 1.8-litre version of its new Zeta (later Zetec) motor rather than the blown 1.6-litre CVH of RS Turbo. The XR2i meanwhile, got a 105bhp version of the same motor.
The outward appearance of the RS1800 wasn't that different to the XR although closer examination would reveal a slightly lower ride height as well as attractive five-spoke alloys. Performance was good enough to compete with class rivals, with 0-60mph in 8.1 seconds and a 124mph top whack, but while the RS1800 was decently quick its handling wasn't as fun as some hoped. It all felt a bit one-dimensional and lacked the delicacy and poise of something like a Peugeot 205 GTi.
Not that that prevented it selling in decent numbers, and the revised model that arrived in 1994 gained some useful improvements including power-assisted steering and a stiffer body shell. At the same time the Recaro seats were replaced by Ford's own extravagantly winged items and alloy wheels became optional. It's this later version that we'd aim for, and while you should be able to pick up a good one for around the £8000 mark, it's worth spending time checking the state of the bodywork and mechanicals, as well as watching for ill-advised modifications.