The R8-generation Rover 200 made the most of its Honda roots and has now become a real modern classic. Here's how to buy one today
Words: Chris Randall
The tie-up with Honda had spawned some successful cars, from the Triumph Acclaim to various Rovers, so when the latter needed a new model the partnership delivered once again. We're talking about the R8 generation that arrived in 1989, going head-to-head with key rivals in the family car market such as the Vauxhall Astra, Ford Escort Mk5 and Volkswagen Golf Mk3.
It was a tough task but the Rover 200 hatchback that arrived first was more than up to it, providing buyers with a roomy, comfortable car that looked good and delivered on driving thrills – all the while feeling more upmarket than its rivals. A wide variety of engines and trim levels were available, including hot GTI and Turbo models; further expansion of the range would see the addition of the 400 saloon along with a coupe, cabriolet and Tourer estate.
Numerous updates kept things fresh, from revised engines to a new dashboard design that borrowed from the succeeding Rover R3, and production of the hatchback and saloon ended in 1995 with the remaining body styles lasting to 1999. We reckon the R8 still makes for an attractive buy a few decades on – but it pays to tread carefully.
Bodywork
With most examples now more than 25 years old it's inevitable that corrosion could be lurking somewhere, so check the obvious spots – from the edges of the bonnet and hatch/boot lid to the door bottoms and wheel-arches. Have a good feel around the lips of the latter to make sure they're not crumbly or full of filler. The rear of the sills is another trouble-spot – the plastic spats on GTi models trap moisture – and examine the screen surrounds and the edge of the sunroof opening.
You can source replacement panels and repair sections – the Rover 200 & 400 Owners Club is having sill and rear 'arch repair sections for 3-door models remade (they'll fit other variants, too) so all's not lost if work is needed, but low values means major restoration won't make sense. Later front wings are getting scarce, though, so grab them while you can.
The rest of the checks can just focus on general tattiness, from dull paintwork and peeling lacquer to sagging or damaged bumpers, the latter available second-hand. You can find second-hand light units but bear in mind that hatchback rear screens aren't available new, and rear quarter lights are bonded-in so removing them from a scrap car is tricky.
There's decent corrosion resistance underneath but it's wise to give it a thorough check-over anyway, focusing on the cabin and boot floors and the spare wheel well. The cross-member beneath the radiator also requires scrutiny, as does the front sub-frame, and you'll want to make sure the fuel tank hasn't succumbed to tin worm.
The last check is for evidence of accident damage, especially on models like the 220 Turbo. Then there's the Cabriolet which wasn't the most structurally-rigid of drop-tops, but if that doesn't bother you then check the condition of the hood and frame, and where it was electrically-operated that it works as it should.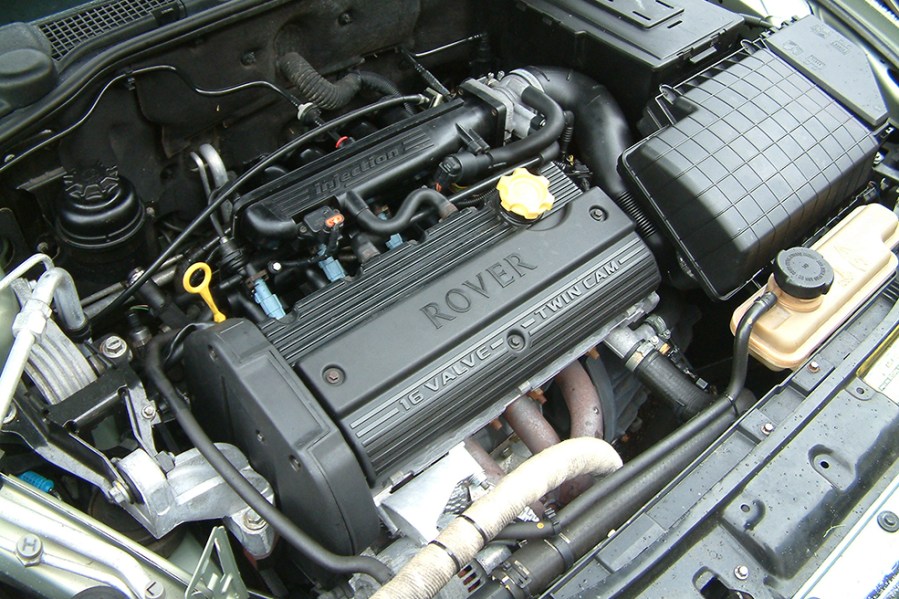 Engine and transmission
Don't get too hung-up on a particular engine choice as the important thing is finding an R8 that's been properly looked after. Good accessibility and decent parts supply means DIY servicing won't pose any problems, making this an easy classic to look after. With that in mind, look for a record of regular oil and filter changes – every 3000 miles is best for turbocharged models – and make sure the cam belt on K-Series engines has been changed every 60,000 miles.
Speaking of those motors, the reputation for head gasket trouble needn't be the problem you might think; uprated parts are available, and as long as you carry out the usual checks – 'mayonnaise' under the oil filler cap and signs of oil and water mixing – there's no point in worrying excessively. It's a good idea to check all engines for oil leaks from areas such as the cam cover, sump, and around the distributor, and pay particularly close attention to the health of the cooling system.
Honda engines can be prone to ignition system issues – a failed igniter can be repaired – while the fuel pump relay can suffer from dry soldered joints; new ones are unavailable but they can also be repaired. Turbocharged units need checks for excessive exhaust smoke. Diesel engines are pretty long-lasting and reasonably frugal, but it's hard to see why you'd choose one over the perkier petrol.
Transmissions varied depending on engine, such as the R65 'box for 1.4s and the PG1 unit for the 2.0. The latter suffers from noisy differential bearings which is pricey to sort, and oil leaks can be a problem, but overall it's a case of checking for the usual troubles of crunching synchromesh and whining bearings. An overhaul of the linkage is easy enough should things be feeling a bit baggy. The 4-speed automatic should feel reasonably smooth, so anything else requires caution.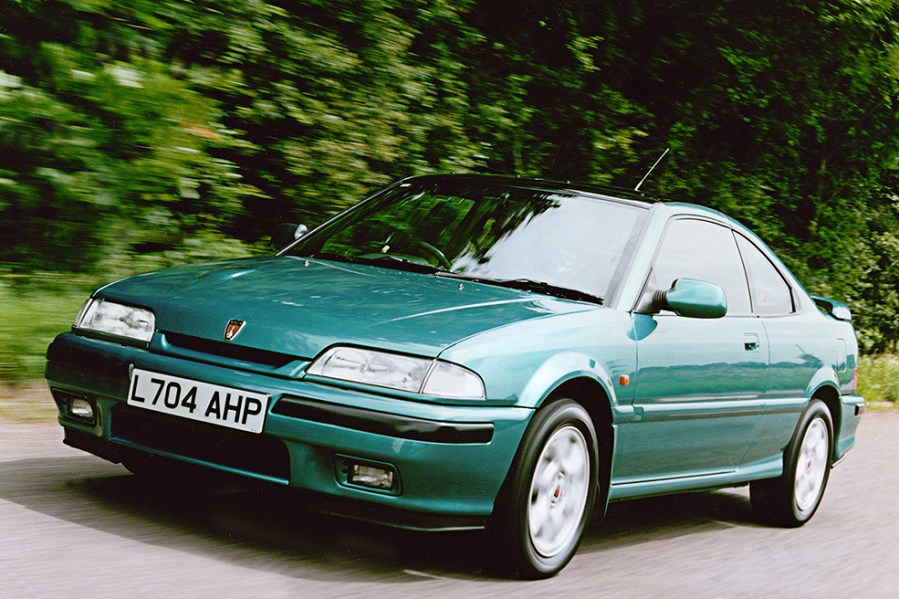 Suspension, steering and brakes
The suspension arrangement was all very conventional, which certainly helps when it comes to running one of these Rovers today. Checks need only concentrate on the usual issues such as springs and dampers past their best, and bushes that are ready for replacement; those for the anti-roll bars and the rear radius arms, along with drop links, are the commonest suspects for any creaks or knocks discovered on the test drive.
And take a look at the mountings points while you're underneath, just in case they're beginning to show signs of rot. There's the potential for modest upgrades if you fancy it, but with the standard set-up delivering pleasingly adept ride and handling it's not really necessary; a thorough overhaul can transform a tired example. The steering should feel accurate and responsive, so anything less points to wear in the rack or joints.
Most of the cars around today will feature power-assistance – a good think as parking is a chore without it, and the handling isn't as enjoyable – and it just requires the usual scrutiny for signs of fluid leaks and for unpleasant noises from the pump. The 200 & 400 Owners Club has discovered a stock of C-springs that are fitted within the rack and provide the positive feel around the straight-ahead.
As for the brakes, they are as straightforward as you'd expect of a family car from this era, and as long as they've not been neglected there's nothing much to worry about. Consumables are easy to source and inexpensive, so an overhaul isn't going to present any problems, but it's worth checking that rear calipers haven't seized. The handbrake can be a bit weak, too, so be sure it operates correctly. More important is ensuring that ABS-equipped cars aren't exhibiting any problems; parts for the Bosch system on Rover-engined cars are available but not for the Honda system on 216/416 models and you'd have to remove the whole thing for MOT purposes.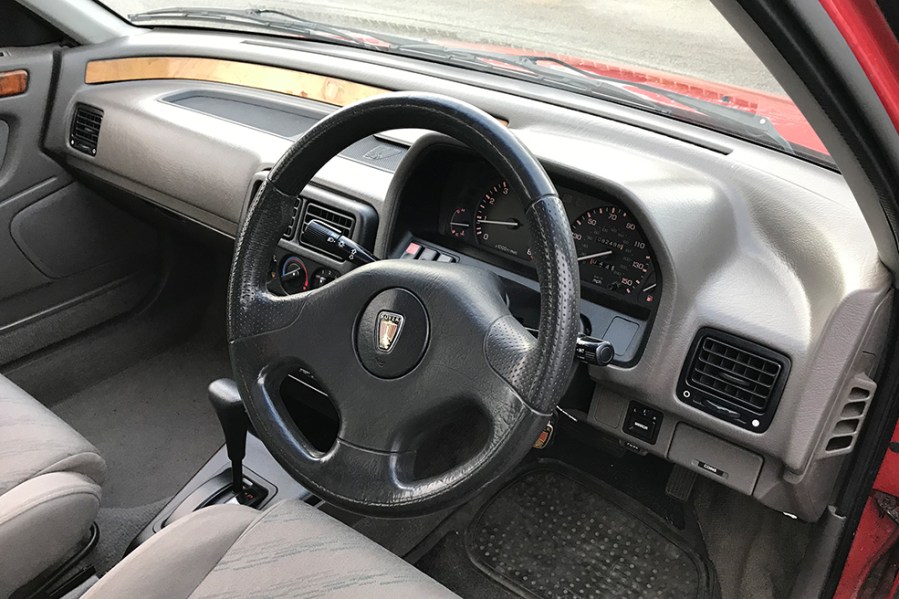 Interior, trim and electrics
Thanks to good quality materials and the addition of wood veneer the cabin of an R8 felt more upmarket than rivals from Ford and Vauxhall. That said, plenty of them were subjected to the rigours of family or company car use so it's going to be a case of finding an example that's not been left damaged or scruffy as a result. A professional trimmer can sort torn seat trim or worn bolsters, but the cost will soon add up so you might want to consider looking for second-hand items in better condition.
There's also the option of upgrading an interior with parts from later models, which means you can benefit from more supportive seats and the likes of part-leather trim. Water leaks from screens or sunroof can cause damage, and on that subject the Coupe's lift-out glass roof panels can also be a source of water ingress that can be tricky to cure. And if you're tempted by the practical and good-looking Tourer examine the load area for damaged trim.
So to the electrics, and they're no more troublesome than anything else of this age. The Rover 200 was generously-equipped, however, so check that the likes of electrically powered sunroofs and windows work okay and that remote central locking fobs haven't failed. Alarms and immobilisers can play up too, while instrument failure isn't unheard of.
Rover 200 (R8): our verdict
If you're after an eminently usable classic that's also good to drive then we really would encourage you to take a closer look at the R8 range. Coupe aside, they may have not have been particularly exciting to look at but they provide enjoyable and practical motoring without breaking the bank, and there's a lot to be said for that.
That they feel a cut above the equivalent Ford or Vauxhall when it comes to overall quality is another plus in our book, and the fact you can choose from a variety of body styles further broadens their appeal. If you're looking for a Rover you can use every day, and one that comes with excellent club support, then one of these could be the just the thing.
Values haven't risen much over the years and Rover-engined hatchbacks and saloons with an MoT can be found for £500 or so. Budget around £1500 for something a bit tidier, with really nice ones at the £3500 mark and the absolute best approaching £5000. You can add around £500 to these figures for a 1.6-litre model and perhaps a little more for an equivalent Tourer. Cabriolets also command higher prices, with closer to £1000 for one with an MOT and £3000–4000 required for a smart example.
If you're tempted by the stylish Coupe then you're looking at £5000–6000 for a good one with turbocharged cars commanding another couple of thousand pounds. Overall, The Rover 200 represents a very affordable way to bag a capable classic and with values unlikely to rise much for the foreseeable future it means you can just concentrate on enjoying everything they have to offer.
Rover 200 (R8) timeline
1989
The R8 is launched (along with its Honda Concerto cousin). In hatchback 200 form at first, it's the first use of the innovative K-Series engine.
1990
April sees the first expansion of the range with the arrival of the 400 saloon, which shares trims and engines with the 200.
1991
3-door Rover 200 and a hotter model GTi are available, the latter getting a 2.0 M-Series engine.
1992
More models are added, this time a Cabriolet with the stylish Coupe following later in the year. Engine changes included the T-Series unit replacing the M-Series and the addition of a Peugeot XUD diesel.
1994–1996
A Tourer estate is added in 1994 with the hatchback and saloon withdrawn a year later. 1996 sees T-Series and Honda engines replaced by K-Series units, and there's a new dashboard for the remaining models.
1999
Production of the R8 finally ends as Coupe, Cabriolet and Tourer are withdrawn.