We're heading back to the 1980s for a closer look at the Toyota MR2 Mk1, one of the finest Japanese sports cars of the decade. Here's how to buy one
Toyota has something of a history with sports cars, beginning in the 1960s with the 2000GT and continuing the following decade via models like the Celica and Supra. It was in the late 70s, however, that the company embarked upon an exciting new project, culminating in the SV-3 concept that finally appeared at the 1983 Tokyo Motor Show. The almost-unchanged production version made its debut in 1984 badged as the MR2 ('Mid-Ship Runabout 2-seater').
The MR2 arrived in the UK the following year with a price tag of around £9000, and the combination of punchy performance and sweet handling soon had it amassing plenty of plaudits from the motoring press. Seiichi Yamauchi's sharp design was certainly eye-catching, its combination of angular lines and pop-up headlamps perfectly capturing the '80s zeitgeist and finding instant favour with those after a two-seater sports car that could blend driving thrills with typical Japanese reliability.
With 44/56 weight distribution and weighing a little under a tonne, the MR2 Mk1 was light and agile, and while some drivers found it a little too easy to exceed the handling limits – a trait that would be tamed at the 1987 facelift – there was plenty of fun to be had. That racing driver Dan Gurney was involved in development, while Lotus had a hand in the design of the suspension, gives some idea of how serious Toyota was about its new sports car; and once you'd sampled the end result, it was clear that all of the time and engineering effort had certainly paid off. Contributing to the enjoyment was the rev-hungry 1.6-litre 4A-GE engine, a 16-valve fuel-injected unit with a TVIS variable intake system that produced 122bhp at a singing 6600rpm. That doesn't sound like much in the current world of mega outputs but it was enough to shove the sub-1000kg two-seater to 60mph in around eight seconds and on to 124mph.
It was also more than enough to put a smile on your face, something the MR2 still comfortably manage todays. The Japanese market was even offered a supercharged version, the 4A-GZE motor making 145bhp; a number would find their way to the UK via the personal import route and the extra punch it delivers is noticeable.
A T-bar roof option arrived in 1985, its glass panels being stored behind the seats, and by 1987 it was time for a light MR2 refresh; along with minor tweaks to the exterior styling and bodyshell, this delivered improvements to the engine, a stronger gearbox, better brakes and the aforementioned suspension revisions.  This first-generation (W10) MR2 would last until 1990 and, of the 166,104 made, it's reckoned that around 13,500 came to the UK.
Bodywork
Rust proved to be something of an MR2 Mk1 problem, so it pays to be conscientious when checking a potential purchase, especially as some of that rot can be hidden away. One such area is the crash bars that reside behind the front and rear bumpers; only by removing the bumpers can you get a proper look, and replacements can be hard to find and pricey when you do (budget up to £500). The sills and jacking points are also at risk of dissolving away behind the plastic covers, and again you need to remove those trims to establish the true extent of any problems. A replacement sill is only £60 but the labour cost will quickly mount up if rot has spread deeper into the structure.
Returning to the front, it's a good idea to remove the spare wheel and liner from the luggage area so you can establish the condition of the floor (do the same in the boot at the rear), and while you're there take a good look at the headlamp mechanism – it can corrode and seize up.
Careful attention also needs to be paid to the door bottoms, the bottom of the front wings, the rear wheelarches, the rear valance, and around the windscreen and front part of the roof. Blocked drain holes from the sunroof or T-bar opening can allow rust to fester there, as can clumsy windscreen replacement that's caused damage to the weather seal, and a proper fix isn't straightforward. The base of the A- and B-pillars is another important checkpoint, while taking a good look at the floorpan and the mountings for the rear subframe is essential. The good news is that replacement panels and repair sections are available, with specialists such as MR2-Ben able to supply the likes of a rear wheelarch repair section for £75 and good quality glassfibre front wings for £100 each.
Another thing worth checking is the security of the spoiler around the rear window – the fixings are prone to breaking but it's easily sorted. Finally, you should also be sure there's no sign of accident damage or bodged repairs – and if a car's being advertised as having been restored, you'll want to satisfy yourself it's been done to a high standard.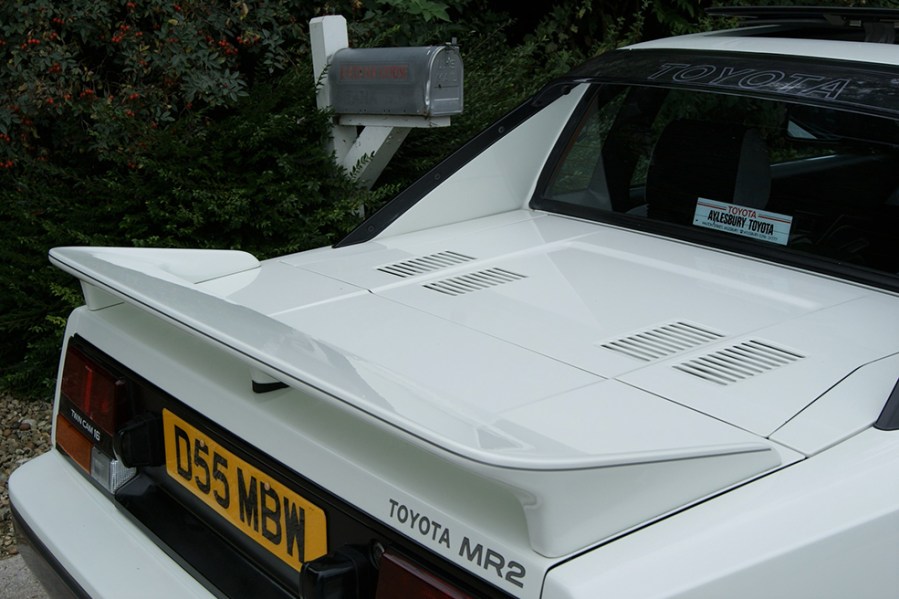 Engine and transmission
Despite its high-revving nature, and the temptation to make full use of the performance, the MR2 Mk1's four-cylinder engine can be considered pretty much bulletproof with proper care. Indeed, an owner we spoke to has covered more than 250,000 miles with no major problems, so there's no need to be deterred by a high-mileage example. Changing the oil and filter every 5000 miles is best, while a fresh cambelt is required every 60,000 miles or five years; MR2-Ben charges just £200 for the latter, but accessibility isn't too bad so it's something you could tackle yourself with a kit costing around £90. It's also worth checking whether the engine you're inspecting received the valve adjustment and new spark plugs that it should have had every 60,000 miles.
Naturally, you don't want to be seeing obvious signs of exhaust smoke and it's a good idea to spend time examining the cooling system. Check for corrosion of the radiator (budget around £200 for a new one) and the pipework that carries coolant from the front of the car to the engine. Also ensure the electric cooling fans kick in as they should. It's important that the coolant strength is correct to protect the engine from internal corrosion, while airlocks in the system can lead to overheating and head gasket failure, so be wary if things get hot on the test drive. A check for oil leaks is wise (trouble-spots include a failed O-ring around the distributor and a corroded sump), as is an examination of the exhaust system. Replacing a manifold is made harder by tight access, while the system itself rots, so a stainless steel replacement is the way to go.
Finally, a sticking idle control valve can cause the revs to remain high but cleaning the unit can often cure the issue, but rather more expensive is a failed in-tank fuel pump. If the car won't start, this could be why, and replacement involves removing the fuel tank, which is quite a big job; budget £300-£400 in labour and around £150 for the pump itself, an original part being best as it's not a job you'd want to do again.
The five-speed manual gearbox was the C50 unit from launch and the stronger C52 from 1987, and both should feel slick when changing gear. Changing the oil every two to three years is a good move, too. Age and ham-fisted use can result in worn synchromesh, but it's also worth checking that the 'box doesn't jump out of fifth gear; it gets mentioned a lot but doesn't appear to be all that common, although it's sensible to include faster roads in your test drive so you can be certain.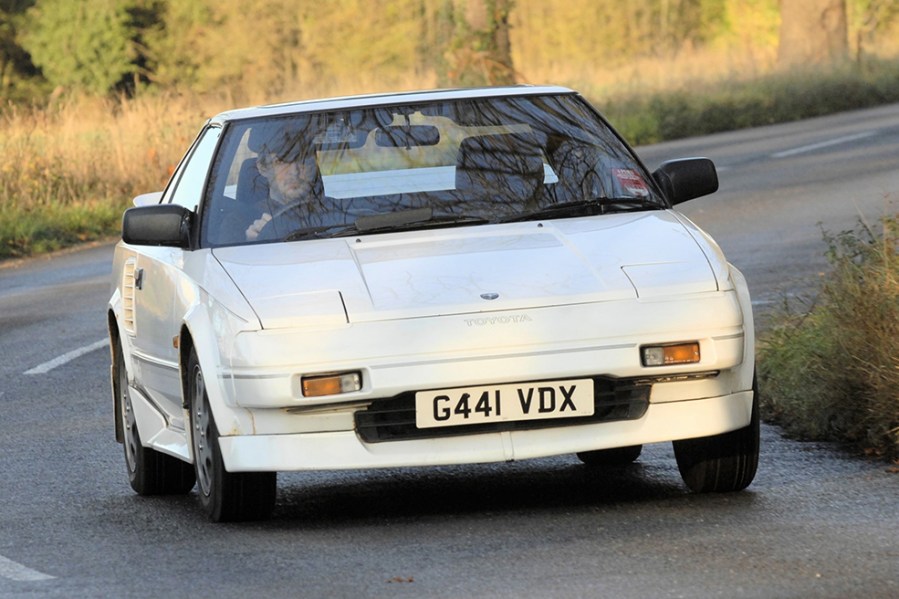 Suspension, steering and brakes
The suspension used MacPherson struts all round and it's a straightforward set-up that shouldn't be suffering from major problems. Replacement damper inserts are £55-£65 and there's the option of upgraded items from the likes of KYB if you prefer a firmer feel. It is worth checking for corrosion around mounting points though, and for signs that geometry has gone awry. Uneven tyre wear points to problems; investing in a four-wheel alignment check is money well spent.
Rattles are usually caused by worn anti-roll bar drop links but replacements are just £20 apiece, and there's the usual chance of discovering tired and perished bushes. If you need to replace them, you should probably consider a swap to polyurethane bushes; a full set for front and rear might set you back in the region of £250. Fitting is going to involve a few hours' labour but it's well worth it for the sharper responses they'll deliver.
In terms of the brakes, there's little to report. Cars that spend more time parked than driving could be suffering from corroded discs and pipework and sticking calipers, but the latter aren't expensive to replace – reconditioned ones are £115 from MR2-Ben. The same specialist can supply a reconditioned steering rack for £120 if replacement is needed.
Also worth mentioning is the MR2 Mk1's potential for upgrades. A healthy example is a peach to drive, so it's worth treading carefully before embarking on major modification; it's a matter of personal taste, of course, but while there's no great harm in some light improvements, there's a view amongst specialists that buyer preference is moving back towards originality.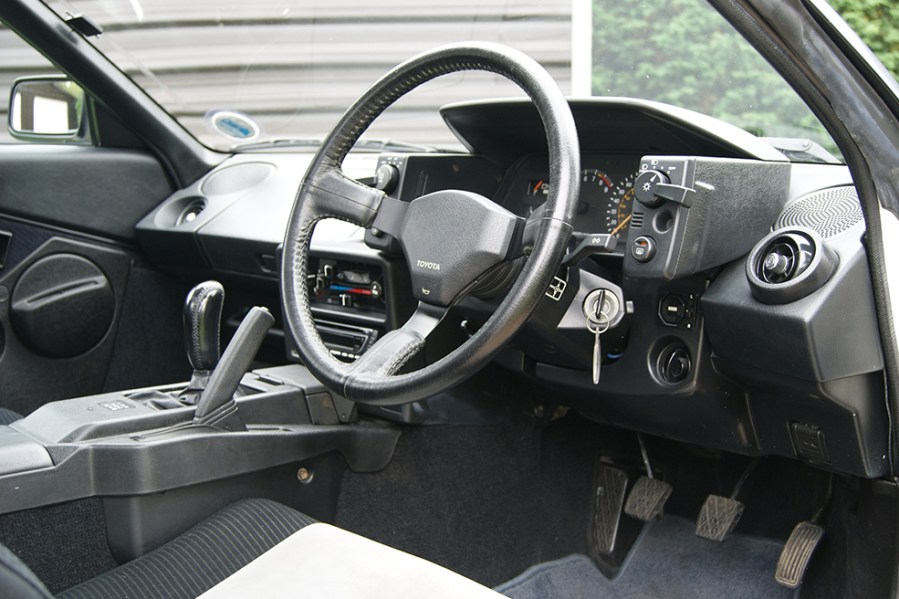 Interior and trim
It's not exactly a big interior, so you'll have no trouble spotting any issues with the seats, carpets and dashboard. It all wears quite well, although the pretty much inevitable water leaks from the sunroof or T-bar roof won't do materials any favours, so check for staining and mustiness. It's certainly advisable to tackle any water ingress as soon as it's spotted, and you can source a set of seals for the T-bar roof for around £240. Earlier cars got cloth seat trim with leather optional, while the T-bar models got hide as standard; it does add extra luxury to the cabin and will be easier to repair or replace, but the cost of professional re-trimming can add-up, so check for damage and split stitching.
Assuming the trim is in good shape you can just focus on ensuring that electrical items are still performing as they should. The MR2 Mk1 proves pretty robust in this respect, but one particular item worth checking is the operation of the electric windows; it's not that they're any more fault-prone than other cars of this age, but should the switch pack on the driver's door fail it can prove very hard to find a replacement. And if you discover that the central locking on an early model only operates the driver's door from the key, that's normal – it was a slightly quirky system that featured a switch in the cabin to operate the locks on both doors, while later cars used a more conventional arrangement.
Also worth checking is the operation of the electric aerial, that the heater fan works properly (the resistor is known to fail), and that the wipers aren't suffering from a worn or broken linkage. Consider it a nice bonus if the tool kit that was originally supplied with all MR2s is still to be found in the front luggage compartment.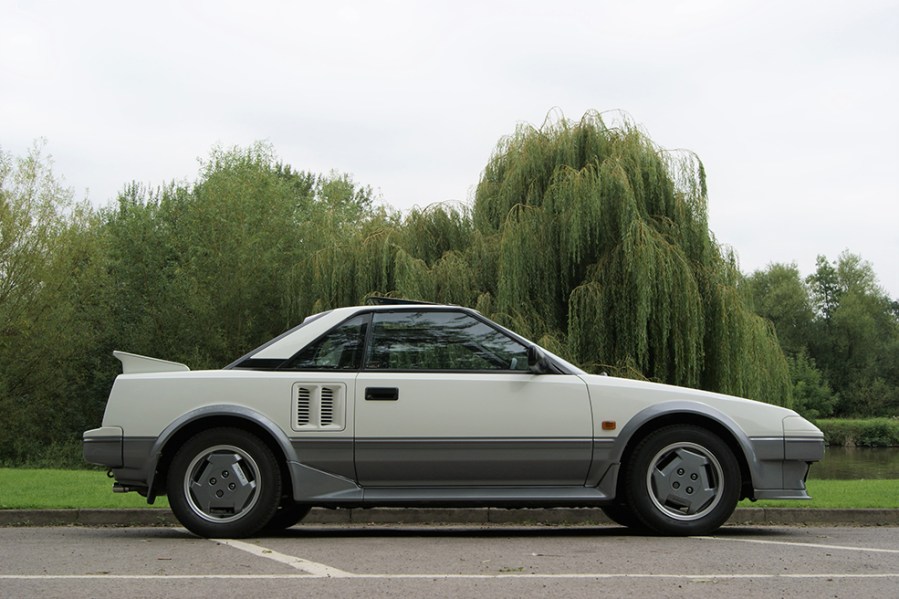 Toyota MR2 Mk1: our verdict
Lightweight, huge fun to drive and sporting deeply desirable 1980s wedge styling, the Toyota MR2 Mk1 is one of our favourite classic sports cars. Rust is a major issue these days but mechanicals are largely reliable, if a little hard to access in places. Buy wisely and you could have a fun second or third car with potential for return on investment in a few years' time. A Mk3 MR2 is faster and a Mazda MX-5 a little more practical, but you're guaranteed to stand out in the original MR2.
Of the three generations of MR2, the Mk1 is by far the least common among those offered for sale. So, while you'll need to be a bit more patient when it comes to finding the right car for you, the rewards will be worth it. As for what you'll have to pay, we've been told that the majority of the examples for sale tend to sit at one end of the price spectrum or the other: either rusty projects offered for £1500-£3000 (and even £4000, although that seems a little optimistic) or immaculate cars at £15,000-£20,000… or more.
A trawl through the classifieds seems to bear this out, although we did come across a handful of smart-looking MR2s for between £6000 and £10,000. That's a sensible sum to pay for a nice MR2 Mk1 and should secure something with a sub-50,000 mileage and that doesn't require attention to the bodywork. It's that latter issue that should introduce a bit of caution to the buying process – a project might seem temptingly priced, but unless you're handy with a welder you simply won't get back the thousands that can be sunk into a professional restoration.