The MG T-Type remains a hugely popular choice of classic sports car around the world. We take a look at its history and whether you should buy one today.
The MG T-Type has got to be some of the most significant sports cars ever made, for while they weren't far removed from the pre-war Midgets, right from the very first TA there was a global appetite for the little MG sports car that would quickly become something of a phenomenon far bigger than MG itself. Today, they remain an attractive option for those looking for a vintage sports car experience.
Part of the reason why MG would stick to its successful recipe of sports car building was that in 1935 the MG Car Company was sold by Nuffield to Morris Motors. Design operations at Abingdon were closed down and would now be run out of Cowley, and so also was the racing budget cut.
MG T-Type History
The MG T-Type began in 1936, with the TA. Instead of the P-Type's Wolseley overhead cam engine, these feature a more economical to produce pushrod overhead valve engine from the Morris 10, which makes 50bhp at 4500rpm. Another downgrade is the 9" drum brakes instead of 12" ones. But there were some improvements: the brakes featured a Lockheed hydraulic system, there were new lever-type dampers all round, and the engine did feature a distributor and coil ignition system.
The headline for the 1939 TB model was its new XPAG engine. This was a completely new engine that, although its valves were still by pushrod actuation, was in a high state of tune and would prove to be the MG enthusiasts' best friend. It featured a larger bore but shorter stroke, and it was indeed a much higher-revving engine making 54.4bhp at 5200rpm despite a smaller overall displacement of 1250cc. It could be tuned, too, thanks to a stronger block, counterbalanced crankshaft and better designed cylinder head. There was also a new gearbox with synchromesh on second gear now, in addition to third and fourth, plus a lighter flywheel. For good reason, these are especially popular models today, often commanding over £30,000.
However, it would actually be the TC that ended up offering all of this to most people because hardly had the TB been introduced that the second world war broke out and production halted. There were over 10,000 TCs produced between 1945 and 1949, compared to just 379 TB models. With some light revisions including a slightly wider cabin and rubber-bushed suspension mean that the TC is that little bit more comfortable than the TB. Today you can find plenty for sale between £15,000 and £30,000, and even supercharged ones aren't too much more.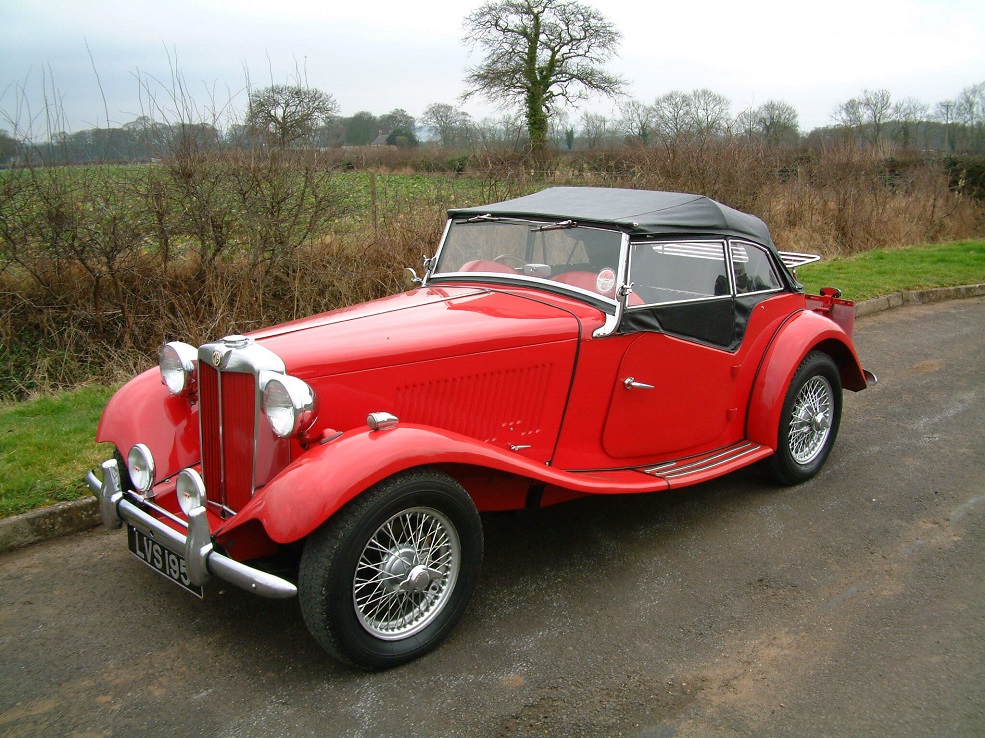 The MG TD was a continuation of this success and although its development was under serious budgetary constraints, the MG team still managed to put together a hugely successful car that would go onto sell nearly 30,000 units between 1949 and 1953 – that's five times the rate that P-Types were selling in the '30s. It was the newest MG sports car to come since the P-Type in fact, featuring new bodywork and a new chassis, now including rack and pinion steering. Bumpers and overriders were fitted primarily to protect it from big American cars in the states. The XPAG engine remained, although it was now much closer in specification to the Y-Type's, bringing with it many of its auxiliaries. It is a considerably more comfortable car than its predecessors and much easier to shop for because so many were made. If you're lucky you can buy a half decent example for less than £10,000, but most are around £20,000.
The 1953 TF was largely the same as the TD underneath, with the main difference coming in the second half of 1954 when a new 1466cc so-called XPEG engine upped power to 63bhp. The styling is distinctively different to its predecessors, once controversial it is now appreciated as a unique blend of pre-war design with post-war refinements. Inside, there returned the charming octagonal-shaped dials last seen in the P-Types, and a few niceties from the Y-Type saloon including, finally, adjustable seats. In total there were 9600 TFs made, so they're not too common. They do enjoy a keen following these days and you can spend anything between £20,000 to £35,000 on a nice one.
With the introduction of the MGA in 1955 began a new era for MG, but the spirit of the little Midget sports cars of MG's past has continued on just like the devotion for them amongst a certain set of classic enthusiasts. The T-Types really did sell like hot cakes, and up there with many other famous post-war models helped the British car industry find its golden years.