Nobody ever seems to mention the pejorative term 'badge engineering' when talking of MG's postwar Midgets, but Austin-Healey had already tested the water in 1958 with their Sprite, which lost its Frogeye looks in 1961 upon the launch of the Mk2. MG joined in with their own version in the same year, which is now known as the Mk1 Midget but was essentially the Sprite Mk2 with a little extra bling to position it as the slightly more expensive option.
Those first Midgets featured drum brakes all round, a 948cc A-series engine, sidescreens and a stowaway hood, but the engine had grown to displace 1098cc by the following year and front disc brakes arrived the year after. 1964 saw the release of the Mk2 Midget with wind-up windows, lockable doors and optional wire wheels. Two years later in 1966, the Mk3 appeared, which to many is the ultimate A-series Midget and the one we have selected as our pick at this price point. The engine for this was taken from the 1275cc Cooper S and produced 65bhp at the flywheel, while the time-consuming stowaway hood was replaced with a foldable one. By 1972, the rival Sprite had been axed, but the Midget continued, gaining Rostyle wheels as standard, but still with the option for wires. That same year, the rear wheelarches changed shape to create the round wheelarch version.
The Mk3 Midget lasted until 1974, when Triumph's 1493cc OHV unit from the Spitfire replaced the A-series with the launch of the Midget 1500. Rubber bumpers replaced the front and rear chromework too, and this model continued until MG was axed in 1980.
Many fans of the Midget regard the A-series-powered cars as the ones to have, and the most powerful are the Mk3s. Some people prefer the later round wheelarch, whereas others like the earlier squared-off look. Fortunately, the Mk3 offers both.
The Midget's suspension features kingpins with coil springs at the front, including lever arm dampers with upper and lower arms (the lower arms form the seats for the coil springs) and an anti-roll bar on later models. At the rear, a live axle is located with semi-elliptic leaf springs (softer than earlier quarter-elliptic) and lever arm dampers. Typical problems include kingpin wear, leaking dampers, corroded front lower arms, and corrosion of the hangers for the rear leaf springs. Reconditioned or uprated lever arm dampers can help to transform the ride quality if the existing dampers are tired; fitting telescopic dampers is an alternative but more expensive option – expect to pay around £35 for a reconditioned lever arm damper and up to £1000 for a telescopic damper conversion all round (including mounting bracketry). Experimenting with front coil springs, rear leaf springs and suspension bushes (eg. upgrading from rubber to polyurethane) can help to improve the ride quality and handling, but try one upgrade at a time.
If the engine has been considerably uprated, then the car may suffer from tramping under hard acceleration when setting off. This is where the rear leaf springs wind up as the rear axle puts the power down, then they let go, resulting in the car hopping or tramping. Fitting anti-tramp bars between the front and mid-mounting points for the leaf springs can help to remove this risk, and also help control vertical movement of the axle, although such a conversion may result in the ride quality feeling a little harsher. Budget for around £200 for a full kit.
With discs at the front and drums at the rear of the Mk3 Midget, brakes are regarded as adequate for general road use. New discs from the likes of the mGB Hive cost just £20 for a pair, and even a new caliper is only £55. Just like the brakes on many classic cars, routine maintenance is essential to avoid pistons seizing and uneven wear of discs, pads, brake shoes and drums. Upgrades are plentiful, with cross-drilled discs and performance pads for around £120, right up to Frontline Development's four-pot alloy calipers with cross-drilled discs and EBC pads for £920. Some MG dealers offered an optional brake servo, and a remote unit can be fitted, which costs £70-£180 for a single-circuit system. On cars with a dual-circuit system (North America from November 1967 but UK cars only from May 1978) a remote servo costs around £300.
The 1275cc A-series engine is the largest of its kind to be used across the range of BMC vehicles, although stretching it to 1293cc and right up to 1380cc is feasible. Its weak spot for head gasket failure appears to be between cylinders three and four, which are furthest from the water pump. Valve stem oil seals can harden, especially on engines that have seen little or infrequent use, resulting in a plume of oily exhaust smoke on overrun. Rattly top-end tappets can often be resolved by checking and adjusting the valve clearances, but if this problem persists, the rocker gear may need to be removed and machined where each rocker's pad makes contact with the pushrod.
There's a vast range of tuning upgrades for the 1275cc engine. Modern upgrades range from electronic ignition to a twin cam BMW cylinder head and fuel injection. Traditional modifications include bigger carburettors, a wilder camshaft and performance exhaust manifolds and systems. The difficulty with many such modifications concerns use. If you're keen to tour through Europe in a Midget, then a highly tuned A-series engine with a race-spec camshaft is probably going to be quite a handful. If you want to use a Midget for trackdays, then the aforementioned specification may be tempting.
The Mk3 Midget's gearbox is a four-speed manual with no synchromesh on first gear, so some degree of mechanical sympathy is required (ie. avoid changing down to first when moving unless double-declutching). According to MG specialist Mike Authers: 'The gearbox isn't that strong, first gets noisy and synchromesh can get weak. It doesn't help if gear oil is used rather than the correct 20/50 engine oil as it is too thick.'
A desirable upgrade is to fit Ford's Type 9 five-speed gearbox that was used in the Sierra. Frontline Developments offer a conversion kit for this gearbox, which costs £987 (excluding the cost of a gearbox). This can work out quite expensive to fit, especially by a specialist, so it's perhaps a popular feature to look for on cars for sale. Most people consider it a real bonus.
One modification that does seem to divide opinions is alternative engines. Whilst a modified A-series can be classed as period, there are a number of Midgets with later Rover K-series engines. Many have been fitted by Frontline Developments, or using their conversion kit. Prices for converted, roadworthy Midgets appear to be higher than our budget of £6000, so that leaves part-completed projects. This is really only for the brave-hearted who are confident with engine transplants, wiring looms and picking up the pieces of someone else's abandoned work.
The main concern when buying any Midget is the condition of the bodywork. Starting at the front of the vehicle, look for stonechips that have resulted in corrosion, or which have been painted over. The bonnet is quite flimsy, so inspect both sides for cracks in the paintwork, and rust. The front panel and lower edges of the front wings right around to the A-panels are all prone to corrosion. Check that both headlights are in the same position – different wings can be fitted with the headlights in slightly different positions.
Check all the way around each wheelarch to look for corrosion, trapped dirt and damage. Typical of many cars, dirt can get trapped where the wheelarch meets the sill, resulting in corrosion spreading outwards. This can extend to the rear wings and floors. Look underneath the car to check the floors, but also feel the carpets to see if they are damp – if possible, lift the carpets to inspect the floors. The bottom of the doors can collect water, especially if the drain holes are blocked, so check them for rust along the lower edges. Water can also collect inside the boot, so empty it and look for signs of damp and rust. Look underneath at the leaf springs, particularly their front and rear mounting points, which can corrode.
The cost of repairing corrosion can seem cheap at first, with the majority of replacement panels and repair panels you'll need being available from a number of our advertisers. Sills start at around £40 for instance, but the rot may extend to the floors and castle rails, which means the final bill could easily approach a four-figure sum if you are paying a specialist to do the welding.
For £6000, most Mk3 Midgets should have average paintwork with sound bodywork, which will have probably been repaired. But don't immediately assume any bodywork repairs have been properly completed just because the paint is shiny – check the panel gaps to ensure the bodyshell hasn't become distorted, and look for any welding to make sure seam-welding has been used where structural repairs have been made.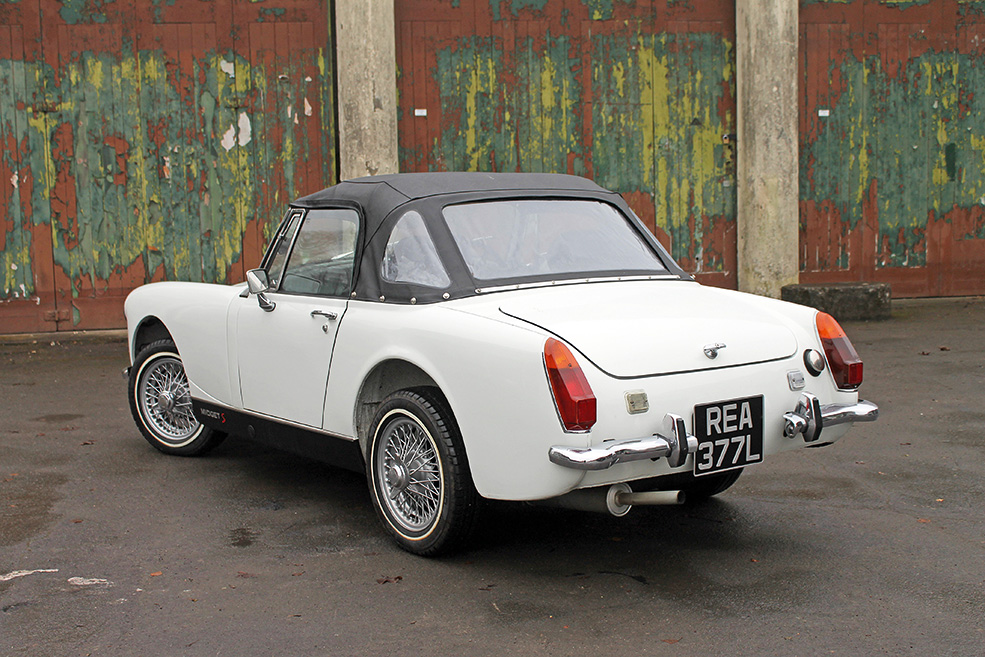 WHAT TO PAY?
At the time of writing, £6000 is a reasonable amount of money to pay for a Mk3 Midget in roadworthy condition, which probably won't win any show-and-shine trophies and may need a few minor maintenance issues fixing. What you should get for your money is a fun-to-drive sports car, but don't expect the same standard of practical motoring as a modern MGF/TF. The Midget is a no-frills sports car, but one which is supported by a vast assortment of specialists and parts. Bargains can sometimes be found through bidding on eBay or at the various classic car auctions, but if you want some peace of mind, £6k is enough to opt for a private seller where you can find out more about the car, or a classic car dealer who can provide some level of guarantee.