A major export success for the brand, the MG TD was a bigger hit across the Atlantic than on its home turf. Here's how to buy this lesser-spotted MG sports car today
Words and images: Craig Cheetham
Immediately after World War Two, Britain's economic mantra was 'Export or Die' and it was the car industry that led that export drive; somewhat ironic considering that, in modern Britain, we import 10 times as many cars as we export.
One of the big export success stories was MG, whose T-series sports cars made a massive impact in the USA. The pre-war TA and TB and immediate post-war TC and TD were extremely popular with US servicemen stationed in the UK so, when they went home, they often took their cars with them. On the back of that, a fruitful export market opened up, upon which MG was quick to capitalise. Of the 29,900 TDs made, only 1,656 stayed in the UK with almost 24,000 of the export models going to the USA.
The TD was introduced in 1950 and, while it used the same wooden frame and separate chassis of the TC Midget, it employed the front steering and suspension set-up from the Y-type saloon. This made it a far more agile car to drive, while power came from the same 1,250cc XPAG engines as the previous model; not fast but surprisingly tractable and lively.
The T-type series had started with the TA of June 1936. This was not universally welcomed by MG enthusiasts as it was less sporty than previous Midgets, not least because it had an OHV MPJG engine which was seen as a retrograde step from the earlier overhead cam units.
The TB followed shortly before the outbreak of WW2 with a better engine (the XPAG unit, developed from the all-new Morris XPJM OHV engine) that was capable of considerable tuning, but then came the war and the TB became one of the shortest-lived MGs of all-time.
In 1945, the TB was dusted off, improved with a wider body, shackles for the spring mounts instead of sliding trunnions and relaunched as the TC. MG shifted 10,000 TCs, an impressive figure but one that was nearly tripled by the TDs made from late 1949. It became especially popular in the US market that was becoming so crucial to MG's success. For one thing, the TD was the first T-type to be available in left-hand-drive while, for another, it had a slightly more spacious cockpit, plus greater comfort thanks to new independent front suspension.
The TD had been created essentially by mating an adapted Y-type chassis with a stretched TC body and an entirely new front end style. The new chassis was not only stiffer than those used on previous T-types, it also brought with it the Y-type's sparkling new independent front suspension; a design that was to serve MG right up to the demise of the MGB in 1980. Combine this with a steering rack, instead of the earlier cars' cam-driven steering box, and the handling was improved immeasurably.
The TD got smaller wheels, down from the 19-inch wires of the TC to 15-inch steel rims. This significant visual change made a big difference to how much more modern the antiquated body looked, an illusion aided by wings that were lower profile and more flowing as a result. It was a more art deco look; still very traditional, but a lot more streamlined.
The engine was the same 1250cc XPAG unit as used on the TC, with a few minor detail changes but the same 54bhp power output, later upped to 61bhp thanks to bigger carbs.
Bodywork
The most important thing to check when buying any TD is the condition of the body tub's ash frame. Check around and between the A- and B-posts as the wood below here is exposed and, consequently, is usually the first part to rot. Also check that the doors open and close well, though some very slight movement is acceptable. If the ash frame does need replacing, a new timber kit will cost around £5,000 as a complete skeleton. Fitting is labour intensive and is a job not for the faint-hearted.
Chassis are generally strong and small repairs are simple enough. Of more concern is usually accident damage, so check all along the rails for signs of deformation. A bent chassis can be straightened but the body has to come off and it's only really practical as part of a full rebuild.
Be prepared for some big bills if the brightwork is in poor shape, with radiator shells and windscreen surrounds being particularly hard to get, and consequently expensive. Door handles and rear sidelight plinths on the later TDs (which switched from oblong to round tail lights) were Mazak and can pit, while headlights – eight-inch diameter on the TD rather than the more usual seven-inch industry standard – are rare and expensive, as are their brackets. Some owners use smaller seven-inch lamps instead so check the originality of the ones on the car, which should have an MG logo stamped into them..
Engine and transmission
After the body tub, the biggest single expense for a TD will be a full engine rebuild. An XPAG should be smooth, quiet and eager to rev, despite its pre-war origins. Some oil leakage from the rear of the crank is normal if the engine has not been modified to accept a modern lip seal but only a drop or two after a run, not a flood.
Oil pressure should be 40-50psi when hot. It is not a cheap unit to rebuild, with the best specialists charging north of £5,000 for a full reengineering job including cams, a rear oil seal conversion, unleaded conversion and so on.
Check also that the gearbox doesn't jump out of gear on the overrun, as this could be a sign of the unit being worn. A rebuilt transmission will cost over £1000 but a common conversion is to fit a Ford Type 9 (Sierra/Granada) gearbox, which adds the efficiency of syncromesh and five ratios. A conversion kit will cost north of £1000 so consider it a bonus if somebody else has already shelled out for this. Final drive ratios can also be changed with or without the Type 9 gearbox, either using the MGA's 4.3:1 or even a 3.9:1 from an MGB.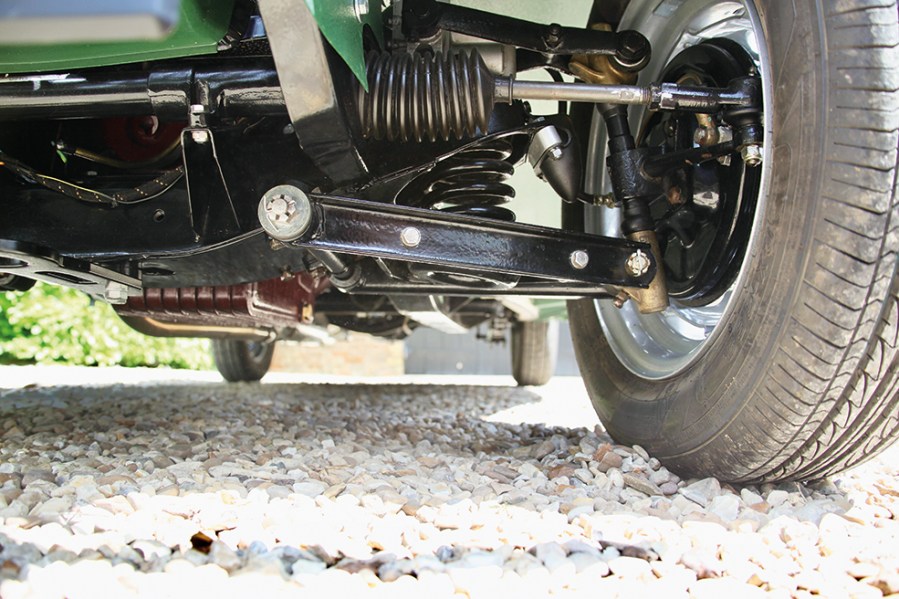 Suspension, steering and brakes
On the road, TDs in standard trim are not quick cars but they are nimble and a whole lot of fun to drive once you have settled into the feel of the era. The steering should be light, precise and direct, so the trick is to hold the wheel gently and not try to muscle your way through bends. Go sparingly with the brakes and you can make surprisingly rapid progress cross-country on minor roads.
However, they are low-geared so, while they feel lively at low speeds and the quoted top speed of 80mph means they are happy for short bursts at the legal limit, their comfortable cruising speed is more like 50mph. That can make them tiring and stressful to drive on motorways and fast A-roads, which is why taller back axles and five speed conversions are so popular.
Having said that, the XPAG is a rev-happy unit but also quite flexible and able to pull top gear from as little as 10mph. Combine this with excellent visibility, with the roof down, and the TD is a surprisingly practical car to use around town, as long as you don't have much shopping to carry home.
The rear anti-roll bar from an MGB is a popular mod that improves the handling dramatically, and kits are available from most specialists. It's a highly recommended modification.
Wire wheels were never offered as standard on the TD, with MG claiming that the new front suspension and steering arrangements would foul the spokes. The later TFs (not to mention plenty of TD owners) subsequently proved this was not true and the TF's wires will fit a TD just fine, if that's your taste.
Original right-hand-drive cars are rare and command a premium but you can save some money by buying a car converted from LHD rather than an original RHD. A converted LHD TD will have an 'EX' number stamped below the chassis number on the toolbox. The swap over is actually relatively straightforward and can even be done on a DIY basis, as the dashboard is the same for both thanks to its central dials.
Brakes are of their era (though improved on the TD, compared to the TC, with twin-leading-shoes on the front) and perfectly acceptable, though nowhere near modern standards. The system is hydraulic so, if the car has seen long periods of inactivity, be wary of seized cylinders leading to poor or uneven braking. Upgrades are available, including disc conversions using MGB parts.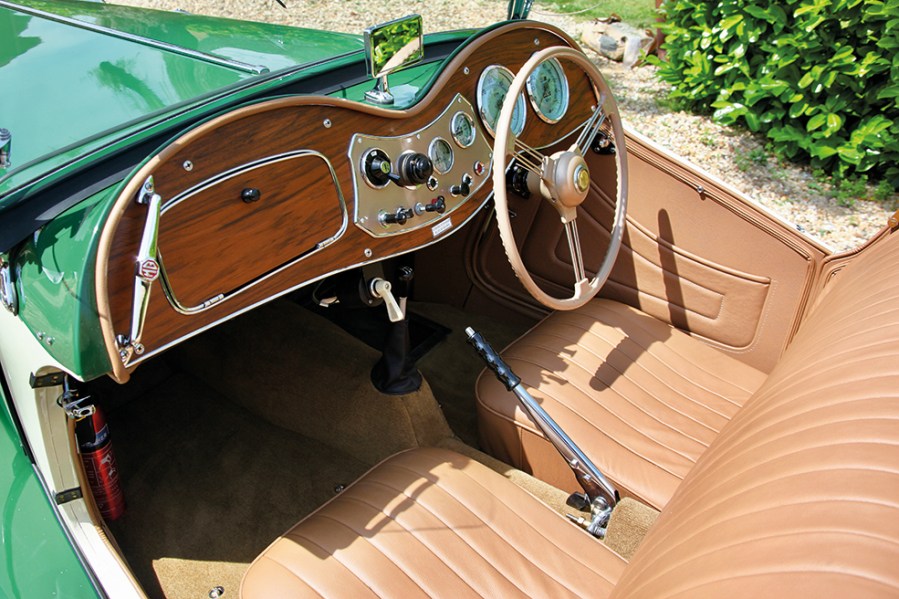 Interior and trim
The cockpit of a TD will feel cramped for tall or bulky drivers and the wheel will be closer to your chest that most of us are comfortable with. However, the steering column is adjustable for reach and also has some limited rake adjustment (you'll need a spanner, though – it's not like a modern car).
You will have to get used to perhaps the TD's greatest theft deterrent, though; its fly-off handbrake. To set one of these, lift the lever without pressing the button, then depress the button and lower the lever slightly until it locks into the raised position. To release it, you simply lift the lever without pressing the button and let go.
In practical terms, there is some storage space behind the seats but luggage racks will probably be needed for longer-distance touring. Few TDs will still have their original interiors and those that do are likely to be projects or time-travel museum pieces. Any refurbishment should have been done to a high standard, in leather, but some restorers use vinyl as it's cheaper. MG also offered both wood and leather-faced dashboards, the former being both the most attractive and durable.
Check the hood, too; any TDs are only used as summer fun transport so, if you're not too bothered, then the roof and side-screens are a secondary concern (and a faff to fit)
MG TD: our verdict
The MG TD is a product of a bygone era and feels it to drive, but that's no bad thing. Servicing requirements are similarly from another era; many TDs cover relatively low annual mileages these days, but MG recommended minor servicing at 500 and 1000 mile intervals, so you will certainly need to know how to use a grease gun. However, a TD should be cheap to run once it is properly sorted and well maintained.
The TD seems to have found its level in recent years, with restoration projects starting at around £6-7k (if complete) and scruffy but useable cars in the low teens. A good example is a £20,000 car but you can add £10,000 more to that if you want a concours example or a show winner. It should prove to be a safe investment, though, as prices barely fluctuate.