MG TD (1949-1953) BUYER'S GUIDE
The T-Type series had started with the TA of June 1936. This was not universally welcomed by MG enthusiasts as it was less sporty than previous Midgets, not least because it had an OHV MPJG engine which was seen as a retrograde step from the earlier overhead cam units. The TB followed shortly before the outbreak of WW2 with a better engine (the XPAG unit developed from the all-new Morris XPJM OHV engine) that was capable of considerable tuning, but events on the world stage ensured it was a short-lived model.
In 1945 the TB was dusted off, improved with a wider body, shackles for the spring mounts instead of sliding trunnions and sold as the TC. MG shifted 10,000 TCs, an impressive figure but one that was nearly tripled by the TDs made from late 1949. Partly that was because the TD answered many of the questions raised in the US market that was becoming so crucial to MG's success. For one thing the TD was the first T-Type to be available in LHD, while for another it had a (slightly!) more spacious cockpit, plus greater comfort from a new independent front suspension.
The TD was created essentially by mating an adapted Y-Type chassis (shorter, underslung and with fully boxed in side rails) with a stretched TC body. The new chassis was not only stiffer than those used on previous T-Types, it also brought with it the Y-Type's sparkling new IFS, a design that was to serve MG right up to the demise of the MGB in 1980. Combine this with a steering rack instead of the earlier cars' Bishop cam steering box and the handling was sharpened up considerably.
Visually the TD got smaller wheels, down from the 19in wires of the TA-TC to 15in steel rims. This one change made a surprisingly big difference to how much more modern the admittedly still antiquated body looked, an illusion aided by wings that were lower profile and more flowing as a result.
The engine was the same 1250cc XPAG unit as used on the TC, with a few minor detail changes it is true but the same 54.4bhp output. This was later tuned to give 57-61bhp with 1½in carbs instead of the regular 1¼ pairing on the TD MkII, essentially a competition version also called the TD/C, from 1950. That also had a taller 4.875:1 differential as opposed to the TD's 5.125:1 final gearing, a point we shall return to later.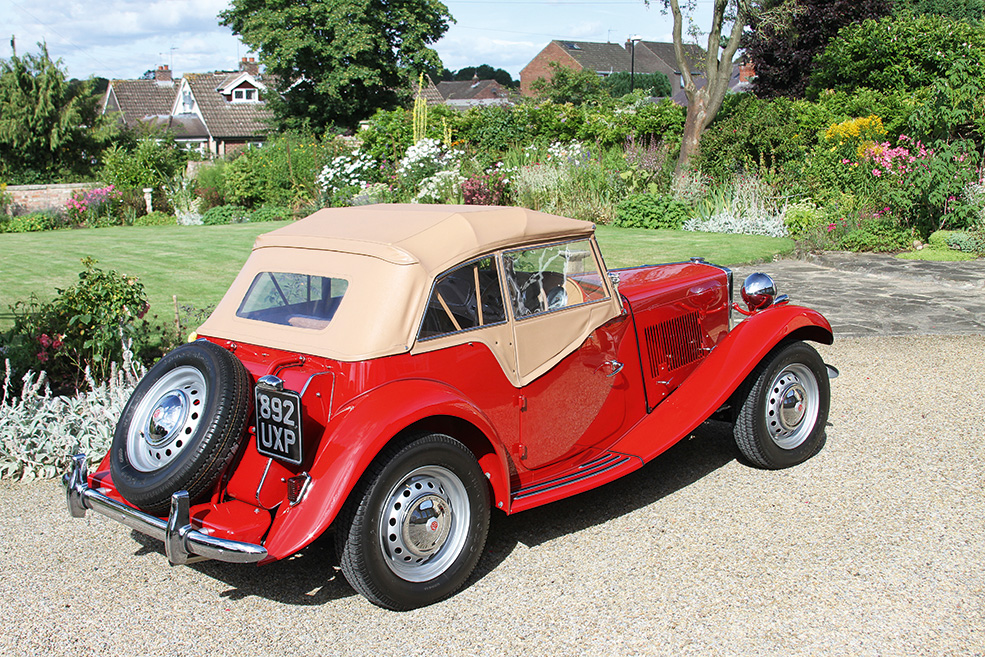 When looking at a TD with a view to purchase, of crucial importance is the condition of the body tub's ash frame. At our price point of £25,000 you can expect this to have been replaced properly and be in excellent condition. Check around and between the A and B-posts as the wood below here is exposed, and consequently usually the first to rot. Check too that the doors open and close well, though some minor up and down movement is acceptable. If the ash frame does need replacing, a new kit of the main body timbers will cost around £2500, but fitting is labour intensive.
Chassis are generally strong, and small repairs are simple enough, though the boxed-in side rail can be vulnerable to spilt brake fluid. Of more concern is usually accident damage, so check all along the rails for signs of deformation. A bent chassis can be straightened, but the body has to come off and any car requiring this sort of rectification should be priced accordingly.
Few cars will still have their original interiors, and those that do are likely to be projects or time-travel museum pieces and so for sale at considerably less or more than our £25,000 budget. Any refurbishment should have been done to a high standard in leather rather than cheaper vinyl to justify a price tag north of £20,000; if it looks disappointing, ask yourself if the owner has also skimped elsewhere. Many cars are only used as summer fun transport though, so if you are planning more adventurous use, it is worth putting the roof up and checking both that and the side screens in case they have deteriorated from long-term storage.
Be prepared for some big bills if the brightwork is in poor shape, with radiator shells and windscreen surrounds being particularly hard to get, and consequently expensive. Door handles and rear sidelight plinths on the later TDs (which switched from oblong to round tail lights) were Mazak and can pit, while headlights – 8in diameter on the TD rather than the more usual 7in industry standard – are rare and expensive, as are their brackets.
After the body tub and paint, the other big single expense is a full engine rebuild. An XPAG should be smooth and quiet despite its pre-war origins. Some oil leakage from the rear of the crank is normal if the engine has not been modified to accept a modern lip seal, but only a drop or two after a run, not a flood. Oil pressure should be 40-50psi when hot. It is not a cheap unit to rebuild – Peter Edney quotes £5200 for what he terms a standard engine, although that includes his own spec of camshaft, a rear oil seal conversion, ported cylinder head, unleaded conversion and full balancing so it is a cut above most 'standard' specs.
Similarly gearboxes will cost £1320 to rebuild if worn (check to see if it jumps out of gear on the over run), always assuming the core unit can be recovered. Alternatively, five speed Type 9 gearbox conversions really transform the usability of a TD and so are generally regarded as a positive rather than something that detracts from originality. A conversion kit will cost around £1160, with a rebuilt gearbox soaking up another £1000, so consider it a bonus if somebody else has already shelled out for this. Final drive ratios can also be changed with or without the Type 9 gearbox, either using the MGA's 4.3:1 or even a 3.9:1 from an MGB. The anti-roll bar from an MGB is also a popular mod that improves the handling dramatically, and kits are available.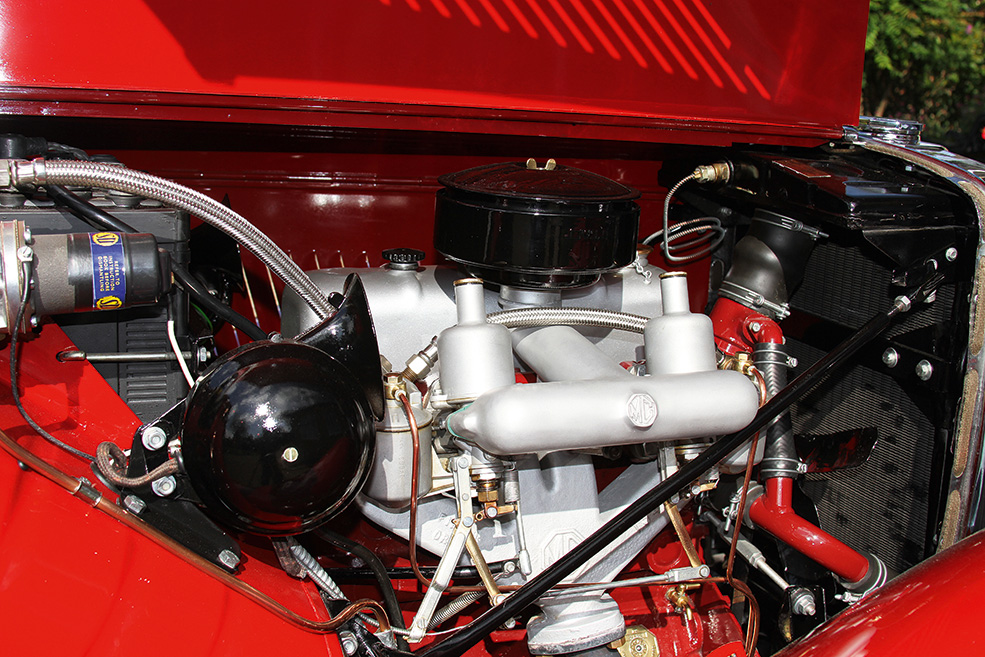 Wire wheels were never offered as standard on the TD, MG claiming that the new front suspension and steering arrangements would foul the spokes. The later TFs (not to mention plenty of TD owners) subsequently proved this was not true and the TF's wires will fit a TD just fine. The conversion kit costs £850 though, and then there are wheels and tyres to pay for on top of that, so expect to pay a premium for wires if they are in good condition. However, you could save some money by buying a car converted from LHD rather than an original RHD, and if the job has been done properly it shouldn't reduce your owning/driving pleasure one jot. A converted LHD TD will have an EX number stamped below the chassis number on the toolbox.
On the road, TDs in standard trim are not quick cars, but they are nimble and a whole lot of fun to drive once you have settled into the feel of the era. The steering should be light, precise and direct, so the trick is to hold the wheel gently and not try to muscle your way through bends. Go sparingly with the brakes and you can make surprisingly rapid progress cross-country on minor roads. However, they are low-geared and so while they feel lively at low speeds and the quoted top speed of 80mph means they are happy for short bursts at the legal limit, their comfortable cruising speed is more like 50mph. That can make them tiring and stressful to drive on motorways and fast A-roads, which is why taller back axles and five speed conversions are so popular.
Having said that, the XPAG is a rev-happy chappy, but also quite flexible and able to pull in top gear from as little as 10mph. Combine this with excellent visibility with the roof down and the TD is a surprisingly practical car to use around town, so long as you don't have much shopping to carry home.
Brakes are of their era (though improved on the TD compared to the TC with twin-leading shoes on the front) and perfectly acceptable, though nowhere near modern standards. The system is hydraulic, so if the car has seen long periods of inactivity, be wary of seized cylinders leading to poor or uneven braking. Upgrades are available, including discs based on MGB parts.
The cockpit of a TD will feel cramped for tall or bulky drivers, and the wheel will be closer to your chest that most of us are comfortable with. However, the steering column is adjustable for reach, and also has some limited rake adjustment. You will have to get used to perhaps the TD's greatest theft deterrent though – its fly-off handbrake! To set one of these, lift the lever without pressing the button, then depress the button and lower the lever slightly until it locks into the raised position. To release it, you simply lift the lever without pressing the button and let go.
In practical terms, there is some storage space behind the seats, but luggage racks will probably be needed for longer touring. Bear in mind too that servicing requirements are from another era; many TDs cover relatively low annual mileages these days, but MG recommended minor servicing at 500 and 1000 mile intervals, so you will certainly need to know how to use a grease gun. However, a TD should be cheap to run once it is properly sorted and well maintained.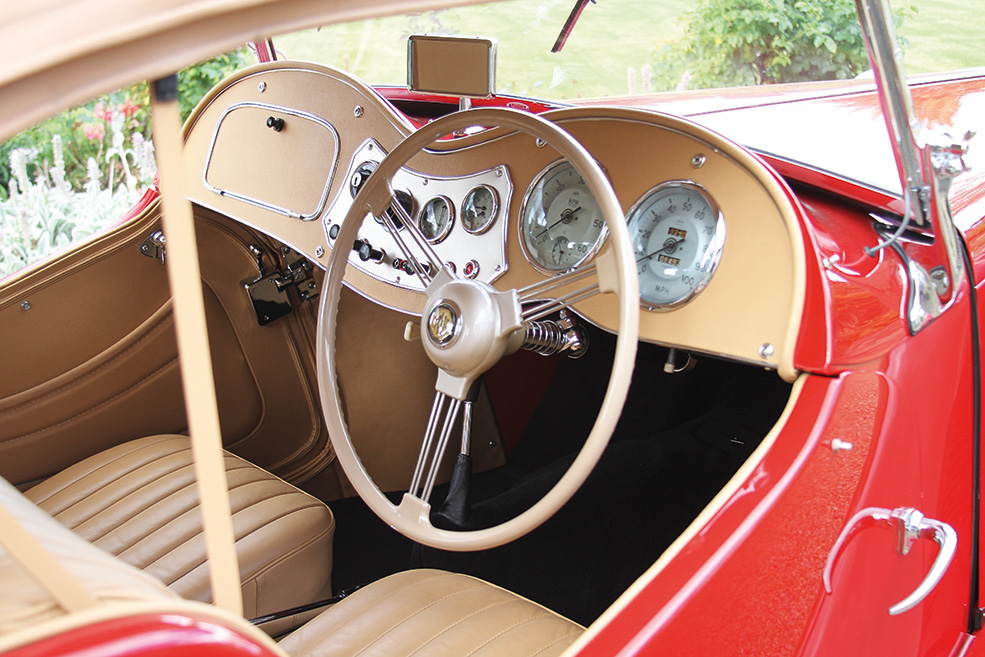 WHAT TO PAY
Asking prices are not the same as selling prices and although you will see people angling for more, £25,000 should actually be ample (if not downright generous!) for you to get a lovely car in a private sale that is ready to use and show. Cars that have a valid MoT but require some TLC can be found for closer to £15,000, or even less than that if you want to take a gamble at auction. That will make a lot of sense if the work required is only cosmetic, but could work out as a false economy if the body has to come off because the ash framing is rotten. If you can't make that judgement yourself, it would be either brave or foolish to take a chance when you are talking of £20,000 or more, so paying for an expert opinion could be the wisest investment of all.