If you fancy a classic hot hatch but like the idea of affordability, opting for its saloon equivalent might be a wise financial decision. We take a look at three eighties hot hatch saloons.
Volkswagen Jetta GTI (1985-1992)
Think of a famous classic hot hatch and there's every chance the Golf GTI will get an early mention. For many enthusiasts, the Mk1 Golf is the original performance hatch, and the slightly larger Mk2 isn't far behind in terms of desirability. But when it comes to Golf-based saloons, what's the ultimate choice?
For us, it has to be the GTI version of the second-generation Jetta, a highly practical four-door with a huge boot and all the driver appeal of the Golf on which it's based. The Mk2 Jetta arrived in 1984, with the GTI version appearing the following year – with a useful 112bhp from its 1781cc fuel-injected engine. Then in 1987 came the GTI 16v version of the Jetta, pushing power all the way to 139bhp – and endowing this simple looking saloon with a top speed of 128mph, reaching 60mph along the way in just over seven seconds.
The biggest problem now will be finding a Jetta GTI or 16v for sale at all, such is the scarcity of these models. They were built at a time when power-hungry VW fans usually went the Golf route, leaving its four-door high-performance cousin as an also-ran in terms of sales. If you do happen to find an excellent 16v with a sensible mileage, we can see an asking price of £4000-£5000 being justified, with a less perfect car topping out at around the £3000 mark. And compared with a Mk2 Golf GTi, that's certainly good value.
Ford Orion 1.6i (1983-1990)
The launch of the Mk3 range in 1980 meant the end of the traditional Escort saloon, with the front-wheel drive newcomer being solely available in hatchback and estate guises. All that changed three years later, however, when Ford added a traditional boot to the Escort, creating a four-door line-up badged as the Orion. The original Orion lasted through to 1986, when the Mk2 version was launched; it received the same front-end styling update as the Mk4 Escort, with both ranges then running through to 1990.
While the Escort XR3i satisfied those Ford fans looking for an attention-grabbing hot hatch, a rather more subtle alternative was available in the shape of the Orion 1.6i, featuring the same 1.6-litre, fuel-injected CVH engine and a choice of trim levels (GL or Ghia). Then in 1988 came the ultimate Orion – the 1600E, a luxurious version that brought back memories of its Mk2 Cortina namesake.
Any 1.6-litre fuel-injected Orion offers the same kind of performance as an XR3i, with handling that's almost as sharp. What it also offers, however, is value for money thanks to Orion prices (1600E aside) being generally lower than those of the Escort it's based upon. A Mk2 Orion in very good condition can be picked up from around £1500-£2000, with asking prices of £3000-plus being reserved for exceptional examples; but a MkI will be marginally dearer, with a very tidy 1.6i often being priced from £2500-£3500, while an immaculate example of a 1600E might achieve in excess of £5000 on today's market.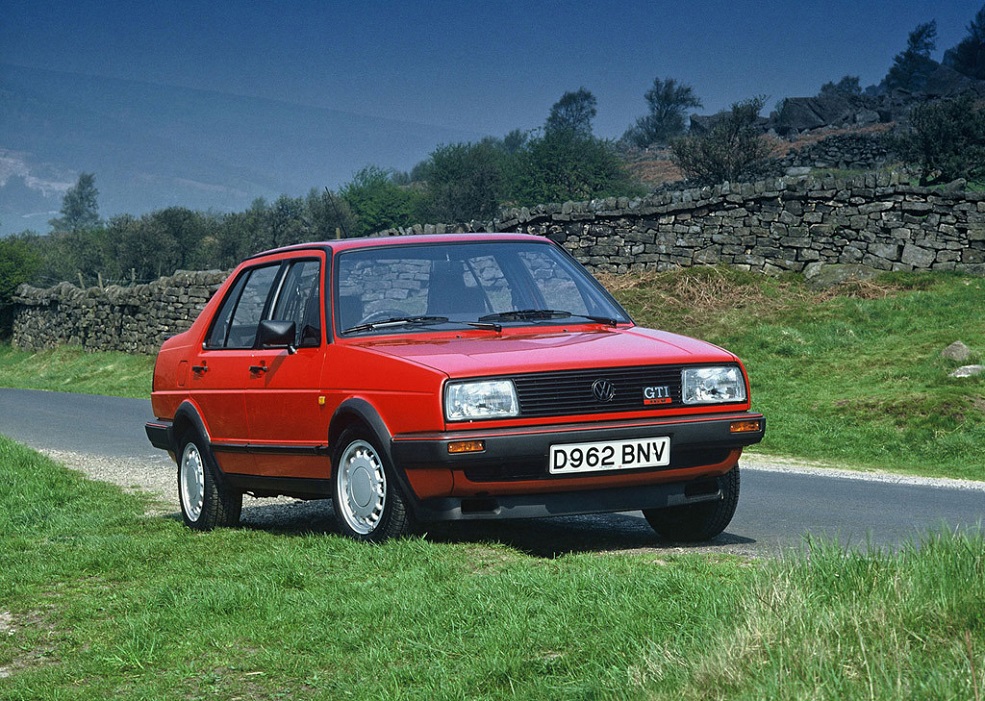 Peugeot 309 GTi (1987-1992)
Launched three years after the hugely successful 205 GTi was Peugeot's latest hot hatch, based around the standard 309 range that first appeared in 1985. But what's the 1987-on 309 GTi doing here if it's not a saloon? Well, its notchback styling helped it to stand out from rival hatches when new, as well as giving it an almost saloon-like profile – and these days it offers an intriguing alternative to the more mainstream classic hot hatches.
Compared with the lithe little 205, the 309's styling was arguably a bit 'dumpy'; but there were no issues when it came to what lay beneath, for the latest hot Pug featured PSA's 1.9-litre fuel-injected four-pot, producing an impressive 130bhp. And with handling to match the power, this was one of the most entertaining cars in its class.
Just about every classic car fan is aware that 205 GTi prices have escalated, but what about its big brother? The good news is that the 309 remains more affordable, but prices are certainly on the up. A 15,000-mile example from 1990 was sold last year by Classic Car Auctions for just shy of £12,500, while a 1991 car with only 131 miles under its wheels fetched around £14,500 with Barons. That kind of valuation is exceptional, however, as solid and presentable cars can be found for £6-8000, while immaculate show-worthy examples can usually be picked up for around £10,000 – roughly a 50% increase on what was achievable four or five years ago.