We take a look at the performance model which took a humdrum family hatchback to legendary status; the VW Golf GTI.
A staple everyday sight (and the default answer for someone asking what car to buy), today the Golf has sold over 30,000,000 since its 1974 launch and long been family car class leader, with none quite as ubiquitous as Volkswagen's fairway-inspired hatch. Make it fast, and an everyday run-around becomes a legend…
Many picturing a VW see the Beetle. Indeed, the Ferdinand Porsche-designed, air-cooled KdF-Wagen had been around since 1938, becoming Germany's people's car. However, by the early 70s, it was archaic; Ford's Escort, Peugeot's 304 and Austin's 1100/1300 offered more comfort, refinement, performance, practicality and modern styling. Having dabbled in a FWD Beetle successor with the NSU-derived K70 amongst others, Volkswagen commissioned Italian designer Giorgetto Giugiaro to design the catchily-titled "EA337". Having also designed the Scirocco – itself released two months prior – Giugiaro's results were superb; bang up-to-date, sharp and stylish, it made the Ford, Peugeot and Austin look ancient. Only a name was needed – "Blizzard" and "Caribe" were considered but ultimately "Golf" was chosen – conflicting information suggesting inspiration from the sport, the Gulf Stream or a horse.
Whatever its origins, Golf stuck. One syllable, four letters, fitting and neat. How German. With the looks and nameplate sorted, next were mechanicals; engines were numerous water-cooled Audi units, from the 1093cc, to meatier 1.6, pushing out 74bhp. Suspension was suitably modern too – McPherson struts and anti-roll bar front and coil-sprung semi-independent rear. Commonplace today, but the result – particularly in a car weighing 800kg – was superb handling, nimble turn-in and a fun, chuckable chassis. The corners were only half the story, with a compliant ride and excellent refinement, leaving the bouncy Escort trailing.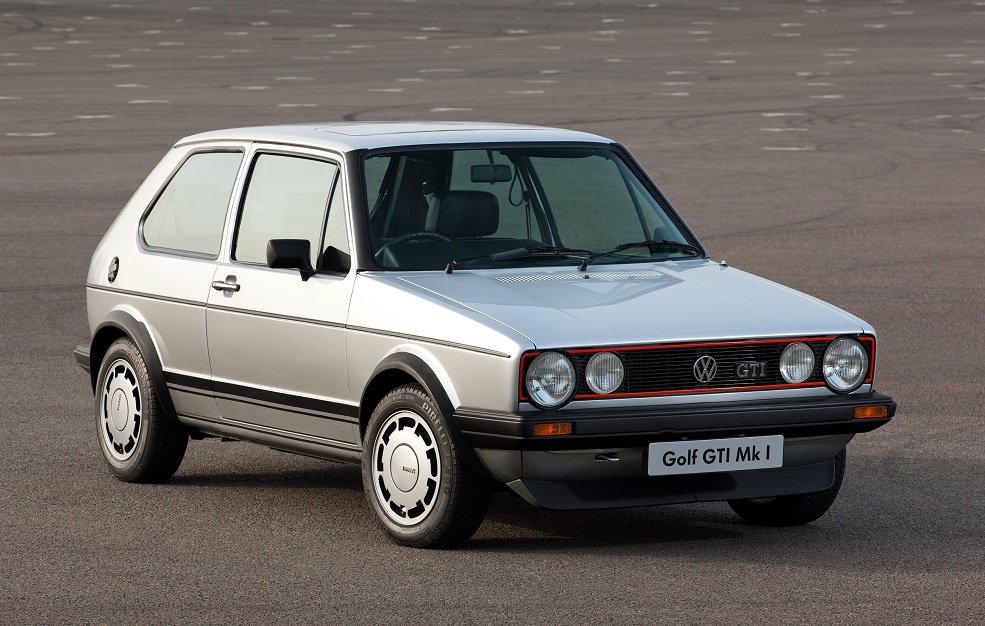 As a hatchback, the Golf also had practicality, comfortably accommodating four people and a filing cabinet. This remained fantasy to rivals, all using booted rears. If the Golf weren't chic or versatile enough, the 1979 Cabriolet saw to that, including body reinforcements and a rollover bar. It was well-engineered and fun. The Golf had big shoes to fill from the Beetle, but did so fantastically, combining style, practicality, handling and comfort, embarrassing rivals in the process. It rocked the world in the 70s, selling 14,000 units in Britain in 1975 alone and second place in European Car of the Year only to the spectacular Citroën CX. One enjoyed considerably more commercial success…
Just when the rest caught up, though, Wolfsburg threw a curveball; Press Manager Anton Konrad and engineer Alfons Löwenberg were developing a high-performance "Sport Golf" as a skunkworks project. With various suspension and engine staff on board, the project was later coined "GTI", an acronym for "Grand Tourer Injection" to flaunt the then high-tech fuel injection on the Audi-sourced 1.8 litre. Secret development continued until the rogues felt they could show their parts-bin "Sport Golf" to management. The result was not a talking-to or P45, but approval and green lights.
The Golf's diminutive size and weight came alive when paired with powerful engine and firmer suspension, creating a shopping trolley that humbled sports cars.  Tartan-plaid upholstery and namesake-inspired golf-ball-like gearknob "sportified" the interior, tasty wheels and red highlight on the grille finished the GTI off for its 1975 Frankfurt reveal. Originally intended as a low-volume touring car homologation, the GTI proved a smash hit, prompting mass production. Britain was originally destined for a handful of LHD cars, but runaway success eventually landed us official right-hand-drives.
Not the first fast small car (Chevette HS or Lotus Sunbeam anyone?), but first to do everything well, the Golf GTI was a jack of all trades. For better or worse, the Golf began the sports car's decline, highlighting their impracticality, unreliability and in hindsight, lacking performance. Having all but created the "hot hatch" genre and sold 462,000 units in the process, the GTI cemented its place in history and the Golf line-up.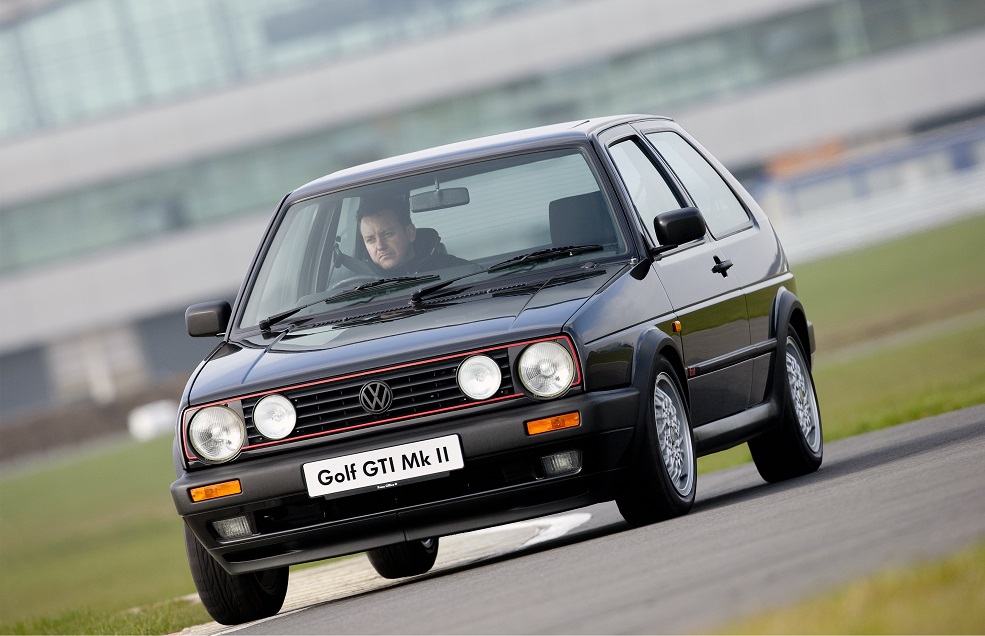 Round Two
Like the old timer watching young'uns play darts, before throwing an immediate bullseye, the GTI stood up and did it all again when the Mk2 Golf – introduced in 1983 – needed a fast version. The second-generation GTI had it all to do in the face of Peugeot's now class-leading 205 GTi, Renault's 5 GT Turbo and the Ford Escort XR3i. Do it all it did – especially when the engine sprouted eight extra valves, improving efficiency and power, raising 112bhp to 139BHP. Chunky BBS RAs complimented the Mk2's bigger bumpers to create a GTI with bolder, squatter, more 80s look. Tartan seats and golfball gearknob remained, as did sharp, playful handling and a sense of classiness that hot hatch contemporaries just never matched. Whether it was a better driver's car than the Peugeot remains up for debate, but as an all-rounder, the Golf became ubiquitous.
The Mk2 Golf in general was a step up; practicality was a focus, the second-generation car growing 7.1 inches in length and 2.2 inches in width. Weight increased by 120KG accordingly, but power grew too, the range expanding to include an 89bhp 1.8. Giugiaro styling was a winner first time round, so the Mk1's appearance merely evolved, encompassing the same boxy profile. The interior too took advantage of the larger dimensions to offer more space front, back and in the boot, but it remained resolutely Golf. Neatly laid out, quality switchgear, twinned with sharp dials and an all-round solid feeling that holds up, even the doors closed with a reassuring clunk that does, indeed, sound just like a Golf.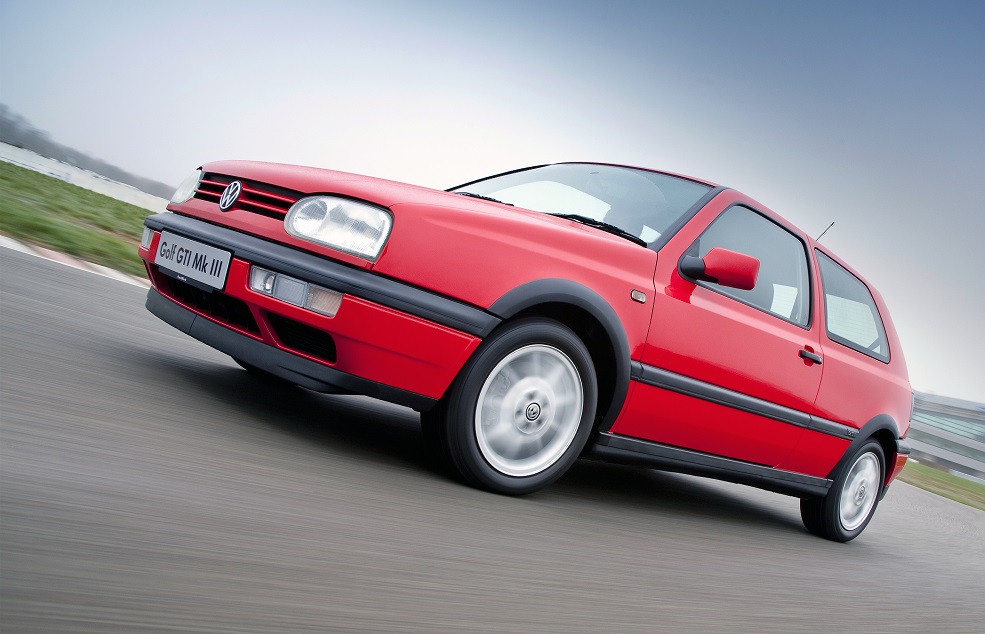 Difficult Third Album
The Mk2 Golf was more evolution than revolution, taking the established formula and sharpening to keep rivals on their toes. However, 1991's third-generation car was another story; gone were Giugiaro-penned lines in favour of in-house design and doing so was quite the brief. The new Golf had to smarten up, ditch its 70s origins and once again make the opposition look old hat. It had to be of the moment and impressive, yet discreet and still undoubtedly a Golf. Less instantly pretty, but the Mk3 met its brief perfectly. Certain trademarks remained, like the horizontally-lined grille and 2/3 bonnet bulge, but this was undoubtedly the Golf entering a new era. The Cabrio variant returned, incorporating a rollover bar and by offering Golf refinement in an open-top experience, appealed to the American market enough to outlive the third-generation altogether.
Inside, the Mk3 moved forward too – soft-touch plastics, rounded dashboard, electric windows and airbags were all included in an interior that was more spacious, comfortable, refined and altogether more grown up than its predecessors. Like the styling, the interior made those of the fourth-generation Escort and MG Maestro look like children's playrooms. Built in numerous international factories – including one in Mosel, a stone's throw from the original Trabant factory – here was a Golf for the new decade; modern styling, refined interior and updated mechanicals created a family hatch comparable in quality to Audi and BMW.
As rivals played catchup yet again, the GTI was wheeled out; the 1.8 of old swapped for a 2.0 litre, offered in both 8v and 16v flavours. Unfortunately, the weight gained over the second-generation meant the GTI had it all to do. Power from the 16V 2.0 climbed to 150bhp, dropping the 60 dash to a sprightly eight seconds flat, but with 8V cars struggling to crack 10 and handling more secure than playful, the third GTI didn't quite meet the mark. Indeed, CAR magazine described the Mk3 GTI in a group test as being "a safe, rewarding car when hustled…while not overtly sporty, the Golf combines balance, grip and body control". Hardly exciting words, it conjures up a car easy to drive quickly, rather than a thrill-a-minute sports car. With Vauxhall's wild Astra GSi, the revised Mk5 Escort XR3i and ballistic Nissan Sunny GTI-R showing it up as a bit vanilla, the Golf remains something of an undiscovered jewel. It lacked the sharpness or speed of its contemporaries, but as a more sporting family car – ultimately what a hot hatchback should be – the GTI Mk3 is an extremely well-rounded machine.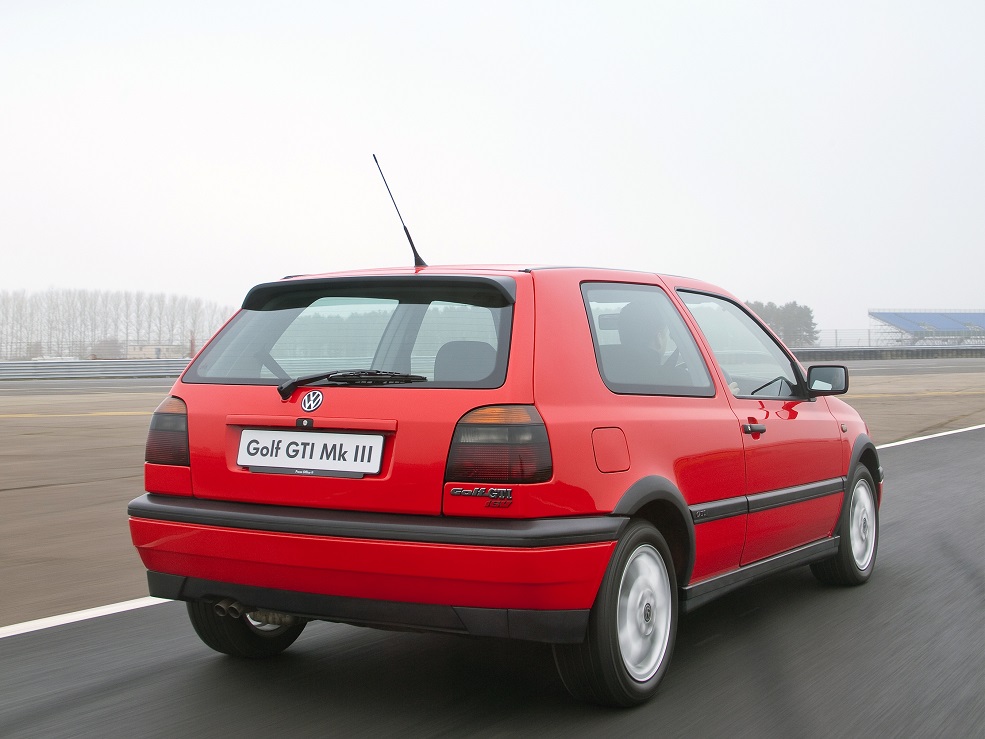 In the hot hatch-crazed 90s, however, marketing was king and the GTI looked dowdy compared to rivals – not helped by the golf ball gear-knob and tartan seats, conspicuous by their absence for the first time in a GTI. The Mk3 had another stab at performance with the VR6, a 2.8 litre, 172bhp muscle-Golf. It out-dragged all but the most ballistic sports cars and was creamy in its power delivery, making it a smooth, comfortable cruiser. Brisk and understated the VR6 might have been, but the extra weight at the nose and suspension aimed at touring meant it was no B-road hero. With Volkswagen trying desperately to make a fast Golf stick, the cooking models were enjoying international success anonymously. Selling 4.8 million cars worldwide, the Mk3 Golf was ultimately produced in five different plants: Germany, Belgium, Mexico, Slovakia and South Africa.
The class swot is rarely the height of popularity – while the third-generation Golf was comfy, refined, practical, compliant and hugely competent, it remained widely unloved by many. The Mk3 Volkswagen Golf is proof merely being good doesn't make a car loveable. Its Fiat Tipo rival wasn't nearly as well-rounded (or good, in all honesty), but has a more loving fanbase for its character and enjoyable drive. With rumours of Ford's Escort replacement and the third-generation car showing its age as the 20th century wound down, it was time for a new Golf…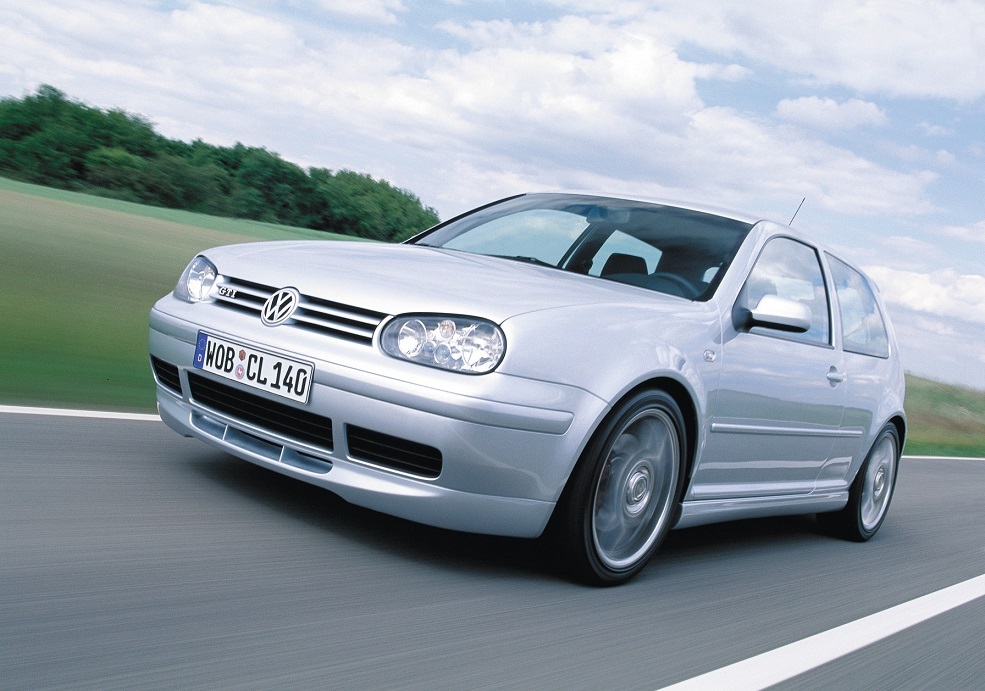 Episode IV: A New Hope
In 1997, the Mk4 Golf hit the showroom floors and, one could argue, began to break down the automotive pecking order; with a company like Volkswagen Audi Group (VAG), care must be taken not to offer too much of an experience from a higher-rung model or marque in more affordable models. But Volkswagen described the fourth-generation Golf as the "democratisation of luxury"; The interior continued the refinement, space and practicality of the Mk3, but lifted the formula more upmarket, using numerous fittings and switchgear from its Passat big brother and even executive Audis. Cruise control, full leather and climate control were offered and with a sharp, crisp selection of quality switchgear and stylish blue dials, the fourth-generation car offered premium saloon luxury in what was ultimately a family hatchback.
The Mk4 was to the Mk3 that the second-generation was to the original stylistically, a modernisation of an existing design; the nose and tail rounded to match late 90s design language, growing 5 inches in length and 1.5 in width over the previous car. That size brought 32 litres more boot space, but also additional protection; increasing safety regulations and Euro NCAP pressuring for that illustrious five-star rating prompted additional crumple zones and a plethora of airbags in the Mk4 Golf, further reassuring the point that it was more than a mere hatchback. Mechanically, it gained the curious new V5 engine, as well as the 1.8T from the premium Audi line-up (including the fittingly Golf-derived TT), backed up by further refined suspension and bigger wheel options, as Volkswagen steered towards sportier styling.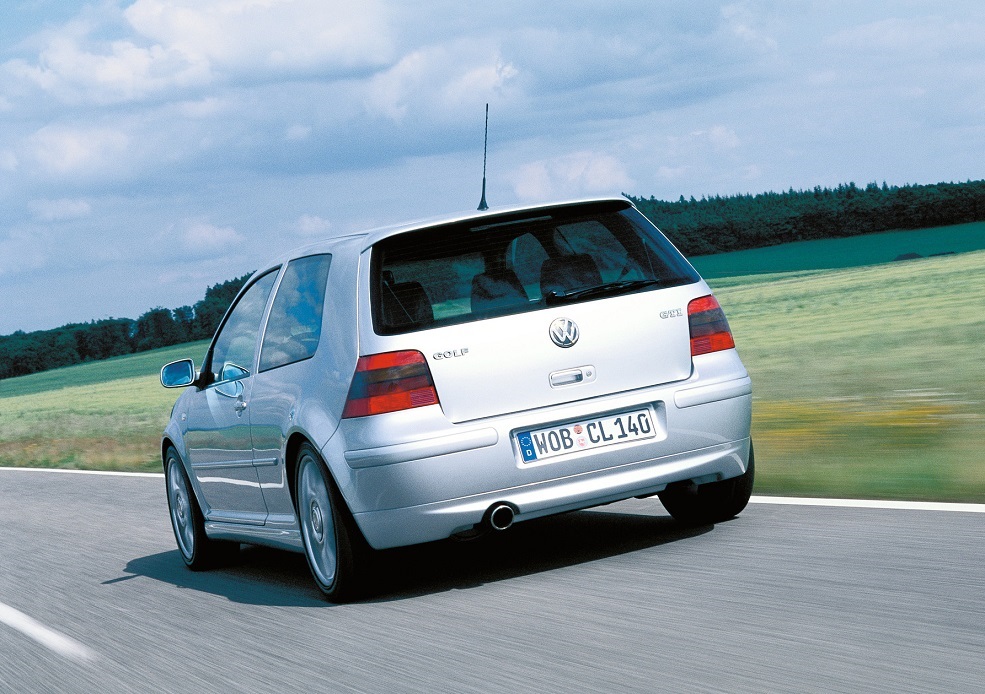 The Mk4 GTI was somewhat maligned for its lacking performance compared to rivals and again, more modest styling. But this was now the norm for fast Golfs – a quicker version of the family favourite with subtle styling improvements, rather than a lairy track day special, insufferable on the commute. The Ford Focus was class-leading in the corners and the Mk4 Astra offered Bertone design and Lotus-developed chassis, but neither could match the feel, class or worthiness of the Golf. That continues today – the subsequent Mk5, Mk6 and Mk7 have continued the ethos, creating a premium family hatch that does it all. Today's GTI is brisk and easy to drive quickly, but easier to live with than hard-riding, track-oriented rivals. The Golf may not be tangibly better than many competitors, but just somehow…nicer than the Ford and Vauxhall alternatives. It's the car that suits everyone, has a version for everyone and seemingly in one way or another, appeals to everyone. That might explain why 45 years and seven generations later, the answer remains Golf.