A slight tailing off of the Porsche 911 market has turned into a landslide during lockdown. We take a look at some air-cooled Porsche prices to see which models have been hit the most.
Feature taken from Classic Car Mart. Words: Aaron McKay
From the 2018 peak of 911 appreciation, average values of the iconic sports car model have declined by about five per cent. Most of the fall has been at the top end, and it's this segment that's really been hit hard by the changing demand conditions of the Covid-19 crisis. While some high-end cars have been flagged for investment during this time, many 911s are perceived to already have been buoyed by previous speculation.
Air-cooled prices
Pre-impact bumper 911s, particularly the very earliest 1960s models seem to have held their position, still actively selling for around £100,000. Interestingly the four-cylinder 912 sister cars are, however, taking a small hit and falling to less than half the equivalent 911 value. The most desirable of the early cars remain the very first and the very last; the latter so-called 2.4-litre models can often push into above £100,000 in the right kind of condition.
The once affordable everyday classics that were the 1970s and 1980s models could be returning to earth though, as the big gains of the last three years have been largely undone in the last few months. Down from an average of £75,000 in 2018, many cars are now being priced tentatively at £50,000, while we've even seen a number go for much less at auction. Later SC and desirable 3.2 models are down even more, as low as £25,000 and £35,000 respectively, representing a drop of around 25 per cent. Still, the Targas and wide-bodied models like those with the desirable Super Sport Equipment package are commanding healthy premiums of 10 per cent or more. In fact, this can quickly add up if we're talking about a late 3.2-litre with the G50 gearbox, the SSE pack, and in a colour like Guards Red for example – this can easily double a car's value.
Meanwhile, the more modern Porsche 964 and 993 models that span the years 1989-1997 have had their growth checked a little more subtly. Values briefly dipped below the £50,000 mark, where a year ago this was considered a solid figure at which to step into the market, but have recovered a little in the last month. The 964 seems to be the most robust, holding above £40,000, while 993s are losing their price advantage for low mileage, condition, and specification, with most now tending towards £40,000.
Even so, the increasing rarity of sub-50,000 mile examples with low numbers of owners, representing the peak of the 964 and 993 market is continuing to promote values north of £50,000, with some examples being priced up as much as £70,000. In these uncertain times, however, the appetite for investment quality cars like these is diminished.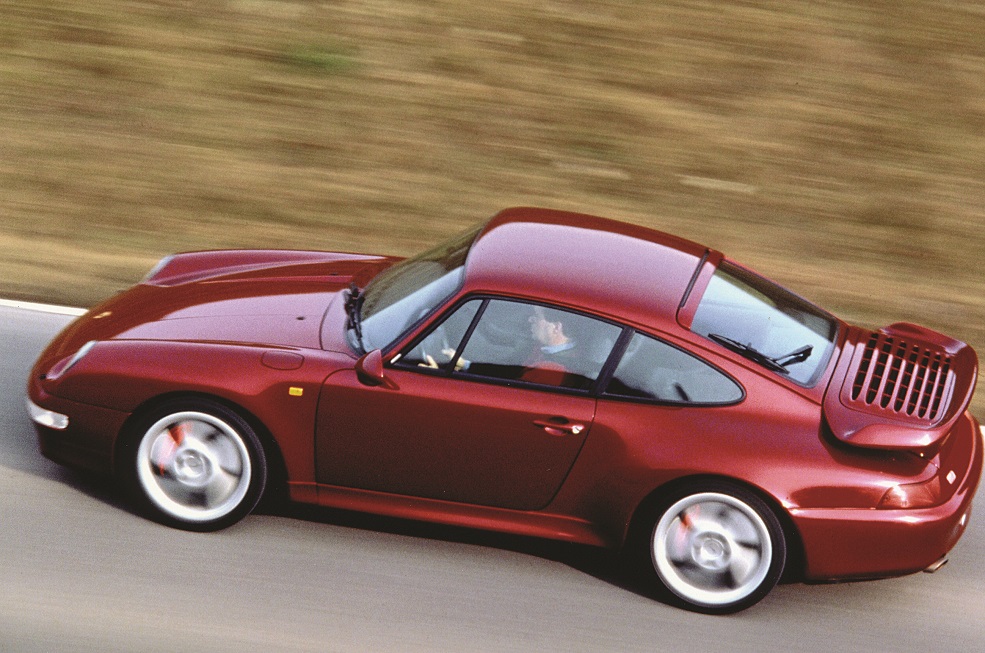 Top performers
The high-performance versions of Porsche 911 led the soaring growth in values over the last decade. While the famous 2.7 RS models aren't necessarily getting cheaper and in fact most RS models are holding their value impressively, it's the ones that were on the way up most recently that have been affected.
Turbos have had it good lately. Average values of turbocharged Porsche models made between 1975 and 2000 went up and over £100,000 in 2016, but of course we know that some models went way beyond this – the five-speed 930 Turbo models, more powerful 3.6-litre runout 964, and 993 Turbo S for example – all pushing towards £200,000 and sometimes beyond. But signs today are that appetites for 911 Turbos are fading. We saw a late 3.3-litre 930 go for £87,600 in June, and you can now find 964s for even less than this.
Most remarkable of all, though, is the fall of the 993 Turbo. Once boosted to the heights of the market thanks to its image as the pinnacle of air-cooled 911 performance, these have lost as much as 20 per cent of their value in just a few months. A plain Turbo can now be picked up for £75,000, a Turbo S is no longer knocking on the door of £200,000, and in fact even the highly desirable RUF conversions are now returning to the Earth's atmosphere – once a £200,000+ proposition, we saw a lovely 490bhp 993 Turbo R go for just £142,000 at a recent auction.
It would seem that the main bulk of classic 911s are still commanding strong money, but once you get above £100,000 things are starting to become a little less assured. The silly money that we've seen many cars headline at in the past decade is no longer achievable, and so we can expect this to gradually have a knock-on effect for the rest of the market, even if appetite for a nice, useable air-cooled 911 continues.