Turning a decidedly ordinary saloon into a sleek, handsome coupé, the Luton-based outfit created a car in the Vauxhall Calibra that is a rapidly-appreciating classic 30 years on.
The Opel Manta was a pretty car, at least in its first and third generations. We shall skate over an awkward phase between 1975 and 1981 when it was basically a hunchbacked, two-door Cavalier. Otherwise it was a graceful sports coupé, an evolution of the Ascona saloon from a manufacturer whose offering was dominated by distinctly quotidian machinery.
In 1989 Vauxhall repeated the trick with the Calibra. Underneath it may have been the wholly ordinary Mk3 Cavalier, but its pared-down profile made it one of the better-looking cars of its generation. It sold reasonably well as a result.
The Vauxhall Calibra was very much the descendent of the Manta, as both were the work of stylist Erhard Schnell. He shares credit for the Calibra with another GM design legend, Wayne Cherry. The car was an exercise in restraint, with unadorned coachwork, a long nose, elegant frameless side windows and swooping roofline that would later be echoed by the notably good-looking Audi TT. A happy side-effect of this was an exceptionally low drag coefficient.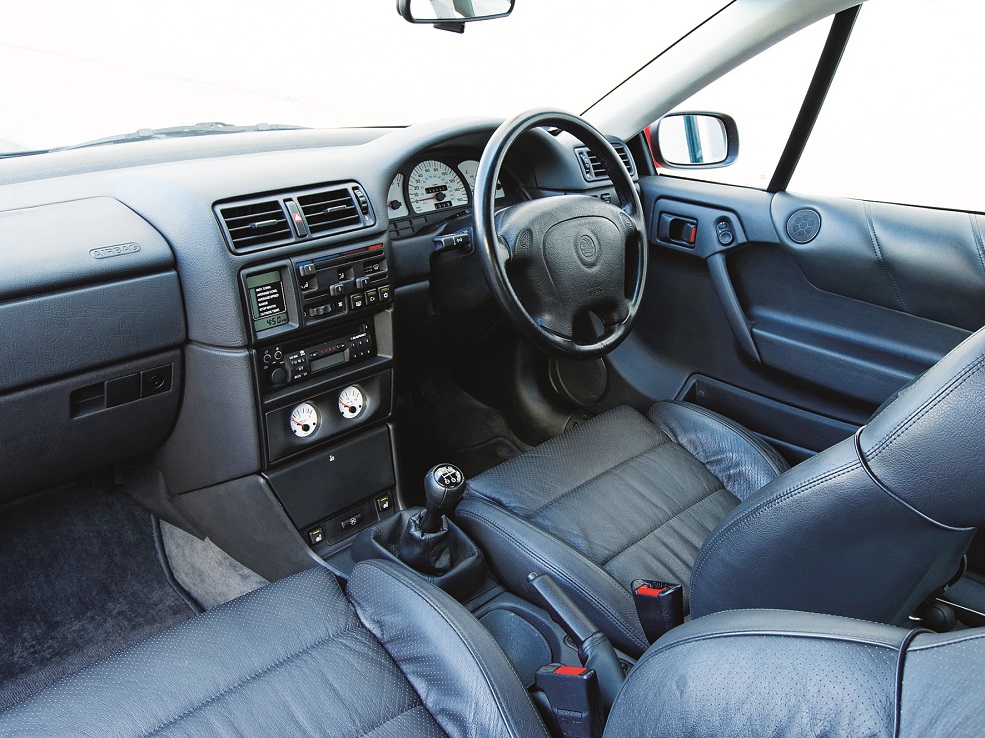 Under the skin was the Vauxhall Cavalier's front-wheel drive chassis, plus two-litre 8 and 16-valve engines used across the company's product range. Of these the latter was particularly well-regarded, having been developed with motorsport in mind as a collaboration with Cosworth. Known as the red top engine, its reputation was tarnished slightly when GM replaced the Cosworth cylinder head in 1991 with its own version which tended to suffer from porosity issues.
The eight-valve unit delivered 112bhp and 125lb.ft of torque, giving the car a leisurely 0-62mph journey time of 10.0 seconds and a top speed of 127mph. The 16-valve model fared better, with 145bhp and 144lb.ft of torque. Thanks to this, 62mph appeared after 8.5 seconds and peak velocity was 139mph.
In 1992, the Vauxhall Calibra gained performance that matched its sporting looks, thanks to a turbocharged version of the 2.0-litre, 16-valve motor. This unit was both powerful and tractable, because peak torque of 206lb.ft was developed at just 2400rpm. Maximum power of 198bhp appeared at 5600rpm. The turbo engine has become a classic in its own right, being a favourite for conversions and kit cars. In the Calibra it was deployed via a six-speed gearbox, way before such a unit became the norm. The Turbo model also featured four-wheel drive. Vauxhall has typically been efficient at using components across model ranges, and in this example the Omega's rear axle was repurposed.
The result is a Calibra which handles in a far more sporting fashion than its front-wheel drive brethren – sharing the Cavalier's undercarriage meant that the two-wheel drive Calibra sadly inherited its unremarkable on-road dynamics. An interesting alternative arrived in 1993, with a front-wheel drive variant packing a 165bhp 2.5-litre V6. Unlike the four-cylinder models, the V6 was available with both manual (five-speed) and automatic transmission options. Peak torque was a healthy 167lb.ft at 4000rpm. This engine, especially with the autobox, suited the chassis surprisingly well. Although the V6 was quite thirsty, giving around 28mpg on average, the car was a relaxed and composed character on the move.
Living with the Calibra was relatively easy, because it had four proper seats and a large hatchback. This made it rather more practical than rivals such as BMW's 3-Series coupé. However, the interior was dark and composed of the unpleasant plastics that abounded in every other Vauxhall of the period. Test drivers also criticised the low driving position and –despite the large glass area – limited visibility offered from the cabin.
Thanks to the four-seat accommodation and load space, the Calibra appealed to some as a company car, and it remained on Vauxhall's model list until 1997. It was largely unchanged throughout, receiving only a featherweight facelift in 1994, and more emissions-friendly Ecotec versions of the 16-valve and V6 engines in 1995.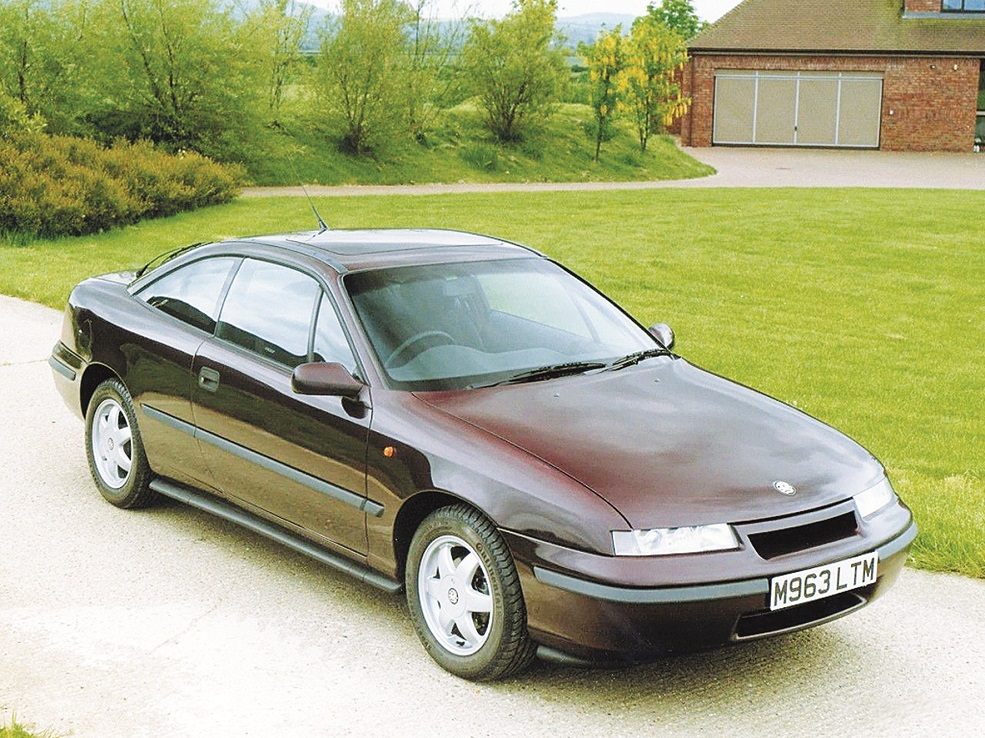 During its production life several special edition models appeared. Nine of these were offerings with exotic paint colours and finishes, wheels and trim schemes. A run of 167 cars was built to celebrate the Calibra's success in the German Touring Car championship. It brought BBS alloys, special trim options, lowered suspension and a rear spoiler to the party, and was available with the 2.0-litre 16-valve, 2.0-litre turbo and 2.5-litre V6 engines. While this is an interesting variant today, even more niche is the Turbo Limited Edition, a numbered run of 51 cars produced only in black, which enjoyed heated leather seats, lowered suspension and BBS alloys. Vauxhall also approved a conversion with specialist coachbuilder Tickford, which added luxury features to the interior of an already well-equipped car. Unsurprisingly, demand for this proved limited, and only 26 were built.
The years following 1997 were not kind to the Vauxhall Calibra. Like the Cavalier it depreciated remorselessly, and many succumbed to the neglect and consequent corrosion that is the lot of cheap, ageing, mid-market cars. As a result, the only examples left are those that have been cherished, which means that the Calibra is today very much an ascending classic. In fact, it only just qualifies to feature in this section, as its star has been rising for some time now. You can buy a Vauxhall Calibra from £3000, that will get you a stunning, lovingly cared-for example of the 16-valve model. Rarity and good stewardship combines to put low-mileage special edition variants on the market at around the £7000 mark.
However, prices will continue to rise, because while the Vauxhall Calibra received anything but rave reviews for driving pleasure at the time, nowadays it shines laser-bright in contrast to the nerveless experience of piloting many modern cars, shorn of sensation as they are thanks to a fixation among manufacturers with reducing noise, vibration and harshness. And – at least in the case of the pre-Ecotec cars – it is actually possible to maintain a Calibra without having a degree in computer science. The plain-vanilla engines, drivetrains and suspensions are solid-state, reliable and easily fixed, making a Calibra a very viable classic for everyday motoring.
One of the Calibra's big issues was rot in the rear wheelarches, but most examples currently for sale will have been cherished and won't present this problem. There are two main sources of trouble: porosity in 16-valve cars with the GM head which allows water and oil to mingle, and failure of the transfer box in AWD cars. The former can be fixed by a specialist, while the latter requires replacement of the offending unit. Four-wheel drive Vauxhall Calibras proved incredibly sensitive to differential tyre wear, which created fatal friction in the transfer box. Owners must swap tyres front to rear every 3000 miles and replace all four tyres when one fails.
Overall the Vauxhall Calibra is handsome, durable, pleasant and practical to own. As a bonus, a good example is a fine investment and will reward its owner's care with reliability and rising value. Not all elderly Vauxhalls were created equal, and at three decades old the differences show up plainly. This might be a Vauxhall Cavalier underneath, but it has attitude and that counts for a great deal these days.