While no longer a bargain-basement choice, the Toyota MR2 Mk2 is a stellar modern-classic sports car. Here's how to buy a solid example
Words: Richard Gooding  Images: Jack Grover  With thanks to: Brad Cox & Watley Classics 
Launched in October 1989, the 'SW20' MR2 Mk2 replaced the 'AW11' first generation of Toyota's 'Midship Runabout 2-seater' which first went on sale in 1984. Offering the same mid-engined layout, the second-generation MR2 proved an immediate hit.
The the new Mk2's brought more curvaceous styling and appeared to have more in common with red sports cars wearing a prancing horse badge than Toyota. Powered by new 2.0-litre engines, Toyota's baby Ferrari was faster, better-equipped and a more sophisticated machine than before. Production spanned 10 years, with five distinct evolutions: Revision 1 (December 1989 to December 1991), Revision 2 (December 1991 to November 1993), Revision 3 (November 1993 to June 1996), Revision 4 (June 1996 to December 1997) and Revision 5 (December 1997 to August 1999).
Some very late MR2 Mk 2s are referred to as 'Revision 6' models, featuring 'afterburner'-style rear lights and quad headlamps, as Toyota sought to shift remaining SW20 stock ahead of the introduction of the 'W30' MR2 Mk3 in 1999.
The car's main rivals included the Alfa Romeo GTV, Fiat Coupé and Mazda MX-5. During the second half of the MR2's life, the Porsche Boxster became a tough adversary – and its only mid-engined rival – but the MR2 was unrivalled in the bang-for-buck stakes. The more recent Toyota GT86 could be considered a modern-day rival, offering similar real-world performance to a naturally aspirated MR2 Mk2.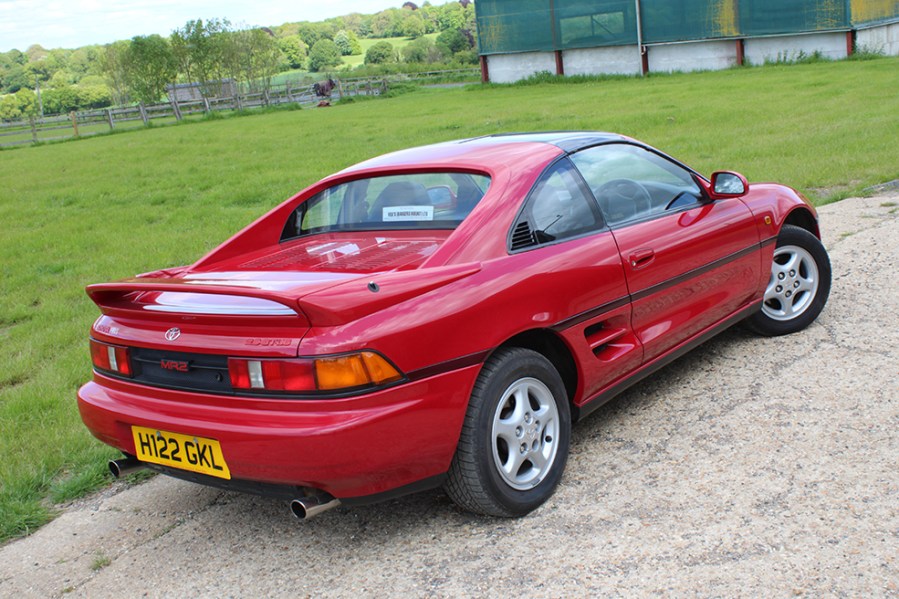 Bodywork
Rear sill rust is common on the SW20 MR2, often caused by the sound dampening foam found wedged in the rear quarters holding moisture. "These can, and should be removed. They can be accessed from the cabin by removing side panels behind the seats," says MR2 expert and multiple-time owner Brad Cox.
The rear wheel arches can also rust, along with the inner arches if not washed regularly to remove road salt. Undertrays were originally installed when new. Stiffening bars under the car near the engine bay are infamously known as 'cancer bars', due to their rusting from poor paint coating – aftermarket stainless options are available. Inner headlight brackets are also known to corrode.
When it comes to paint, all red cars suffer pigment fade – UK cars were even recalled – while other metallic colours such as black or green can have horrific lacquer peel. Exterior trims on the lower windows and door mirrors can also fade and wear, but trim parts are generally solid. The front side lights and rear reflectors are clipped in, and are often stolen due to their value.
Leaks from replacement windscreens can occur where non-genuine seals are used. Glass T-bar roof panels are also prone to leaking, and although replacement seals are available, they are extremely expensive and difficult to install. Fully removable sunroofs on UK cars have no major issues, and cars without sunroofs or T-bars are the lightest, most rigid, and also the rarest. Only GT models had a rear spoiler as standard.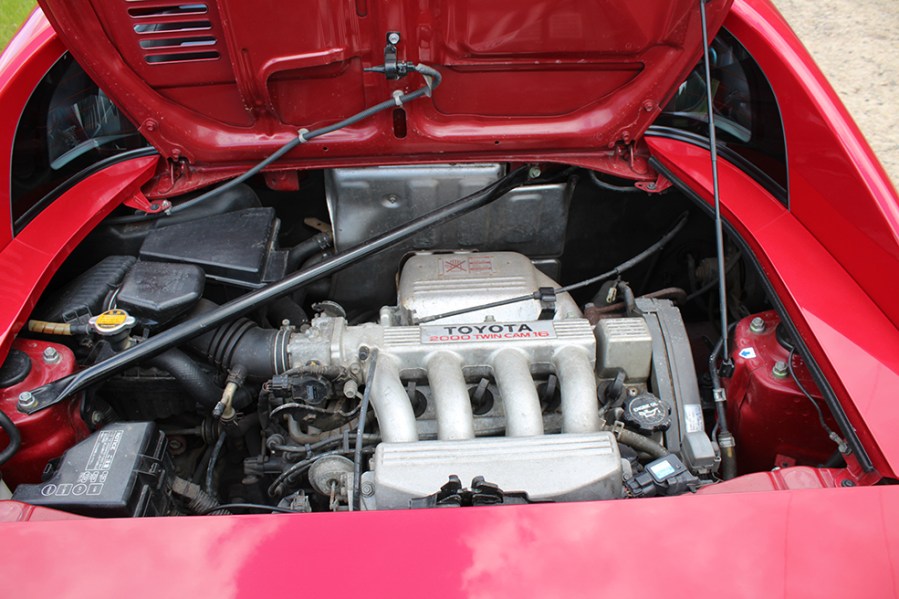 Engine and transmission
The MR2 Mk2 featured a pair of normally aspirated, 'S'-series, non-interference engines under its bonnet, each shared with the contemporary Celica. The 119bhp '3S-FE' 2.0-litre is the entry level engine. Avoid this unit, as it is lazy and unrefined, and ruins the sports car experience, says Cox. The 158bhp '3S-GE' 2.0-litre is the most common. "It is a very well built and perfected unit," Cox states. "It offers fantastic performance and economy, with very little to worry about, as long as the engine has been regularly serviced, but head gasket failure can occur due to overheating." Revision 3 onwards engines – bumped to 173bhp – have a revised intake manifold and head, but there is very little difference in performance or reliability.
Not officially sold in the UK (although grey imports did make it here), the 225bhp turbocharged '3S-GTE' engine was based on the 3S-GE designed with Yamaha but featured a twin-entry ceramic turbocharger, air-cooled intercooler, plus a metal manifold catalytic converter. A highly tunable unit, 400bhp is said to be achievable! Other non-UK units include the rare 200bhp 3S-GE 'BEAMS' (Breakthrough Engine with Advanced Mechanism System) engines with their Yamaha-developed heads, VVTI, and coil-on-plug ignition.
There are many turbocharged cars around; Cox says the unit is one of the most underrated engines – MR2 or otherwise – around. "The boost hits in a gulp at around 3,000rpm and as the turbo sits between the seats, it offers audible delight for driver and passenger." Revision 1 and 2 3S-GTE engines originally had fibre head gaskets that can fail with age but Revision 3 units onwards had multi-layer steel gaskets. These can be fitted to earlier cars and there's much less to go wrong.
Cambelts on all engines should be changed or inspected but are often overlooked; it's an extremely tight squeeze to change with the engine still in the car. Revision 1 and 2 turbos use a hydraulic tensioner that can fail if not changed within recommended intervals. Also check for oil leaks around the sump, excessive exhaust smoke and overheating. Turbos can suffer with bottom end bearing failure if not serviced regularly and smoke can come from failed turbo seals – the 'CT26' and 'CT20' OEM turbos use a ceramic shaft, which can become brittle over time. Failure causes catastrophic engine damage, so these should be replaced with a steel shaft.
SW20 servicing is easy with the exception of engine access, but two removable service panels either side of the engine lid aid access. The 3S-GE requires nothing more than regular oil and filter changes – every 5,000 miles on early cars. The 'S54' five-speed gearbox of the nataurally aspirated models can withstand a lot of abuse, but should the fifth gear fail, a repair kit is still available. The 'E153' five-speed on turbocharged cars is a Getrag unit, offering the same mechanical shift experience as the naturally aspirated transmission, but the optional limited slip differential makes a noticeable difference to the driving experience.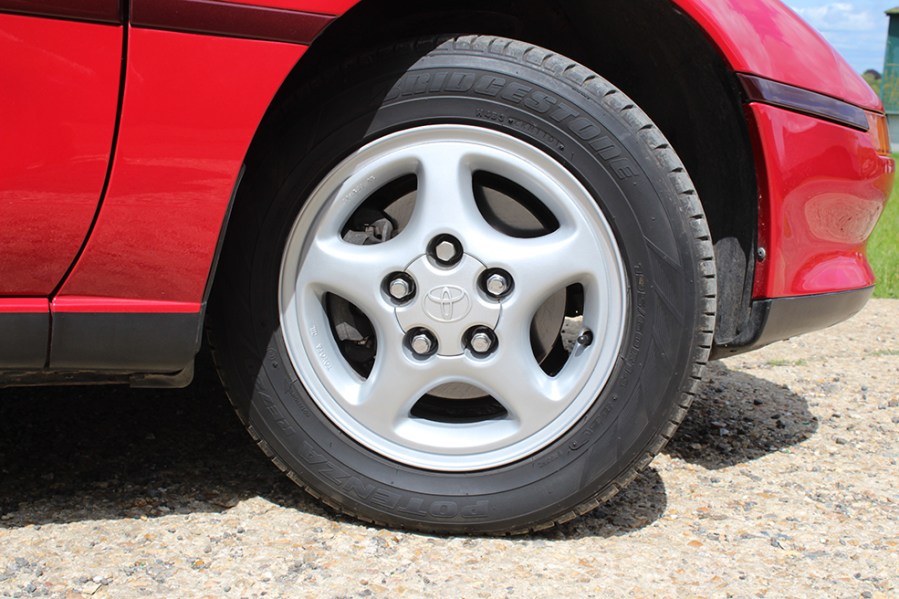 Suspension, steering and brakes
The SW20 MR2 has a more durable MacPherson strut and Bilstein suspension setup than its predecessor, and Revision 3 onwards cars sit slightly lower. A popular upgrade, coilovers can modernise the car dramatically. Most cars will be at an age where replacement of suspension bushes is recommended, and stiffer poly bush kits are widely available. When on a test drive, listen for clonks and other noises that could signify trouble. Also check for a staggered wheel fitment, with a wider rear wheel. Tyre choice is important so take into account the cost of new high-performance items.
Both manual and power-steering models exist, the latter using an electrohydraulic setup which turns off at around 20mph for more direct feel. "Both systems offer great feedback, but the lack of engine weight over the front wheels can become interesting at higher speeds, helped only by the wind deflectors on later models to reduce air entering front wheel arches and reducing lift," Cox explains, stating that the dreaded snap oversteer is a myth; the MR2 Mk2 is no worse than any other mid-engined performance car, he reckons.
The SW20 has all-round disc brakes with single-pot rear and twin-pot front callipers. Revision 1 brakes were quickly revised and Revison 2 cars onwards share the same callipers as the turbo. "The brakes are progressive but can suffer with fade if pushed hard," says Cox. Most UK cars had ABS but it was an option on imported models. The system can be over-sensitive, and the rear brakes are prone for seizing up. A traction control system was a rare option on turbo cars but is a basic system compared to those of today. This lack of intervention combined with wet roads can make the MR2 a little unpredictable, especially for those lacking rear-wheel-drive experience.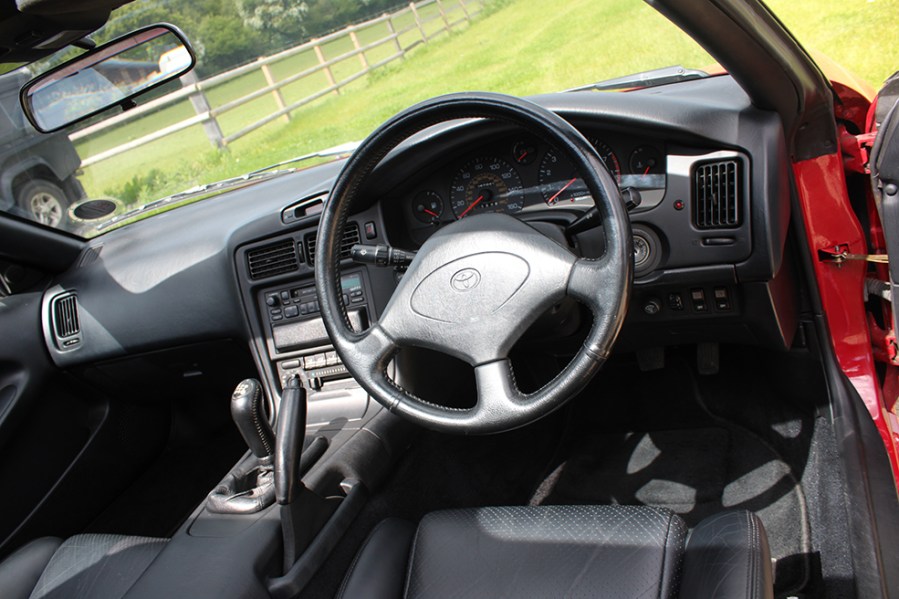 Interior, trim and electrics
The cockpit-style cabin feels purposeful and the large, clear instruments with their long sweeping needles create excitement. Similar to most Japanese cars of the 1990s, build quality is exceptional and the centre console, dash and door trim materials all hold up well. "Plastics can be brittle, and the leather gear gaiters suffer from excessive wear and tear but are easily replaceable," states Cox. Most parts found on the MR2 are from the Toyota parts bin and are still readily available.
If looking at a T-bar car, check for a standard sunshade. The clips often break and replacements can be hard to source. Vinyl bags to store the glass panels are also often absent. On all MR2s, cloth seats offer a more 'bucket'-like feel than the leather and Alcantara items, which can crack. The factory stereo system is OK at best; optional 'premium' systems consisted of an additional subwoofer behind the passenger seat. As they used amplifiers behind the dash, cars with audio upgrades may have wires spliced into the factory looms.
Electrical systems are generally very good with no real issues but Cox says to watch for power steering relays. "This is a known issue where the power steering warning light will illuminate on the dashboard and the system will not give steering assistance. An easy – and temporary fix – is to flick the ignition on and off multiple times," he says.
Other than the sunroof, most items were optional, but all cars came with electric windows and mirrors and a heated rear screen. There are Japanese imports to choose from, too, with G-Limited models featuring leather, electrically folding door mirrors, and a rear spoiler. Turbos came in lighter-spec GTS and GT.
Toyota MR2 Mk2 (SW20): our verdict
The SW20 MR2 is a daily usable modern classic that offers good driving manners, a great driving position and reasonable boot space. It feels like a much more modern car to drive, and its build quality and reliability make it a great all-round purchase. An enthusiast's car capable of tackling B-roads at the weekends but also the weekday shop, the SW20 has many fans, with organisations including the MR2 Owners Club, International MR2 Owners Club and the MR2 Drivers Club. Forums such as mr2.ie and the MR2 Club division of toyotaownersclub.com are also helpful resources.
When it comes to parts, almost everything is still available, and specialists such as MR2-BEN, TCB Parts, TB Developments and Rogue Motorsport offer knowledge on all areas of ownership and tuning. For engine swaps or complex issues with wiring, Paul Woods of Woodsport is the man for the job.
"Compared to other Japanese 'hero' cars such as the Nissan Skyline and Toyota Supra, the MR2 hasn't seen the stratospheric rise in prices, but the market has just started to catch up," says Cox. Naturally aspirated cars are more common, and therefore don't demand as much as turbo models. However many n/a cars have been engine swapped and can be had at a steal. The SW20 may continue to slowly appreciate if it follows the trend of the earlier 'AW11' Mk1 cars.
A good project car can be had for around £2,000, but expect rusty sills and rough paint at best. Revision 3 onwards models with more modern light clusters and colour-coded body work are more desirable but mechanical differences are minor. A low-mileage, well-maintained Revision 2 car would be a better purchase than a rougher Revision 3 example. A good example of a n/a Revision 3 onwards car is around £4,000. Turbos have jumped dramatically, with earlier cars in project condition starting at £6,000. Later cars demand up to £25,000.
One final point is that tasteful and performance modifications don't always hurt the resale value. The labour involved in engine removal, forged engine internals and larger turbos can add to the value, especially if the components are from well-known manufacturers.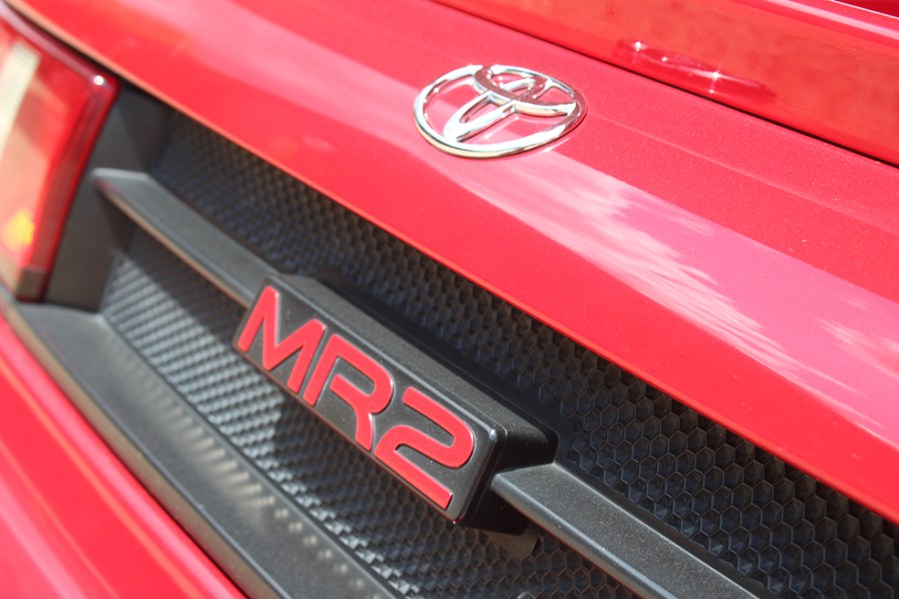 Toyota MR2 Mk2 (SW20) timeline
1989
'SW20' MR2 Mk 2 unveiled in 1989, replacing the 'AW11' Mk 1 on sale since 1984. New 119bhp and 158bhp 2.0-litre Toyota 'S'-series engines with five-speed or four-speed automatic gearboxes. Turbocharged 225bhp model sold outside Europe.
1990
MR2 Mk 2 arrives in the UK in 119bhp MR2 and MR2 Auto, and 158bhp GT and GT T-Bar trims. Prices start at £14,000.68 for the MR2, rising to £16,650.50 for the GT T-Bar.
1992
First revisions see automatic models dropped from UK sale. Specification changes include clear front fog lamps, 15-inch alloys, speed-sensitive power steering, a lowered ride height and bigger brakes. Suspension geometry revisions to cure snap-oversteer.
1994
New 173bhp '3S-GE' engine installed from the Celica GT replacing previous units; ABS added, along with exterior styling and interior revisions, side impact bars, and revised suspension. GT and GT T-Bar specifications only.
1996
Limited edition 10th Anniversary MR2 GT T-bar model introduced.
1999
Production of MR2 Mk 2 ends; European sales last until 2000.