Flash sports car, stylish two-door coupé or steady four-door saloon? Deciding which Swinging Sixties classics to purchase with £15,000 obviously comes down to personal taste. So, we've compiled a variety of options along with some advice to help buy one.
A sum of £15,000 might seem generous, especially when considering a brand-new E-Type would have 'only' cost its first owner a cool £2500 back in 1962… but when considering Sixties classics, it suddenly presents an interesting personal dilemma. After all, the same sum will buy an utter basket case of an E-Type, a serviceable Mk2 Jaguar… or the best Morris Minor in the world. We try and choose how to spend wisely.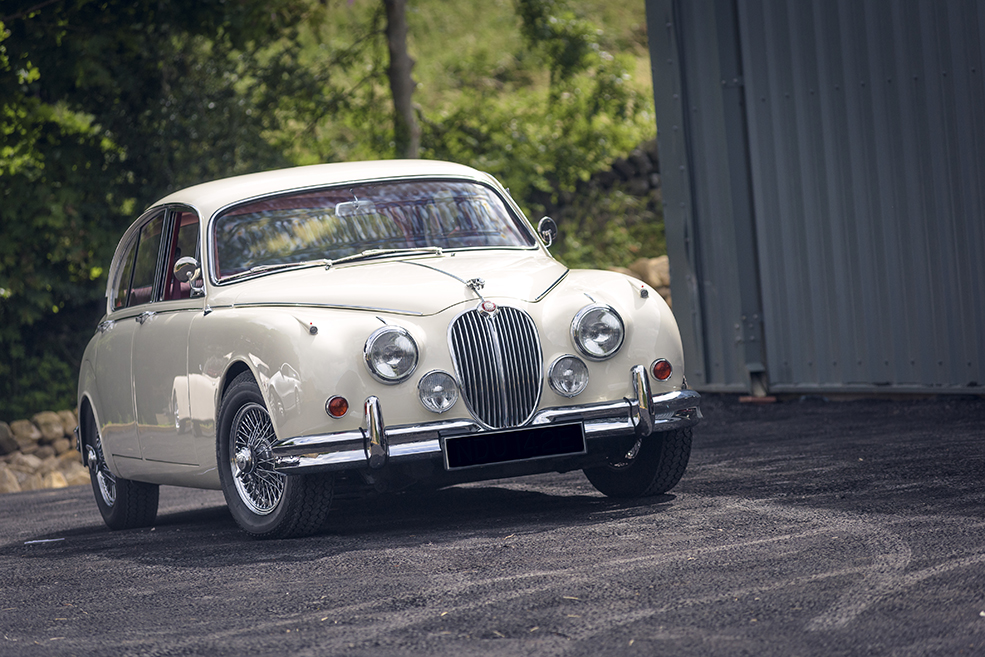 Mk2 JAGUAR
In 1959 Jaguar introduced its heavily revised Mk2 saloon, the main difference being an enlarged glass area which had been permitted by a better understanding of monocoque bodyshell engineering. A wider radiator shell and a pair of sidelights repositioned on top of the wings graced the front of the revised model and the restyled bodywork now encompassed a slightly wider rear track. Styling changes included fitting air vents where the previous model's spotlights had been positioned.
Disc brakes now occupied all four corners and the new Jaguar also received a modified front suspension set up. Inside the car, veneered picnic tables graced the rear of the front seats and a revised dashboard layout incorporating the most important dials directly in front of the driver was qualified by Jaguar's marketing department as being 'more user friendly'.
Power steering was fitted as standard to the now very desirable 3.8 from 1960 onwards and the car's notoriously clunky Moss four-speed manual gearbox was replaced with an all-synchromesh affair in 1965.
Two years later, the downgraded Jaguar 240 and 340 models took over from where the Mk2 left off and these revised models are easily identified by having narrower chrome bumpers and cost-cutting Ambla upholstery. The final Jaguar 340 rolled off the assembly line in 1968, when the advanced XJ6 saloon was unveiled. Production of the Jaguar 240 soldiered on until 1969 and the hugely underrated Daimler V8-powered 250 remained available until the following year. Although very few genuine examples survive, a John Coombes high-performance special is perhaps the pinnacle. A well-sorted example will always command a very healthy premium over the best standard Mk2.
WHAT TO LOOK FOR: Rust and poor restoration will be the main points to watch out for. Chasing rust out of one of these cars can be an expensive business, as can restoring a tatty interior. Allow at least £7000 to professionally rebuild either a smoky XK six-cylinder engine or the 2548cc V8 fitted to the Daimler 250.
PRICES: Our £15,000 budget should be enough to bag a Condition Two 2.4-litre Mk2. Although a later 240 in the same condition will be a bit cheaper at around £12,000, an extra grand would have to be added to the original budget to secure a decent Daimler 250 V8.
VOLKSWAGEN KARMANN GHIA
In the early '50s Volkswagen approached the coachbuilder Karmann to produce a stylish coupé to demonstrate how the Wolfsburg based vehicle manufacturer could produce an 'image car' to sell alongside the Beetle.
The first Type 14 rolled off the production line at Osnäbruck in 1955. At first the new Beetle-engined coupé didn't have a name, although by the time of its first public appearance at the Frankfurt motor show, Dr Karmann had settled on naming it the Karmann Ghia. A convertible version (the Type 141) appeared in 1957 and although performance from the air-cooled engine was rather staid, despite the car's sleek looks, both versions continued to sell well.
In 1959, production of what is now referred to as the 'low light' Karmann Ghia ceased and the second-generation Ghia was introduced. Power for the revised version was up by 4 bhp and a further boost in 1961 increased power to a more useful 40bhp. In 1965 the Ghia received the slightly more powerful 1300 engine and the front suspension setup was updated to use ball joints.
A further power boost in 1966 came with the introduction of the 1500 Karmann Ghia. A fully independent rear suspension arrived in 1968 and by 1970 the Karmann Ghia's single port 1600 flat four had been replaced with a twin-port unit. European Karmann Ghia production came to an end in 1973 when VW replaced the model with the Karmann-manufactured and Golf-based Scirocco.
WHAT TO LOOK FOR: The bodywork on the early Karmann Ghia comprised hand formed and butt-welded panels, which can make repairing holed bodywork extremely time consuming and expensive. While all the mechanical underpinnings are pure Beetle, many interior parts on these cars are unique and genuine replacements are scarce.
PRICES: An early (1955-59) Condition One 1200cc coupe should just about scrape into our £15,000 budget. Unfortunately, equally good convertibles and the later, more powerful cars will blow the budget out of the water.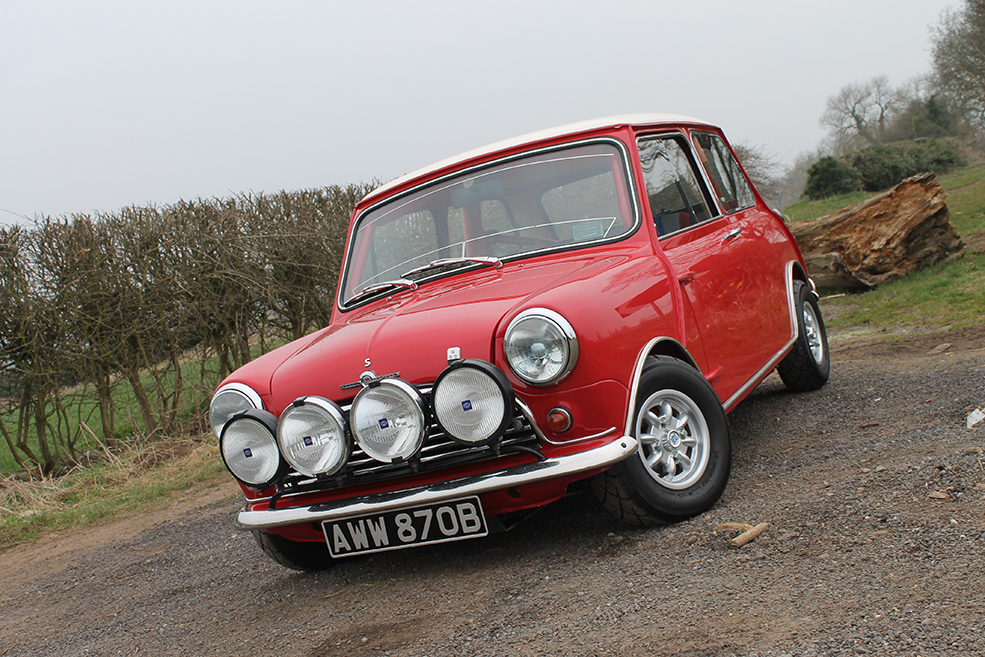 MINI COOPER
Not long after the Mini appeared on the scene in 1959, race car designer and builder John Cooper was quick to spot the Mini's all-round ability and worked overtime to persuade BMC's management that with some modifications, a tuned version would have huge potential as a performance car.
BMC eventually agreed with Cooper's idea and the result was the introduction of the Mini Cooper in October 1961. With its twin-carburetted 997cc engine rated at 55bhp, close-ratio gears and front disc brakes, the Cooper was a potent and well-equipped little package and immediately boosted the Mini's appeal.
In January 1964 the Cooper became even more potent when BMC replaced the long-stroke 997cc unit with a more torquey, short-stroke 998cc unit, a move that made the Cooper more tractable and quicker. The Cooper S was unveiled in 1963 powered by a 1071cc engine and this little giant-killer was given a shot of adrenaline the following year with a 1275cc engine. A limited number of 970cc powered S badged models were produced for homologation purposes and today a Cooper badged Mini is a sought-after classic.
WHAT TO LOOK FOR: When viewing a Cooper, make sure that it's a genuine car. Check the sills, floorpan, boot floor, inner wings, A-posts, valances, door bottoms, headlight surrounds and subframes for rust or poor repairs. Fortunately, just about every panel is available although some may need modification.
Mechanically the Cooper is pretty durable and all parts are available. The A-series may be a tried and tested unit, but it's not immune to neglect and can crack between the valve seats, often causing a misfire. Do the usual checks for undue top end noise, smoking exhaust and water in the engine oil.
PRICES: Sadly, our budget would only cover a down payment on a recently restored Cooper S but it could land a Condition Two 997cc Mk1 Cooper in need of some TLC. Another option would be to pocket a few grand and invest in a top notch example of the very underestimated 1275GT Mini Clubman for around £9000 instead.
LAND ROVER
Early Land Rovers were simple affairs. They were built around a sturdy steel ladder chassis, while the bodywork consisted of a steel frame clad with Birmabright, a magnesium/aluminium alloy. Power came from the same 1.6-litre, 50bhp engine used in the Rover P3 saloon and a separate transfer box fed power to the front wheels to provide selectable four-wheel drive. The vehicle was uprated in 1952 with a more powerful 1997cc engine and in 1954 the wheelbase grew from the original 80 inches to 86 inches. In 1958 the standard wheelbase grew again to 88 inches in order to accommodate a new diesel engine option, after which the Series I bowed out to be replaced by the Series II.
For the Series II, the Land Rover received a facelift including wider body sides to cover the vehicle's increased track. The petrol engine was also uprated to 2286cc which was good for 72bhp. From 1961 the Series II was revamped to produce the Series IIA, the biggest change being to move the headlamps from the grille to the top of the front wings. The Series III began as a light update of the Series IIA and significant changes included an all-synchromesh gearbox and a padded dashboard with the instruments relocated in front of the driver.
WHAT TO LOOK FOR: First thing to check when viewing a Series Land Rover is the condition of the chassis. Rust will often attack the rear crossmember and outriggers and, although replacement chassis are available, fitting one is a big undertaking. Despite the engines in these vehicles being generally long lived, all the usual checks regarding coolant and oil leaks should be made and same applies to the operation of transfer box and gearbox. Quite a few Series Land Rovers can suffer from electrical issues, with most of these being down to corroded earth points or connectors.
PRICES: Although a tough round of negotiations may be able to secure a Condition One Series 3 Land Rover for just over our £15,000 budget, that amount should be more than enough to cover a Condition Two Series II or IIA (the most numerous of the Series variants) or even a late Series III requiring some work.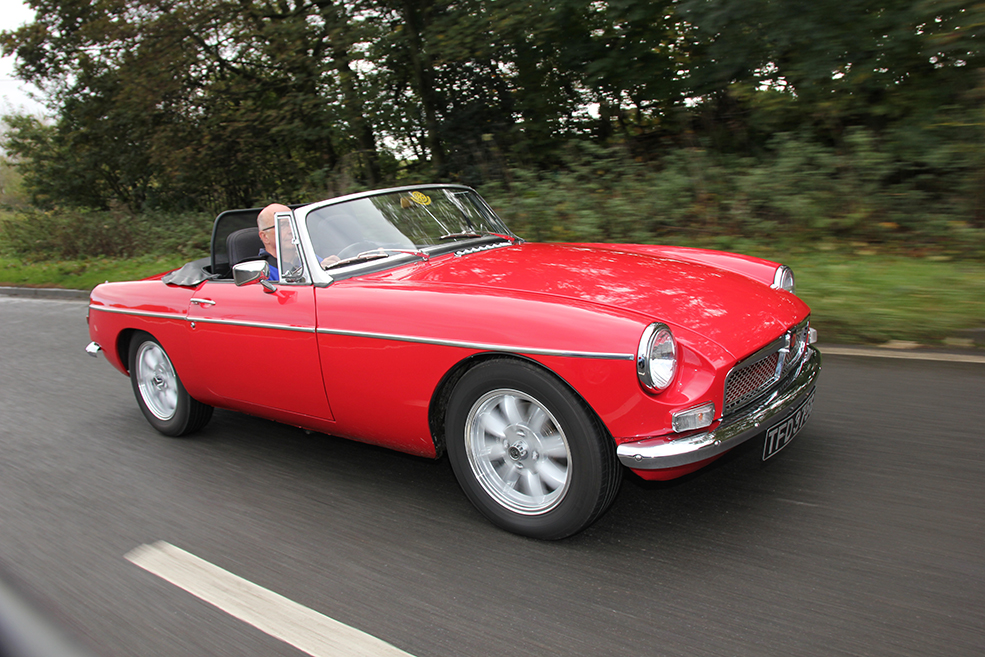 MGB
Introduced in October 1962 to take over from the body-on-frame MGA, the stylish MGB Roadster used a new 1798cc version of the well-proven B-Series engine. Underneath the B's lighter but stronger bodywork, the suspension and steering layout was virtually identical to the previous model. Up front there were double wishbone and coil springs with a lever arm shock absorber forming the upper link, while the rear setup comprised a pair of semi-elliptic leaf springs supporting a live rear axle.
The GT coupé arrived in 1965, the same year the B's engine received a five main bearing crankshaft, and in late 1967 the revised Mk2 version was launched. One of the biggest changes was a larger transmission tunnel to accept a new all-synchro gearbox and by now overdrive was being offered across the MGB range. In 1969, further improvements included fitting a recessed plastic grille in place of the former vertical barred chrome affair. When it came to investment, MG was constantly lagging behind Triumph, so it was a definite shot in the arm for the B's street cred when BL unveiled its own V8-powered GT in May 1973.
The biggest change to the MGB came with the introduction of the heavy black 5mph impact-absorbing 'safety bumpers' in September 1974. With its raised ride height, the polyurethane bumper clad MGB had been 'Federalised' to allow it to pass the latest US impact laws. From 1977, a new dashboard layout was offered, and the MG soldiered on through several limited editions until it was withdrawn from the price lists in 1980.
WHAT TO LOOK FOR: Rust is going to be the major concern when viewing an MGB. The sills on these cars are made up of three separate panels and each one has to be sound to maintain the integrity of the monocoque. When it comes to the mechanicals, the MGB's 1798cc B-Series engine is long lived so long as it's been serviced regularly. Probably the B's main selling point is that virtually every part is available, and a brand-new Heritage bodyshell will give a terminally rusty example a new lease of life.
PRICES: The good news is that our £15,000 budget should be more than enough to purchase the very best chrome bumper cars on sale today. Although a good roadster will be slightly more expensive than a coupé, you'll have to add another £4500 to the budget to bag an entry level BL produced V8-powered GT.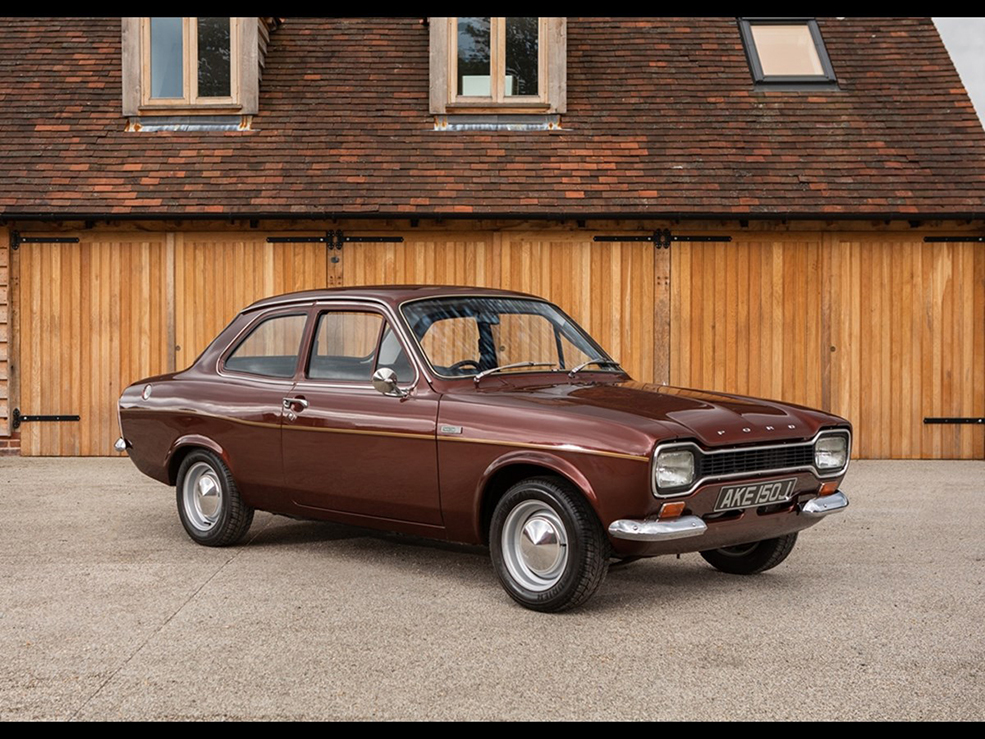 FORD ESCORT Mk1
The development of the Escort was one of fledgling Ford of Europe's pioneering pan-European projects and was designed to replace the successful but ageing 105E Anglia. Production of the new car got underway in the UK in late 1967 at Ford's Halewood plant.
The Escort's monocoque was of a particularly advanced design, as each side of the two-door version was stamped out in a single pressing. At first, only two-door versions were available. A two-door estate version came on the scene shortly after the Escorts launch in January 1968 and towards the end of that year the German-designed four-door saloon was introduced. Power for the early models came from either an OHV 1.1 or 1.3-litre Crossflow driving the rear wheels though a four-speed gearbox.
Although the Escort was the first small Ford to use rack and pinion steering, the rest of the car's underpinnings were almost identical to what had graced the outgoing 105E Anglia and consisted of MacPherson struts up front and semi-elliptic springs at the rear. The 1300GT was a popular choice and power for this model came from a mildly tuned 1.3-litre Crossflow fuelled by a Weber carburettor. Uprated suspension and extra instrumentation added to the appeal and the 1300GT became the forerunner to a string of high-powered Escorts.
A smartly kitted-out 1300E took the Escort upmarket but it was victories on the international race and rally circuits that boosted sales. This led to the introduction of a string of hot roadgoing models, such as the Twin Cam, Mexico, RS1600 and RS2000. MkI Escort production came to an end in 1975 when the squarer-looking second generation was launched.
WHAT TO LOOK FOR: Corrosion will attack an Escort in all the usual places and although the Crossflow engines fitted to these cars have a strong bottom end, they can suffer from piston and bore wear at around 60,000 miles. Beware buying performance versions, as many are replicas.
PRICES: The good news is that £15,000 should be a big enough budget to source a top-flight GT or you could keep a third of that amount in the bank by investing in a project Mexico, while a Condition One 1300E will cost around £13,000.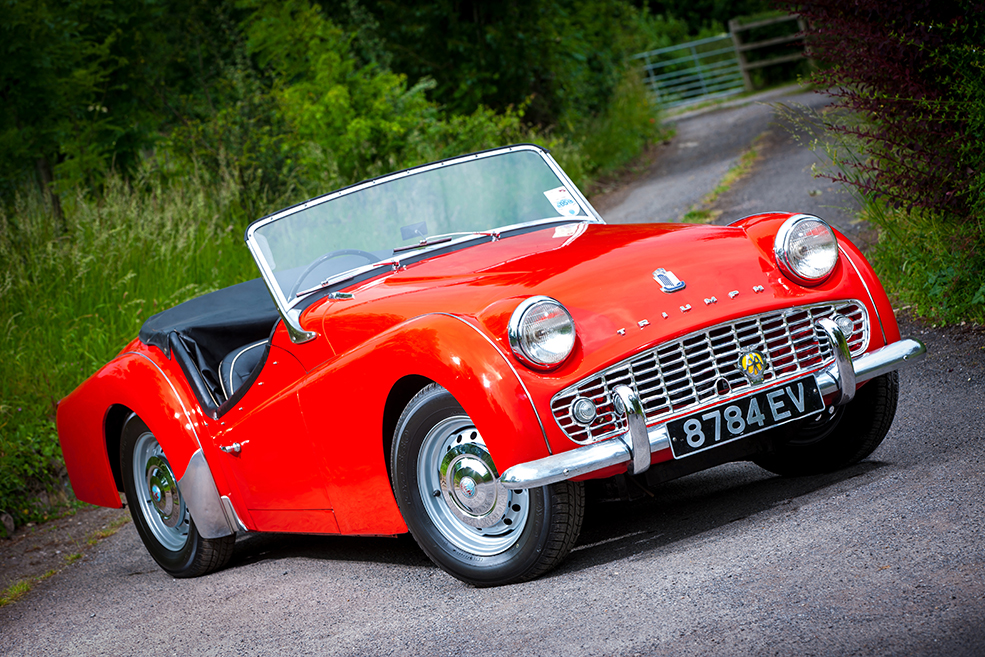 TRIUMPH TR3
An independent Triumph Motor Company introduced the TR3 in 1955 at that year's Earls Court Motor Show and first impressions were that the TR3 was dimensionally similar to the outgoing model. Although the cosmetic changes were subtle, the TR3's more powerful engine now featured modified intake ports and a pair of larger carburettors, which boosted the power output to 95bhp.
Unlike the TR2, which was a true two-seater, the new TR offered an occasional rear as an optional extra, while the passenger's seat could be tipped forward to access a storage area under the rear deck. Triumph replaced the TR3's front drum brakes with discs in 1955, the first for a British production car.
The power for early TR3s came from a 1991 OHV engine driving the rear wheels through a four-speed gearbox, which could be ordered with a switch-operated optional overdrive engaging on the top three ratios. A change from a 'Le Mans'-style cylinder head to a 'high port' design in 1956 slightly increased power output to 100bhp and in September 1957 Triumph rolled out the revamped TR3A. Revisions to the new model included a restyled front grille, slightly recessed headlights and external door handles.
From 1959, the TR3A was now available with bigger brakes and a more powerful 2138cc engine. Further revisions in 1961 resulted in US-bound cars being designated the now very scarce TR3B. Indeed, most cars went to the US, with around only 10 per cent remaining in the UK. Production of this popular TR came to an end in late 1961 with the introduction of the very different-looking TR4.
WHAT TO LOOK FOR: Common TR3 issues to watch out for include corroded inner/outer wings, sills and floorpans, while the boot floor, rear wings and chassis will all rust badly too. Mechanical issues to check are for water in the engine oil, a lack of compression, rumbling bearings and fluid leaks. Other checks should include inspecting the condition of the gearbox for excessive noise and/or worn synchro, as well as looking for signs of poor maintenance, such as a lack of fresh grease on the steering and suspension joints.
PRICES: With first class TR3s and TR3As currently changing hands for over £20,000, our £15,000 budget should be just about enough to source a useable Condition Two example requiring a fair bit of work to bring it up to show condition.