Classics World's Paul Bussey test drives and reviews the 1967 Jaguar Mk2 240 Auto…
Big classic Jaguars have a varied database of clientele, from the landed gentry and company directors, through to bank robbers using them as getaway vehicles, to most recently the late John Thaw's chosen mode of transport in hit TV show Inspector Morse, where he drove a 2.4-litre example. "Grace, Space and Pace" was a particularly fine adage, used by Sir William Lyons, to describe Mk2 Jaguars that enjoyed a long production run between 1959-1969. At its heart was the excellent XK engine, available in a variety of tuning set-ups, from 2.4-, 3.4- and 3.8-litre with manual or automatic transmission.
CONDITION
Our tried and tested Jaguar Mk2 240 is a one-family owned car from new, originally supplied by Bambers of Birkdale, Southport, Lancashire. It was last on the road in 1975, as the original tax disc will attest, and parked-up in a bus station workshop until 2017, from where it was acquired and re-commissioned for the road again. It has retained a huge amount of originality, never having seen a welder's torch and the bodywork is superb and rust free, with excellent panel fitment. The only work that has been recently carried out is to give the bodywork a complete repaint, which has been done to a very high standard, as the original paint was looking rather tired and faded. It's now resplendent in the original colour of Birch Grey. All the exterior brightwork is in fine condition, with just the merest hint of patination on the door handles, and the steel wheels, complete with their correct hub caps and trim rings, are shod with a set of 205-70/R15 radial tyres that look new.
Open the driver's door and you are greeted with an interior that's almost in perfect timewarp condition; the Stone Ambla seats have been covered with leopard print covers since new! There is a small amount of wear to the driver's armrest and some very light surface marks on the squab of the front passenger seat, which should come up clean. The headlining is definitely original and a little darkened with age, while the wooden door cappings and dashboard veneers show a hint of patina. It was decided at the time of the car's re-commissioning in 2017 not to refurbish the woodwork, as it wasn't really necessary. So it was kept original, which is no bad thing. The grey webbing on the Britax seat belts looks almost too perfect, so that could be new.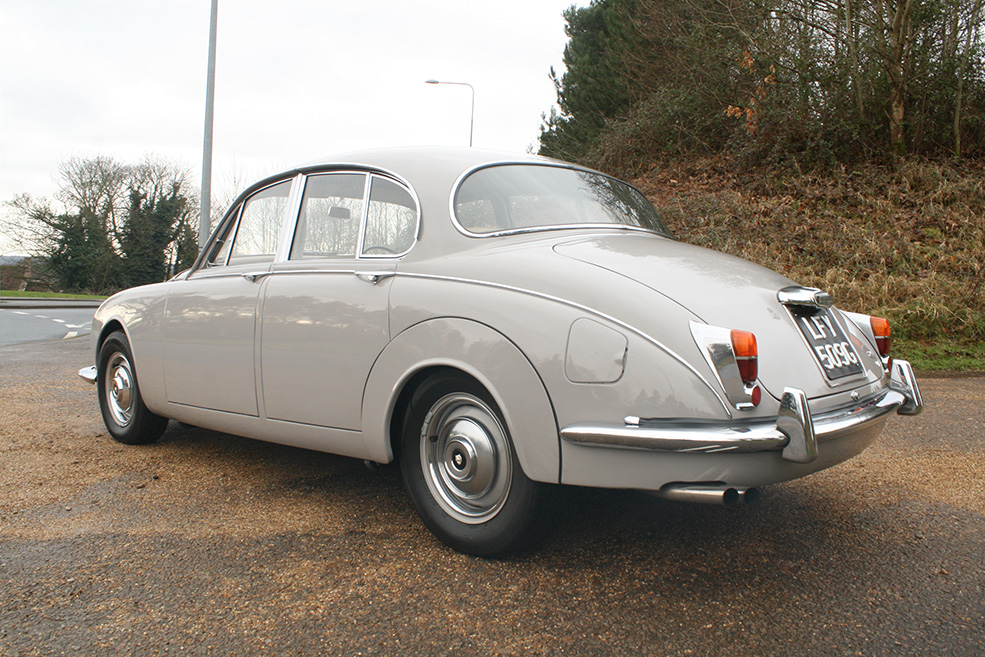 TEST DRIVE
Upon start up of that straight-six XK engine, you're greeted with that familiar and very much delightful lusty purring exhaust note, which is even more accentuated through this car's stainless steel system. Even though this car isn't fitted with the larger 3.8-litre engine, the power from the 2.4 unit proved most adequate as we cruised along at 50-60mph with consummate ease, not being able to resist in listening to the exhaust note through an opened window! The engine's cylinder head was removed in 1995 in order to replace a burnt valve, a job which would have to wait until 2017 to reach fruition when all the valves and guides were replaced. Oil pressure in the cruise was a healthy 45psi and 25psi at idle, while the water temperature was well within limits. However, there's no getting away from the fact that the steering is very heavy at parking speeds and still quite heavy when on the move. Fat radial tyres don't exactly help lighten the load, but play their part in enhanced grip and road-holding. Power steering was an option at the time of production and it would be a wise consideration to fit to this 240, which is apparently a fairly simple and straightforward upgrade. Another great improvement would be to fit rear view door mirrors for safer overtaking. The resounding impression while driving this Mk2 Jaguar is that the handling is reassuringly taut, no doubt greatly helped by fitment of new steering and suspension joints/rubbers.
VERDICT
A wonderfully original, solid and genuine example, paintwork excepting, not messed with in the slightest and driving well. There's scant history or documentation with the car, but lowish mileage and one family owner are nevertheless very desirable attributes, as is superb bodywork, paint and a lovely original interior. A big Jag at its best and, after being parked-up for so long, it's eagerly awaiting a new owner to drive it on a more regular basis. Let's clock some miles up!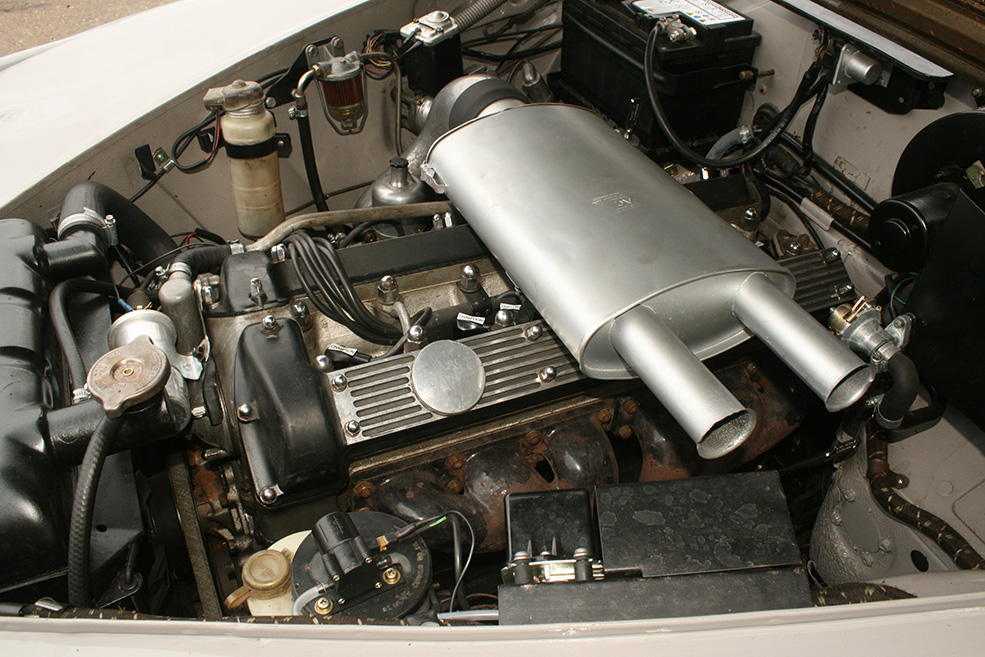 Tech Spec
Engine: 2483cc straight-six
Power: 133bhp@5500rpm
Top Speed: 102mph
0-60mph: 14.3secs
Economy: 16.5mpg
Gearbox: Three-speed auto