The R129 SL was a very modern take on an established recipe when new, but now it's an undisputed classic. Here's how to buy a great one
Words: Aaron McKay
The R129 SL was a major leap forward from the aging R107 and was an immediate classic in the model's history. Today it's a natural choice for those looking for an open-topped grand tourer with not only spectacular ability but that indefinable special factor. But which one, exactly?
Well the puzzle can begin with the full range of SLs made between 1989 and 2001. The original line-up was made up of two straight-six models and a V8, with a V12 arriving in 1991. Pitched against the likes of the Porsche 911 and Jaguar XJS (and later XK8), it was a high-end sportster with a grand-touring focus.
The base 300SL was equipped with a 3-litre six, with 12-valves and 190bhp. It has its critics and optimists, shouting underpowered and smooth running, in about equal measure. The 300SL-24 features the newly developed 24-valve head, upping power to 231bhp but only really offers a noticeable hit at the top end. It is still impressively smooth. While it was always criticised for not being worth the extra outlay at the time, today it could now be worth the extra £1000 or so.
Common knowledge amongst enthusiasts is that if you try a 500SL, you'll not want to settle for anything less than its 5.0-litre, 32-valve quad-cam 322bhp V8 and in fact, it's even a worthy rival of the might V12. The 600SL was sold in much smaller numbers as it was considerably more expensive at the time, so they're now rarer and carry a decisive premium. They offer supreme running refinement and 394bhp performance, as well as very high levels of equipment.
In 1993 the switch was made to the SL prefix nomenclature and at the same time the 3-litre engines were resized. So, we now have SL280, making 193bhp because it also has a 24-valve head, while the SL320's enlarged bore and stroke increased torque to 229lb.ft with an 850rpm lower peak than the 300-24's 201lb.ft at 4600rpm. What happened to the V8 and V12 then? Not much to the figures, except something called full throttle enrichment was quietly removed from the 500SL and brought peak power down to 316bhp.
There were many revisions and options made available through the years, so it's worth either investing in some old brochures or just buying a late car with everything on it. There are some major points to consider though. One is the upgrade to the electronically controlled 722.6 automatic gearbox in 1994, which replaced the long-lived four-speed and optional 722.5 four-speed plus overdrive units.
The two-tone bumpers were ditched in 1995, while the three little vents behind the front wheel became two and more rounded. In 1996 an automatic windscreen wiper became standard, and then in 1998 equipment levels across the board took a step up.
The most obvious facelift was in 1998. On the outside, 17" wheels became standard, there were new taillights, new bumpers, and on the inside there were new seats, chromed dials, and a less angular steering wheel. A new Sport package was also introduced, featuring larger wheels and a wider bodykit to suit.
Significantly, there were new engines: the latest generation of Mercedes' three-valve per cylinder, single cam per bank V6s and V8s replaced most of the range, although the old V12 carried on to the end. Numbers are 204bhp for the SL280, 224bhp for the SL320, and 306bhp for the SL500. As good as these engines are, they are known to have lost a bit of character to the older units.
Bodywork
It's said by some that the finish was better on the SLs than any other Mercedes of the time, and while this may well be true, it's likely that the major contributor to the cars' better condition than its contemporaries is that they've been laid up in garages and used more sparingly. However, there are still places to look for creeping rust.
Both wheelarches should be checked carefully, particularly the rears, and the leading edge of the bonnet on high mileage examples. Seals on the hardtops can also trap moisture, so check along the edges and make sure the roof goes on and off smoothly.
The optional panoramic roof seems to be more vulnerable to damage, both from water ingress at the rear and from being dropped since it is considerably heavier than the standard item.
Also check beneath the boot floor for water that can get in through the rear high-level brake light and then linger. If you're concerned about it, double check underneath for any signs of long-term damage. Sills and strut towers should be fine, although inspect the brake lines for corrosion because replacing these requires the labour-intensive removal of the rear subframe.
Other accessories to check are headlamp lenses and their wipers, specifically the motors, because these are surprisingly expensive to replace. Wheels should be in good condition as they're generally finished very well, but genuine replacements can be difficult and expensive to source so think twice about kerbing damage.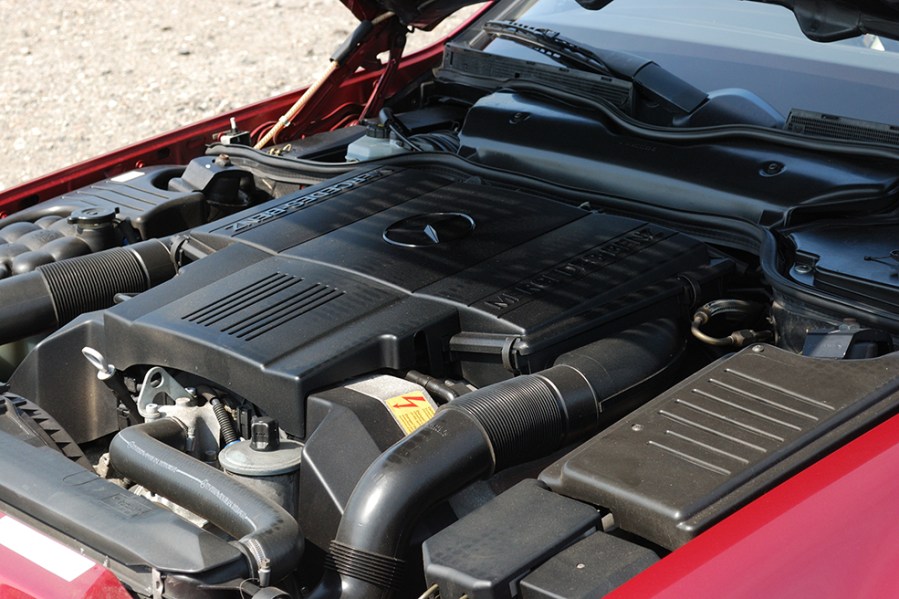 Engine and transmission
It's widely understood that the earlier cars produce the most headaches for buyers at the moment, although there's nothing to stop you in your tracks. On all early cars, check that the infamous wiring looms are in good condition and not brittle to the touch. The so-called biodegradable wiring also affects the throttle body wiring on the earlier M119 V8s, and when they go they can result in rough running and cause problems with the stability control (ASR).
The earliest examples of these, those badged 500SL, also suffer from failed distributor caps, as well as problems with oil delivery to tappets. Meanwhile, it's actually the middling straight-sixes in the SL280 and SL320 that have produced most negative reports, usually for head gasket leaks – at the front or rear of the block in particular.
Later engines haven't generated quite as many complaints, but this could simply be because they're as much as ten years younger. Known things to watch for are kaput MAF sensors, and crank pulleys on V6 models.
Many will say that the five-speed 722.6 gearbox isn't quite as solid as the earlier four-speed plus optional overdrive, but that's only partially true. Its main vulnerability is a common oil leak at the front of the gearbox, where the electrical plug from the ECU connects. It isn't difficult or expensive to replace the worn seals, but it can be to replace the ECU if damaged by any subsequent oil ingress. All gearbox fluid should be renewed at around 40,000 miles regardless of what the book says.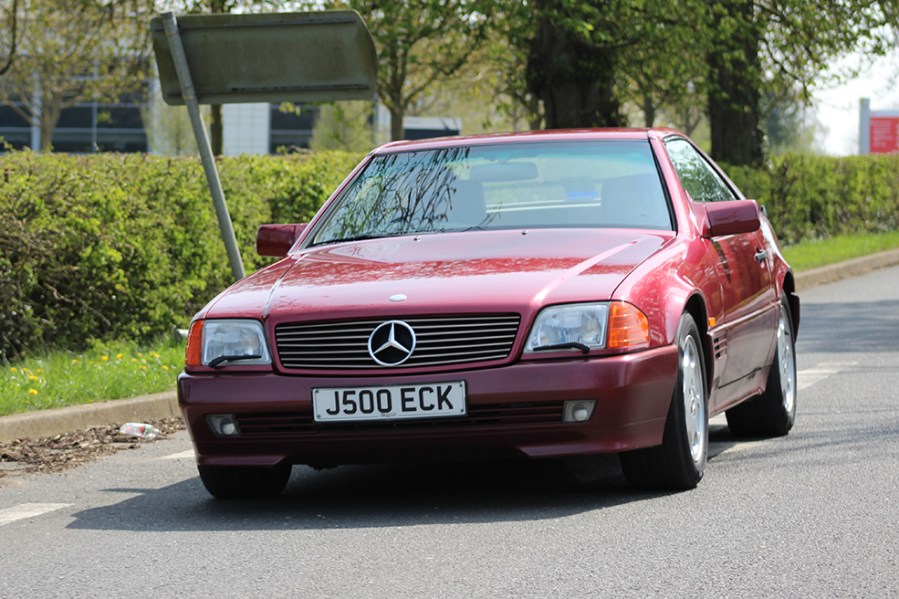 Steering, suspension & brakes
The R129 SL is softly sprung and tightly damped on suspension that maintains consistent geometry through a large range of movements. It offers superb ride and handling despite a weight that, with the V12, can nudge past two tonnes. AMG models, meanwhile, tend to not only have greater stresses put upon them but also more expensive componentry.
It's important to watch for worn dampers, component bushes, especially at the front, where ball joints and top mounts also take a lot of punishment. The steering system, including the steering idler, damper, and drag link can also wear and produce slack.
Rear springs tend to go at the bottom, so check there if you suspect a broken coil. Also at the rear, trunnion bushes are a common item wanting replacement and tend to show up with wear on the inside of the rear tyres. With regards the tyres, most specialists and enthusiasts suggest Michelin Pilot Sports, so seeing a car wearing these is always a good sign.
Brakes always tend to take punishment on the SLs, so pay close attention to their condition. The discs became larger as production years went by, with SL600 and SL60 AMG models getting the largest, while the later Silver Arrow models got special Brembo callipers, but beware the extra associated replacement cost.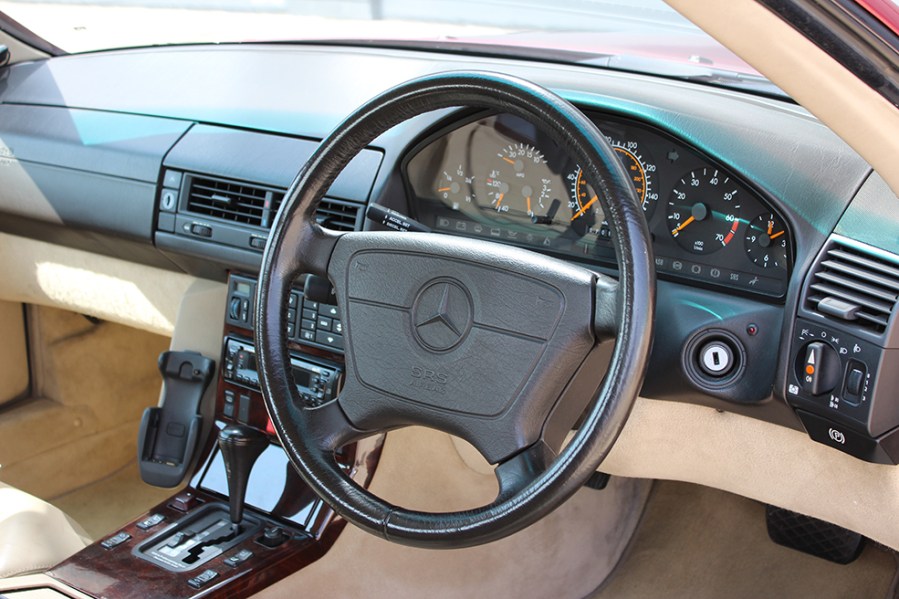 Interior and roof
This is a classic case of 'it should all work', and if not, it can be difficult to fix. Finding the source of an electrical fault can be infuriatingly complex, so when looking at a prospective car make sure it all works in the first place. Air conditioning is worth a special mention here because replacement compressors can be £1000, so be very wary of anyone who says it just needs a simple regas.
Before operating the roof, it's worth checking the fluid level found underneath the spare wheel. If it's low it might explain a reluctance to close. If it doesn't work at all, you might be looking at a faulty Roof Control Module – found under the rear seat, these cost over £500 to replace. While on the roof, don't worry too much about a cloudy rear screen because these are easier to replace than you might imagine.
The interior trim is generally solid and lives up to the old Mercedes-Benz reputation. There are a few weak spots of course, and most of it is down to Stuttgart being too clever for its own good.
Elegant hinges like the cantilevered glovebox for example are vulnerable to errant knees and are known to snap, much the same for the adjuster for the sliding centre console, air vent direction controls, and vanity mirror hinges. The backs of the sun visors are also known to crack at the top, due to prolonged exposure to direct and hot sunlight.
Anything you do find that doesn't work properly, check that the parts are available – if, for example, your seat belt doesn't retract smoothly and neatly, you'll really struggle to find a replacement reel assembly.
Mercedes SL (R129): our verdict
The Mercedes SL is a classic not just as a car but as a lineage, right back to the original 1954 model. The R129 SL represents a very sensible way into this history of glamorous roadsters: well-made, effortless to drive and with enviable support from a range of clubs and specialists, there's not much to scare off a prospective buyer.
It's not really a sports car but few rivals can match the R129 for its combination of comfort, rakish good looks and mile-munching GT appeal – with roof up or down.