The car that put Lotus on the map more than any other is quickly becoming hot property. Here's our Lotus Esprit buyer's guide
The Lotus Esprit proved to be such a fundamentally excellent design that its production run spanned across four decades. The idea was actually first put forward in 1970, that a mid-engined car with a wedge-type shape might replace the Europa, but the limited resources at Lotus kept a lid on the pace of development and then a dive in the Lotus finances in 1974 delayed things further. Loyal fans were patient, though, and excited about the car that had already been previewed as an Ital Design 'exercise' at the 1972 Turin Motor Show.
The Lotus Esprit was officially unveiled in 1975. It was built on a steel chassis with a new twin-cam four-cylinder engine purpose-built by Lotus, finished off with a lightweight glassfibre body designed by Giorgetto Giugiaro of Ital Design. The engine was already familiar to Jensen Healey owners, making 160bhp and 140lb.ft of torque, and was put through a Citroen five-speed gearbox. The Esprit weighed less than 1000kg, and performance was a claimed 60mph in less than seven seconds and onto a top speed of 138mph. However, the performance expectations, like those of refinement and reliability, weren't quite met by S1 Lotus Esprits. Even so, demand for the car took off, especially in the US.
The Lotus Esprit S2 was launched in 1978, featuring a sweep of interior changes like a new instrument cluster and switches, a new front spoiler, Rover SD1 rear lights, and side intakes behind the side windows. A revised camshaft already installed on some late S1 cars was now standard. Lotus worked hard on improving the quality of these cars but what most enthusiasts were crying out for was more power.
In 1980 they got it. The 2.2-litre in Lotus-Sunbeam specification was fitted to make the Esprit S2.2, although fewer than 100 were made, and a special edition called the Essex Turbo was introduced in celebration of the F1 team, of which just 45 were made. The 1981 S3 built on the momentum of these models, using the 2.2-litre engine and another revised interior, while a volume Turbo model was added to the range featuring the same Giugiaro-designed bodykit and chassis upgrades as the Essex but now with a wet-sump engine.
In 1986, compression ratios for both cars went up from 9.5:1 and 7.5:1 to 10.9:1 and 8:1 respectively, increasing power by 12bhp for the NA car and 5bhp for the Turbo. These are known as the HC, for high compression, models.
A restyled Lotus Esprit appeared in 1987, known by its designer Peter Stephens, and marks the biggest change in the model's history. The obvious changes are on the outside, where a new aerodynamic body also integrates new bumpers. Less obvious, though, is that the body was much tougher, giving a 22 per cent increase in torsional rigidity thanks to a new production process and strategic use of Kevlar. Underneath, the same engine continued now with a Renault gearbox that could only be accommodated by outboard rear brakes, not the inboards of past.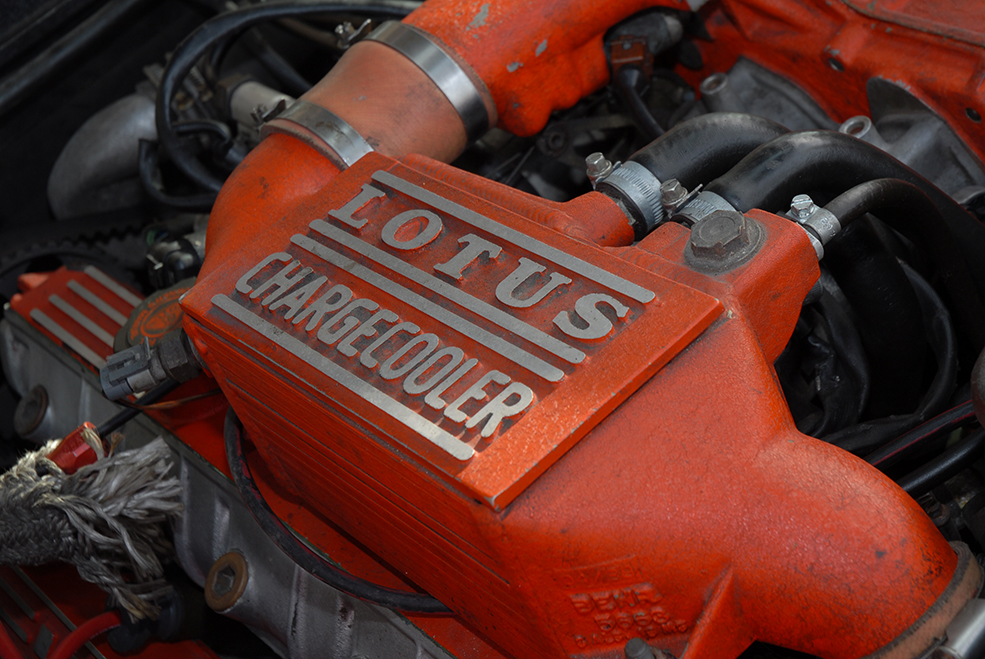 An SE model was added in 1989, featuring the well-known Chargecooler, a water-to-air intercooler system that helped up power to 264bhp, or 280bhp using an overboost function. After a brief run of Esprit S models with 228bhp, the SE became the standard model in 1991 except for the homologation special Sport 300.
Julian Thompson's redesign of the Esprit in 1993 gave us the S4, subtly tweaked by way of a new bodykit, wheels, and a mid-level rear spoiler. It also featured power steering for the first time. In 1995 this was updated to the S4 Sport, which benefitted from some engine work that upped power to 300bhp. You can spot one from the Sport 300 rear spoiler.
That was meant to be the last Lotus Esprit, but in the mid-1990s a cancelled project meant that Lotus had an all-aluminium, twin-turbocharged flat-plane crank V8 to do something with. Why not put it in an Esprit?
And so in 1996 the Esprit V8 was introduced, putting a relatively low-tune 350bhp through a strengthened Renault gearbox that could just about cope. In 1998 the range became the SE and GT, with the GT being an entry-level model. In 1997 there was a return of the four-cylinder as a special GT3 model with 240bhp, no rear wing, and weight down to 1230kg. Nearly 200 were made.
Meanwhile, only 50 were made of its V8-powered sibling the Sport 350, with wing and the familiar 350bhp. Finally, in 2002 the Esprit got a distinctive rear taillight update switching to a Ferrari-like set of four circles of LEDs before production ended in 2004 with just over 10,000 cars made.
Bodywork
An early car will require a more careful eye on the chassis because they were only galvanised from 1981. It's absolutely worth getting the car on a ramp before committing because replacement chassis are extremely difficult to source. Later cars are more solid, but one place to look are the suspension mount tops where corrosion can build up.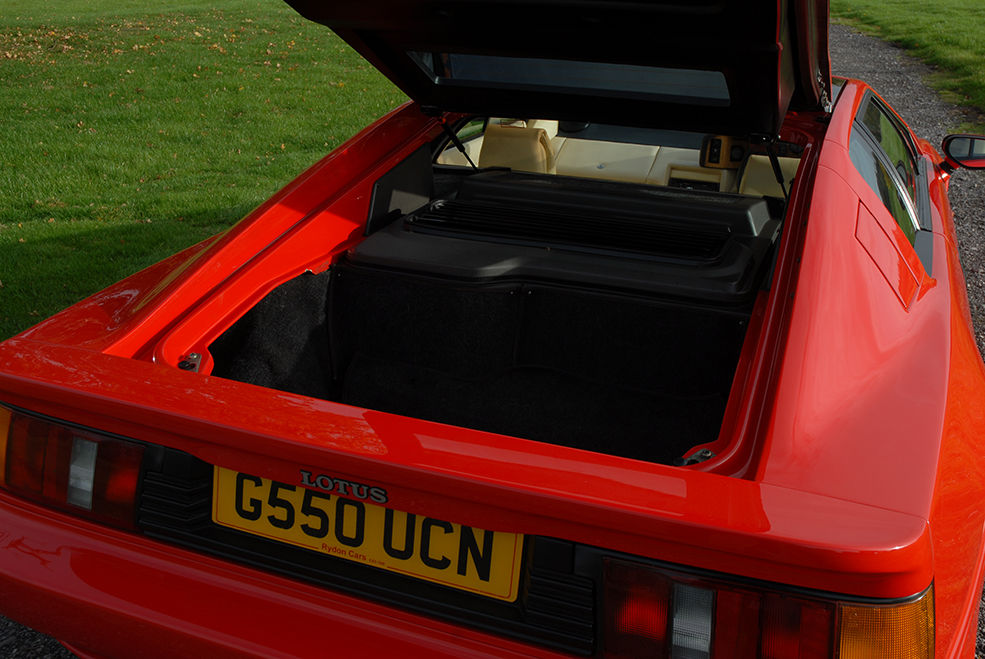 Glassfibre is a great lightweight material for the body but can be difficult to repair and in the past many Esprits have suffered damage and been badly repaired. If a car has been left outside for a considerable period then its paint finish will have likely deteriorated too, so inspect it carefully for cracks or uneven fading. A full respray is highly labour intensive, and not just for the painting of the glassfibre itself. A full strip down of an Esprit can take 100 hours owing to the complexities of trim and fittings. Take the doors, for example, which require adjustments at multiple points to sit right when putting them back together.
Panel availability is slowly improving with the introduction of remanufactured parts, but things remain difficult. Not everything fits as you would want it to, like the now vacuum-formed S1/S2 bumpers that just don't look right, or the rear screens for early cars with heating elements that go the wrong way. The alternative is having a good relationship with your local specialist for finding original replacement parts instead.
Engine and gearbox
The V8-engined Lotus Esprit models require more attention and can be more difficult to work on, but any iteration of Esprit is still a highly-strung performance machine and needs to be approached as such. The four-cylinder twin cams are robust engines and shouldn't need a rebuild unless running into mileages of six figures. A V8 rebuild might well tip over the £5000 mark.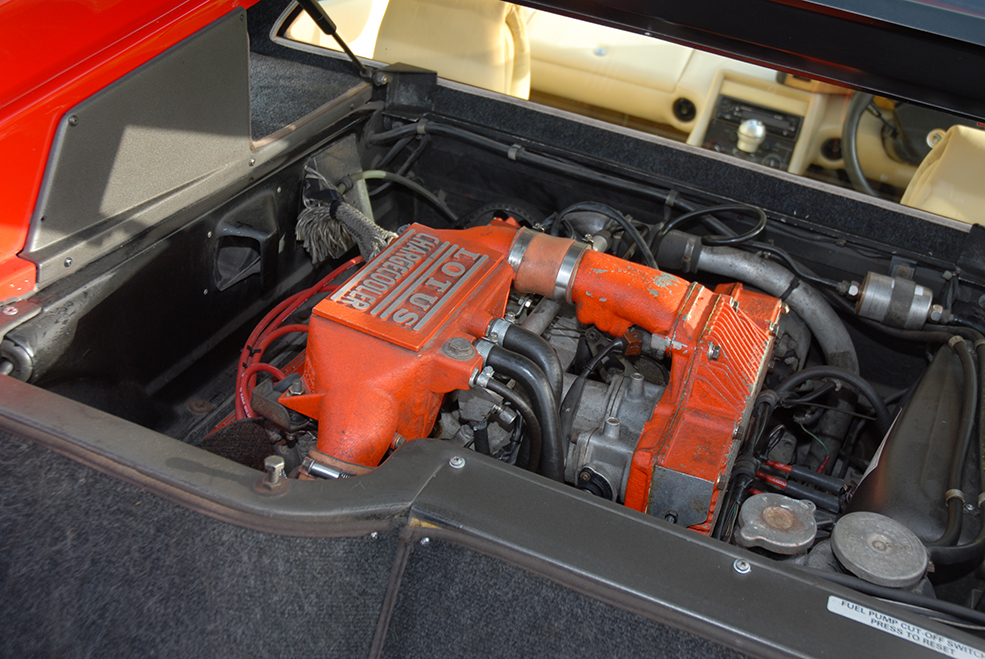 Inherent in the mid-engined format and with the performance provided especially by later cars, cooling systems are under a lot of strain and should be kept in top condition so inspect hoses and the pipes running to the front-mounted radiator. Three radiator fans should also work, if they don't they should illuminate a light on the dash. Early Turbo models struggled the most with cooling, so a high idle point is a good sign that the owner has a spinning water pump in mind. Again, parts availability especially for early cars can be tricky, but it is slowly improving. For example, 1980-1986 Turbo thermostats are newly available for £120 from Lotus Bits, alleviating a once nightmarish supply situation.
The gearboxes have often been the centre of many Esprit complaints, and there is some truth here. The best way to avoid such troubles is by going for a later four-cylinder car with a Renault 25/GTA gearbox. The early cars use a unit derived from the DS, used in the Citroen SM and Maserati Mirak. It was chosen because it could deal with the torque of the twin cam but it does have an Achilles heel: the internal crown wheel and pinions break and replacements just aren't around, although some keen machinists are working on uprated versions. Even replacing the gearbox just resets a new timer for another CWP failure, so many owners are hoping for a proper solution.
Meanwhile, the later Renault gearboxes struggle under the power and torque of the V8 (the engine was kept to 350bhp to help) and can be weakened by unsympathetic use. Feel for wear in first and second gears for the signs of an abused one. Any slop in the linkage should also be a point of concern as rectifying it will normally require the removal of the gearbox. Keep this in mind when also assessing the clutch for wear.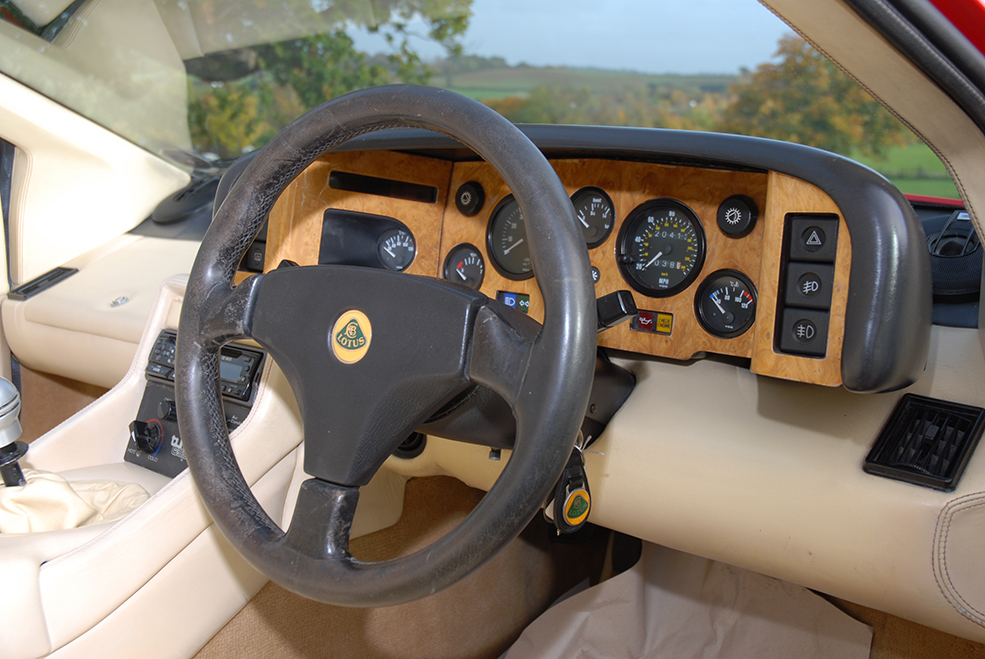 Suspension and brakes
Being such a light car, the Esprit isn't as hard on its suspension as you might expect of a high-performance car but fresh bushes and dampers will still be a good sign that your previous owner has cared about the way their car feels. It's also worth looking at the tyres, whether they're new, a premium brand, or at least worn evenly. The car should flow down the road with finesse and disguise speed through its mechanical refinement. If it doesn't impress then there's likely something off.
The power steering fitted to later models should work consistently and not corrupt the feel through the wheels. Steering racks are known to leak, so it's worth looking in the area when you're underneath with your torch. One other thing to check is the operation of the handbrake, as adjusting it can be trickier than you'd think, and just be aware that the main set of brakes can be expensive to replace too.
Lotus Espirit: our verdict
Almost any Lotus Espirit is a truly exotic feeling car today, and just as able to turn heads as a Ferrari or Porsche. The good news, however, is that the Lotus should be cheaper to buy and run – although you'll still need a good chunk of cash to secure the most desirable cars.
The iconic JPS-liveried S2s and Sport 300s are, however, well on their way towards Ferrari money. The best investments have to be the Sport 350, GT3, or really any nice example. If it's been cared for and continues to be cared for, it will stand the test of time and provide immeasurable driving enjoyment in the process.