The Lotus Elan remains top of the charts of desirable British classics. Here's how to buy without signing up for lots of trouble
Words: Aaron McKay
Some Lotus cars are more 'Lotus' than others, and with the Elan it's clear that you're at the end of that scale. From its minuscule dimensions alone you know that Chapman's less is more philosophy is in full play here, but like many early Lotus projects how it came to be wasn't such a simple story.
The original idea was for a light roadster to replace the ageing Seven, with a glass-fibre monocoque like the Elite but in the end it would be a fibreglass body on top of a new steel backbone chassis. The idea wasn't Chapman's but in fact another engineer's, Rob Hickman who was in charge of Lotus Developments at the time. It not only proved itself structurally worthy enough for the Elan and many more generations of Lotus models but also set the tone for another key function for Lotus – minimising production costs.
The steel chassis was relatively simple to produce, and therefore cheap, and it also meant that conventional components could be bolted to it without getting too bogged down in fabrication. So on went Triumph GT6 suspension and brake components, plus its steering rack, with the unique Lotus parts making positive effects rather than simply meeting packaging requirements.
Lotus cleverness at the rear included modified Ford Cortina suspension struts and the famous Rotoflex driveshaft couplings. The body was still stressed as part of the structure, making every gram earn its worth – about 680kg in total, though dry weight was advertised as less than 600kg. Every cost was scrutinised too, meaning that the Elan was not only great value for money for the customer but also made Lotus a reasonable profit.
Development was a continuous process for the Elan from the word go. Launched in Spring 1963, only 22 examples were made with a 1498cc engine before they were recalled and replaced with the now famous 1558cc twin cam unit as seen in the Lotus Cortina. In late 1964 various tweaks created the Elan S2, with some interior details ironed over and some new gear ratios. There was now even the option of a 115bhp SE model. You can spot these from their walnut veneer and new taillights.
In 1966 production was shifted to Hethel and a new S3 model introduced, with even more refinements to the recipe most notably a much improved folding roof. But now there was an option for a fixed head coupe, and in 1967 a new four-seater Elan +2 joined the range. Looking like a longer and wider Elan, it was really a different car in its own right but still similar to the Elan particularly in its build. Therefore, much of the buying advice for the Elan applies to the Elan +2 as well.
The S4 came out in 1968, spotted by more new taillights and also flared wheelarches. It was in 1970 that the famous and now highly desirable Sprint model came out, with what's known as the 'big-valve' 126bhp engine. The Elan +2 was also available with this engine from 1971. In 1973 a five-speed gearbox was made an option for the Sprint models before production wound to an end. The total number made isn't known with much certainty, but it's clear that the little Elan has enjoyed such a following that today it's easy to find one and the support from specialists and clubs is excellent.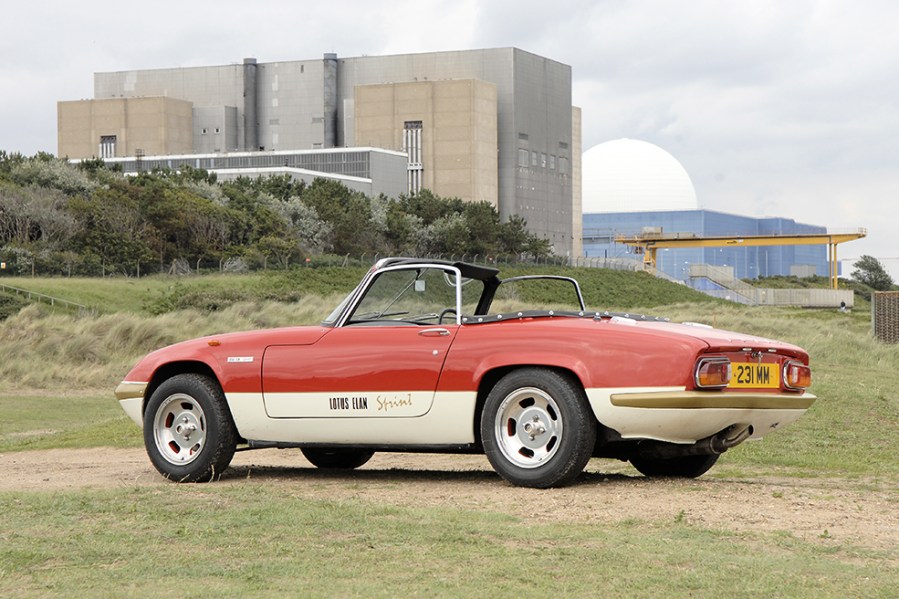 Bodywork
Unless you're looking at a true barn find, it's reasonable to expect or even hope that an Elan will have had a new chassis by now. The bodies, taking some structural stress themselves, also tend to wear out and replacement is often preferable to repair.
There are vulnerable points on the Y-frame chassis for spotting corrosion. At the front it's the crossmember and suspension turrets that can go first, and it's a similar story at the rear. Ideally get the car on a ramp to inspect the chassis from nose to tail, also looking for any signs of cracks or ripples that could suggest crash damage. The chassis mounts for the gearbox, differential and rear suspension are also weak points to look at.
The good news is that replacement chassis are widely available and there's even a range of options open to the Elan owner. You can get a galvanised one from Lotus, which will be stamped LR and should be fully documented, or from specialists like Spydercars who offer reinforced chassis that also accommodate servicing better than the original.
You can also get improved replacement bodies that are stronger than the original from a variety of specialists, so no worries there so long as you don't worry too much about money. If you'd rather not add one to the shopping list, make sure yours isn't wonky at the shut lines or showing excessive crazing of the surface. Beware though, it could be cracked even if you might not see it with the naked eye. It may look fine but reports from enthusiasts tell us how much better the Elan can feel with a fresh body.
Early cars' hoods are a bit fragile and can be expensive to fix, while later S3-onwards models feature hoods that work better in operation and are only about £500 to replace if needed. It may be the case that previous owners have already made the upgrade, so try to spot the early cars' GRP mouldings to tell.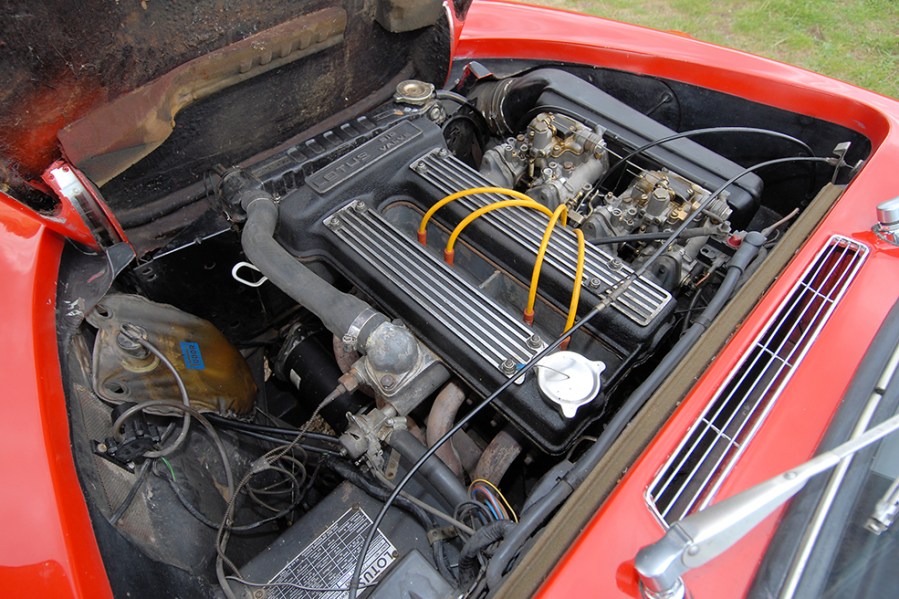 Engine and transmission
The Lotus Twin Cam is a great engine and will provide excellent performance pretty reliably provided it's given regular maintenance. Most of the issues are with the ancillaries, but like any engine of this age there will come a time for an engine rebuild and so have that in mind when looking at a car with higher mileages. A rebuild is best undertaken by a specialist and can cost over £5000.
Apart from that, the engine itself shouldn't offer much worse than a bit of oil weeping around the timing case. It's also worth noting that the US-spec engines have a different head that prevents the fitment of our Weber carbs, so getting back European-spec power isn't that simple. Any imported cars should be inspected especially carefully for signs of past overheating, too.
Water pumps can prove weak and many will have been upgraded by now. You can check its condition by rocking it on its mountings to see if the bearings are worn, and naturally it's worth checking the cooling system more generally. Exhaust leaks at the manifold to downpipe join are common, even with the S3-on gasket.
As far as gearboxes go, most parts are available except early cars' short ratios. The understood wisdom that the earlier Corsair 2000E gearboxes are stronger than the later Maxi ones is generally correct but both shouldn't give trouble. Check for synchro wear and baulking as usual. A good item in the car's history will be a new clutch hydraulic hose as most should have been replaced by now.
Suspension, steering and brakes
The main discussion point here is the rear rubber Rotoflex couplings good quality replacements are difficult to find. It was a clever idea at the time, but CV joints have since superseded them and many owners have found success with simply upgrading to CV joints. Neither option, original nor upgraded, is hugely expensive.
Of course, the Triumph GT6 front suspension components want the same greasing point attention as in their original application. Replacement suspension parts are a mixture of widely available and specialist reliant, while brake components are pleasantly easy – Triumph or Girling parts are still available.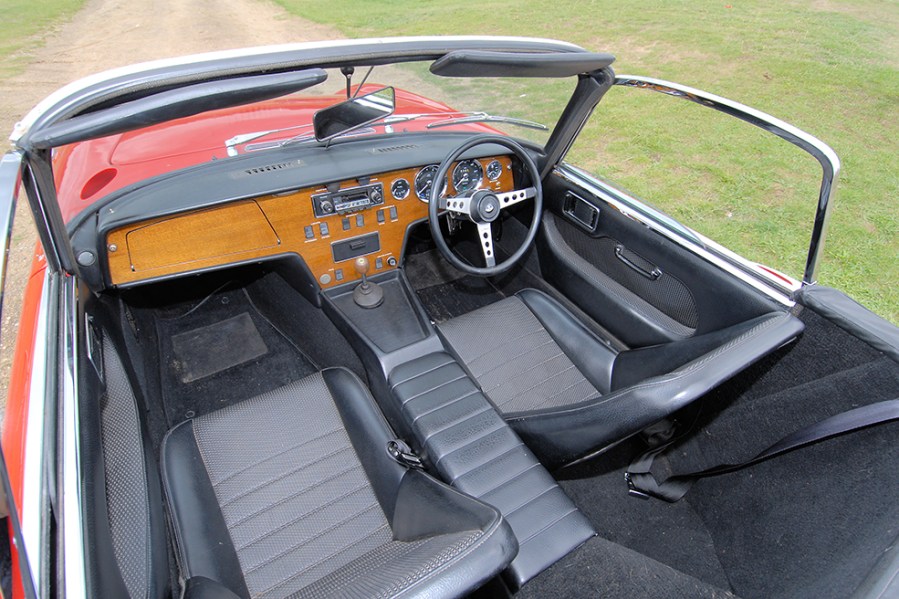 Interior and trim
Early cars are going to be the trickiest for parts supply as well as being most vulnerable to the quirks, let's say, of Lotus ownership. Not yet mentioned are the fragile lightweight steel wheels that can crack around the holes. It's also worth noting that negative earth electrics only came in with the S3. Pop-up headlight vacuum leaks are common: on earlier cars letting headlights fall down while later cars left for a while will let their lights creep open.
The good news is that availability of trim bits is improving. So even beyond the usual centre console veneer cracking and seat covers splitting at the seams, you can get most things fixed. Just be conscious of costs mounting up for a dilapidated example though.
Lotus Elan: our verdict
The Lotus Elan is one of the most important cars in British automotive history and a prototypical sports car that gets every key element just right. Values for the best examples reflect this but we reckon it's worth the outlay, especially if you're a keen driver who wants to enjoy their classic car on the road or on track. With its fizzy engine, featherweight dynamics and tiny on-the-road footprint, few cars can match the Elan for all-out fun – and those that come closest also tend to have a Lotus roundel on thier nose.