On the hunt for a gutsier, more sonorous alternative to the MGB GT? The Triumph GT6 is the obvious – and rapidly appreciating – choice
Words: Ian Cushway
We're huge fans of the ever-green MGB GT. And why not? It ticks every box, and then some. But if you want a classic GT that's likely to turn a few more heads as you burble your way into a country pub carpark, we've got a more intriguing proposition: Triumph's pretty GT6.
Smaller sporty Triumphs like the GT6 are hot commodities these days, not least because they're likely to be a lot more affordable than a more exotic Triumph TR6 or Stag. Indeed, if you don't mind taking on a bit of a project a later Mk3 might be had for a low five-figure sum. That said, there's not a huge number to choose from for sale in the classifieds.
The added beauty, of course, is that there's a plentiful supply of inexpensive parts and a plethora of specialists out there to help make owning a GT6 as easy as possible, and thanks to brilliant access afforded by that forward hinging bonnet, there's no reason why you shouldn't be able to do most of the maintenance yourself. And did we mention the GT6 is supremely well catered for when it comes to upgrades, so you can personalise and improve to your heart's content to make it even better once you've made your initial purchase.
So, what's its story? In a nutshell the Triumph GT6 was a coupe version of the Spitfire which, incidentally, celebrates its 60th birthday this year, but featured the Vitesse's twin-carb 2.0-litre straight-six powerplant to compensate for the extra weight. Michelotti worked his magic crafting a suitably distinctive fastback design (which even featured a hinged rear window) and the first model broke cover in 1966.
Inheriting the Spitfire's swing axle rear suspension (which, in turn, first saw service in the Herald) on-the-limit handling was interesting to say the least – which quickly led to the development of the GT6 Mk2 which has the same double wishbones and Rotoflex driveshaft couplings as the Vitesse Mk2, along with the Spitfire's raised bumpers and slightly more power than its predecessor.
The Mk3 GT6 from 1970 got the same chopped off Michelotti rear end treatment as the Spitfire, along with a full-width bumper, recessed door handles, flared arches and wing tops without beadings, as well as slotted steel wheels, a deeper screen, different rear quarter windows and an overdrive switch on the gearknob instead of the dashboard. The bonnet bulge was retained, albeit slightly flatter and wider, and the rear side windows were subtly reprofiled for a cleaner look.
Ones made after 1973 ditched the expensive Rotoflex arrangement and opted for the simpler 'swing spring' suspension which effectively reduced camber change at the rear and further improved the handling at lower cost to Triumph. Other detail changes included servo brakes, tinted glass, restyled instruments and brushed nylon seats until GT6 production stopped in November 1973 in the face of dwindling sales and a general culling of low-volume models by a struggling British Leyland.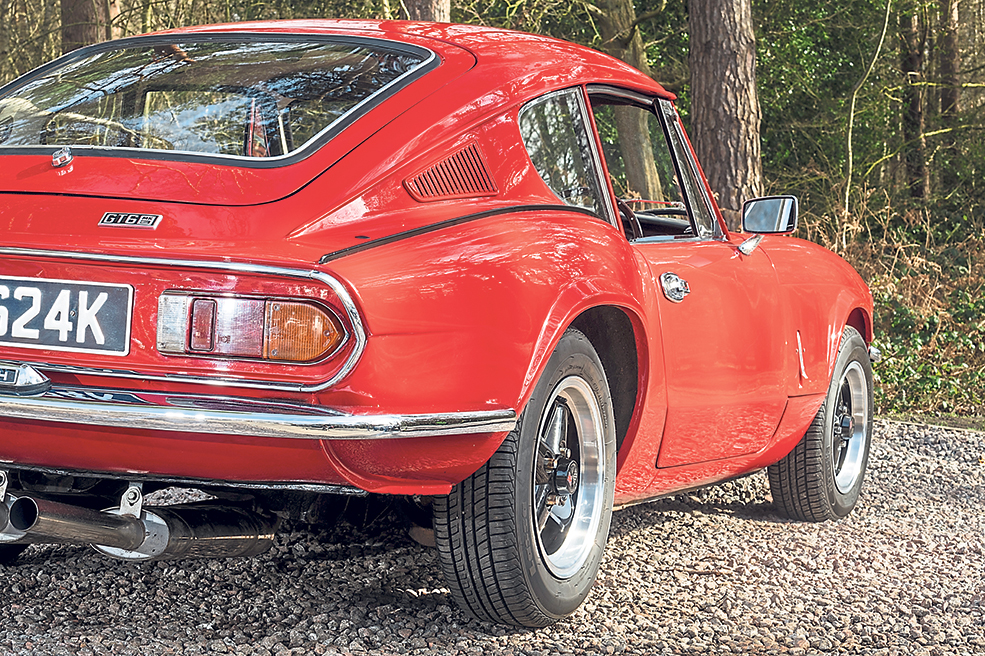 Bodywork
Realistically you struggle to find a GT6 that hasn't already had some bodywork done so it will be a case of assessing how well it's been executed – and whether, in the worst-case scenario, you'll have to bite the bullet and get the whole lot done again.
Bits of the GT6 that are particularly prone to rust include the wheelarches, sills, floors, battery box, rear corners of the boot, door bottoms, wings, bonnet and roof edges, screen pillars, A-posts, tailgate and where the suspension bolts up. Be sure when flipping open the bonnet to have a close look at the bulkhead, too, because the car relies on this for its rigidity.
The chassis outriggers, the rails around the differential and the area where the front rails bolt to the bulkhead are also prone to rot, so again, asses the condition of the metal, see if anything's been done and decide whether it's been done well enough. If the welds are like pigeon poo and the panel gaps are all wrong, then it's probably best to make your excuses and look elsewhere.
As we've said, parts availability – including the necessary repair sections – is brilliant so there's nothing stopping you making even the most dilapidated project into a showstopper. Best of all for the DIY restorer, the GT6's rusty body can be detached from the chassis so you can work on it independently.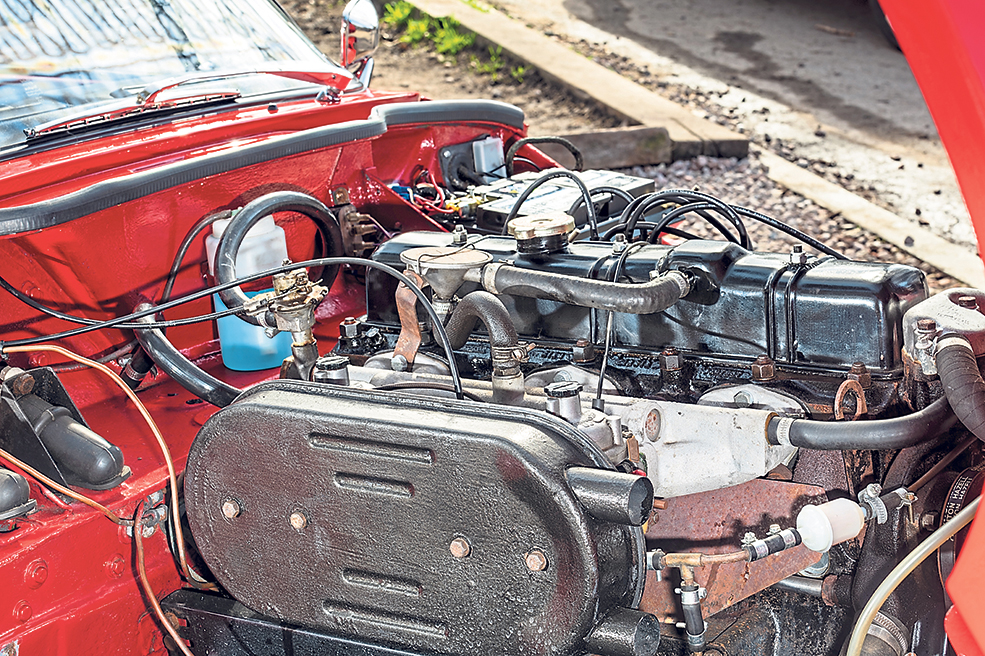 Engine and transmission
Engine-wise, that straight six can rack up high miles if looked after, so take time pouring over workshop receipts to see what work has been carried out previously. It could be that it's already had a replacement engine which would be seen as a plus, though not if it's been taken from an earlier 1.6-litre Vitesse. Conversely, if a car you're viewing has had the 2.5-litre version fitted you could be onto a real winner because that extra torque will make it drive beautifully.
That said, ensure the gearbox and differential have been suitably upgraded too because the originals aren't likely to cope very well. Be mindful, obviously, if the engine number doesn't match what's on the V5C or the original logbook because it will put a dent in the car's value – although if you're not too worried, you could use this as a handy negotiating tool.
Like a lot of Triumphs from this era, crank end float isn't good; if there's more than around eight thousands of an inch, be worried. The thrust washers can be changed in situ, but it's a specialist job.
Meanwhile, clouds of blue smoke on the over-run points to bore wear and the need for a rebuild or replacement. If you're happy to have a go yourself, Rimmer Bros supply a full engine rebuild kit which kick off at £684 for the Mk3 (with its domed pistons, recessed bores, etc).
Oil leaks are common on the Triumph GT6, so don't be too surprised if an engine's baked in black deposits. Despite excellent access, it's never easy to identify precisely where the oil's coming from, though likely culprits will be the pushrods, timing chain cover and the sump gasket itself.
See any evidence that a previous owner's thrown money at the car's cooling system as a bonus; if, for example, the radiator's been swapped for a reconditioned unit (or, better still, an uprated alloy one), and a hose kit's gone on, you're buying peace of mind when it comes to future reliability.
Finally, stainless exhausts are a popular Triumph GT6 upgrade and make that throaty six-pot under the bonnet sound even more seductive – so again, see cars you view fitted with a quality one as a positive, especially if it's of the twin rear box variety and they replaced the old manifolds with stainless items as well. If you want to buy one yourself, they cost upwards of £700 from a specialist – and then you've got to get it fitted!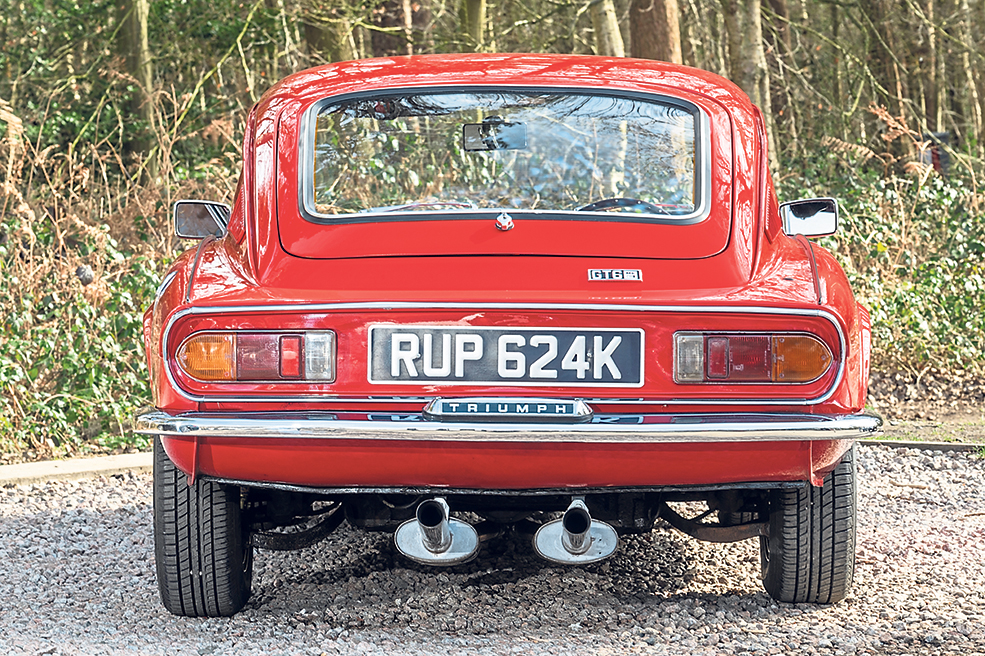 The Triumph GT6 employed a four-speed manual with optional overdrive; the latter's certainly worth hanging out for if you're planning on doing motorway jaunts because retrofitting it isn't a five-minute job. To be honest, no Triumph gearbox is brilliant, and layshaft bearing wear will be evident if there's a grumble in first, second and third and silence in top. Synchromesh can also be suspect and be concerned if a car you try jumps out of gear while you are driving it.
Remember, the Mk2 and Mk3 up to 1973 have the Rotoflex joints on the driveshafts, so it's wise to check them for cracks because they are tricky to replace, and genuine items are now scarce.
Incidentally, if you end up needing to replace the clutch assembly, the 'box can be removed from inside the car after removing the carpeted transmission tunnel.
Suspension, steering and brakes
The fly in the ointment with the early Triumph GT6 is its handling because with all that power, it's okay in a straight line but on bends that swing axle rear suspension demands respect. The Mk2 and Mk3 were better in this respect, obviously.
Either way, it's important to check the state of the front anti-roll bar links and rubber bushes in the front wishbones. Driveshaft universal joints can fail on early cars and you'll soon notice if this is the case if you hear it clicking while on a test drive.
If viewing a car where nothing on the suspension's been done for ages, haggle hard on price and use the money you save on upgrades. From rear lowering blocks to polybush kits and shock and spring upgrade packages, the options are various and you'll have fun in the process.
While at the wheel, rock it up and down to detect excessive play in the column bearings and, if you can, try and detect wear in the rack by looking at the movement of the road wheel while turning the steering wheel from side to side.
Brakes should pull the car up effectively – and in a straight line – so if not a simple matter of adjustment it may be a leaky brake cylinder. Either way, it's no biggie because all the parts are available. The condition of the brake pipes (both solid and flexible) is important too, so give them a thorough eyeball for corrosion/signs of cracking.
Interior and trim
Everything from door panels to seat covers and complete carpet sets are available so don't pass over an otherwise solid car because it looks tired inside. That said, original patina which tells the story of the car's past is desirable so a Triumph GT6 with its factory trim will always be more sought after in the long run.
As for electrics, as always, it's a case of systematically making sure everything works. Because parts availability is so good, anything you find can be easily fixed. On projects, even complete body harnesses are available (£400) – so if all else fails you can always replace all the wiring and start from scratch.
Triumph GT6: our verdict
In a blink of an eye, it seems, GT6 prices have risen out of all recognition. That's the bad news. The good news is they've not reached the same dizzy heights of the TR6 or Stag.
Worth a punt? Definitely, we'd say. And being such a rare sight on the roads these days – and with the added attraction of that silky six-cylinder – if you want something different, we reckon it's worth paying a premium for the Triumph GT6 over an MGB GT.