The glamorous GTs that consume wallets as easily as miles eventually find bigger wallets. We check out three modern Aston Martins.
Aston Martin Vanquish (2001-2007)
Finally, a new Aston Martin for James Bond. As featured in the 2002 film Die Another Day, the Vanquish was the confirmation of a return to form for Aston Martin. Under Ford ownership, the new car featured a V12, reasonably clever tech, and looks to die for. They were never cheap, starting with a lofty £158,000 price tag and with so few built (about 500 a year). Still, they were somewhere within the realms of affordability between 2012 and 2016, when £50,000 would secure you a nice one. Even the very first production model sold at a Bonhams auction for £93,340, which now seems quite low.
That's because values took a sharp increase at the end of that period, and by 2018 the Vanquish was quickly becoming a seriously expensive car. The later Vanquish S models, with the top 520bhp, enjoyed a significant premium, at first a good £10,000 or so but that has since increased into the tens of thousands. In fact, the money now pouring into the Vanquish market is such that you can spend well over £100,000 on an exceptional Vanquish S, while even a lesser 460bhp Vanquish with 50,000 miles on it will still set you back £60,000.
Aston Martin Virage (1989-2000)
The Virage was a big deal for Aston Martin when it was first unveiled in 1988. It was its first all-new car since the 1967 DBS and the firm's uncertain future was pinned on it. Its reception wasn't all positive, and ultimately it was the DB7 that delivered what most enthusiasts expected. So the Virage was somewhat left to be forgotten, renamed to V8 coupe alongside its V8 Vantage sibling in 1995, generally disliked and put down as old fashioned and clumsy in the face of a new generation of supercars. Although the Vantage was always considered a bit special.
However, the Virage was actually very likable. As a high quality, classic GT it has spent the last decade becoming appreciated and values have come around to reflect that. The going rate for a good example in the late 2000s was hardly £20,000, in fact Rowan Atkinson's 5.3-litre example sold for just £18,400 in 2010. The 6.3-litre models, wide-bodies and Volantes were always more expensive, but it was still quite remarkable to see the 6.3-litre Volante owned by Prince of Wales sell for £119,100 in 2012. Since then values have only gone up for all the range, with standard Virages quickly hitting the £40,000 mark, £50,000 by 2015, and Volantes without royal histories tipping into six figures.
Today, only the 5.3-litre examples will nudge under £50,000, while anything with low mileage and a higher specification will tend towards £75,000, and £25,000 on top for Volantes. There are also now fewer Virages on the road than ever, with nearly as many on SORN status. But these are now collectable cars, so we expect to see more restored cars being returned to the road soon. Will values climb ever higher? With the earlier DBS and Vantages spiralling up in value, especially the higher performance models, we think the big 6.3-litre and Volante models could continue leading a charge for the Virage.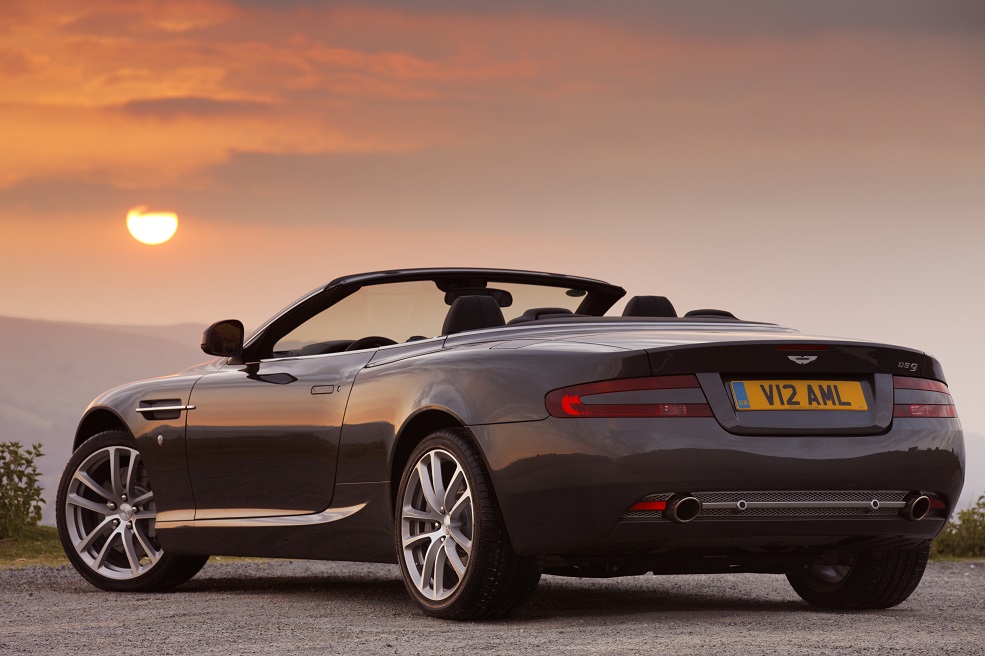 Aston Martin DB9 (2004-2016)
With Aston Martin DB7 prices on the rise, and DB9s ever cheaper, you've got to consider your options. The car that took over the mantle of most popular Aston Martin ever, the DB9's clean lines were collaboratively penned by Ian Callum and Henrick Fisker, and has proven to be the blueprint for today's Aston Martins. Same V12 and along the same principles as the Vanquish's aluminium-intensive chassis, it's really just down to its volume production that it is a cheap car today. For the last five years or so, it's been possible to buy one for £30,000 and, more recently, even as low as £22,000.
Not too cheap, though. The DB7 remains the most affordable way into Aston Martin ownership and although prices are slowly on the rise for this car, we're not sure if it will have a direct influence on the DB9. Since the DB9's design is still considered current, it still holds appeal with less classic-minded enthusiasts. Naturally, the later cars are more expensive just by way of being newer. Interestingly, though, an early Volante makes barely a ripple in the market at the moment, much like the DB7 but contrary to various Astons of past. The drop-top DB9s were criticised for being slightly wobbly at the time, but even so we reckon these could prove to be very desirable in the future.
So far, it's mileage and age that rules the DB9 market, the earlier pre-facelift cars of 2004-2008 ranging between £20,000 and £40,000. Volantes might take a £2000 premium, the same as 10,000 fewer miles. Depreciation continues but it has certainly slowed, and things have been levelling out. It might take a few years, though, for values to really take off.