Looking for a two-seater that's less 'predictable' than a Triumph or an MG? This trio of alternative roadsters makes tempting buys.
RELIANT SCIMITAR SS1 / SST / SABRE (1984-1995)
Although well-known for its successful GTE 'grand tourer', Reliant had other sporting ambitions during the Eighties, with company bosses spotting a gap in the market following the demise of roadsters like the MGB and TR7. The end result was the new Michelotti-styled Scimitar SS1 of 1984.
The SS1's basic wedge-shaped profile was pleasant enough, but large panel gaps and awkward 'creases' along the sides made it look crude, as did the flip-up headlamps. Sales of the SS1 didn't impress, despite the launch of the rapid new (Nissan-powered) 1.8 Turbo version in 1986 to complement the 1.3 and 1.6-litre Ford-engined versions. A restyle by William Towns in 1990 saw the car relaunched as the SST, together with smoother and far more pleasing lines; then two years later it was renamed again, now badged as the Scimitar Sabre and available with 1.4-litre Rover K-series power. It was all too late for any sales surge, however, and by 1995 this much underrated sportster was laid to rest.
These days, it's the SS1 that offers the best value, with project cars from £1000 and tidy MoT'd examples from £2500, while superb survivors that are ready to show can achieve £3500 – a slight increase on what the same cars were achieving five years ago. The restyled SST and Scimitar Sabre have seen more upward movement, as they're generally seen as more desirable, hence immaculate examples that would once have been available for less than £4000 now seeing asking prices of up to £5000.
FIAT BARCHETTA (1995-2005)
Launched in the same year as the MGF, the much rarer Barchetta is unusual for offering a front-wheel drive layout – logical from a manufacturing point of view thanks to the sporty Fiat's Punto-based underpinnings. Happily, however, the Barchetta came with a 1.8-litre 16-valve twin-cam engine pushing out a healthy 130bhp, providing it with a top speed of 124mph and 0-60 in just 8.6 seconds. Combine that with sharp handling and real entertainment value and you have a sports car capable of competing with the best.
The Barchetta was an aesthetic success too, with its curvaceous bodyshell being perfectly balanced and its detailing an absolute joy – from chrome pop-out door handles to a hood hidden beneath a body-coloured hard cover when folded. But it wasn't all good news, as the Barchetta was produced solely in left-hand drive form, which obviously puts it at something of a disadvantage here in the UK. As with most roadsters of the Nineties, you also need to check for rust issues when looking at cars for sale.
Fans of the Barchetta seem to like the quirkiness of this left-hooker, which also offers great value. TheMarket.co.uk suggests that Barchetta asking prices in the UK are 20% down on a year ago, which explains why roadworthy high-mileage cars can be found from as little as £2000-2500, while well-preserved examples tend to be priced from £4000-4500. Having said that, find yourself an immaculate late-model car with few miles under its wheels and you can expect to spend £7000-plus.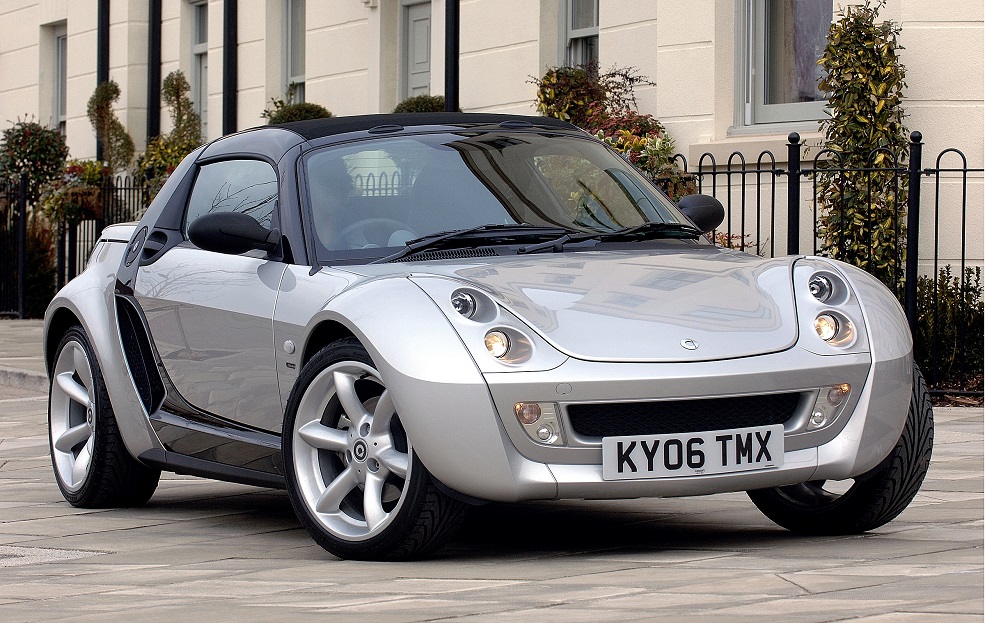 SMART ROADSTER (2003-2006)
Like the traditional Smart city car, the new Roadster and Roadster Coupe models featured a Tridion safety cell that provided a strong, skeletal structure from which 'plastic' body panels were hung. It was a clever design, and well as lightweight enough (at just 790kg) to use an uprated version of the familiar three-cylinder 698cc turbocharged engine, producing 80bhp. The result was a 109mph top speed, with 0-60 in around 11 seconds.
If that wasn't quick enough, buyers could choose a Brabus version with an extra 21bhp from its higher-tuned engine. These are especially sought after today. Handling the power in all models was a six-speed sequential transmission with paddle-shift controls, while an Electronic Stability Program helped to keep everything on an even keel. Despite all that technology, the Roadster still felt raw and fun to drive; but Smart's mounting losses forced an early demise, with the last car being built in 2006.
The Roadster and Roadster Coupe now make a great choice for anyone seeking a tiny, entertaining sportster and indeed enjoy a proper cult following. Interestingly, values have fallen significantly since 2016, though most of that fall is likely to be the result of standard used car depreciation due to its relative youth. More recently though, with the Smart moving from 'secondhand' to 'modern classic' territory, there's some major growth in asking prices – up by 60% or more over the last 12 months, according to one source. Nevertheless, MoT'd cars are still available from £2000 and excellent examples from £3000-4000, although you can pay up to £6000-7000 for a range-topping Brabus in superb condition. Big amounts of fun with a small engine and environmental impact promise this to be a strong climber for years to come.