There was more to Lancia in the '80s than the iconic Delta Integrale – and the trio of 1980s Lancias featured here offer good value all these years later
Lancia Delta HF Turbo (1984-90)
With low-mileage examples of the world-famous Integrale usually carrying price tags well north of £50,000, it falls to another member of the Delta line-up to provide better '80s-style hot hatch value. The HF Turbo came along four years after the standard Delta, bringing with it a 130bhp (or 140bhp by 1986) turbocharged 1.6-litre twin-cam. Top speed was 122mph, while 0-60mph came in 8.5 seconds. It handled well and possessed real entertainment value – but with used values being low by the 1990s, the vast majority of those sold have long since disappeared.
There are still some excellent survivors, however, cars that inevitably saw an increase in value once the HF Turbo evolved into a desirable classic. As recently as five years ago, just £3000-£4000 would have bought you a very well-preserved example, but these days many can be seen with asking prices that are twice as much. Interestingly though, a few examples have failed to sell at auction this year, including a good looking, 84,000-miler guided at £6000-7000 at an H&H sale in September.
Back in June of last year, an 82,000-mile example of the rare HF Turbo Martini fetched £7950 with Anglia Car Auctions, while similar sums have been achieved for well-preserved survivors elsewhere in Europe – which suggests there's little advantage in buying a left-hand drive one in its native Italy and driving it back to the UK. Values are on the rise, and yet the charismatic HF Turbo still makes a temptingly priced, highly individual alternative to a Mk2 Golf GTI.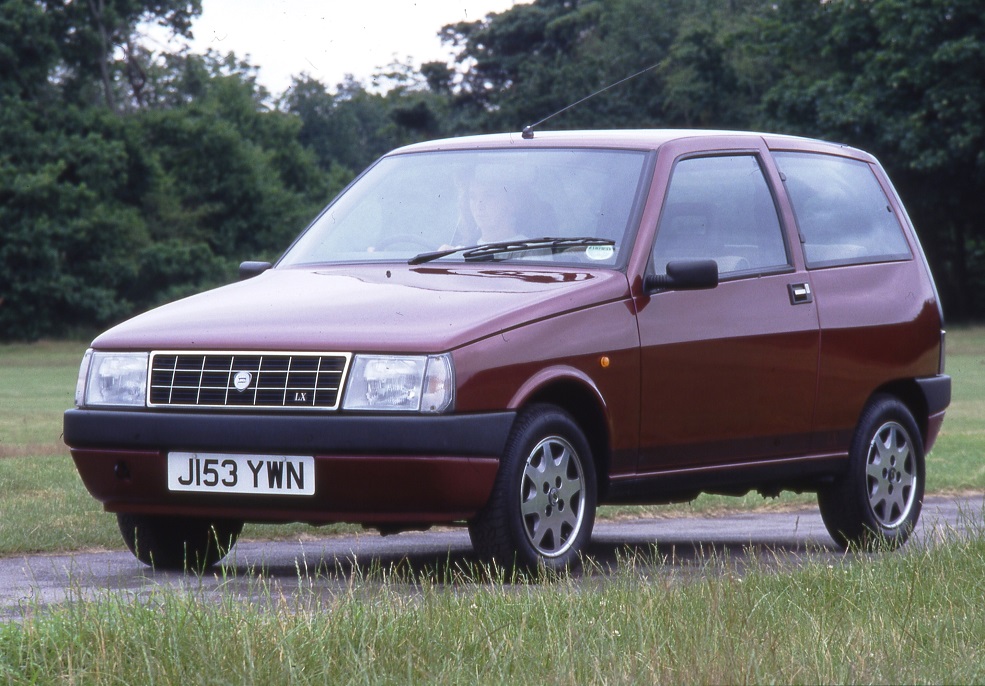 Lancia Y10 (1985-93)
Replacing the Autobianchi A112 in 1985 was the distinctive new Y10, sold in the UK as a Lancia and initially available in (999cc) Fire and (1049cc OHC) Touring and Turbo guises. The range was revised in 1989, with the old Turbo being replaced by the more advanced 1.3-litre GTie. UK sales remained low, and for the Y10's final couple of years here it was available solely in Selectronic guise, sharing the same CVT automatic transmission as the Panda and Uno.
Almost three decades after the last British example was sold, any Y10 is a rare beast indeed – although when one does come up for sale, it usually still offers decent value. A couple of examples proved this at auction, when a 1990 Fire LX that required attention to its fuel-injection system sold as a project for £450, while Bonhams managed to get just over £1000 for a 1992 Selectronic that had been off the road for a few years and had covered just 18,000 miles from new.
While those prices are pretty much what you could have expected to pay three to five years ago, Y10s in superior condition command higher price tags. At the time of writing, an exceptionally early (B-registration) Y10 Fire with just 45,000 miles under its wheels is for sale at £3995 via a specialist dealer in Nottinghamshire, though such a price is at the top end of values for a non-sporting version of the Y10 – and is roughly twice as much as you'd have paid five or six years ago.
Lancia Thema (1984-94)
As Lancia's part in the two-company, four-car collaboration that also created the Alfa Romeo 164, Fiat Croma and Saab 9000, the Lancia Thema is very much a 'game of two halves' when it comes to values. Any Thema is a rare machine in Britain, having been one of the slowest-selling executive saloons of the late '80s, despite its pleasing V6 and turbocharged four-cylinder engines. But what's particularly scarce is the subsequent Thema 8.32, which featured the 3-litre V8 from the Ferrari 308, mounted transversely and – like all Themas – driving the front wheels.
The regular Themas offered 150-165bhp, but the 8.32 pushed out a mighty 215bhp and provided 0-60mph in just 6.8 seconds, powering its way to 140mph-plus when flat-out. The problem was that the 8.32 cost a whopping £43,000 in the UK and was available solely in left-hand drive form.
Few Themas come to market, but when they do they can offer great value. Okay, so a decade ago you'd probably have picked up an immaculate car for as little as £1000-£1500, but these days you can expect to pay £3000-plus for a decent V6 or Turbo. If an 8.32 takes your fancy though, you might have to find £15,000-18,000 (more or less the same as you'd have paid three years ago) for an original car in excellent condition, such as the 1991 gem that achieved €17,600 when sold by RM Sotheby's in Germany back in the summer.