Looking back on the life and career of Norman Dewis, a Jaguar legend.
The man who was instrumental in developing some of Jaguar's most iconic cars, Norman Dewis OBE, sadly passed recently at the age of 98. The former test driver, known for his extraordinary talent and friendly demeanour, spent 33 years with Jaguar and justifiably achieved legendary status for his exploits.
Born in Coventry, Norman Dewis left school at 14 and spent a brief period at Humber, before moving to Armstrong Siddeley. It was here where he first learned to drive, but the outbreak of war saw Dewis drafted into the RAF, where he worked the gun turret of a Blenheim bomber. He would finally join Jaguar in 1952 after a post-war stint at Lea-Francis.
At Jaguar, he helped to hone significant cars including the multiple Le Mans-winning C and D-Type racing cars, the classic XK140 and 150 sports cars, the pioneering 2.4/3.4 and Mk2 saloons, the MkVII and MkVIIM models and the legendary E-Type. He was also involved with the XJ13 mid-engined prototype, the world-class XJ saloons, the XJ-S and the XJ40 models.
Unusually, Norman reported directly to Jaguar Chief Engineer, William Heynes; an arrangement that enabled Heynes to receive instant, first-hand feedback on the proving process. Norman also sent copies of his reports to company founder Sir William Lyons, and both men placed considerable store by what Norman said.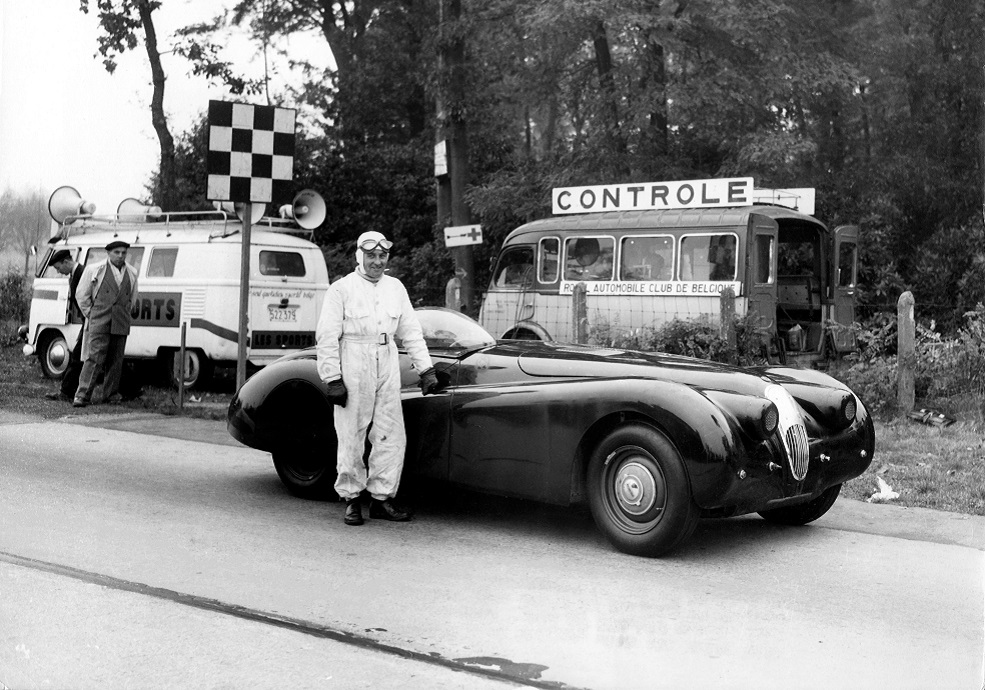 Besides the cars he developed, Dewis' first job at Jaguar was to evaluate whether disc brakes, already well-established on aircraft, could be adapted to suit a car. They were famously trialled in a C-Type at the 1952 Mille Miglia, with Sir Stirling Moss in the driving seat and Dewis navigating. They were lying third near the finish when they had to retire.
A year later, Dewis set a 172.412mph production car speed record in a modified XK120 on a closed section of the Jabbeke highway, Belgium. He was an accomplished racing driver too, driving a works D-Type in the 1955 Le Mans 24-hour race with greats like Moss, Mike Hawthorn and Juan Manuel Fangio. It was through a mutual respect and an instant likeability that Dewis struck up life-long friendships with the likes of Hawthorn, Moss and Sir Jackie Stewart.
Outside car development, Dewis famously made a night-time dash from Coventry to the Geneva Motor Show in 1961 for the launch of the E-Type, covering roughly 760 miles in 15 hours and only stopping for fuel in an era with no motorways. He then spent all the following day giving passenger rides to journalists in the E-Type he'd driven.
In total, it's estimated he completed more than a million test miles at an average speed of 100mph-plus. He also survived three enormous accidents in a C-Type, a D-Type, and most famously the never-raced XJ13 Le Mans car. On each occasion he tucked himself under the scuttle and rode it out until the car stopped. Despite no belts or roll protection, he emerged without serious injury, didn't tell his wife and then was back to work the next day.
In the years before his retirement in 1985, Dewis headed up a small but highly dedicated vehicle proving department. Thereafter, he spent over 30 years as a Jaguar ambassador. In 2014, he proved he hadn't lost his touch by demonstrating a D-Type at Goodwood, and he also received an OBE in recognition of his services to Jaguar and the British motor industry.
Dewis also consulted with Jaguar Classic Works on the launch of the continuation Lightweight E-Type, a car that he originally helped develop in the 1960s. To his 98th year, Dewis continued to be a global ambassador for Jaguar cars and a great friend of the brand.
Tributes have flooded in for the humble man who made so many friends, yet never courted publicity. Jaguar Land Rover Chief Executive Officer, Prof. Dr. Ralf Speth, said: "Norman's name will quite rightly go down in Jaguar history; without his contribution to the brand during his 33-year career, or as a global ambassador in his later years, Jaguar just wouldn't be the same. So, I hope the world will join me and everyone associated with Jaguar Land Rover in saying: thank you, Norman."
It is a great shame that Norman's 100th birthday wish – to drive the C-Type to 100 mph to celebrate his 100 years and love of the brand – will go unfulfilled. He will be sorely missed.