With its reliable running gear, cheap maintenance and scalpel sharp styling, the Volkswagen Golf Mk1 Cabriolet has never been so appealing. Here's how to pick the best
Words: Ian Cushway
Fun, wind-through-the-hair classic motoring doesn't get any more civilised – or affordable – than in an early Volkswagen Golf Mk1 Cabriolet.
And the good news is, if you adore the angular looks of the Mk1, you can go for a newer car because the convertible lived on long after production of the original hatch had finished. Moreover, because prices for the classy convertible are more subdued than the tin top version, there's a chance of picking up a bit of a bargain while you are at it.
Making its debut at the Geneva Motor Show in 1979, the topless Golf was offered in most countries as the GLi with a 1588cc GTI engine and stiffer suspension, alongside the GLS which had the 70bhp 1457cc unit.
The GLi convertible got the 1.8 GTI engine in 1982 and the smaller petrol lump was replaced by the 1595cc carburettor unit in 1983. The dash was refashioned in 1981 to include a lockable glovebox and centre console, while better sports seats became standard from 1983.
By 1985, the GTI nomenclature was adopted, and the 1.6 GL was now available with auto and 4+E gearbox options.
Of course the Mk2 replaced the Mk1 hatch in 1984, but the topless version kept the beautifully retro lines of the classic original Golf for much longer. However, in 1988 there was an attempt at modernisation when moulded bumpers, integrated front and rear spoilers and sill and wheelarch extensions were added. The Clipper appeared at this time with 1.8 carburettor power, replacing the GL.
Spec levels were improved in 1990 and for the first time a hydraulically operated power hood became an option on GTI models. Special colour coded 'All White' and 'All Black' models proved particularly popular. The all blue CC model with its blue hood and blue trim was also a hit – so much so that VW introduced its own Quartet range which meant that you could colour mix and match to your heart's content with 64 different permutations.
The Sportline from 1991 with its Recaro pews particularly appealed to younger buyers, as did the posh Rivage with its Classic Blue paint, Mauritius Blue cloth interior and Indigo Blue hood. The Rivage Leather, you guessed it, featured beige leather seats and was available in Classic Green Pearl metallic.
Alas, the classic lines of the Mk1 convertible were replaced by curves when the second generation model (based on the Mk3 hatch) came along in January 1994, and this in turn was given a further revision in 1998. Needless to say, despite the offer of a frugal diesel towards the end, neither had the enduring simplicity or charm of the original!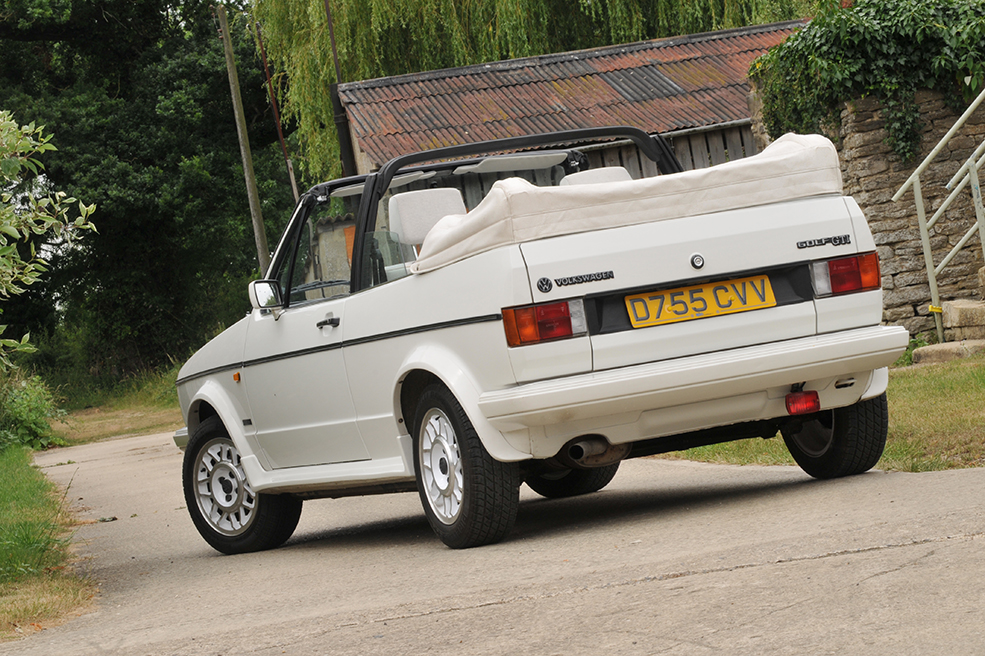 Engine
Power in the Volkswagen Golf Mk1 Cabriolet comes from precisely the same source as the hatch so there's little to worry about if there's proof of regular servicing. On most models, oil and filter changes should have been carried out every 5000 miles and a cambelt change every 40,000 miles or four years (which ever comes first). All being well when you come to start the engine you won't see blue haze coming out of the tailpipe either – a sure-fire sign that the valve guide seals will need replacing. These cars should only continue to smoke in exceptional cases as this implies the bores have worn.
It may be that a previous owner has decided to swap the problematic Pierburg carb for a more reliable Weber version. It's a worthwhile conversion, so see it as a bonus. On the fuel-injected cars you'll need to check for cold start problems and for an even idle. In the case of misfires, check for faulty plugs and HT leads. While out on test it's also a good idea to rev the engine to ensure there aren't any flat spots and that there's a smooth idle.
Gearboxes too are usually robust but you may need to sort the complex linkages. Watch out too for crunching synchromesh in second.
Running gear
Begin by checking the suspension springs – the extra weight means that a cabriolet's rear set in particular are more likely to snap than those on the hatchback. The same goes for tyre wear at the front, so check your tread depths – it's a point to haggle over if nothing else.
If you can, climb underneath to check if the steering rack mount is intact although if it has broken away from the body you'll soon notice the play in the steering.
Other than that, check the oil-filled dampers for leaks and also that the bushes haven't deteriorated – the Cabriolet handles well, but as the suspension begins to tire it will drift and wallow so you'll really want the suspension to be hitting its full potential.
Bodywork
The hatchbacks and cabriolets are near enough identical when it comes to their mechanicals, but the Karmann-designed bodies differ vastly from the tin-tops. With no roof, a number of extra body strengthening sections are needed to make up for the loss in rigidity – namely an extra crossmember, deeper sills and a rollover hoop. All of which results in extra weight.
With Mk1 cabriolets start by inspecting the sills; if there are holes, then it's usually a lot worse in a lot of other places too. You can replace them, but it's worth noting that rear panels are unavailable – another reason for trying to find a good bodyshell. Also, on the post-'87 models (including the special edition Sportline and Rivage) the sills are covered by side skirts and so any rot here will be hidden.
Rear arches also present a challenge – some rust, some suffer from hacking to fit bigger wheels or different arches. The spare wheel wells go where they join the back panel – those are in short supply at the moment. Fuel filler areas rust through, taking the inner arch with it. Many people try and fix the area poorly and end up warping the quarter panel in the process.
Other places you'll need to check are those that differ from the hatchback. This includes the beam that's fitted between the rear turrets (ideally, there should be no corrosion here) and the inner wings – these come with extra body strengthening. The underside differs slightly too: the fuel tank and the spare wheel for example.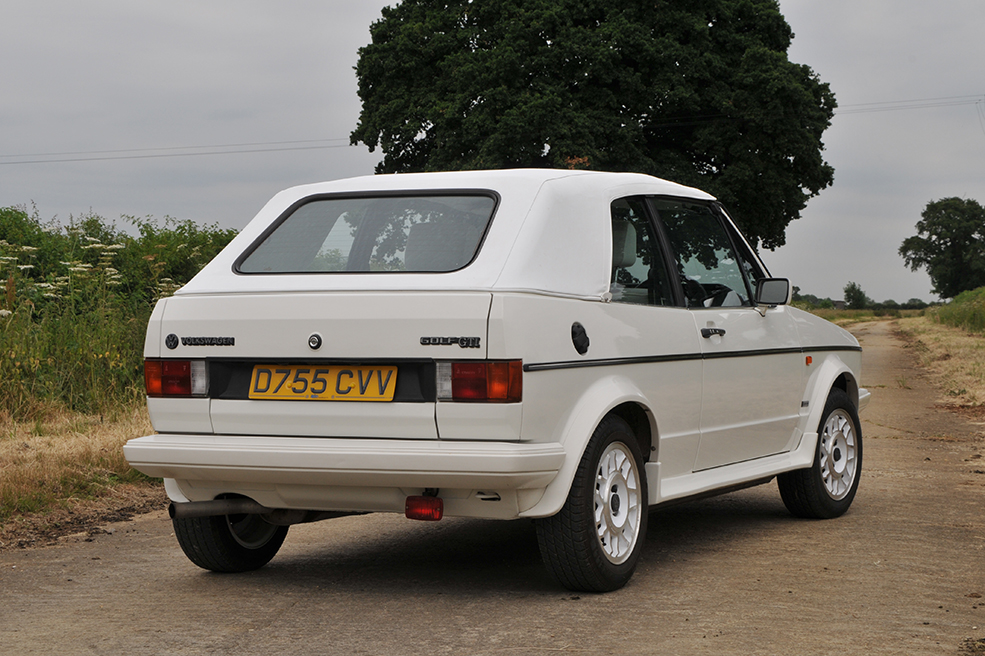 Volkswagen Golf Mk1 Cabriolet hood
The hood on the Golf should fit well and be free from serious shrinkage so check it carefully – you're looking for any cracks, rips, discolouration and missing or worn rubbers, which could result in leaks. It's a bad sign if the carpets are damp, or there's a musty smell inside. If, on lifting them, you discover heavily corroded floorpans, walk away and find another.
The state of the rear window frame is equally important. If it hasn't already been replaced it will most likely have corroded by now – yellow-ish stains on the parcel shelf are a tell-tale sign. Ideally, a rotten frame should be replaced before a new roof skin is fitted, as it's a difficult job to do properly retrospectively.
If the hood appears to bow or lift in the middle then suspect snapped side tension cables. Replacements are available and it's a relatively easy fix. You should also inspect the hood profile for any lumps which suggests that the horse hair padding between the outer skin and the frame has deteriorated. It's there as insulation and soundproofing and is unavailable. However, there are specialists who can repair it.
Post-1990 GTI cabriolets have an electrically-assisted hood and it also came as standard on the Rivage GTI so check it lowers, folds and goes up again as it should. The pumps are generally reliable, but do occasionally fail and when they do they can cost up to £1200 new through Volkswagen. Thankfully, secondhand reconditioned units are also available for a fraction of this. The hydraulic rams can also leak with age. Don't forget to check the pump reservoir for leaks either.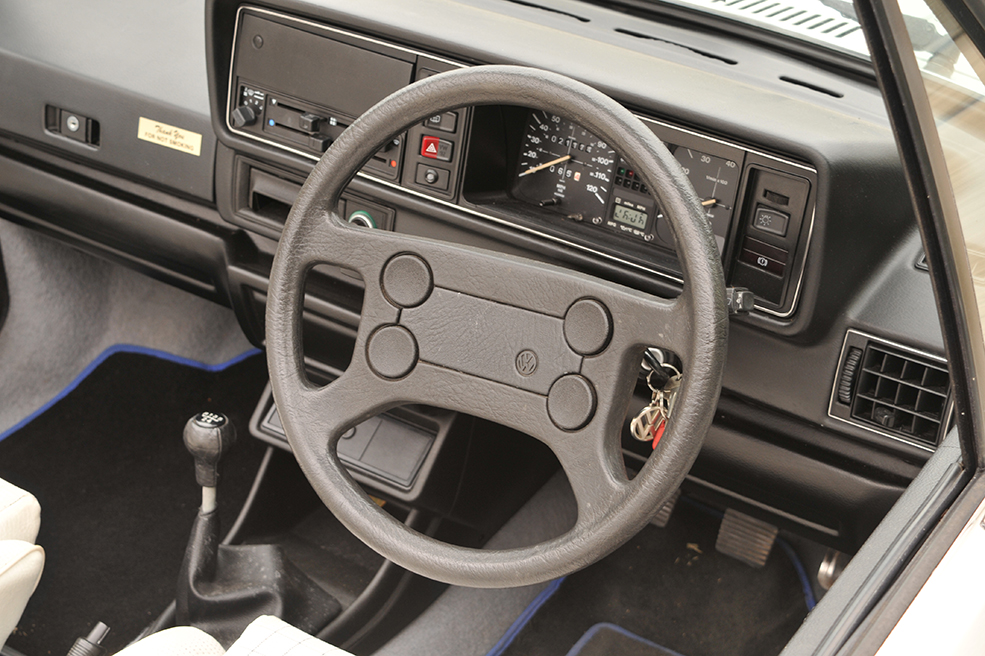 Interior and trim
There shouldn't be too many nightmares inside a Mk1 Cabriolet as VW cabins from this era are generally sparse but hard-wearing. But even if you do come across a dog-eared example (and still fancy its restoration prospects) pretty much all the trim you'll need is readily available and shouldn't prove a headache to an experienced trimmer.
The icing on the cake, of course, will be if the original vinyl hood bag is present with the car.
Don't forget to make sure everything works – we're talking about items such as the central locking and immobiliser and the electric windows. Broken wiring in the driver's side door could be the reason these are not working.
Volkswagen Golf Mk1 Cabriolet: our verdict
We still uphold that the early Golf Cabriolet is undervalued. A cheap car might need a new hood, refreshed suspension and a few other bits but because everything's still available – and not that expensive – you will be able to do it yourself for not much money.
The secret, as always, is to find one that's been looked after and allowed to stay as close to factory original as possible without any ugly aftermarket wheels, noisy exhausts or custom paint jobs. Get a good Mk1 Cabriolet and you'll have a solid-feeling, cheap to run convertible you'll want to use every day, not just when the sun shines.